"Television is made by human beings, my friend."
Stephen Tropiano Ithaca College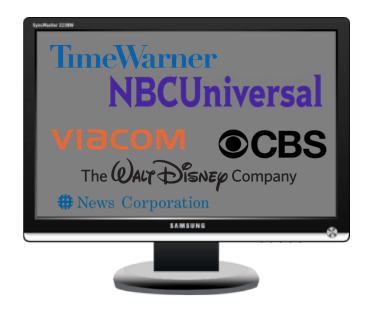 The six major media conglomerates that dominate the American television industry.
During Mitt Romney's speech at the Iowa State Fair last August, one voice in a crowd of hecklers asked the Republican presidential-candidate-in-waiting why he wouldn't raise taxes on corporations, which were making record profits under the Bush tax code. Romney matter-of-factly explained that "corporations are people, my friend . . . Everything corporations earn ultimately goes to people. Where do you think it goes? Whose pockets? . . . People's pockets. Human beings, my friend."
The fairground was the perfect backdrop for Romney's speech. He sounded like a snake oil salesman giving a skeptical crowd the hard sell on his personal brand of corporate capitalism.
But let's be fair. Technically, Romney was telling the truth. Corporate profits do go into the pockets of human beings. But what he failed to mention is those pockets belong to a very select group of people—better known in corporate circles as "shareholders."
So what about the rest of us? What does the American public gain when corporations are making money? Consider the six major media conglomerates that dominate the American television industry: CBS, NBCUniversal, NewsCorp, TimeWarner, Viacom, and The Walt Disney Company. Their combined revenues in 2011 totaled $138 billion dollars with Disney topping the list at $40.8 billion. And what is it that we—the non-shareholders—get in return? A culture dictated by dollar signs. Movie franchises based on comic books and theme park rides. Formulaic television series designed to appeal to a mainstream (and global) audience.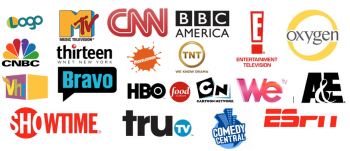 List of TV Channels / Networks
For many years, I denounced the magnitude of these companies by challenging my students to a game of "Who Owns What?" We would begin by identifying and writing the names of the six major media conglomerates on the blackboard. Then I give them a list of twenty-five television channels and networks and ask them to identity the conglomerate they each belong to. It's surprising how few they knew outside of MTV and Comedy Central (both Viacom) and ESPN (at least the 80% owned by Disney, with the remaining 20% owned by the Hearst Corporation). Next, I distribute a list of media holdings (film, TV, publishing, music, new media, etc.) for each conglomerate and launch into a discussion of the negative consequences, from the viewing public's perspective, of having an oligarchy determine and control what we watch each week.
The problem with the American television industry is what my students would call a "no-brainer." For these rich and powerful multinational corporations in control of our TV sets, it's all about the bottom line: ratings and revenues trump quality and originality.
And then, around four years ago, I was reminded why I became interested in teaching television in the first place. I was invited to serve on the Academy of Television Arts & Science's "Television Cares Committee." Comprised of 18-20 members from the different branches of the TV Academy, the committee chooses the recipients of its annual "Television Academy Honors," which is bestowed on "Television with a Conscience—television programming that inspires, informs, motivates, and even has the power to change lives."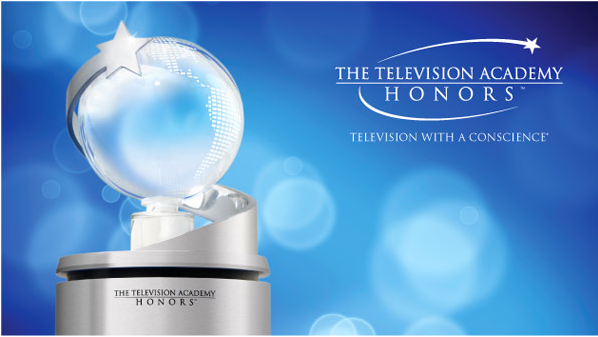 The Television Academy Honors — Television with a Conscience
Academy Honors is separate from the Emmys and choosing the recipients each year is far less complicated than the complex nomination and selection process governing the Emmys. Television networks, companies, and producers submit programming they feel meets the general criteria stated above. The committee watches the submissions, discusses them, watches more submissions, followed by more discussion, and eventually the list is reduced to eight recipients. It's not as easy as it sounds, especially when it comes down to making the final decisions. Everyone doesn't necessarily agree—and everyone has his or her reasons for ranking one show higher than another. But unlike a corporate balance sheet, where profit is the main goal, there's no right or wrong. Quality is certainly an issue, but there's a greater emphasis on what a show has to say than the size of its viewing audience. And there is no empirical formula to measure either the quality of a program or its message. Profitability and popularity are not the highest-ranking criteria—much in the way quality and intellectual content are not in the corporate world.
As the only academic in the group (yes, the TV Academy has an academic branch), I sometimes have to restrain myself from overanalyzing a program and pointing out its ideological contradictions (but unlike some of my undergraduates, the committee members actually listen and there's none of that eye rolling students think we don't see). As someone who teaches television, participating in this process is doubly important. I am reminded that television shows are made by (in the words of Mitt Romney) "human beings." It also reaffirms for me that television and, more specifically, the creative people behind it, has the potential—and often succeeds—to challenge, enlighten, and yes, even motivate the viewing public.
Academy Honors are awarded to fiction and non-fiction programming—documentaries, specials, and single TV episodes that aired on commercial, commercial cable, and pay cable networks. Past recipients have tackled such varied topics as drug addiction (Vanguard: The Oxycontin Express/Current TV), adoption (Home For the Holidays/CBS), Alzheimer's (Grandpa, Do You Know Who I Am? With Maria Shriver/HBO), Autism (Unlocking Autism/Discovery Health; Parenthood/NBC), cancer (The Big C/Showtime; Stand Up to Cancer/ABC, CBS & NBC), same-sex marriage (Brothers & Sisters/ABC), euthanasia (Private Practice/ABC), racism in sports (Breaking the Huddle: The Integration of College Football/HBO Sports; The 16th Man/ESPN), the effects of war (Women, War & Peace/PBS), and the death penalty (Explorer: Inside Death Row/National Geographic).
As I like to tell my students, there was a time when our viewing choices were limited to seven or eight channels (three major networks, a few local stations, and HBO if you could get it). As a kid, I studied the TV Guide every week, and I knew what was on every channel every single night. The deregulation of the American media that began in the 1980s caused media conglomerates to swell in size along with the amount of television content. Now, with so many channels, it's impossible to keep track of what's on–so it was easy to overlook the three excellent episodes honored this year when they originally aired: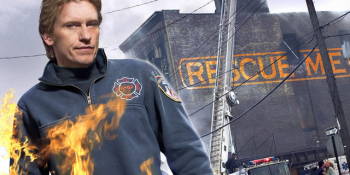 An emotional episode ("344") of Rescue Me focused on New York firefighter Tommy Gavin's (played by series co-creator Denis Leary) struggle to come to terms with his grief when he returns to Ground Zero on the tenth anniversary of 9/11.

Harry's Law, a courtroom legal dramedy starring Kathy Bates and created by David E. Kelley, addressed the health risks posed by contact sports with an episode ("Head Games") involving a high school student who suffered a fatal brain injury playing football.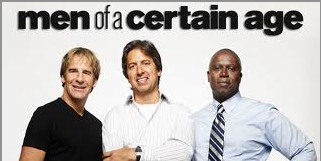 An episode of Men of a Certain Age ("Let the Sunshine In") followed three middle-aged men (Scott Bakula, Andre Braugher, and series co-creator Ray Romano) on a road trip to Palm Springs for a weekend of golf, male-bonding, and colonoscopies. The latter subject, which receives little media attention beyond The Dr. Oz Show, is treated with intelligence and humor.
Unfortunately, all three series are no longer on the air. Rescue Me ended its seven-season run in 2011. TNT cancelled Men of a Certain Age back in July of 2011 after two seasons. Less than two weeks after Kelly and co-executive producer Bill D'Elia accepted their award, NBC announced Harry's Law would not be picked up for a third season. The show earned respectable ratings, but it didn't attract enough viewers in the coveted 18-49 year old demographic to keep it on the air.
NBC shareholders are no doubt sleeping easier tonight. But that doesn't do much for the rest of us human beings.
Image Credits:
1. TV set with names of major conglomerates, collage by author
2. List of TV Channels/networks, collage by author
3. Academy Honors – Academy of Television Arts & Sciences
4. Rescue Me banner – TV Guide
5. Harry's Law banner – Hulu
6. Men of a Certain Age banner – TV Guide