Fighting, beers and the queered – Class, hyper-masculinity and reality TV
Faye Davies / Birmingham City University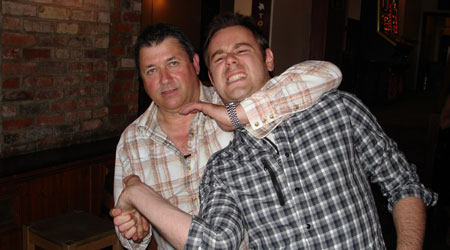 Danny Dyer's Deadliest Man
In recent years British TV has seen a growth in shows that have displayed a particular type of masculinity. Shows such as 'Deadliest Men', 'Toughest Pubs in Britain' and aspects of 'My Big Fat Gypsy Wedding' have displayed hyper-masculinity and have strong links to class and social status, arguably more so than the notion of masculinity that we see in the wider mainstream media. The resultant interaction between the male and female participants in such shows also highlights some problematic stereotypes of working class culture in the UK.
These shows embrace exaggerated representations of masculinity, constructing a narrow consideration of what it means to be male in certain social circles. A useful example of this can be found in 'Danny Dyer's Deadliest Men' where 'cheeky cockney' actor Danny Dyer spends time with masculine subjects to gain an insight into their violent and aggressive lives.
[youtube]http://www.youtube.com/watch?v=r-5WDfs8nnE[/youtube]
The discursive repertoires used to construct meaning during these shows are focused around the 'dark', aggressive and seemingly out of control nature of the subject's hyper-masculinity. We see links to various televisual constructions that are outside our usual experience of reality shows and more in line with our experience of fictional crime shows and films: guns, war, killing, violent fights and crime.
It's particularly pertinent that 'gangster' actor Dyer is our conduit between the fictional and factual and the boundaries between these two genres are blurred, encouraging audience readings that potentially see these subjects as some sort of 'other'. Dyer continually constructs these subjects as dangerous and potentially deadly, and as something that the general public should fear, seeming on edge and worried. In this episode Dyer claims he 'should be wary' and 'not get too comfortable' around his war veteran subject Mo Teague.
[youtube]http://www.youtube.com/watch?v=HH2k0pS5vpY&feature=related[/youtube]
[youtube]http://www.youtube.com/watch?v=ZN2B9edvzUA&feature=related[/youtube]
The show also tends to focus on subjects from working class or lower class backgrounds. The mise-en-scene often consists of backstreet pubs, traveller sites or events that are full of men and highlighted as a hyper-masculine and often aggressive space. This in itself highlights notions of class and makes an inextricable link between hyper-masculine traits and social stratification; these men assert their position through violence and reputation. Dyer and the crew often literally extricate themselves from the culture due to their fears and worry about being subject to aggression. The framing of the out of control group only serves to reiterate concerns in society about working and lower class cultures that has dominated the British media over recent years. This is evident in Dyer's focus on Irish Traveller Paddy Doherty, who is also featured in popular Channel 4 series, 'My Big Fat Gypsy Wedding.'
[youtube]http://www.youtube.com/watch?v=RxLEijlytjI&feature=relmfu[/youtube]
Interestingly in the above clip we also get some insight into the representation of women in lower class and working class culture. Doherty's wife is referred to merely as 'woman' on a number of occasions with her role clearly distinctive in a domestic sense. The focus and discourse in such shows is clearly patriarchal. Doherty's wife is allowed to have a brief opinion but this is inconsequential. Even when dealing with what could be considered as a feminine discourse around family and death, Doherty's wife isn't given much airtime. It seems that in this particular genre women have to be in a subsumed role, or find a more masculine and potentially queered way of expressing themselves.
One such example of this can be found in 'Toughest Pubs in Britain 3' – which explores Britain's pub culture and again the focus is on the working and lower class environment.
[youtube]http://www.youtube.com/watch?v=f3nvwubla2k&feature=related[/youtube]
The women in this show are vastly different from Doherty's wife, and seem to have more airtime and some ability to speak within the culture portrayed. But in order to do so these women perform a very different and potentially queered sense of gender than 'the feminine'. They are labelled as 'ugly'. Their otherness is reiterated by the backing track of People Are Strange, which introduces women to us through shots that highlight their large bodies in complete opposition to the visual repertoires we usually encounter when viewing women on television.
We are offered an example of 'Big June' – who on first viewing appears as polite but is quickly asserted as strange and unpredictable; queered. The only way for her to gain attention and fend off abusive comments is to have episodes of performing the hyper-masculine in her interactions with other pub regulars, potentially queering her identity. We also hear the commentary of the pub landlord regarding an incident where June exposed herself; her femininity is further denigrated and is subject to his ridicule. It seems that again, women in this class culture are subject to, and defined by the commentary of men even when gaining power through queered behaviour. Even men who feel more 'feminine' such as the cross dressing karaoke singer are only accepted through queering their identity and such behaviour being ridiculed and labelled as 'worrying'.
These examples of gender and class representation raise a number of issues. There seems to be a distinct theme of 'otherness' throughout these shows. In terms of masculine representations they posit that hyper-masculinity is something to be feared in contemporary society. It is a position that is highlighted as something that is the 'other' from the representations of middle class masculinity we see surrounding us in mainstream culture. The examples given above are thought of as dangerous, potentially deadly and something to fear.
Within this culture women are subject to this hyper-masculinity and can only be active participants under certain conditions and through particular gender or queered performance. What is also clear is that any potentially queer identities are portrayed as something to be uncomfortable with. They are stereotyped as 'odd' and concern participants, but serve to reiterate that hyper-masculine actions that adhere to the stereotype of patriarchal power are dominant within the televisual working and lower class culture.
Image Credits:
1. Danny Dyer's Deadliest Man
Please feel free to comment.