How My Poem Became a Short Film On TV (After Being Art In A Museum)
Thomas Swiss / University of Minnesota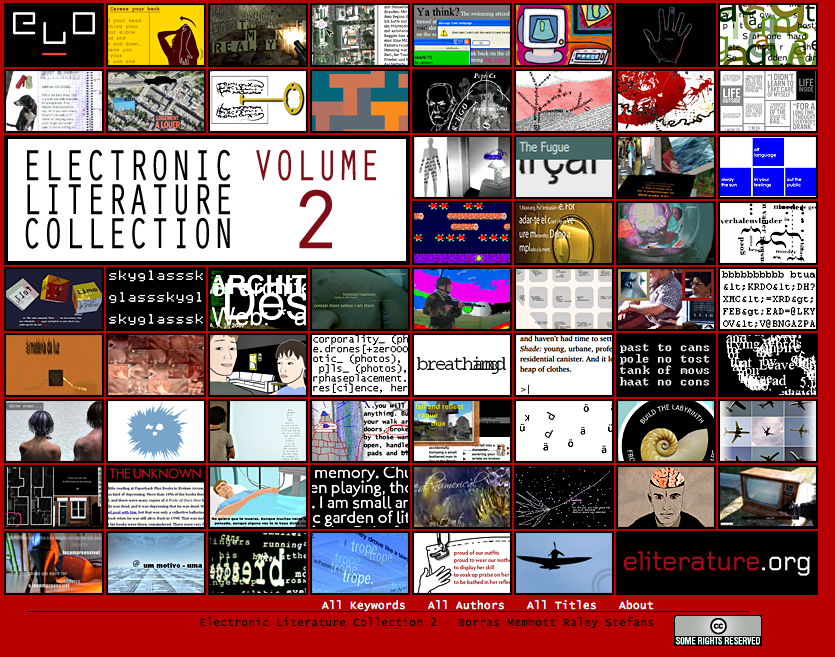 The Electronic Literature Collection: Volume 2
In a series of columns this year, I'll be writing about long-term YouTube video projects and the viewers of those projects, online celebrity photographs and photo-criticism, and television's relationship to club music. For this initial column, though, I'd like to talk about my own work as a writer — specifically, as a poet composing in new media modes with other artists. Among other things, my story is about collaboration, classification, and genre. It's also about how new media projects, even in a niche field like poetry, can find multiple audiences.
New media poetry — composed, disseminated, and viewed on screens— exists in various configurations. Many poems are kinetic, visual, written, and sounded.  Unlike print poetry, new media poetry assumes a synergy between human beings and intelligent machines. The work sometimes remediates procedural writing, gestural abstraction and conceptual art, while contributing to an emergent poetics. New forms of digital poetry, especially collaborative digital poetry, challenge already-contested terms such as "poetry" and "literature" and further complicate boundaries between literary genres. But these forms also complicate boundaries between other non-literary genres through interaction, social exchange, and participation.
New media poetry often brings together writers, artists, graphic designers, sound technicians, musicians, and computer programmers. The Internet, of course, plays an important part in the story of collaborative new media poetry (and digital literature in general) because it increasingly connects people who share similar goals and interests, and enables writers and others to generate and disseminate ideas and creative work. It also allows for the sharing of files between artists, writers and critics who have never met, and provides various publication/screening venues for works that might never otherwise gain a wide audience.
New Media Projects as Category Killers
As a poet, I began my own collaborative, Web-based work with visual and sound artists nearly fifteen years ago – with a sense that the opportunities and demands of Web-based poetry, like many other New Media practices, have their roots in the shared notion of community that was integral to the development of the Internet. I was also increasingly interested in new approaches to thinking about time and the text. Many of my collaborations are embodied in Adobe Flash, a vector-based animation software, used, for example, by programmer/DJ/artist Motomichi Nakamura to create our poem Hey Now (2002). The collaboration had its roots in conceptual art.
Hey Now, by Thomas Swiss and Motomichi Nakamura (Click image to watch poem)
Under my direction, I had two friends read various sections of a poem I had written. After that, Nakamura and I began experimenting with the idea of "wrapping" language. Following the ideas of Christo and Jeanne-Claude, contemporary artists well-known for wrapping artifacts, buildings, and landmarks with various materials, we were interested in what "wrapped language" might look and sound like.  Christo's "The Pont Neuf Wrapped, Paris 1975-85," for example, draped the famous French bridge in fabric, and was widely regarded as a fascinating experience for its viewers because wrapping and unwrapping objects hides and then re-reveals the familiar, allowing us to see objects in a new light.
In the case of our composition, the poem is hidden and revealed by animated characters who whisper gibberish before speaking verses of the cut-up poem I wrote. From games, we developed the notion of a pacing cartoon man on the screen, who, when clicked by the viewer/reader/user, kicks the head of a figure who whispers before launching into the next (now spoken) animated section of the poem. "Readers" of new media poems are often challenged to make sense of synthesis; it's an opportunity to broaden interpretations and to look critically at how language is shaped by new media. It's also an opportunity, when the composers of the piece are from multiple fields, to find multiple audiences. While I was publishing "Hey Now" in an online literary journal, my collaborator was getting the piece out to art shows and exhibits. "Hey Now" was seen widely as part of new media — which was more "new" then (2002) than it is now – exhibits in a dozen museums in the U.S. and elsewhere.
Collaborative work redefines artistic labor in what is for me (and many of my collaborators) new and complicated ways: what is the relationship, for example, between my language and the images and sounds others create, even if under my "direction"? How do the images and sound "change" the meaning of the language (and vice versa) and in what ways can the piece be said to still be a "poem"? Collaboration allows writers and artists — like myself and those I compose with — to reconsider both our work and our identities, to literally see them anew, as we move from individual to composite subjectivity. Yet while the art world has often been open to collaborative work – in the long shadow of Duchamp's experiments with Man Ray, the shared labor of producing art in Warhol's Factory, the many hands needed to make a film — the poetry world has typically had a hard time accepting collaborative work, although our digital times and newly developing collaborative communities are slowly changing that.
Blind Side of a Secret (2008) was a project that includes three finished texts. While I had a hand in all three pieces, much of the compositional labor, much of the art, fell to others. Two of my graduate students, Pam and Bastiann, read the lines of poetry I had written — Pam in English, Bas in Dutch and English. A programmer friend, John, recorded their voices, created the sound files, and mailed them along with my comments, notes, and ideas to a team of digital artists I had invited to work with me. I'll discuss one of the iterations of this piece.
Yoshi Sodeoka is an artist, designer and musician based in New York City. I've never met Yoshi face-to-face; I met and collaborated with him through the internet, and it was through this media that we participated in creating the poems by exchanging files, emails, web-based drafts, code, revisions, and so on. I began with phrases, lines, and fragments of my own creation and then mixed them with portions of a short story I appropriated—
I hate secrets. No, that's a lie, and here I was hoping to tell you the truth.
Start again.
I hate to be on the blind side of a secret. That's more like it. Sometimes I'll be shown, let in on, something that seems a real secret to me, I'll be allowed to stand right up against it and look all I like, but I still won't understand. I might as well be staring at a length of algebra, an unknown language – it will have no meaning for me. Worse than that, I will know that it must have a meaning for somebody else. So I'm stupid. No one needs to hide this from me, it is, quite simply, beyond me. I am on the blind side.
(A.L. Kennedy, So I Am Glad, p. 22.)
Using this remixed text as a working script, all three iterations of Blind Side featured my students Pam (who read the lines in English) and Bastiann (who reads the lines in English and again in his native Dutch). These speaking scripts are laid out below and side by side, so you can see who spoke what lines – some are spoken by one person and not the other.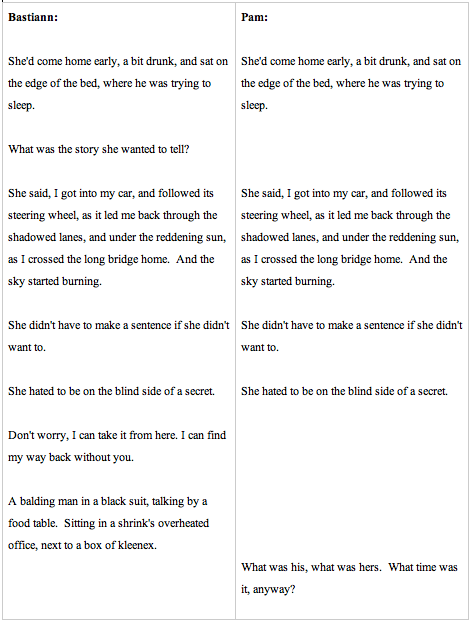 This iteration of Blind Side of a Secret is a Quicktime movie. Sodeoka used the .mp3 files of my students speaking the lines of the poem, chopped it into pieces using a program called Recycle, remixed it in Logic Studio, composed an electronic music soundtrack, and mapped the sound to visuals using a sampler and Adobe After Effects. The result is akin to a music video: it plays through from beginning to end, with visuals and aurals synchronized together.
Blind Side of a Secret by Thomas Swiss and Yoshi Sodeoka (Click image to watch)
Collaborative digital poems invite shared participation; each contribution is meant to be as important to the process of composition as all other contributions. Contributors have equal permission to add, edit, and remove text and multimedia characteristics. The composing process is recursive, each change prompting others to make more changes. Contributors are welcome, too, to "place" the text in any context they choose, and welcome to let others borrow the text. Thus what I published as a "poem" in an online literary magazine also became "art" in several museum shows and a "short film" on a television show in France. The question asked in Blind Side of a Secret – "What was his? What was hers?" – becomes complicated in a process where "his" and "hers" is intentionally remixed by authors, artists, and algorithmic processes.
Bibliography
Helen J. Burgess, 2009. "How to Read an Electric Poem." Unpublished conference paper. Presented at the Society for Literature, Science and the Arts, Atlanta, GA., November 2009.
N. Katherine Hayles, 2008. Electronic Literature: New Horizons for the Literary. Notre Dame, IN: University of Notre Dame Press.
A.L. Kennedy, 1995. So I Am Glad. New York: Vintage Contemporaries Edition, 2001.
Morris, Adalaide, and Thomas Swiss, 2006. New Media Poetics. Boston, MA: MIT Press.
Thomas Swiss and Yoshi Sodeoka, 2007. Blind Side of a Secret. Hyperrhiz: New Media Cultures issue 4 (Winter), at http://www.hyperrhiz.net/issue04/swiss/yoshi.html, accessed 29 February 2012.
Thomas Swiss and Motomichi Nakamura, 2002. Hey Now. NMEDIAC vol. 1 issue 1, at http://www.ibiblio.org/nmediac/heynow.html, accessed 29 February 2012.
Thanks to Helen Burgess for her critical attention to and comments on my work in new media and on this column.
Image Credits:
1. Electronic Literature Collection: Volume 2
2. Hey Now
3. Blind Side of a Secret
Please feel free to comment.