Now Watching: Black Web Series and the Promised Land of New Media
TreaAndrea M. Russworm / University of Massachusetts, Amherst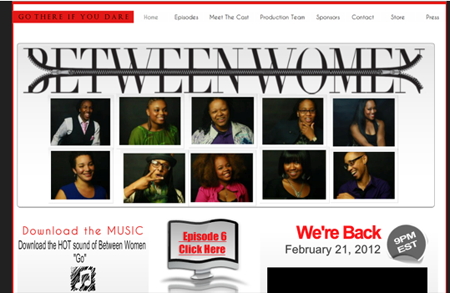 Between Women Web Series Homepage
My television is dead.
Although we are in a moment of media history where the habit of watching television connected to a cable, broadcast, or satellite signal is becoming ever more compromised by emergent viewing practices, I say my television is dead not because I want to further hasten any divide between the study of old and new media forms. I say my television is dead because at the start of this academic year I finally tired of paying high cable bills for programming that I was not watching with any degree of regularity. Since television has always been an instrumental tool of work and play for me, declining to renew my DirecTV contract and not purchasing a basic cable package, a converter box, or even an antenna for my television felt profoundly counter-intuitive—highly suspect behavior for a media scholar. Truthfully, though, in recent years I have been watching less and less television in general, and the television shows I was watching hardly fit into either category of work or productive play (an example: Animal Planet's I Shouldn't Be Alive).
As I soon confirmed, for someone who studies cultural theory, race, and media, Internet "television" offers something network or cable programming never has: hundreds, if not thousands, of on-demand amateur and professional content (videos, serialized web shows, direct-to-Internet films, minisodes, animation, documentaries, vlogs) that are created by or star black people. Just keeping track of all of the available content that at least in part targets black viewers is no small research objective. A micro-niche model best describes how to think about the audiences for the current online content, meaning it is highly probable that a given viewer will find something in the multitude relatable and entertaining enough. For instance, the current offerings include the black lesbian and gay web series Between Women, Drama Queenz, The DL Chronicles, and Lez B Honest. Other viewing options include Jaleel White's cheeky interracial romance comedy, Road to the Altar, snappy animated satires like Orlando's Joint, and voice-over mashups like Fat Albert in the Hood. An even higher concentration of black dramatic performances have debuted online, namely mysteries like Celeste Bright and I Breathe This, crime series such as Touye Pwen, and sci-fi thrillers like Osiris. Highly talented black artists are turning to the Internet for the freedom to create "intimate," collaborative projects that they have always wanted to pursue without censor, explain the creators of The PuNanny Diaries—a web series about "not getting any" that has become my favorite comedy online or elsewhere.
[youtube]http://www.youtube.com/watch?v=QkPtNieFKLY[/youtube]The Producers of The PuNanny Diaries Explain Why They Created a Web Series
While it may remain to be seen if this moment of black new media authorship is either marginal or revolutionary in terms of ideological impact, it is quite clear that no moment in our media history comes close in terms of the sheer volume and diversity of material produced, distributed, archived, and lost—not the so-called Blaxploitation action film cycle of the 1970s or the work of black early filmmakers like Oscar Micheaux and Spencer Williams. When it comes to the explosion of black-authored content on the Internet, we are either tuning in to watch or missing a cultural renaissance.
As I shut down my television (or, more accurately, remediated it by connecting it to my laptop and using it to view videos streamed from my Xbox 360 and Playstation 3), I sought to answer a few questions about black web series production.
For starters, does new media and the web series format really, as it seems, represent the critical "Promised Land" for black actors, actresses, directors, and industry professionals? Relatedly, has the black web series answered the long-standing call for more diversity not only in terms of casting and crews but also in terms of the individual stories told? I should clarify what I mean by "long-standing call" in order to make more clear how web series might, in the best of scenarios, address perceived voids in representation created by traditional televisual programming. The long-standing call for the industry to support and sustain television shows that reflect a broader range of minority experiences has sounded loudly. That is, by now the claim that television (from Sanford and Son and Good Times to The Cosby Show and The Fresh Prince of Bel-Air) has endorsed a familiar set of stereotypes and/or measured African Americans against a narrow set of middle class values is not an unfamiliar one to many contemporary viewing audiences. In fact, I am finding that the evolution and explosion of black web series is, in large measure, the direct artistic response to conversations about representation that have finally become commonplace in college media studies classrooms and, to some extent, in high school curriculums and in popular public discourse.
Television and film scholarship, media literacy initiatives, and documentaries like Marlon Riggs' Color Adjustment have—over time—played an influential role in the educational backgrounds of artists who are now using digital media and the Internet to craft and distribute stories that acknowledge the call for more diverse representation in visual media. New media channels of production enable an unprecedented number of black artists to participate in the kind of dialectic that informs Viola Davis and Octavia Spencer's recent response to Tavis Smiley's critique of their Oscar-nominated roles in the film The Help. For example, when Smiley asks the actresses if they share his ambivalence about the maids they portray in the film, both women defend their right to accept whichever roles they choose. Spencer further challenges, "If someone isn't doing what you think they should be doing, why are you waiting? You should be doing it yourself."
This is the type of DIY directive that black web series are answering most emphatically. In discussing her well-received hit web series, The Mis-Adventures of Awkward Black Girl, Issa Rae (who attended Stanford University and who has taken filmmaking classes at UCLA and New York Film Academy) makes clear that she is well aware of these kinds of discussions about representation, adding that she was motivated to create the show because she has not seen black women like herself on television or in film. In an interview with CNN's Fredricka Whitfield Rae explains why web series production has become such a strategic mechanism for change, noting: "Especially for minority content creators, this is the way to go. There is no gatekeeper on the Internet. You can release whatever content you want. I think that this is the best route to take, honestly.1"
Rae and other web show creators have shared these comments about seizing the medium and making "our own content" with future cohorts of media-makers on college campuses, as several black webs series creators have taken their art on the "college tour" circuit. ABG's wildly popular college tour includes a screening of the series, roundtable discussions about race and visual culture, and instructional tips for how college students can begin making their own digital projects. This activity further supports the notion that there is now a critical "revolving door" between new media content creators and academia. While these college tours are undoubtedly designed to bring in revenue for the series and its creators, the tours also function, as the ABG video below makes evident, as a way of extending and popularizing scholarly discourses about race and media history.
[youtube]http://www.youtube.com/watch?v=UoV_LhTsGeM [/youtube]Awkward Black Girl College Tour Promotional Video
Similarly, the creators of the dramatic web series, Orisis, blog about their college tour of Historically Black Colleges. The blog includes on-going updates about distribution mechanisms and screenwriting instruction, among other things.
The current popularity of black web series in the new media Promise Land, then, finally actualizes what scholars like Anna Everett and Lisa Nakamura have been hoping for. As Nakamura writes, "those with expertise in the fields of race, ethnicity, and media studies…can bring their expertise to bear on digital media while it is still in formation.2"
Comments by artists like Rae and the producers of The PuNanny Diaries, along with the web show college tour as media/deconstruction workshop, demonstrate that critical expertise has indeed come to shape new media formation but, importantly, that influence pivots multi-directionally.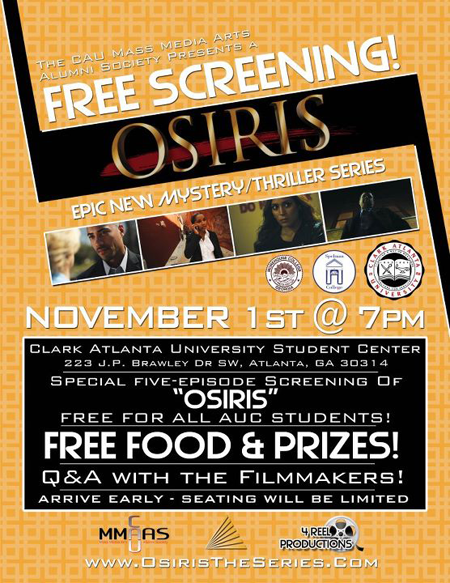 Osiris College Tour Poster
After watching more web series and Internet videos than television shows this year, I continue to grapple with two additional questions: Does it matter that the typical black web series is short-lived, and is television really dead?
If web series constitute a kind of Promised Land-realized for academics and artists alike, surely the ephemeral nature of DIY culture in general and of the average web show in particular has implications for any bold claims (like the death of traditional media) that I am tempted to make.3
Although there is an exhaustive amount of content available online, the reality is that countless numbers of black web series end abruptly and vanish completely after only one or a few webisodes have circulated. Case in point: the witty The Punnany Diaries and its irreverent critique of black cultural institutions ceased production before a discernible story arch was completed. Any number of other series seem to simply run out of funding (like the producers of Awkward Black Girl almost did before launching their Kickstarter campaign). Other black web series tend to halt when it becomes clear that their particular niche is too small to attract the attention of cable or small-market television networks. In fact any number of creators of successful web shows have expressed a desire to be on television now or in the near future. For instance, suggesting that television is very much an end goal, the Between Women crew is currently soliciting support from its viewers to help the web series migrate from Internet-to-television, with BET and WE apparently being the preferred contenders.
Regardless of if we think of new media's relationship to television as "remediation" or "convergence," television is not dead. In my house, the current production cycle of black web series re-animates a familiar tool of work and play—for now.
Image Credits:
1. Between Women Homepage Screen Capture
2. Osiris College Tour Poster

Please feel free to comment.
Lisa Nakamura. "Digital Media in Cinema Journal, 1995–2008." Cinema Journal 49, no. 1 (2009): 159. See also Ann Everett "Click This: From Analog Dreams to Digital Realities." Cinema Journal 43, no. 3 (Spring 2004): 93–98. [↩]
I also wonder if it matters that most black web series produce very few episodes before expiring. If this production trend continues, perhaps the longevity of an individual series will matter much less than the sum of the constant flux of new titles and projects. [↩]