Mothers on the Naughty Step: Supernanny and Reality Parenting Television
Rebecca Feasey / Bath Spa University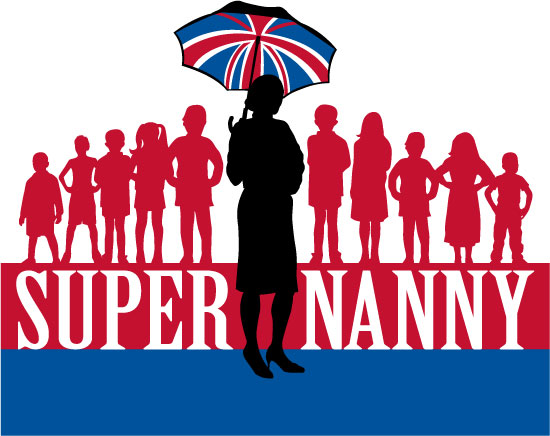 Supernanny's Logo
Our television landscape is currently littered with documentaries, docu-dramas and reality programmes that seek to expose salacious and scandalous images of motherhood. Programmes such as Half Ton Mum (2007), Octomom: Me and My 14 Kids (2009), 8 Boys and Wanting a Girl (2010), Too Old to be a Mum (2010), Misbehaving Mums to Be (2011) and Fast Food Baby (2011) present an ostensibly realistic look at some of the more shocking representations of motherhood that exist in the contemporary cultural climate. Moreover, reality parenting programmes such as Supernanny (2004- ) and Supernanny USA (2005- ) that seek to correct well meaning but ultimately 'poor' parenting tend to focus on the image of the incapable, ill-equipped and incompetent mother.
Reality parenting programmes are in a position to explore, examine and unmask gender roles in society due to the fact that they focus on the women's relationship with the domestic sphere. However, although there is the potential for informed commentary regarding the lived reality of mothering without extended family support systems or the challenges faced when combining motherwork with paid labour, programmes such as Supernanny tend to offer conservative agendas and patriarchal conclusions concerning women's appropriate domestic role and innate maternal instincts.
Supernanny routinely emphasises the mother as the primary caregiver in the family unit. Mothers are portrayed as domestic manager, in charge of meal times, bath routines, bed-time stories, school runs, grocery shopping, household chores and general children's entertainment planning and activities. Mothers are assumed to have sole responsibility for childrearing, and any problems that they experience in the domestic sphere are seen to be due to individual failings and their own ineffectual maternal practices. The programme makes it clear that it is the lenient, weak and fragile maternal figure that is the family problem that needs to be re-educated, not the supposedly 'bad' children, and the fact that parenting techniques are 'almost exclusively taught to mothers … whether stay-at-home or not'1 is particularly telling here.
[youtube]http://www.youtube.com/watch?v=3S4Zo6cde8o&feature=related[/youtube]
The programme conforms to the patriarchal 'good' mother myth that demands a mother be always available to her children, and if that woman happens to work outside of the home, she must plan her work schedules around the demands of her family.2 The programme seems to set up an opposition between stay-at-home mothers and working mothers, privileging the woman's role as caregiver in the domestic sphere over her participation in the public realm. Any jobs, careers or other non-domestic labour is clearly and deliberately established as a troublesome 'interference' to a mother's domestic life.3
Reality parenting television tends to focus on working-class families, so that incompetent, incapable and inarticulate motherwork, maternal care and domestic duties tend to be laid at the door of the economically, socially and educationally underprivileged. Those working-class women who are struggling financially, living in claustrophobic conditions and unable to find time to not only clothe and feed their children, but to also educate them inventively, entertain them and inspire them creatively are held up as 'poor' mothers because the show seems to suggest that these women are in a position to choose how to speak to, feed, discipline and clothe their children, with no acknowledgement of the material, economic or geographical constraints which shape their lived reality and thus inform their maternal practices. In short, these mothers are marked as culturally inappropriate maternal caregivers with little attention paid to the context in which they are mothering.
Supernanny appears to delight in humiliating these women and we are routinely asked to bear witness to their shame as they scream and swear at their children, smack them, ignore them, leave them, lock them in bedrooms, force-feed them and resort to sarcasm at their expense. Each episode, without exception, sees supernanny Jo Frost deriding, dismissing and berating mothers for being physically frail, mentally fragile and ineffectual in their parenting practices. Frost asks parents to 'witness the pinnacle of their own parenting failure,'4 at which point, these primary caregivers refer to themselves as 'poor' mothers, talk about their own inappropriate childrearing practices and berate themselves for their lack of consistent disciplinary techniques. Mothers routinely apologise for what they see as their maternal failings and acknowledge their inability to follow through with clear, consistent discipline in the household, aware that these failings are going to create further chaos, disorder and disharmony in the domestic space.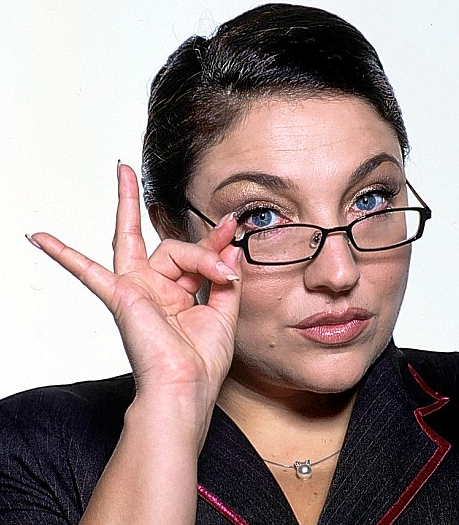 Supernanny Jo Frost
The voyeuristic camera spends far longer registering the upset, anxiety and humiliation of the mother compared to the father of the piece, with the suggestion that these women should be embarrassed by their parenting practices, reprimanded for their motherwork efforts, and ridiculed for their ineffectual domestic labours. However, although one might look to reality parenting television in general, and the long running and popular Supernanny in particular as an example of patriarchal, misogynistic or class-based programming, some have suggested that the representation of appropriate and inappropriate mothering in these shows is useful, necessary and of importance.
Supernanny not only exposes parenting problems, but offers parents in general, and mothers in particular, ways to create a more harmonious family unit, and as such, one might look to praise the show for its entertainment potential and educational possibilities. Extant research tells us that audiences watch these programmes for interest and educational reasons5 with supernanny becoming a 'spokesperson for audiences who need a kind of civic education in parenting'.6 Indeed, members of the British Conservative party have praised the programme's routinised and organised methods in a parliamentary debate on anti-social behavior. The fact that each show concludes with a short revisit to the originally struggling family, and that, without exception, these families are calmer, more courteous, and the mothers more confident about their maternal practices demands that the audience acknowledge the success of the techniques being presented, irrespective of the earlier humiliation and shame of the mothers involved. Therefore, rather than critique or condemn the programme for exploiting fragile mothers or for humiliating depressed caregivers, the programme might be seen to present a powerful maternal voice. Indeed, if one considers that contemporary mothers are said to bring inaccurate or ill-informed, disabling and delusional expectations to that role7 , then the representation of motherhood in parenting reality television might be seen to bridge the gap between expectation and experience here.
Image Credits:
1. Supernanny's Logo
2. Supernanny Jo Frost
Please feel free to comment.