Watching While Depressed
Sasha Torres / The University of Western Ontario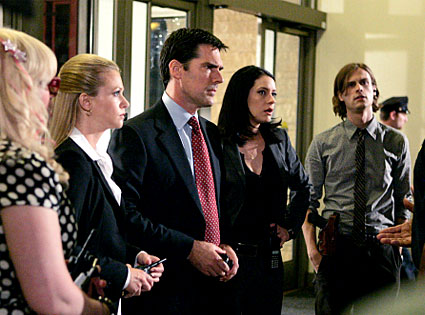 Criminal Minds and performance of affect
Winston Churchill, a celebrated depressive, referred to his depression as "the black dog." Having spent most of the past summer feeling as though I was lying flat on my back with a huge, drooling mastiff with his (definitely his) paws planted firmly on my chest, I've had ample recent opportunity to consider this intractable canine's television preferences. I have known for some time that my black dog really likes television. Indeed, watching television is second only to napping on his list of favorite activities. But does he prefer some programs, or some genres, over others?
Fortunately, he and I have had lots of time to talk about this lately, so I'm able to share my findings. First, he hates The Dog Whisperer. Cesar Millan is way too upbeat and can-do for my mastiff. Plus, I think he identifies with the dogs Cesar is endlessly subjecting to "exercise," "discipline," and "affection." Like most of the dogs on the show, he's fine with the affection part, but he hates the other two. The black dog's loathing of Cesar Millan is interesting to me, because when I'm feeling good I love few things more than a good Dog Whisperer marathon. I laugh. I cry. I feel anything is possible with the right "calm, assertive energy." I groove to what my husband experiences as Cesar's vaguely fascist vibe. I aspire to be a pack leader. And changing the world, "one dog at a time", seems as plausible as most other aspirations toward global reform.
I guess it's no surprise that the mastiff hates pretty much anything designed to be uplifting. What he loves and wanted most to watch this summer are reruns of Criminal Minds and Bones. At first glance, his preference seems logical. These are, after all, shows about human depravity. They would seem to reinforce the kind of hopelessness that the dog cultivates. Criminal Minds, in particular, a show about the FBI's Behavioral Analysis Unit, is relentlessly downbeat. It's hard to be comedic on a show about serial killers. Indeed, the entire production seems to take its affective lead—save for the all-to-infrequent jokes about Matthew Gray Gubler's hairstyles—from Thomas Gibson's tirelessly dour performance as team leader Aaron Hochner.
Bones, on the other hand, is quite different from Criminal Minds in its performance of affect. Despite the fact that each of its plots is centered on a murder (and sometimes on serial murder), it's much more lighthearted. Each episode begins with the discovery of a body, and the series takes cheerful delight in grossing out its audience in a new way each week (the culmination of this tendency is undoubtedly to be found in the episode, "The Feet on the Beach" in which Booth and Bones visit a body farm, and Bones positively luxuriates in the decomposing flesh; see below). Lab employees vie for the title "king of the lab." And Billy Gibbons, lead guitarist of ZZ Top, makes recurring and hilarious appearances as Andrea's father. In short, Bones has a completely different tone from Criminal Minds and it invites quite a different affect in its viewers. How, then, does the mastiff tolerate it?
[youtube]http://www.youtube.com/watch?v=LYpCAbiQfG4&noredirect=1[/youtube]
Luxuriating in decomposing flesh
After long consideration, I've concluded that what depression wants in a television viewing experience is, first and foremost, formulaic repetition. This, in addition to murder, is what Criminal Minds and Bones have in common. Indeed, it is what they have in common with the various other series in which the dog and I have sought refuge during the time we've spent together, series like Star Trek: the Next Generation, Murder, She Wrote, and, more recently, The Mentalist. Hence the mastiff's affection for shows in which every episode is exactly like every other episode. Criminal Minds: deranged serial killer finds latest victim; team flies to scene; profiling happens; team identifies serial killer with Garcia's help; team finds serial killer and rescues latest victim. Bones: civilian in the wrong place at the right time finds rotting body or skeleton; remains are transported "back to the Jeffersonian" and forensic team begins work; Booth, Bones and Sweets interrogate suspects; Bones discovers the case-solving evidence; Booth arrests killer. ST: TNG: Wesley's science project saves the Enterprise. Murder, She Wrote: Jessica finds herself among a new group of strangers; a member of the group is murdered; Jessica discovers that everyone hated the victim; Jessica detects; the group gathers and Jessica reveals the killer. The Mentalist: Take Murder, She Wrote, subtract Jessica and add a con man/detective, some hypnosis, and much exasperation on the part of the con man's law enforcement colleagues.
We still know very little about the relationship—or even whether there is a predictable relationship—between the affects that particular television programs represent and enact, and the affect that viewers experience as they watch. Indeed, television scholars have barely begun to ask such questions. I offer my experience with the black dog as one bit of evidence that such studies might consider. It seems to me that what depression wants—or at least what my depression wants—more than a particular genre, more than a particular content, and even more than a particular affective tone, is not to be surprised.
After all, depression is all about feeling stuck, even immobilized. Surprises—even the wee ones offered by television—energize and activate. I remember one day in the fall of 2008, as the markets were melting down, watching CNN with amazement as progressive, Nobel-Prize-winning economist Paul Krugman and former Nixon speechwriter Ben Stein found themselves actually agreeing about what needed to be done, and having a genuinely collaborative and constructive conversation about the causes and meanings of the crisis. I think they were as surprised as I was. At home on my couch, I could barely sit still. In that moment—a moment in which CNN's standard formula (get a liberal and a conservative, and let them fight it out) failed utterly to produce the expected result—television moved me. It is precisely this kind of engagement with the world, or even with television, that the owner of those giant fuzzy black paws wants to deny me.
Image Credits:
Please feel free to comment.