Spying while "Black": The curious failure of The Undercovers
Camille DeBose / DePaul University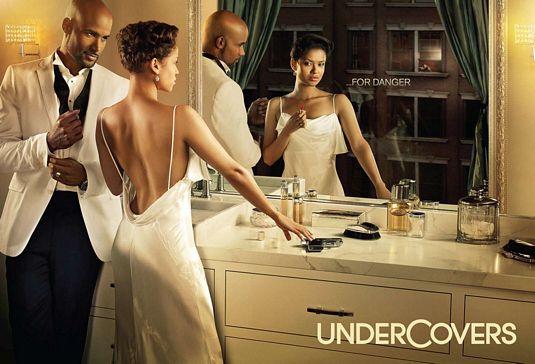 Promo shot for the NBC show Undercovers
[flv]http://flowjournal.org/wp-content/uploads/2011/09/J-J-Abrams-Interview.flv[/flv]
JJ Abrams Interview discussing Undercovers
When I proposed writing this article I was intrigued by the notion that one of our current media darlings, J.J. Abrams had somehow stumbled while employing what could be considered a fail proof formula. A spy show. Action, intrigue, car chases and gunfights are usually well received when properly executed and our man J.J. seems to have no problem executing. From minute one of the first episode to the final minutes of the last (aired) episode, Undercovers played consistent with its genre and budget. There were high production values, great cinematography and pleasingly appropriate musical scores which complemented the exotic or international localities. The Blooms are television spies, pure and simple. The missions are filled with intrigue. The bad guys are nasty and the sidekicks are humorous. As I watched I was reminded of shows I enjoyed growing up in the eighties. Hart to Hart, which aired from '79 to '84 followed the exploits of a wealthy husband and wife team who fancied themselves detectives in their "secret" lives. Moonlighting also came to mind which starred a young Bruce Willis and Cybill Shepard. While the "cases" were important to the show the relationships between the male and female lead were equally important and explored throughout the episodes.

Hart to Hart and Moonlighting were two shows from the 1980s where the relationship of the leads were important
The Undercovers is clearly a relative to these shows. Steven and Samantha Bloom are attractive and comfortable and capable of pulling off an Irish accent. They live in a modern home with a kitchen adorned with orchids and hanging copper cookware. I actually laughed out loud during a scene where their "handler" Shaw, after showing up at their home unannounced and partaking of Samantha's french toast, declares it too dry. Steven's impassioned response is "…that's because you overheated it!…" The mood of the show is that combination of drama and comedy christened "dramedie" in the eighties. Each episode requires the Blooms' to travel to a faraway destination designated by a corny-but-cute postcard transition. While on their missions I watched the Blooms speak French, Portugeuse, Spanish, Russian and several other languages. The objectives were formulaic but fine. One episode included diamonds (expected) that weren't diamonds but crystalline poison cut to look like diamonds for easier transport. OK. That's pretty clever. Mind control was the subject of one episode while a brilliant scientist forced to create a miniature bomb was the subject of another. Throughout the season there are foot chases, plenty of fights and shots fired and several bad guys go down. Shadowy figures meet in shadowy locations exchanging furtive glances while hatching dark plans our heroes must thwart. With the opulent settings and fun disguises I kept waiting for the show to get… bad. But the shark jumping never came. Let me unambiguously state, The Undercovers is not the most brilliant show on television. I'm not sure what show that would be, though The Booth at the End makes me tingle. Nor is it the worst. The Undercovers, I'll reiterate, is a pretty lighthearted spy dramedie with high production values, attractive leads, silly postcard transitions and a secret. We'll never know the secret because the show was canceled.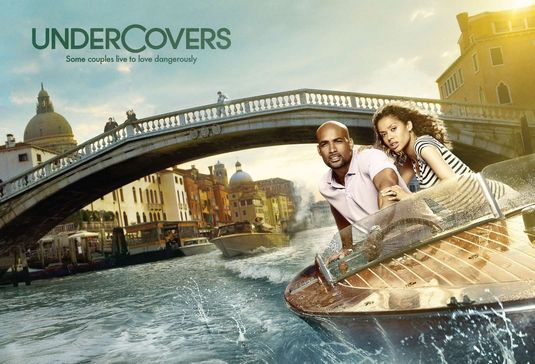 Undercovers Travel to Italy
So what happened? One theory, presented by a viewer not particularly impressed with the show, is the lead roles were played by people who's names "can't even be pronounced," (Boris Kodjoe and Gugu Mbatha-Raw). We'll bracket that theory for now. A few viewers argued the show did not contain enough depth, intrigue or "edginess." This is true-ish. The show is not dark and dramatic so the assertion that it lacks "edge" is a fair criticism. There were complaints about not enough "chemistry" between the two leads making me wonder if the absence of a hypersexualized portrayal hurt the show in some viewers' eyes. Steven and Samantha are clearly devoted to one another and reaffirm their love at the end of each episode. Some mentioned the couple just seemed "too nice." I must question our discomfort with watching a black man on screen who is neither aggressive nor a comedic buffoon. And then there were complaints of their black authenticity. Our spy heros were acting too "white" while wearing their "black" skin. One viewer spoke plainly about the "unrealistic" way they are placed in situations around the world where they should "stick out like a sore thumb." Some found it ridiculous that these black bodies would be accepted as competent, multilingual, multifaceted agents exercising their agency. This I found curious, unfortunate and offensive. In the midst of this new age of post-racial rhetoric, how is it so many continue to operate under the assumption of a black monolith. Within the parameters of this logic many of my family, friends and colleagues exist as inauthentic exceptions to the black "rule." Artists, academics and environmentalists float about like rare magical creatures. My own son who, since kindergarten has studied Mandarin, Spanish and American Sign language and just spent his thirteenth summer happily practicing a collection of Schubert's shorter works for piano forte (a laughable description since the average number of pages for the pieces is twenty), would indeed be something of a unicorn. I mention him not in an effort to toot a parental horn but to offer an intimate example of a reality that remains hidden only because it is unwritten, rarely projected and shielded from view. The question of authenticity is a very American question because "blackness" as operationalized is a uniquely American concept/construct. This is why I've placed "black" in the title in
quotation marks.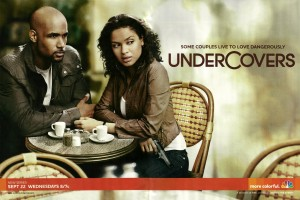 Another Publicity Shot for the Show
Perhaps the curious failure of the Undercovers highlights our own failure to see blackness in all its diversity. More importantly it highlights the effects of an unwillingness to produce diverse representations of blackness in media with black Americans being complicit in that failure. Black people are written as pimps, players and buffoons by others and they write themselves as pimps, players and buffoons as well. Was The Undercovers really a terrible show (the ratings are fairly comparable to other shows of this type) or was it just too difficult for us to watch two brown faces speaking various languages not least of which was "proper English"? For me, these spy dramedies exist as fantasy therefore I read them as such. Fantasy and Science Fiction have long been a haven for "others" represented with dignity. In her discussion of black bodies in science fiction Sandra Jackson writes:"I long for stories about the future in which issues of difference, race/ethnicity, sex and gender, as well as colour, transcend historical and traditional coding, racializing beings and aliens from other planets and solar systems. Then the darker ones will not be predictably sinister, horrific, unpleasant to look at, predatory, and unworthy of humanity and trust in terms of engagement, or sexualized as deviously seductive, lascivious, tropes for the consumption of male desires of the exotic other." (Jackson, Demissie, Goodwin 2009).1 The failure of this show is, for me, curious. Not the failure to produce, but the failure to consume. This seems to be a year of dangerous, radical representations which are dangerous and radical in ways we don't expect. They proudly tug at the fraying edges of hegemonic constructs and radically present us with… a new normal. But this new normal is only new to those who've bought into the dominant representations of blackness or gayness or what "hot and Latin" looks like, etc. Steven and Samantha Bloom are a radical representation because they contain none of the hypersexed expected aggression that we've come to accept/expect as "black" television. The Blooms were written as American spies. They are read, however, as "black."
Image Credits:
1. Publicity Shot 1
2. Moonlighting and Hart to Hart
3. Undercovers in Italy
4. Publicity Shot 2
Please feel free to comment.
2009 Sandra Jackson The Black Body: Imagining, Writing, (Re)Reading Sandra Jackson, Fassil Demissie & Michele Goodwin (Editors) Unisa South African, Unisa Press. [↩]