Don't Hate The Player, Hate the (Nearly Impossible To Win) Game: Analysis of Minority Employment
Kristen Warner / The University of Alabama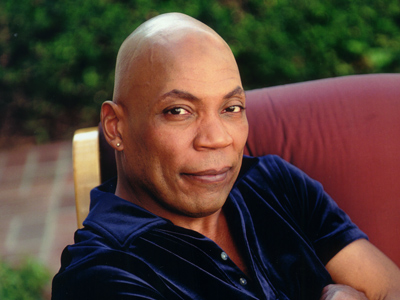 One of the more successful black television directors, Paris Barclay.

Last week unveiled the new season of series premieres within the televisual landscape. The anticipatory nature of season premiere week is laden with anxieties about which new shows will succeed or fail and if the returning series will continue to tell good stories. The new fall season is also annually enmeshed in conversations about the lack of diversity both in front of and behind the camera.
Recently, the Directors Guild of America (DGA) released a report indicating that of the 2600 episodes analyzed from more than 170 scripted television programs produced in the 2010-2011 season, 77% were directed by white males; 11% by white females; 11% by minority males and 1% by minority females.
The numbers do not fare better in writing or acting. According to the Writers Guild of America (WGA) report women remain underrepresented by factors of 2 to 1 among television writers, while minority writers maintain their consistent underrepresentation by factors of 3 to 1 among television writers. In acting, the Screen Actors Guild (SAG) reports that in 2008, whites dominated the share of television and film roles by 70.7%, leaving African-Americans 14.8%, Latinos 6.7%, Asians 3.4%, Native Americans .30%, and unknown 4.1% with what remained.
What these numbers translate to is more than Hollywood having trouble finding good people to employ; no, these numbers speak to Hollywood's willful disregard for accepting difference into its logics system. As an industry comprised by the sum of its parts, Hollywood is made up of individuals with paradigms and experiences that more times than not and negligently more than maliciously, ignore that people other than those who look like them exist and are hirable. Moreover, what's more peculiar is that the burden of proof rests with those seeking work because, of course, Hollywood cannot legally discriminate on the basis of sex, race, religion, or sexuality. But, if the television industry is a system that churns laborers out through apprenticeship and internship and if those positions are nearly always filled by whites (particularly white men), then the institution itself has designed a strategy of indirect exclusion that prohibits minorities and women from even being able to access the opportunities.
What's more is that the numbers released by the various guilds are ultimately disseminated to shame the industry and its members who participate in this employment exclusion. And for the duration of the fall season's media coverage, mea culpas are issued and the citizens of Hollywood take a beating for their disinterest in improving the diversity of their industry. However, once the news cycle ends, it is back to business as usual.
This is not news nor is it the crux of this column. Instead, I want to explore some of the strategies that guilds and its underrepresented membership deploy to circumvent these institutionalized barriers. What's fascinating about these strategies is the way that racialized difference is displaced by the neutrality of the post-racial era—thereby playing into the very same logics that allow them to be excluded in the first place.
1. As I sat down to watch the CW's Ringer series premiere, the first scene is set in an Alcoholics Anonymous meeting. The intertitles reveal that these characters live in Rock Springs, Wyoming. And then I am introduced to the main character's sponsor, played by Mike Colter, a black actor. Colter portrays a professor at the local university with a soft spot for his sponsee. The first thing that I did when I put all of these facts together was visit Twitter and write, "There's a black man in Rock Springs, Wyoming. Alert the media." It is not that I think it impossible for a black man to live in Wyoming. Indeed, as an academic, the instability of the job market often means that a job is a job—even if it takes you to Rock Springs, Wyoming. However, the probability that within the town of Rock Springs, the man who just happens to be the lead character's sponsor is a black man is slim.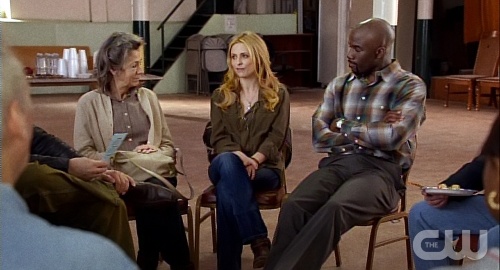 Mike Colter & castmates
Of course, Ringer would argue that my noticing his skin color misses the point. However, because the character functions as the literal embodiment of visual difference rather than a qualitatively representative one, I argue that race is a major point. Specifically, I contend that the part was blindcasted, that is, the part was written without specifying race into the script.
Underpinned by neo-liberal race logic, colorblind casting deploys a universal, "we are all the same" rhetoric that superficially fixes the issue of racial representation in television and film. Blindcasting becomes a useful tool for industrial practitioners because it allows them to avoid explicitly writing race into the script while ensuring "equal opportunity" for actors of diverse backgrounds to audition for and even be cast. Yet this practice only corrects the issue of racial diversity through visibly sprinkling television with color. Rather than actively pursuing diversity by hiring minority writers and/or showrunners to create culturally specific roles for people of color that could, for example, explain the exceptionalism and perhaps the oddness of a black man in Wyoming, the television industry prefers to make roles racially normative, where the norm is "whiteness." Thus, blindcasting forces minority actors who desire gainful employment to input their cultural difference and output a standardized form of whiteness.
What's more is that this normative whiteness is so accepted and common sense that me asking, "Why is this black man in Wyoming?" makes me the oddity who brings up race where it is not an issue. Yet, Colter's existence in that location functions as Stuart Hall describes, "a matter out of place" thus acknowledging and understanding how he got there is an important component in understanding the show's larger assumptions about the role of race in its series.
2. The last strategy deployed by underrepresented groups to circumvent the industrial barriers to employment is through the self-fashioning of the racially ambiguous actor. While discourse concerning the new fall season promotes shows that feature racially identifiable minority characters, more and more often, television is featuring racially ambiguous actors. Recalling the earlier statistic from SAG, racially unknown actors accounted for 4.1% of all roles in 2008. The category racially unknown is defined by the fact that these actors did not select a racial category on the surveys SAG sends to identify the racial makeup of its membership. According to interviews with guild representatives, the members opt not to self-select because they fear that racially identifying themselves will relegate them only to the roles that allow that racialized group.
Implicit in this logic is that these individuals believe they can racially pass as something else. So, Jessica Szohr's biracial ethnicity remains questionable in Gossip Girl unless you read her IMDb profile. Similarly, Jessica Parker Kennedy's racial ethnicity is ambiguous allowing her to pass as just one of the girls in the witch coven in Secret Circle—even though there is something "not quite white" about that girl.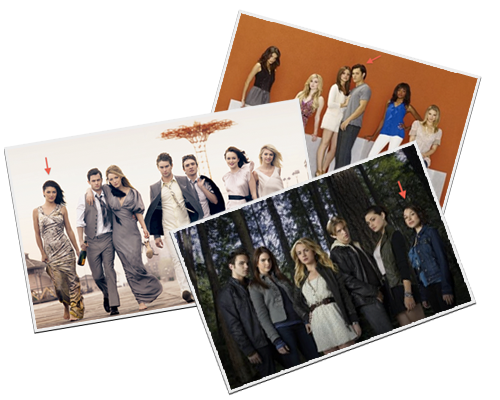 The arrows indicate the ambiguously raced actor.1
However, it is not just questionable race at play with this strategy. Blair Redford's ambiguous look allows him to be Latino for ABC Family's Switched at Birth and Native American for ABC Family's The Lying Game. While this clever strategy certainly allows for employment because it asserts that the actor has a look that could be interpreted through a variety of "types," it privileges (sometimes racist) assumptions about the look of a given racial group. In addition, it amplifies colorblindness's power by not only making race something "unseen" but by overtly detaching racialized bodies from the socio-historical contexts they emerge.
In the end what all this means is that cultural specificity—through storytelling and through casting—is afar off. More practically this means that when there's a random black man in North Dakota during next year's fall season? You'll know why.
Image Credits:
1. Paris Barclay
2. Mike Colter
3. Gossip Girl; The Lying Game; The Secret Circle
Please feel free to comment.
Clockwise Jessica Szohr for Gossip Girl; Blair Redford for The Lying Game; Jessica Parker Kennedy for The Secret Circle. [↩]