Belmont, BRAVIAs, and Barcraft: Video Content and Game Consoles
Steven Boyer / University of Glasgow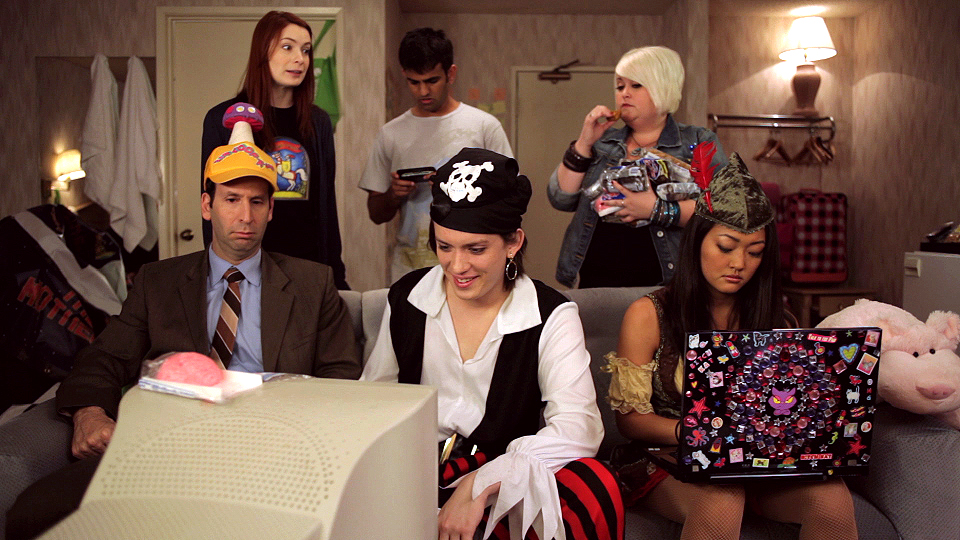 The Guild celebrates gamer culture, but not as offered by show distributor Microsoft
While game consoles may be on their way towards becoming popular television distribution platforms and are attempting to adapt some of television's defining features, the vast majority of the content available on these consoles is not produced specifically for them. As such, in their quest to become inclusive media centers, the platform holders have neglected to encourage video content directed specifically at game players. In doing so, they are failing to capitalize on their position in the entertainment landscape, allowing web publishing to take the lead and popular games-related video content to thrive elsewhere.
This lack of content is especially surprising for Sony given their status as a global media conglomerate complete with film and television production infrastructure. Despite this, the PlayStation's "Original Programming" slate consists of only three shows: Pulse, Qore, and The Tester.1 The first two, along with Microsoft's Inside Xbox channel, follow publishing's lead with "video magazines" that consist of short format videos of the promotional, instructional, or informational variety. Of these programs, Qore comes to the closest to capitalizing on the benefits of the platform, allowing viewers to access and download game demos and other content directly alongside videos showing off this content. However, Qore is not even produced by Sony, but by Future Publishing who produces the official magazines for all three major consoles. Inside Xbox also includes videos provided by Future as well as by game web publisher IGN. Thus, console holders are not only missing out on potential revenues, but also indicating a lack of confidence in this space.
Qore host Veronica Belmont promotes Duke Nukem Forever
In terms of entertainment programming, Microsoft has thrown the bulk of their advertising support behind The Guild, a popular web series starring Felicia Day that is featured on Xbox Live, Microsoft's Zune marketplace, and on the web through MSN video. While this may seem like a success on Microsoft's part to capitalize on a fan favorite series about gaming culture and bring together the company's various video services, the unnamed game at the centre of the series is clearly meant to suggest the blockbuster MMORPG World of Warcraft, a game not available for either the Xbox 360 or Microsoft's PC gaming service Games for Windows Live. Moreover, lack of clan or guild support is one of the most consistently voiced criticisms of Xbox Live, meaning that Microsoft's most visible fictional program not only promotes a competing product, but directly emphasizes one of their own biggest shortcomings.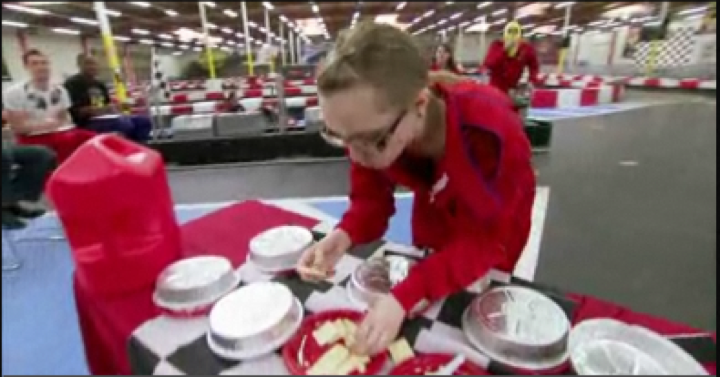 Contestants on The Tester 2 demonstrate an important skill for any game tester: speed-eating
Conversely, Sony's sole narrative offering,The Tester, thrives on synergy, providing a version of game content plastered onto a television standard – the reality show. Produced by 51 Minds, the company behind many of VH1's staple reality franchises, The Tester looks and feels like it could be the newest season of Rock of Love if not for the emphasized BRAVIAs, gamer stereotype cast, and depressing prize. Amidst the game industry judges, each season of the show has also included a semi–familiar face from VH1 shows. This pairing of reality television and gaming is much more apt than it may initially seem, with Steven Johnson suggesting that reality shows are heavily indebted to the slowly and unpredictably unfolding rule-based structure of video games, so much so that "[r]eality television provides the ultimate testimony to the cultural dominance of games in this moment of pop culture history."2 Sony has certainly been successful enough with The Tester to now warrant a third season, but this has yet to prompt further exploration by Sony or copycat programs from competitors. At the same time, the show's representations of game players and game work provide such a problematic vision of the medium that it is unclear how sustainable such a program will be.
[youtube]http://www.youtube.com/watch?v=6s6UiEuCYXA[/youtube]

Despite promoting a console product, Mortal Kombat: Legacy is nowhere to be seen on consoles
While these examples seem to suggest that developing programming directed at game players is particularly complicated, this type of content is building steam outside the confines of the console space. With the YouTube hit Mortal Kombat: Legacy, Warner Bros. managed to convert grassroots enthusiasm for a semi-professional fan film into a web series timed to coincide with the reboot of the game series. While the game is available for both the Xbox 360 and PlayStation 3, the show is not, instead appearing solely on YouTube through gaming channel Machinima. Through this partnership, the first episode racked up over five million views in its first week, which one commenter suggests has "officially legitimized" the web series format. Regardless, it's worth questioning why a series based on a video game property and serving to reignite interest in a new edition of the game is not "officially legitimizing" the console space instead.
[youtube]http://www.youtube.com/watch?v=FHC8Kbum-bk&feature=player_embedded %5Bevo video%5D[/youtube]

Passionate attendees of Evo 2011 enjoy the thrills of fighting game spectatorship
The most rapidly expanding segment of game-related video content, e-sports or professional gaming, is also primarily situated beyond the bounds of consoles. The recent resurgence of the fighting game genre was largely driven by the popularity of titles like Street Fighter 4 and Marvel vs. Capcom 3 on consoles, yet the myriad tournaments surrounding these titles have been almost entirely absent on these devices. This past year's Evo Championship Series, the most prominent fighting game tournament, was viewed online by over two million people, but through web streaming service Ustream.tv rather than on a console's distribution system3 .
Similarly, fervour for the e-sports juggernaut Starcraft has only intensified with the release of the sequel, Starcraft 2: Wings of Liberty. Already a national sensation in South Korea, Starcraft 2 has built steam in the West, regularly pulling in large numbers of engaged streaming viewers, drawing record crowds at conventions, and taking over public spaces for "Barcraft." That Starcraft 2is a PC-only title has meant that this online spectatorship has revolved around the PC rather than consoles, but certainly demonstrates the massive potential for high-profile e-sports programming.
Starcraft 2 publisher Activision-Blizzard is hoping to translate this success to its best-selling console series Call of Duty with its upcoming social platform. Call of Duty Elite will offer both game replays and Call of Duty Elite TV, a source for professionally developed video programming from Hollywood names like Ridley Scott and Jason Bateman. While this type of system could be the future of game-centric video programming, revenues are again flowing to a third party rather than the console makers and are still the exception rather than the rule. Console video programming is still very much in its infancy, but any hopes of attracting a Conan will likely fall short until the platform holders begin to commit to this future themselves.
Image Credits:
1. The Guild
2. Qore
3. The Tester
Please feel free to comment.

First Play was a UK-based program similar to the US-only Qore, produced by Future Publishing. It was cancelled in July after approximately a year. The recently launched Access is Future's replacement, sharing video resources with other Future properties like Gamesradar and CVG. [↩]
Johnson, Steven. Everything Bad is Good for You: How Today's Popular Culture is Actually Making Us Smarter. Riverhead Books, 2006. 92. [↩]
Sony did pipe the official stream of Evo 2011 into PlayStation Home to test the service's video streaming infrastructure. Comments on the announcement blog post and the official forums suggest that much more testing is needed. [↩]