More than just 'Lip Service'?- Stereotypes in lesbian focused drama
Faye Davies / Birmingham City University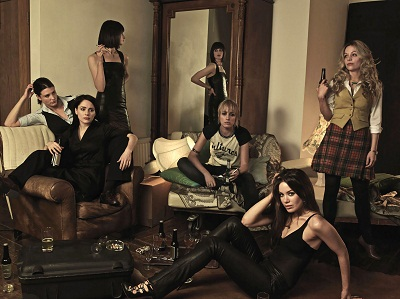 The Cast of Lip Service
Lip Service was the first BBC screened 'lesbian drama' set in the contemporary era. Aired in the United Kingdom on BBC3 during October and November of 2010 the Glasgow based lesbian drama wasn't heavily previewed or advertised, although in lesbian circles it found huge popularity and has just finished shooting a second series of six episodes. The series was aired on BBC3 which is aimed at the 16-34 age group and continues as part of the UK's public service system and ethos – it has universal access in terms of UK viewers and no advertising. BBC3 output is mainly UK and Europe based (90%). Lip Service pulled in a relatively high audience (for placement on a digital channel) of 580,000 viewers for its opening night (total UK audience share of 4.4%). The Guardian called Lip Service 'hugely significant'1. This column considers the popular Lip Service in context alongside another recent lesbian drama: The L Word with a particular focus on introducing ideas for discussion around the representation of butchness and bisexuality.
When a high number of viewers engage with lesbian, gay or bisexual representation, even in the contemporary era – it takes on credence, a credibility and believability. There are a wide number of people who don't encounter gay lives, lesbian or gay sexuality and its resultant dramas, problems, or various considerations. Once this is represented, it takes on an importance; it constructs a reality for a large proportion of society. For lesbian viewers it also 'speaks of the self' – especially in terms of the formation of identity for young lesbians. Lesbian focused drama is still relatively rare and so the burden of representation is heavy.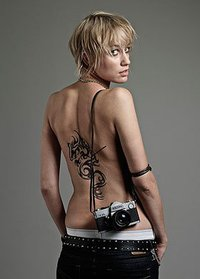 'Frankie'
This is particularly pertinent as once there is some plurality of representation it appears that stereotypes relating to a particular culture begin to emerge and develop and these are what can be considered noteworthy in terms of identity politics. What is interesting with regard to these two dramas is that there is a clear pattern of stereotyping emerging. Distinctions will be drawn in what follows with my brief study of The L Word which can be found in greater detail in Televising Queer Women2, although in this column I will only offer a brief mapping of the stereotype formation around butchness and bisexuality alone.
Initially what seems to be set up in both of these shows is the discursive dichotomy of 'butch' and 'femme'. Whilst these labels are hugely problematic in theoretical terms – they seem inextricably linked to key narratives in these lesbian focused dramas. It is arguable that the distinctions between the two identities are connected to sexual practices and relationships which are arguably forming the dominant discourses of lesbianism for the mainstream. On the one hand we see the lead butch in Lip Service: 'Frankie':
[youtube]http://www.youtube.com/watch?v=sF4bK9_e2rE[/youtube]
In Lip Service, Frankie can be considered as emotionally and morally void in a number of senses. Discursively she is constructed as driven by sexual practice and her own sex drive; arguably to beyond the point of her own control. We see her having anonymous sex with a model she photographs (after just learning her Aunt/mother figure has died) having anonymous sex in a mortuary at a funeral parlour just after viewing her Aunt's body (next to a body on a mortuary slab).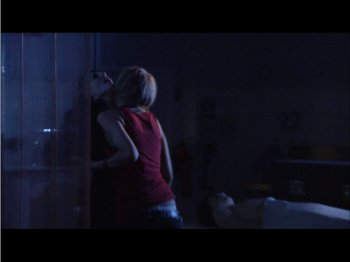 Frankie's Anonymous Sex
Frankie also has sex with her male best friend who is engaged and eventually her female ex-partner who has just moved in with a new lesbian partner.
One aspect of Frankie's character connects clearly with the butchness of Shane in The L Word. This is in both aesthetic and act: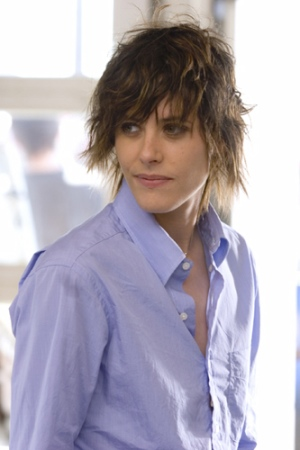 'Shane'
Shane is a character whose actions, 'equate with promiscuity and emotional detachment'3. Even in these two (arguably) mainstream shows there is a clear stereotype emerging in terms of 'butch' lesbian sexuality. This construction is emotionally void in sexual act and often immoral in relationships. This is hugely problematic for the 'butch' identity as it mimics the feminist considerations of masculinity as problematic in a lesbian feminist sense4.
But Frankie also communicates some familiar discourses around bisexuality. In The L Word bisexuality is constructed as ideologically problematic as an 'interim' and low in the order of discourse which prioritises the solid categories of lesbian or straight5. TLW's bisexual characters such as Jenny Schechter (seemingly bisexual in Season 1 and 2) are constructed as unbalanced at best. We also saw 'quirky' Alice Pieszecki, who again had a 'dwindling' bisexuality throughout the show's run. Between them, these two characters relate the insecure, the unfaithful, the cheater, the unsettled; essentially there is a characterisation of bisexual characters as indecisive and unable to manage their lives in a way that is always successful and balanced. These are all aspects of Frankie's character which are clearly communicated by the narrative in Lip Service.
The most pertinent point is that these constructions are making the invisible visible6 – this is the stereotype that is appearing to develop in lesbian focused drama involving the 25-35 age group. These dramas are constructing what it means to be butch or bisexual to both a gay and straight audience whose prior understanding of gay culture might be vast or nil; and it is the latter which may be more problematic for identity politics and assumptions about bisexual and gay lifestyles.
What is problematic about such emerging representations is that they are pushed to the fore in the audience mind, and whilst avoiding any 'hypodermic' assumptions or accusations that these representations are either 'good' or 'bad', it's important to remember that western screens are not awash with lesbian focused dramas. The stereotyping outlined above can only encourage far more audience research to understand the development, impact and formation of stereotypes and their ideologies in the minds of both gay and straight audiences.
Image Credits:
1. The Cast of Lip Service
2. Frankie
3. Frankie's Anonymous Sex
4. Shane
Please feel free to comment.