Farm Waves
Scott Webel / Museum of Ephemerata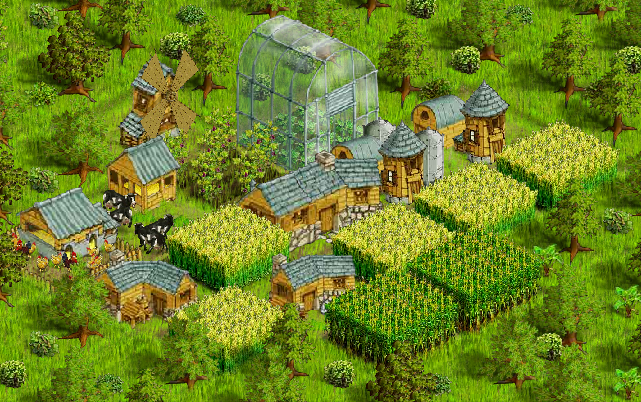 A virtual landscape in Free Farm Game
A farm homestead grows among the wireless waves that cross our backyard garden patch.1 Good thing chickens and tomatoes don't develop Wifi sensitivity. I became a Free Farm Game user several years after forming a gardening habit. If only my backyard could be as fecund and profitable as a single tile of my virtual farm.
"Sick of city life? Tired of those childish and unchallenging farm games?" Make your own farm for free! This back-to-the-land permutation of Monopoly has an international audience with servers in the UK, France, Asia, and two in the US. A line of avatars shows some of the seven thousand Facebook users who like Free Farm Game. Sounds of farm animals, pattering rain, or wind compose shifting refrains that greet users on login.
Despite its anti-urban tagline and aesthetics of rural nostalgia, this virtual landscape adopts the same abstract Cartesian grid employed by modern cities. Urban farmers fond of square foot gardening feel right at home. Wilderness barely creeps into the landscape's edges, with a river for fishing in the bottom left corner, a forest for hunting in the top right, and useless wasteland to the west. Otherwise, every land tile has its price. Once purchased, chop down trees, then till the land or add a workshop, an animal pen, or some other structure. You can't escape your grid and visit another farm. The only place all the homesteads and their multiplayers overlap is in missions and competitions you can play with each other, co-ops users can form, and ultimately, in the market where everything is sold, with each market isolated to its particular server.
Real-life farmers, garden enthusiasts, and people who couldn't grow a weed all play the game. In the English-language discussion forum, one member's signature advertises the logo for the UK's United Farmers Cooperative, which brings together local farmers for bulk purchases and operates stores where members can sell goods. You can form co-ops in the game, too – a subtle education, perhaps, in non-corporate capitalism and "social enterprises" that stimulate local economies and communities.2 Raise chickens, pigs, bees, etc., grow grain for their feed, and make your own bread or alcoholic beverages. The Free Farm Game world resembles that envisioned by the Transition movement, whose members long for a peak-oil planet of relocalized economies where people can make a living with old-time skills.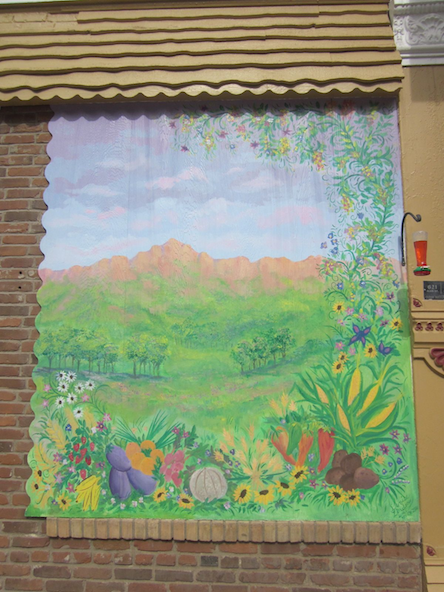 Mural illustrating interest in local agriculture
In the US, the game's popularity thrives amidst waves of sometimes urgent interest in local and organic food and urban sustainability. It taps American's longstanding pastoral imaginary and a certain bloodthirsty response to pests and wild animals. Everything must be killed to protect the farm. Skunks wander into my territory and a warning pops up: "You will have to hunt them to get rid of them before they damage your farm!" In this quaint little world of "totalitarian agriculture,"3 nature manifests as interlocking anthropocentric resources vs. threats that should be exterminated. Everything (even skunk tails) becomes a product rated on a seven star scale, with the coveted 7* rating catching seven times more on the market than 1* products. Even 7* manure is better. Labor power is similarly standardized and quantified; farmers and hired hands start their week (a single day of real time) with a thousand endurance points, and each farm task subtracts a set number of points. You can eat to regain some endurance, and chores require fewer points over time as farmers learn and become more efficient workers. Surprisingly, transporting goods to market does not take up any endurance.
Every morning over coffee I tend my farm. It takes around five minutes, adding up to over thirty wasted hours a year. Sneak it into your workday as a secret treat. The game requires users to check in every day or their farm will perish. Like another job, even on vacation. You can "hibernate" your farm using "Special Farm Points" (purchased for real currency), but hibernation causes its own problems. On the forum, the user Wigginsmum worries, "I have to hibernate my farm next week for 6 real weeks while I recover from surgery. Am I right in thinking taxes/salaries/bills won't fall due during that time? … I've never hibernated my farm before … I'm going to get withdrawal symptoms…" GingerMan chimes in, writing in a delirious state of fevered imagination after eleven days of no game play:
My withdrawal symptoms … have been sort of energizing; you start panting like a dog every morning more and more. Thiswise, it's grand if you live a lone [sic] … I have cherry trees now with trunks like some drug czar's jungle protection… Where will it end? I can see stables and hired hands, and I can see workshops and aquariums. Hell. I can see a strip-club even.4
Although strip-clubs (much less any kind of erotic markets) are not on Free Farm Game's menu, its virtual landscape fulfills desires for a rural world that can be endlessly exploited and urbanized under a sky devoid of catastrophes. The game's climate is entirely flat, rolling through four seasons while blissfully lacking hurricanes and tornadoes, floods, droughts and wildfires, or relentless snowstorms – a heavenly climate model compared to those roiling on the servers of global climate change scientists. No earthquakes and tsunamis, just marauding skunks.
Likewise, the game fleshes out an utmost smooth space of utopian green capitalism. Organic farming is the only way to grow 7* produce and make the most money. In addition to teleporting goods to market, you can sell everything at a set price, all at once – no false economies of subsidized crops in this dreamy endless-growth economy. Its virtual currency is a one-way street that allows users to spend real money on "Special Farm Points" (SFP). "With these points you can obtain cash for your farm, pause the game, skip taxes or bills, get special meals for your farmers and other bonuses," but you cannot convert your farm cash into SFP and back into USD. Among all the multiplayer games online, only Second Life has developed its own legitimate currency, the Linden Dollar, with about 7 million USD of L$ in circulation. Because Second Life players can own their intellectual property and real estate (server space), the economy is continually growing.5 Unlike Ithaca dollars and other self-proclaimed micro-currencies, the virtual economy of L$ has the advantage of printing and minting no actual currency and risking no forgery.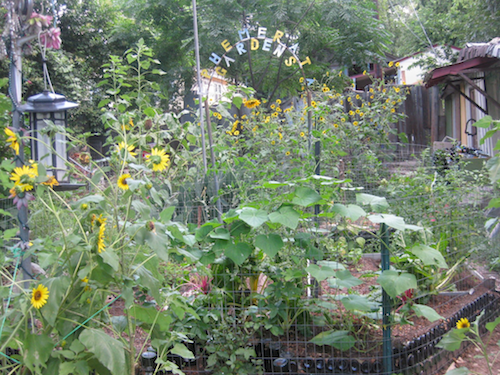 The author's "real world" backyard
Ridiculously, sometimes I long to live in the game world, forgetting how unproductive it is to compare "the real world" to virtual ones when they are all interwoven and interweaved. The Farm Game world makes the exhausting intensity and specialized knowledge of full-bodied farm labor so easy – click click click. Here, I milk cows and make butter, a good capitalist who can actually make some money. I have two employees. Meanwhile, I need to clean out our backyard chicken coop and compost the gray and white knots of poop on hay where the hen lays eggs. Tomatoes and figs need picking before birds peck them. It takes about an hour a day to water, another drought summer in Austin, Texas. The yard and Farm Game both require my repetitious labor and desire to exist, everyday responsibilities where lives are at stake. Likewise, I require them, experiencing withdrawal symptoms in their absence. They flourish in the sensory register of everyday habits and daydreams, registers adjusting to waves of ecological concern.
Image Credits:
1. Author's screen capture of Free Farm Game.
2. Image courtesy of the author.
3. Image courtesy of the author.
Please feel free to comment.