Some Notes on Streaming
Wheeler Winston Dixon / University of Nebraska, Lincoln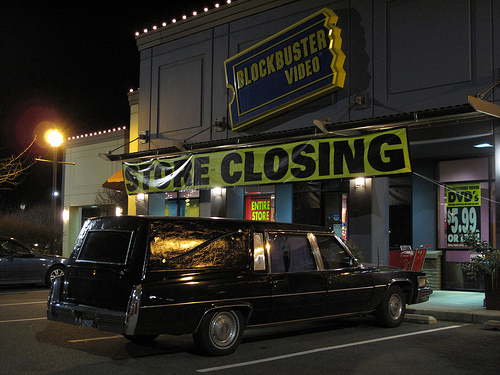 Did Streaming Kill the Video Store?
Right now I'm working on a new book: Streaming: Movies, Media and Instant Access. So I'd like to preview it here, in my first column for Flow, to put my stamp on it, for one thing, but also to sketch out some of the recent developments in streaming technology, particularly as it applies to the moving image. Netflix built its business model on delivering DVDs to the doorstep of its customers; this effectively killed Blockbuster Video's brick-and-mortar, "go to the store" model, just as Amazon did with books, thus wiping out a large number of independent bookstores, even large chains, throughout the world.
But on November 22, 2010, Netflix announced it would offer a streaming-only service to viewers, and simultaneously hike the subscriber price of physical DVDs that are rented through the mail. Clearly, Netflix wants to do away with DVDs altogether. As Netflix's CEO, Reed Hastings, said in a statement of company policy on that date, "we are now primarily a streaming video company delivering a wide selection of TV shows and films over the Internet"1.
At the same time, Bloomberg News reported that "The price increase lets Netflix pass on rising postage costs and protect average revenue per customer as more subscribers choose streaming only, which is more profitable . . . The streaming-only plan, priced at $7.99 a month, had been tested in the U.S. after a similar option started in Canada two months ago surpassed expectations . . . The subscription price for unlimited streaming and one mail-order DVD at a time will increase to $9.99 a month from $8.99, Netflix said. The cost to have more DVDs at a time will also go up. The price change takes effect now for new customers and in January [2011] for existing customers"2. For a physical DVD, there are always the ubiquitous Red Box vending machines, but they stock only the most current hits.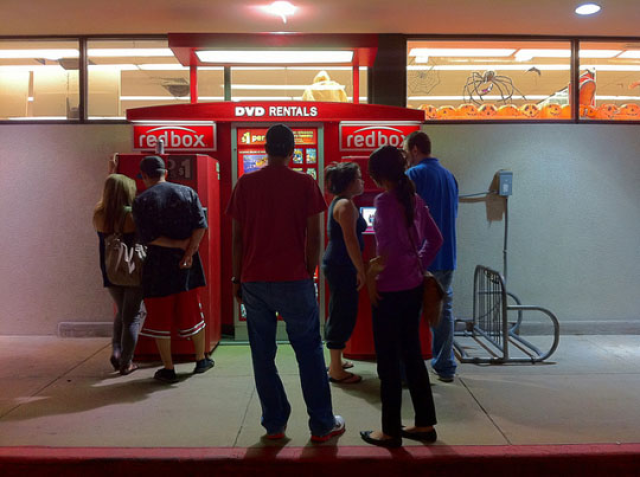 The nightly line-up for the ubiquitous Red Box
So, what about all the classic films that aren't available as streaming video? In essence, they will cease to exist. Netflix is banking on the fact that most people have no real knowledge of film history, and so they'll content themselves with streaming only the most recent and popular films. This is something akin to Amazon deciding to do away with physical books altogether, and offer everything only on Kindle. No doubt Amazon is thinking about this possibility, and would love to do it, but to do so would marginalize literally hundreds of thousands of books.
After killing off all the brick and mortar stores for DVDs, CDs and books, Amazon and Netflix seem poised to do away with all vestiges of the real, and enter the digital-only domain. What will be lost in the process is not only the physical reality of books and/or DVDs, but also the fact that many titles won't make it to Kindle or streaming video, simply because they're not popular enough. In short, we'll have the "top ten" classics, and the rest of film history – many superb, remarkable films – will gather dust on the shelf. If you can just click and stream, why wait for the mailman?
Wall Street predictably loved the Netflix announcement, but for those of us who love the medium of film, it's rather alarming to realize that, in effect, vast sections of film history will now simply cease to exist for the viewer. Adventurous and difficult films will now find it that much harder to find an audience, and mainstream product will dominate the marketplace that much more. Newer films, particularly from developing countries and marginalized social groups, that use streaming technology for distribution will have a better shot at finding an audience, but for the classic films of the past, unless they have a major star or some exploitable link to current events, it's instant oblivion.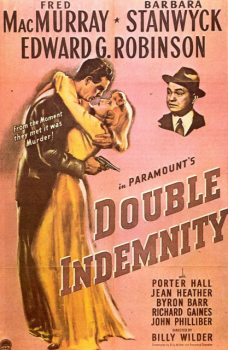 The End of Walter Neff?
With the switch to streaming video, a whole host or royalty, content, and distribution issues need to be addressed. As Richard Kastelein observed, "In 2010, streamed videos outnumbered DVD rentals for the first time in Netflix's history . . . But the online move has cost Netflix at least $1.2 billion, according to CNET. That's the amount Netflix has committed to paying Hollywood studios for the rights to stream their movies and TV shows. And it's up from $229 million three months ago, the company disclosed in an SEC filing [on October 28, 2010]. Most of that leap comes from a five-year deal that Netflix previously announced with the Epix pay channel, which is thought to be in the $900 million to $1 billion range. But that number could jump again within the next year, when Netflix's deal with the Starz pay channel expires"3
In addition, there is a plethora of programming designed specifically for the web. Some come and go like mayflies, and die a quick death; others build up a long-term audience, and keep coming back year after year to a cadre of loyal viewers. Web Therapy, for example, has now amassed 46 episodes, with Meryl Streep featured as a recent guest star in a three-episode story arc. Syfy Television (formerly Sci-fi, until the need to copyright the channel's name forced the somewhat awkward switch to Syfy) has been churning out 10 minute segments of a web serial entitled Riese, with an eye to combining the sections into a two hour TV pilot for the network; and Showtime has oddly created an animated web companion for its hit live action serial killer television show Dexter, entitled Dark Echo, which offers brief (3 to 6 minute) of additional back-story on the series for its numerous devotees4.
[youtube]http://www.youtube.com/watch?v=DnQWs8o3Vp4[/youtube]
Meryl Streep in Web Therapy
Nor is this number likely to decrease in the future, as analysts from Hudson Square Research Group note that "given that major studios are very likely to expect increasing rates to obtain streaming only rights, we fully expect Netflix's content costs to rise further"5. Moreover, "Netflix has been aggressively acquiring streaming content.This year alone, it signed licensing deals with NBC Universal, Warner Bros., 20th Century Fox, Epix, Relativity Media and Nu Image/Millennium Films"6. The price for these deals is bound to increase in the future, and this will have to be passed on to consumers.
But Netflix is hardly alone in their quest for digital dominance. As Seitz notes, "Netflix isn't the only game in town. Besides Redbox, Hulu just launched a premium streaming video service for $7.99 a month. Deep-pocketed companies like Apple, Amazon, Google and Wal-Mart are aiming to take a slice of the market as well." A side effect of all of this, of course, is that DVD players – even the relatively new, highly touted Blu-Ray players – will become obsolete in an all-streaming world. The industry continues to roll out the hardware, but will the consumer demand be there, even with the added "lure" of 3D? This remains to be seen, and will be something the text examines closely here.
But while the "platform" of film may vanish, for most audiences, the "films" themselves will remain, and audiences, now adjusted to viewing moving images in a variety of different ways, will still want to see their dreams and desires projected on a large screen for the visceral thrill of the spectacle, as well as the communal aspect inherent in any public performance. Film is indeed disappearing, but movies are not. If anything, they are more robust than ever, and are shot in a multiplicity of formats that boggle the mind; analog video, digital video, conventional film, high definition video, on cell phones and pocket-size hard drive fixed focus, auto exposure cameras, and a host of other platforms now just emerging from the workshop of image making.
With more films, videos, television programs, and Internet films being produced now than ever before, and international image boundaries crumbling thanks to the pervasive influence of the world wide web, we will see in the coming years an explosion of voices from around the globe, in a more democratic process which allows a voice to even the most marginalized factions of society.
Stay tuned.
Image Credits:
1. Did Streaming Kill the Video Store?
2. The nightly line-up for the ubiquitous Red Box
3. The End of Walter Neff?
Please feel free to comment.