The Myth of Classlessness in Apple's "Get a Mac" Campaign
Randall Livingstone / University of Oregon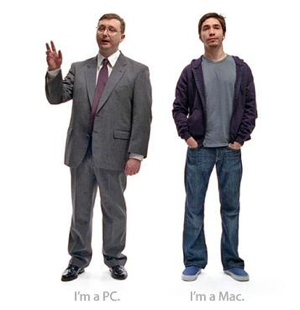 John Hodgman as "PC" and Justin Long as "Mac"
Perhaps pulling a page from the Seinfeld playbook, Apple decided to end the four-year run of its now iconic "Get a Mac" television and Internet campaign in May 2010 while still on top of the advertising world. That same month, AdWeek named the campaign the best of the 2000s, and in October Ad Age crowned Apple its "Marketer of the Decade." The latest installment in a celebrated line of advertising that stretches as far back as 1984 (literally), "Get a Mac" is also largely a departure from the over-the-top production, flashy aesthetics, and A-list celebrities of previous Apple campaigns. Two guys, a white backdrop, a meandering jingle, and a punch line are all it usually took for these ads to pitch Mac as…well…the thing to be.
And why wouldn't we want to be Mac? Both financially and symbolically, Apple's resurgence over the past decade has carried the company into the elite class of the tech world. Interbrand ranks Apple as the 17th most valuable brand in the world in 2010—and the fastest growing1 —while Vitrue, a social media management firm, ranks six Apple brands, including Macintosh, among "the most social in the world."2 Back in 1984, first generation Macs popularized the graphical user interface (GUI) that dominates screens of all sizes today, as well as the mouse, both of which made the Mac an early favorite of the art and design industries and a hip symbol of the creative ethic. Partnerships with educational institutions helped Mac (and Apple) weather the PC-dominated mid-to-late 1990s, while at the same time adding an air of youth and imagination to the brand. Apple has since grown notorious for their products' closed platforms, frustrating software developers but defining an exclusive, discriminating reputation for themselves. The "Get a Mac" campaign cleverly leverages this reputation into a simple narrative that emphasizes the social and youthful, yet seemingly classless nature of Mac and the real-world users he represents.
But obscured in the sterile-white world of "Get a Mac" are indeed messages of consumption and class, though ones artfully subjugated by a comparative advertising trope we have become used to in the U.S. Our society, historically prone to denying very real issues of social class that are perpetuated in the consumer culture, reads a text like this as an invitation to switch teams, to make life easier, to be a little bit cooler, to enter the "In" crowd. "Get a Mac" appeals to our youthful, globalized, and hybridized post-industrial selves who would prefer to think that conflicts around class, race, and gender were completely conquered in the 1960s and 70s. The myth employed in these ads tells us it is easy and straightforward to be this person—to become Mac; it's a myth that supports the dominant "classless-society" thesis and hides the real societal hurdles that such a personal movement would have to navigate.
Thinking about mass media texts as creators and carriers of myth was perhaps most notably popularized by Roland Barthes, who felt that myths naturalize and depoliticize the facts embodied in the stories we tell ourselves. He writes in Mythologies: "Myth does not deny things, on the contrary, its function is to talk about them; simply, it purifies them, it makes them innocent, it gives them a natural and eternal justification, it gives them a clarity which is not that of an explanation but that of a statement of fact."3 In the dominant digital discourse of the past decade and a half, the speed, ease, and social penetration of information technologies have opened up myths around the end of history, the end of geography, and the end of politics.4 These myths argue that the equalizing and democratizing force of the Internet will end boundaries to access and participation that are persistent and problematic in the analog world. Seizing on the spirit of this discourse and playing off of its basic goal, Apple offers the characteratured dichotomy of "Get a Mac" as an argument for the end of consumer class divides, an end attained by the ultimate ability to connect with everyone.
[youtube]http://www.youtube.com/watch?v=LJTeYdov00g[/youtube]
Mac is our role model in this ascent to the end of class, floating through the post-industrial world eternally laid-back, naturally creative, and rarely compelled to work (though dressed to the nines when the occasion arises). He effortlessly communicates with both humans and other technology, confident in his own skin (or should we say case?) and free from worries of illness (viruses), life changes (OS upgrades), or information overload (multi-tasking). Justin Long's Mac is enabled by the fact that he doesn't really have to "work" at anything, even work; he lives the life of leisure enabled by advanced technology.
His counterpart in the 66 television spots and 12 banner ads produced for the U.S. campaign is John Hodgman's PC, the drab-clothed, overweight, lower-to-middle management archetype who is clearly awkward outside the work context (and we can easily file his efforts at shameless self-promotion, the dominant folly in many of the spots, as work for him). PC is defined by work and feels entirely uncomfortable, inadequate, or oblivious when dealing with the social and familial aspects of life, as we see in spots like "Work vs. Home" and "Meant for Work." PC taps into our fears of what middle-class really means for the American psyche, but "Get a Mac" is careful to only approach these feelings through a comical stereotype, allowing us to view the anger, resentment, and depression of this class position from a distance with a chuckle. These fears are then assuaged by the presence of Mac, offered not with the baggage of a stereotype but with the promise of an ideal and the path of escape from our complicated lives.
[youtube]http://www.youtube.com/watch?v=PY8SSez981I[/youtube]
As we see in these spots, issues of gender, race, and age are generally avoided in the Mac vs. PC comparison with the casting of Long and Hodgman, thus preempting some of media studies' most often used lines of critique. These similarities serve to mask questions of class, but as we saw, these questions become evident in a closer examination of the characters' attitudes toward themselves and work. Consumer culture's answer to this question of attitude? Look the part, and the rest will surely follow (designer blog LifeClever has broken down for us):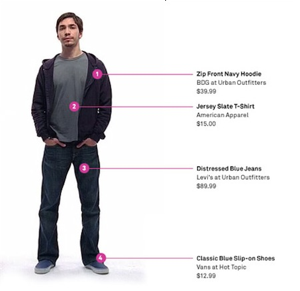 How to be a "Mac"
"Get a Mac" has inspired a bevy of parodies both in the mainstream media (David Letterman produced a number of spoofs for The Late Show starring comedian Chris Elliott) and on the Internet, with some of the latter efforts garnering YouTube view-counts in the millions. And while some of these Web parodies are produced by institutional authors with a stake in the Apple/Microsoft battle for market-share (specifically, the Novell Linux series that promotes an open-source solution to the OS wars), most seem to be authentically homemade efforts to subvert the corporate campaign's message. These videos are often sharply critical of Apple's self presentation in the original ads. "I hate MAC ads" features an animated Mac claiming "I'm better 'cause I'm shinier," while the South Park-themed series of spoofs depict a less-than magnanimous Mac heckling PC and sending him a virus. Collectively, these parodies attempt to bring Mac down from the mythic ideal that is portrayed in "Get a Mac," humanizing him with a range of emotions and depicting him in true conflicts that arise from such interpersonal encounters of rivalry.
[youtube]http://www.youtube.com/watch?v=Id_kGL3M5Cg[/youtube]
Both professionally and culturally, "Get a Mac" has made a mark on the Western media landscape, and the simplicity of its form just seems to lend itself to imitation. A recent web story even linked the campaign to a Washington intelligence meeting, where the characters were used to explain the personalities of two al-Qaida members.5 The ads' catchiness is undeniable, which, like any advertising or public relations message, makes the implications of its meaning that much more significant (and in this case, dubious). The myth of "Get a Mac" reveals to us that anyone can be a Mac, and in doing so, transcend the material and cultural barriers of class, while at the same time it conceals in its humor the very real "work" (used both literally and figuratively) that makes up these barriers. Microsoft's response campaign "I'm a PC" challenges the missing humanity in the Apple ads, but offers its own myth on the real-world versatility and accessibility of its product. As such, it is important that we consider the myth-busting efforts of those who are resistant to the ubiquitous messages of consumer culture and offer their own comedy as a means to negotiate the stories we are sold in lifestyle advertising.
Image Credits:
1. John Hodgman as "PC" and Justin Long as "Mac"
2. How to be a "Mac"
Please feel free to comment.