Black Guy Corner: What the Upfront Photos Say about the State of TV, Part 3
Cindy Conaway and Sheila Marie Aird / SUNY Empire State College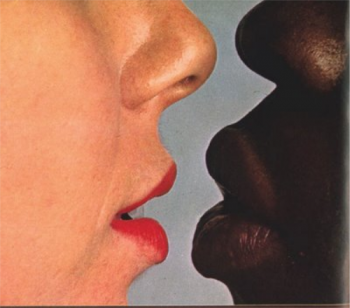 The Networks Still Consider Representing Interracial Couples "Risky"
In the first two sections of Black Guy Corner, we covered the 2009-2010 prime time drama promotional photos and showed how frequently people of color were put off to the side in them, and we demonstrated our process. In this section of Black Guy Corner, we consider fears of miscegenation and some reactions to the casting for the 2009-2010 season. We also look at some of the 2010-2011 photos and significant changes that occurred this season.
Semiotically, the photos are extremely important to this discussion. The position of the actors in the photos appears be a clear indicator, for the most part, of the actors' places in the pecking order. As far as we can tell, television casts are more hierarchical than the military, with each performer fully aware who is the "first lead" or the "third female lead." One might assume that whoever is in front of the photo is the first lead. The first lead makes more money; the top four to six regulars may have contracts that require their appearance in every episode, while others may only be in some episodes. If we were to only look at the photos including Asian American women, Asian men, Latina women, and African American women, it would appear that things have improved from even a decade ago. However, when we pay attention to the mysteriously nearly absent Latino men, and the marginal positioning of the African American men in the photos, it begs the question of whether things have really changed.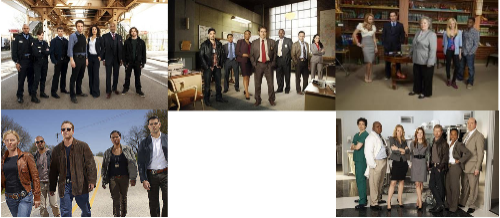 Fox's Ride Along (which changed its name to The Chicago Code prior to airing) includes Jennifer Beals, who not everyone recognizes as "of color" a bit behind her white male co-star, Jason Clarke, Caribbean, Delroy Lindo, second from right, and African American, Todd Williams in left corner. ABC's Detroit 187 includes nearly an entire cast of color, yet white Michael Imperioli is in the front of the photo. NBC's Harry's Law includes Aml Ameen in the corner. NBC's action shot for Chase features Puerto Rican Amaury Nolasco and African American Rose Rollins all in the back. ABC's Body of Proof features African American Windell Middlebrooks, second from left, and half African American half Korean Sonia Sohn, second from right.
One of the major reasons network television shows consider casting actors of color as risky is because of the discomfort many viewers still feel about mixed-race couples. It is not, however, an equal discomfort with all types of coupling. By now many Americans do not appear to have a problem with an Asian kissing a Caucasian character, and they are getting used to Latina/white mixing. On the other hand, Latino/white or African American/white is still very controversial. Networks are not as likely to try these combinations if they are being more conservative, and if a show has an African American man or Latino man, that means the producers have to add a woman of the same race or ethnicity, which tips the balance of the show's cast and threatens the viewer base. A young woman of any race can have a variety of types of relationships with relatively little controversy, but an African American man getting involved with a white woman will get complaints from a variety of sources including white racists and women of color who dislike the idea of African American men dating or marrying white women. Another observation is that most of the African American men in those photographs seemed to be portrayed as older "chief" types who look like sage advisors and less involved in romantic and sexual adventures. If they have a love interest at all, it most likely would be an African American wife of long standing, not a hot young thing.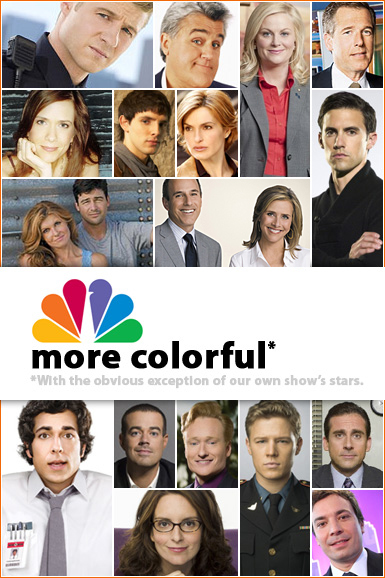 A parody poster for the 2009-2010 NBC season from the website thetvaddict.com.
Often the non-inclusive portrayals seemed to be unclear to even the network executives, as evidenced by NBC's advertising campaign for the 2009-2010 season (and still in use in 2010-2011) which had the slogan "More Colorful," meant to play off the peacock logo, but perhaps unintentionally hilarious or insulting. A writer at the website theTVAddict.com developed a very real-looking collage showing lead actors from NBC's shows, some male, some female, but all white. Although it is a parody, they had only the real leads from which to choose. They would have had to go down to supporting characters from NBC's shows, such as Mindy Kaling or Leslie David Baker from The Office, or Joshua Gomez on Chuck, no more than third leads or below on their respective shows, to have any characters of color to show in such a campaign. To be fair, Heroes, a series NBC continued in 2009-2010, but canceled at the end of the season, had three Asians in lead roles. Its failure to retain the African American and Latino men and women did not give it points.
For every step forward actors from marginalized groups take, they take two steps back. Every few years, the networks try African American (male) leads. These shows do not work for a variety of reasons, including poor writing or directing. For example, we simply could not sit through ABC's confusing and boring Daybreak, but it wasn't Taye Diggs' fault, as evidenced by his success as a supporting character in the white-led series Private Practice (ABC).1 However, the networks seem loath to try it again, and may assume it is because of the draw of the lead actors.
For the 2010-2011 season, the networks did a few surprising things. One of the things they did was, in large part, for several of the networks to follow CBS's lead and do away with the "family photo" type pictures we showcased in our first installment, replacing them with action shots from the pilot (linked to video clips, which we chose not to consider in our study), or photos including only one or two members of the cast. This meant that our plan to analyze that season's photos for comparison had to change somewhat. Frequently we only saw the lead actors, and not the supporting players who so often made up the back and sides of the first set of photos we examined. Those that did use the traditional photos often had a few more actors of color in them than previously, and they were not always at the far ends, yet, for the most part, those at the center were still white actors, or, as in the case of Jennifer Beals, mixed race but considered white by many.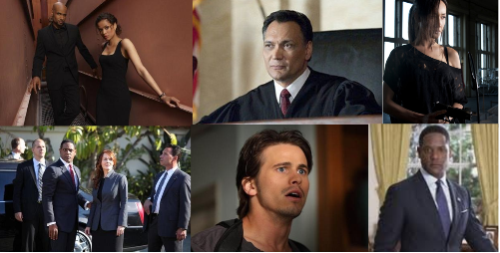 NBC's Undercovers starred Gugu Mbatha-Raw, whose father is South African, and Boris Kodjoe, whose mother is German and whose father is from Ghana. Latino Jimmy Smits was the lead on NBC's Outlaw. Biracial Maggie Q is the lead on the CW's Nikita. NBC's The Event was publicized with action shots, and individual photos of the three stars, but most initial reviews were accompanied by still photos of the white Jason Ritter.
Another thing is that a few networks, primarily NBC and The CW, actually did have shows starring people of color in the primary roles. NBC's slate included Undercovers, starring two African actors; Outlaw, with Latino Jimmy Smits in the lead; and The Event, with African American Blair Underwood as one of three co-leads (along with the white Laura Inness and Jason Ritter). We did not watch any of these, but from what we read, it is not that the leads were of color that caused the first two to be canceled early in the season and The Event to be on most critic's "likely to be canceled" at the end of the season lists. The CW featured only half white half Asian Maggie Q in the photos for Nikita. The most likely problem there seems to be poor writing causing audiences to tune out, or long hiatuses for mythology driven shows like The Event, but networks are very likely to use these show's failures as rationale for not casting many leads of color in the future. While The CW's new shows Nikita and Hellcats feature actors of color and are likely to be renewed (according to website tvbythenumbers.com), the ratings are poor; it is more due to the CW not having the budget to replace them than that they are well loved by audiences.
We are keenly aware that no network's primary mission is to raise viewers' racial or social consciousness. Networks want to earn money by selling ad space, attract high-income viewers, and incidentally entertain audiences in the process. However, as a result of the known power of television, shouldn't there be a more accurate reflection of the diversity of the nation? Having the African American man be the judge or the chief of police may appear to show that people of color can attain great heights, but when they are very thin characters with no back story and less interesting personal lives than the white characters, then they aren't showing true possibilities. They are props. These photographs prove the old saying "a picture speaks a thousand words."
Image Credits:
1. Black Is Online
2. Zap2it.com
3. The TV Addict
4. Zap2it.com and TV Squad
Internet rumor suggests that African American women refused to watch Daybreak because Diggs' love interest was played by Moon Bloodgood, who is of color, (half Korean, half white) but not African American. [↩]