The Problem of YouTube
Aymar Jean Christian / University of Pennsylvania

Strike TV's logo
Few people have heard of Strike TV. The web video network, started in 2008 by Hollywood professionals protesting during the writer's strike, was an act of revolt against the industry. But it was also a protest against the industry's antithesis: YouTube. Caught in the middle, between an industry trying to control the web and the user-generated Internet, filmmakers, writers and directors decided to strike out on their own. "There wasn't an outlet online for us," founder and CEO Peter Hyoguchi told me. "There's not a lot of incentive for a Hollywood professional to put something on YouTube when it's going to be shoulder to shoulder with a cat jumping on a piano." Strike TV started its own website, while still cross-distributing on YouTube, to showcase independent films and web series made by professionals working outside the industry system: content intended to have crisper writing and cinematography than YouTube's most popular videos.
After five years of domination, YouTube is synonymous with web video. Yet almost since its early years, the site has had strong detractors and competitors, mostly from corporations seeking more control over content and more advertiser-friendly spaces. The problem of YouTube has always been about control over the growing market for web video. Over the last few years a new group of YouTube detractors has emerged: independent and professional filmmakers and entrepreneurs like those who populate Strike TV. The complaint is about control, again, but also highlights broader qualms about the digital economy. Plainly, YouTube has come to represent the chaos of the web itself, the chaotic home to amateurs churning out low quality content to rack up views from low ad rates.1 What YouTube's critics seek is a more sustainable and less "viral" way to fund non-corporate content: a sustainable industry for independent web video.
A late-summer imbroglio reveals the tension. In what has become its own genre of reporting, The Business Insider published a list of "the richest independent YouTube stars," all of which earned more than six figures.2 The top YouTubers are personalities who vlog, with a handful but growing number of independent filmmakers making comedic shorts. Business Insider's list set off a debate in the "other" web video community: filmmakers who are professionally oriented making more expensive-to-produce episodic programs: web series, primarily. Tubefilter, the community's main site, called it an "identity crisis."3 YouTubers are great at building audiences4 but not the market necessary to fund a larger number of independent professionals, they claim. It has been good to several dozen personalities who have built up viewers, but it hasn't created anything like television: advertiser-friendly, capable of bringing in new professionals, stressing quality (production) along with quantity ("views").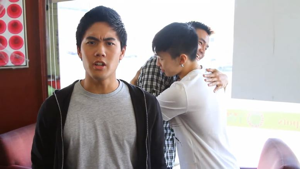 YouTube's most popular user, Ryan Higa, produces short, lo-fi shorts and vlogs that each generate millions of views.
The core of the argument against YouTube is simple: the site is "viral." Few people beyond the small, relatively stable group of YouTubers have been able to replicate their skill at getting millions to tune in consistently. Advertisers, save Old Spice, are growing disillusioned.5 In interviews with independent producers, I've heard this time and again: YouTube puts the focus on "views" not on building quality audiences for inventive and "quality" forms of storytelling. Simplicity aside, they have a point. To be sure, YouTube is a complex site, easily misunderstood.6 YouTube is both a place for "amateurs" – the best of which are no longer amateurs and get lucrative product placement and TV deals7 – and corporations distributing content like music videos. It's a social networking site and a broadcasting one. It's a complex organism with its own internal tensions.8
But talk to filmmakers, many of whom spend thousands of dollars creating often complex and lush narratives (music videos, sitcoms, dramas, docu-series) and they lament how difficult it is to break through the sea of content. The past couple of years have seen growing disenchantment with the "long tail," the idea that the web has created viable markets for those beyond the elite few.9 Matthew Hindman argues, somewhat persuasively, the Internet actually creates large inequalities. A few sites dominate traffic, overshadowing a large number of sites without many views at all and a noticeable "missing middle."10 In the world of web video, the missing middle consists of sites who get more views and traffic than the unseen masses, but not enough to generate revenue and mass visibility: the recently profitable Huffington Post is at the top, the blogger in his basement at the bottom, and few blogs can survive in between, the theory goes. Independent filmmakers, like the ones Strike TV wooed, are in the latter category. YouTube seems to be replicating this dynamic, long thought to apply only to corporate sites (Google, CNN) and the minor blogs and user-generated content that can't compete. The top YouTubers are the tip of the site's iceberg, and they are the only ones making six figures.
Web video entrepreneurs and companies have been fleeing. First went the mainstream media and its stars, who created comedy sites as anti-YouTubes: NBC, TBS and HBO count among the few serious efforts, all of which eventually shuttered, except a few, like FunnyOrDie or Viacom's Atom. Sony has developed Crackle as space for highly quality web series and films, working with brands for product placement and branded entertainment. Of course Hulu is the most visible "YouTube killer," its ideological antithesis, the corporate grandpa to YouTube's youngsters.11 None of these sites have matched YouTube's dominance in revenue, video views or unique viewers, but they do make money, in part because they curate their content. As opposed to the vast sea, they give advertisers a small pond, clean and closed.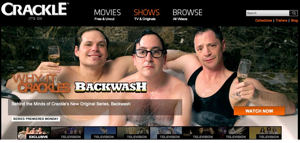 Crackle's sleek main pages spotlight their shows alongside mainstream shows or easy-to-navigate genres.

Seeing Hulu's success, a handful of independent entrepreneurs are now trying to replicate its walled-garden model. Banking on low-cost, high-definition videos, they offer a chance for filmmakers to reach niche audiences and match them with advertisers so they can make money: a place for semi-skilled artists rather than, say, upstart personalities, to crudely caricature YouTube's stars. Strike TV was among the first. Many, like MyDamnChannel and Babelgum, focus on comedy, while others, like Koldcast or Strike, are omnibus sites focused on producers with interesting ideas. Over the last year, sites targeting minorities have debuted, trying to connect black, gay, Latino and women-produced shows with hard-to-reach audiences: RowdyOrbit, GLO TV Network, Digital Chick TV, VisionTube, BetterBlackTV, among others.12 YouTube, while diverse, is a tough space for minorities to break out.
"I've been on YouTube but there's a limit to how much you can get out of it," VisionTube's creator and mainstream media veteran Charles Williams told me in an interview. He started the site for multicultural web series and films after hearing the troubles of black filmmakers. "We would love to take our stuff off of YouTube," they told him. "We actually professionally thought about this [their work], cast it and produced it."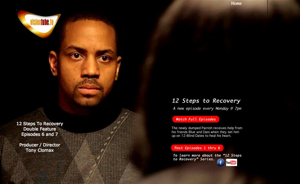 VisionTube's homepage highlights the quality cinematography of its content and its lack of clutter in comparison to other video sites.
The debate over YouTube is hardly surprising. New media, from radio to television, often create new opportunities for a diverse group of players: amateurs, professionally oriented independents and corporations. When opportunities arise, people rush in and tussle over the future of the market and the meaning of the medium.13 What the web adds is the greater potential for a "middle" ground between amateurs and corporations. With low barriers to distribution, independents – film school graduates, skilled amateurs and corporate refugees – have access to advertising and viewers.
But creating a sustainable market for independent video is hard. A lot of puzzle pieces need to come together. Independent video networks and filmmakers need to learn from YouTubers' skill at getting buzz and views. The press needs to shower as much attention on the middle-market as they do television (Hulu) and user-generated content (YouTube). Policymakers need to safeguard net neutrality. Video measurement needs to be streamlined. Advertising rates and targeting strategies need to mature. Instead of searching for "YouTube killers," web video creators would do well to work towards a diversified market, like that for cinema, a place where Hollywood, independents and industry outsiders focus on separate markets, ultimately profiting and benefiting from each other.
Image Credits:
1. Strike TV Logo
2. Author's screen shot
3. Author's screen shot of Crackle website
4. Author's screen shot of Visiontube website

Please feel free to comment.