Disaster Zones and the Performance of Television
Graeme Turner / University of Queensland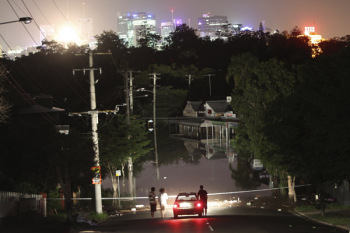 Auchenflower Under Water
Where I live has become, officially, a disaster zone. The state of Queensland in Australia is large; it is bigger than Texas, and seven times larger than the United Kingdom. Over the last two weeks one third of Queensland has been under water. At its worst, 75% of the state had been under a state of emergency. Tens of thousands of homes and businesses have been inundated, hundreds of thousands have lost power, and 20 people were swept to their deaths in a couple of hours during a flash flood the news media called an 'inland tsunami'. My house in Brisbane was not directly affected by floodwaters; they stopped rising when they were one block away. There were some minor consequences: we lost power for a day or so, and the phone and the Internet were down for about five days. The continual sound of media choppers overhead set your teeth on edge, emergency services sirens sounded through the night and, down the hill from our house, in a light industrial area under two metres of water, two alarm systems rang non-stop for five days. Compared to what happened to those who really were affected, of course, this was nothing.
But it is the television I want to talk about. When the power went off, all I wanted to do was turn on the television. Two of the commercial broadcasters as well as the national public broadcaster had gone into full-time continuous news mode. Using local reporters as well as staff flown up from Sydney, they had provided multiple live crosses around the city of Brisbane, into the neighbouring satellite city of Ipswich, and into the small town of Grantham [map] where the most deaths had occurred. The Premier of Queensland gave media updates (it felt like) every couple of hours, the mayor of Brisbane did the same, hydrologists came on to tell us where and when the flood would move next, and there was a long line of flood-affected locals wanting to tell their stories. Initially addressing a national audience – this proved to be the largest flood the nation had ever seen—the broadcasts became more and more local in content and address. They also became more focused on providing information for residents, and for those with friends and relatives in the flood zone; the street by street chopper pictures were forensic; my daughter, who lives 1000 miles away rang to say she could see that our house had escaped the water. One anchorwoman, during a live cross, asked a reporter to get out of the way and allow the cameraman to provide a 360 degree pan so that the audience could see all there was to see in that particular location. So, when our power failed and the television went blank, it was the loss of this continual monitoring of my situation and the richness of the vision that was most keenly felt. (Radio tried, but it doesn't come close to the amount of information television can put on the screen when it was unlimited time available.)
[youtube]http://www.youtube.com/watch?v=NO8fPW2lY2c[/youtube]

The Performance of Television
I had a professional as well as a personal interest in this experience. I have been concerned for some time with a closer examination of what really happens when broadcast television loses some of its purchase on the culture—when it ceases to colonise chunks of the day and when it ceases to convincingly address a mass audience. Also, I have been interested in investigating the evidence that might suggest television's address to its audience is significantly mutating; it is not unusual for television studies to suggest the medium is becoming increasing transnational and 'un-located', on the one hand, while seeking ways to reach a fragmenting audience, on the other. An argument against such suggestions, of course, is that broadcast television still retains the capacity on occasion to gather its mass audience in pretty much the way it used to do—for high profile sporting events such as the Olympic Games or major news events such as the one of which I am now a tiny part. What that argument does, however, is frame this dimension of the performance of television as something of an exception—a slightly recidivistic return to an earlier modality that is sufficient only to remind us that this capacity still, on balance, exists. The implication is that this is not a capacity that matters any longer; television now addresses a floating aggregation of individuals, not a community.
I have two responses to this. One is to draw attention to the way that all the logics of this performance of television—no matter how often it drew upon national mythologies to frame its story—worked to make it ever more local. Speaking as the viewer, this was palpable. The attraction for me was to experience the local via television because there was no other way to experience it; we couldn't go anywhere until the water went down and the most likely way to find out about that was to see it happen on television. The more detailed, the more located, and the more deeply embedded in the community, the better and more useful it was; that is how others talked about it, too, not just those in the path of the flood waters.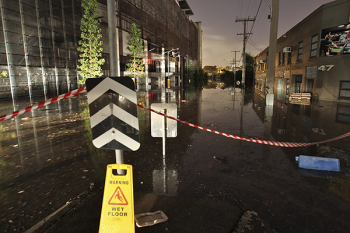 Castlemaine Street Submerged
The other response is to say that this provoked in me the recognition that this is what television was meant to do; it did it really well, it held my attention for hour upon hour without remission, and it merged seamlessly into the experience of everyday life. Far from being a throwback to an earlier mode of media programming, this performance of television left me thinking – this is the kind of thing television wants to do, but can't, the rest of the time (instead, it has to run Two and a Half Men, or The Bachelor or Sixteen and Pregnant). Heresy, perhaps? Or, rather, a glimpse into the underlying function that still seems to fit the medium like a glove but which, we have been frequently told, belongs to a bygone era.
Image Credits:
1. Auchenflower Under Water, Brisbane Times.
2. Raw Flood Video, AP, Youtube.
3. Castlemaine Street Submerged, Brisbane Times.
Please feel free to comment.