The History of Postmodern: Mark Ronson's Pop Nostalgia
Lucas Hilderbrand / University of California, Irvine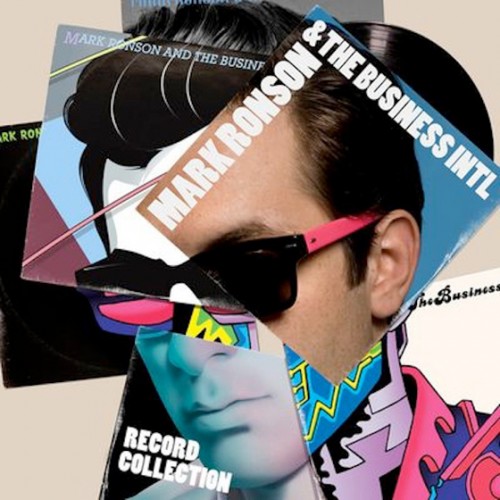 Mark Ronson, Music Collection, Album Cover
On the same September day, the two albums that I have been listening to most this fall debuted: Orchestral Manoeuvres in the Dark's The History of Modern and Mark Ronson's Record Collection. This coincidence of release slates prompted me to think through the albums' implicit nostalgia in dialogue. OMD, which became most famous for its single "If You Leave" (the prom song in Pretty in Pink, 1986), has nonetheless maintained something close to credibility for its early new wave experiments with musique concrète (most notably on the album Dazzle Ships, 1983) and for the catchiness of its later synth pop catalog. As a band that now seems "so '80s," it's perhaps worth noting that their early songs also harkened back to earlier eras of technological wonder, particularly in the case of "Telegraph." The new release, with its titular reference to both historiography and modernism is striking in part because it suggests the band's datedness yet locates the group within the wrong historical moment: they were a band of the age of postmodernity. Their first album in 14 years, The History of Modern is inevitably a comeback, yet one that has managed the rare feat of sounding both current and very much like classic OMD as the same time. In fact, the very concept of an album is now nearly a relic in the age of single-track downloads.
[youtube]http://www.youtube.com/watch?v=bjbb70futbo[/youtube]
OMD then: "Telegraph"
[youtube]http://www.youtube.com/watch?v=-DV5mBT4rPk[/youtube]
OMD now: "The History of Modern, Part I"
Anachronism has long been producer Mark Ronson's signature style, one most famously on record with Amy Winehouse's Back to Black (2006), on which a throaty-voiced young white British singer performed in a precociously aged and ambiguously racinated style. It's a feat of simulating 1960s black soul and jazz—as well as Dusty Springfield—though its lyrics are just anachronistic enough to not quite be taken for an unearthed "lost" recording: "Me and Mr. Jones" begins with the lyric, "What kind of fuckery is this?" This Ronson-produced album, listened to again after Winehouse has become something of joke for her drugged-out trainwreck celebrity persona, holds up as a compelling and smart record.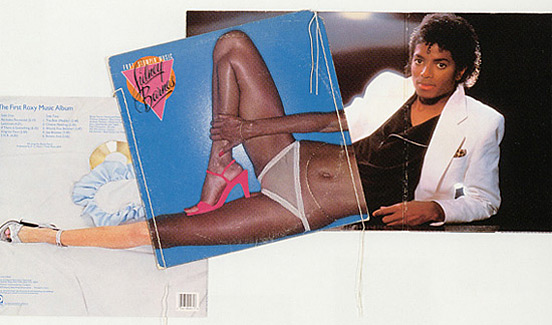 Christian Marclay's record cover collage Footstompin' from the series "Body Mix," 1991
Ronson's first solo album, Record Collection, is self-consciously a hybrid construction, something of a mixed playlist reflecting a famed producer's generic range and anachronistic tastes. This is suggested both by the album title and even by its cover, a collage of almost-real album covers—and as if its layers of reference were not enough, the cover itself is a riff off of Christian Marclay's record collages. The images on Ronson's cover, most visibly a direct nod to Duran Duran's 1982 Rio, suggest a 1980s aesthetic (Duran Duran's Simon Lebon provides guest vocals on the title track); although the songs mix sounds of various times, it is perhaps most referential to the new wave, synth pop, and early cross-over rap of the time. It is, in the classic definition of postmodern culture offered by Fredric Jameson, "blank parody." Furthermore, it's pastiche in both senses: as combination and as imitation. And it is often referential without particular meaning. These tendencies have often been reiterated, but there's something specifically of the 1980s moment to what Jameson was thinking through and to Ronson's new album, though it may now be thought of as more retro than "postmodern," a term that seems to have waned in impact. Ronson's record is, in a curious way, nostalgia for the postmodern.
[youtube]http://www.youtube.com/watch?v=TM6TCGltfHM&ob=av2e[/youtube]

Mark Ronson's "Bang Bang Bang" video
Even this simulation of the postmodernism now seems out of sync with the digital age aesthetics of remixing and appropriation. There's something specifically '80s in Ronson's aesthetic, something specifically MTV and analog about his emulation, as distinct from digital sampling. To see what I mean, check out the video for the lead single form Ronson's album, "Bang Bang Bang." The lyrics of the song, drawn largely from the traditional French children's song "Alouette," are nonsensical but in a way that is so sing-songy as to be fiercely catchy. The video actually makes even less rational sense. Rather, it brings together a series of seemingly random cultural references—and references from different cultures—in a mishmash that is the epitome of postmodern appropriative parody without politics. It's an imitation of a postmodernism, from the pseudo-self reflexive analog signal glitches upon changing channels to references including a Francophone commercial for Nutella, a Japanese talk show, synth pop split-screens, cross-over rap and breakdancing, computer-generated science fiction and video game imaging, and a hotheaded tennis star in the mode of John McEnroe. In this way, the video harkens back to the early days of music video and the playful way that so many of the early 1980s song clips brought together poppy images that offered little connection to the lyrics or to each other. This video bears the markers of 1980s television, recorded off-air with a VCR and, just maybe, watched over and over again by a child obsessed with music videos. I may be projecting here, but as Ronson and I are almost exactly the same age and seem to have similar musical sensibilities, let me run with it.
Mark Ronson's "Somebody to Love Me" video
A particularly affecting counterpoint to the exuberant incoherence of "Bang Bang Bang" is the video for the more recent single "Somebody to Love Me," which features vocals by Boy George and Andrew Wyatt of Miike Snow. The vocals bring together a has-been from the early 80s whose voice sounds well past its prime and another recently celebrated producer-turned-performer. The video, significantly, erases Wyatt from the scene and focuses exclusively on Boy George, or rather a memory of the star as a young androgyne. The video consists entirely of simulated analog home video footage, with magnetic tape dropout and a fraudulent 1982 timestamp. The footage has poignancy and the appeal of private footage from the bygone moment of Boy George's cultural ascendance. In juxtaposition, the lyrics suggests a kind of loneliness, "I want somebody to love me," sung with a thin and worn voice from someone decades older who cannot relive the past or get back to that prior moment. But what Ronson also surely understands was that it was Boy George's image, not his voice that mattered in the first place. Or, rather, his image was his talent. His guest performance on the album is more about the cultural reference than the inherent talent of the singer. Just as Boy George's androgyny was what made him compelling, so the ambiguity of this video is essential to what makes it work. But the grain of Boy George's aging voice is also effectively reflected in the distress on the "aged" video footage. But there's also something else a bit off in the footage, something that is initially difficult to identify. This footage is fake. Ronson performs in drag as the iconic young and playful Boy George. The effect is not just one of making reference to a cultural influence but one of nostalgia for a time when Boy George seemed so new, so full of promise, and so playful. A time, in other words, when Boy George pushed boundaries with his gender-blending persona rather than became embroiled in scandals for drug abuse and served time for assault and imprisoning a male escort.
Although I usually think of Culture Club and other British pop from the early 1980s under the category of New Wave, they were actually conceived at the time as part of New Romanticism. Somewhere along the way, it seems like we forgot this as a cultural movement, and perhaps this spirit of romanticism it what makes it seem like something so precious that has been lost. In contrast to "Bang Bang Bang" there actually is something deeply personal, mournful, and meaningful in "Somebody to Love Me"—something that is more present in the video than in the song itself. There's something not so blank about this parody. Maybe it's something only a member of the MTV generation can feel.
Image Credits:
1. Mark Ronson, Music Collection, Album Cover
2. Christian Marclay's record cover collage Footstompin' from the series "Body Mix," 1991
Please feel free to comment.