Hot in Cleveland: Everything Old is New Again?
Alexander Doty / Indiana University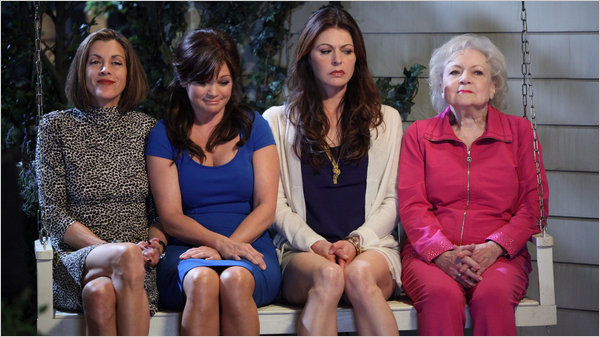 The cast of Hot in Cleveland
My last column closed by wishing for a new woman-centered sitcom for those of us who have resisted, or who just can't afford, premium cable with its Weeds, Nurse Jackie, and United States of Tara. I hoped that TV Land's Hot in Cleveland would be that sitcom. The casting alone—Betty White, Jane Leeves, Wendie Malick, Valerie Bertinelli—was enough to send me into nostalgia mode, yearning for some of those "good old-fashioned female sitcom pleasures" found in Designing Women and The Golden Girls. Eight episodes in, and I am still not certain if Hot in Cleveland is the answer to my prayers or a case of "be careful what you wish for." The pilot set up a premise that was both zany fun and borrowed goods. In a plot device that plays out like the beginning of a Preston Sturges screwball comedy, engine trouble forces three middle-aged friends flying from LA to Paris into taking a layover in Cleveland. Surveying the locals at a bar-restaurant, the trio are gobsmacked to find women eating big portions of food without guilt and men being attentive to these "real women." A "full calorie" beer, a basket of chili fries, and a roll in the hay with a plumber is all it takes for divorcee and self-help writer Melanie Moretti (Bertinelli) to decide that she wants to live in Cleveland. Melanie's friends, ex-soap star Victoria Chase (Malick) and "eyebrow Queen of Beverly Hills" Joy Scroggs (Leeves), decide to skip Paris and vacation in Cleveland.
Wacky and well-played though this premise is, it is, at best, an homage to (and, at worst, a ripoff of) a first season episode of 30 Rock in which food-loving, insecure New Yorker Liz Lemon finds herself in Cleveland, where she realizes she can pass as a model. Whereas the joke in this 30 Rock episode is largely on Cleveland, in Hot in Cleveland the joke (and the critique) is on LA and its crazy-making standards for female attractiveness. The problem with plopping Melanie, Victoria, and Joy in Cleveland, however, is that, at least for the moment, they are without the careers they had in LA, so the episodes have been leaning heavily on squeezing comic situations and one-liners from these women's concerns about dating men/sex with men, aging, and how they look—all of which becomes a bit painful given the whole "hot in Cleveland" setup. But there are signs that the series will begin incorporating more of the trio's work into its storylines. Joy has begun to offer treatments to her friends (including an "emergency" bikini wax using a candle she pinches from a bar), while Victoria has done a surreal commercial for a Japanese product called "Lady Pants." This commercial is one of the funniest moments of the television season, up there with Sue Sylvester's (Jane Lynch's) version of Madonna's "Vogue" video in Glee.
Victoria (Wendy Malick) shills for Lady Pants
On the basis of the Lady Pants commercial alone, I will give the frequent moments of conventional "female trouble" humor a pass, and hope that once Victoria and Joy decide to live in Cleveland, the series will become a little more like The Mary Tyler Moore Show or Designing Women and a little less like the more questionable aspects of The Golden Girls—that is, as much focused on these characters as career women as it is now on their heterosexuality, their age/looks, and their ability to make double entendres. Double entendre brings me to the fourth recurring character in Hot in Cleveland, Elka Ostrovsky, played by the iconic Betty White. Elka, a caretaker who lives in the guest cottage of Melanie's house, is one of those eccentric sitcom characters who drops in whenever an episode needs a little spice. While there has been some attempt to give her an interesting backstory (she's a Pole who escaped from the Nazis) and quirks (she's a long-time pot smoker, she Bedazzles tracksuits), thus far Elka has occupied the Sophia Petrillo (The Golden Girls) role of the tart/sassy/blunt/outspoken octogenarian who is trotted out to deliver racy one-liners making liberal use of words like "whores," "prostitutes," and "sluts" to describe the other women. White's timing is a joy to behold, but the "old woman with a potty mouth" shtick is going to wear thin very quickly—and the series' recent move to provide Elka with male companionship has only added an equally tired "old woman talking about or having sex" shtick to her character "development."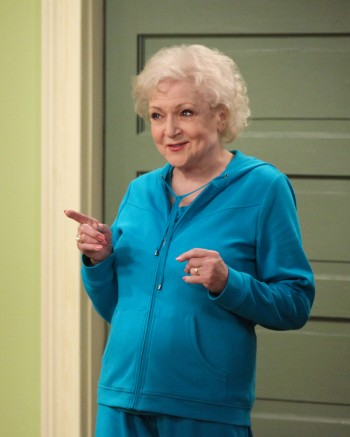 Betty White sasses as Polish neighbor Elka
If White's comic chops have been able to camouflage, at least in part, the more conventional aspects of her role, the superb teamwork of Bertinelli, Malick, and Leeves has been the primary pleasure of watching Hot in Cleveland. Even in the pilot episode, this trio of sitcom veterans play off each other as if they have been working together for years, which is critically important for a sitcom in which the characters are wildly mismatched and improbable friends. Considering my previous work on women-centered sitcoms, I was also tickled to see that it only took the series four episodes (five, if you count the pilot) to introduce lesbianism in the form of Hailey Nash, a singer Melanie idolizes. True to classic women-centered sitcom form, however, this plot thread combines having one of the recurring characters mistaken for a lesbian with this characters' incredible naiveté about all things Sapphic. In this case, Nash mistakes Melanie's bumbling and fumbling encounters as inept, if endearing, come-ons, while Melanie seems to be clueless about Nash's sexuality, even given that one of her albums is titled "I Like Girls" and features the song "Love My Honeypot." To the show's credit, however, the possibility of an encounter between Hailey and Melanie is what the title of this episode finally—and wistfully?—refers to: "The Sex That Got Away" (a variation, of course, on "The Man That Got Away").
For the most part, however, the playing out of this lesbian narrative thread makes you wonder if you are watching a 2010 sitcom, or something from the 1980s. Hot in Cleveland's anachronistic qualities have been one of the major bones of contention in reviews and online commentary, with as many people welcoming this return to "old fashioned" (aka "classic") situational and one-liner sitcoms—particularly one with mature women regulars—as bemoaning the series' "derivative" time warp aura, including laughter from a live studio audience. I suppose this back-to-the-'80s vibe is why I am still on the fence about the show, relishing the all-woman comic ensemble work while being irritated by the post-feminist paces through which the scripts often put these women. Reading Alessandra Stanley's review of the series in The New York Times again has make me cut the show some slack for the moment, as she points out that "it's hard to argue that a new format makes for more contemporary comedy," or more progressive politics. For example, while Modern Family features the currently popular sitcom trope of characters talking to a (reality show?) camera, as well as a gay couple, Stanley reminds us that the series also has "women's roles. . .as traditional as [those] on Leave it to Beaver."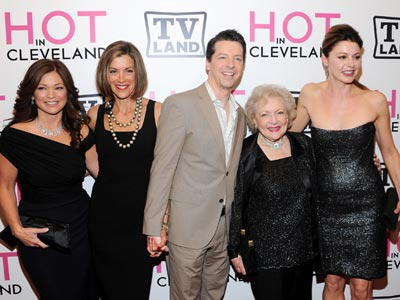 Producer Sean Hayes with the show's cast
I also need to remember that even The Golden Girls and Designing Women had their fair share of lame one-liners and "single" entendre humor, and that these shows took some time to develop multi-dimensional characters and put them into situations not rooted in women's insecurities about men, looks, or age. But is it too much to ask that a show with producers like Will and Grace's Sean Hayes and a creator/producer/writer like Suzanne Martin (Frazier and Ellen) keep in mind that these woman are already "hot in Cleveland" and, therefore, just say no to situations like the friends arranging bad dates for each other, or to lines like Joy's "I haven't felt like a piece of meat in so long"? While I'll continue watching Hot in Cleveland, I want Sean and Suzanne to know that I am putting them on probation.
Image Credits:
1. The cast of Hot in Cleveland
2. Betty White sasses as Polish neighbor Elka
3. Producer Sean Hayes with the show's cast
Please feel free to comment.