Jamie Oliver's Food Revolution: Serving Up A Side of Individual Blame
Melissa Click / University of Missouri, Columbia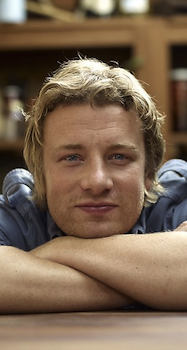 Jamie Oliver, up close and personal
Jamie Oliver's Food Revolution, co-produced by Fresh One and Ryan Seacrest Productions, premiered on ABC on March 26, 2010 to 7 million viewers. The six-episode series aimed to bring a revolution to Huntington, West Virginia, a five-county metropolitan area (including West Virginia, Kentucky, and Ohio), which was named by the Centers for Disease Control and Prevention as the "unhealthiest in America."1 The study, based on 2006 data, found that 45% of adults in the Huntington-Ashland metropolitan area were obese and that the area had the highest incidence of heart disease and diabetes in the United States.2 Like much of the country, Huntington could use some schooling to improve its citizens' health, but I am not convinced ABC's reality program fits the bill.
British chef Jamie Oliver is no stranger to US television. His programs The Naked Chef and Jamie at Home, have been staples on the Food Network. His success as a famous chef has made him a "full-fledged brand, complete with restaurants, magazines, cookbooks and housewares."3 To date, Oliver has produced 12 television series shown in 130 countries, has published 24 million cookbooks in 56 countries, has opened six restaurants and has his own magazine, cookware, and tableware. He is estimated to be worth $56 million.4
Jamie at home in the kitchen
Oliver is clearly a successful businessman, but he is also unquestionably passionate about food. Oliver began working with food at a young age at his parents' pub, The Cricketers, but food became his life's work when he left school at age 16 to complete a degree at Westminster Catering College (he is rumored to be hyperactive and dyslexic and had difficulty with academics as a result).5 To use food to help others find their way, Oliver created the Fifteen Foundation in 2002, which sponsors 15 young adults from disadvantaged backgrounds in apprenticeships to the foodservice industry in one of the foundation's four restaurants.
Oliver is well known in the UK for political series and specials that take British eating habits to task, including Jamie's School Dinners, an award-winning four-part series that aired in 2005 on Channel 4 in which Oliver took over the production of meals at Kidbrooke School in Greenwich (Jamie Oliver's Food Revolution is based upon this documentary). In each of his programs, Oliver stresses the idea that anyone can learn to cook healthy meals with simple and fresh ingredients. After learning about the CDC's report on Huntington, Oliver decided to bring his food activism and television cameras to the United States. Critical of his motives, The Washington Post credited Oliver with having "… the kind of warm-hearted caring that requires the constant presence of a TV crew."6
In the premiere episode, viewers learn that Oliver has been given one week at Huntington's Central City Elementary School to prove that he can make healthier meals that kids will like and that will fit within the school's budget. Immediately Oliver gets off on the wrong foot with the cafeteria cooks, most notably Alice Gue, by dismissing the items they have prepared for the students (pizza for breakfast and chicken nuggets for lunch). He does not hide that the food "pisses me off." Though he claims to be "always on the side of the cooks," he alienates them by constantly referring to them as "lunch ladies," "honey," "babe," "girls," and "darling" (In fact, he calls nearly every woman he encounters by these terms, regardless of the woman's age or status). He suggests that the food served by the cooks is "killing" the school's children and connects Huntington's habits with the rest of the country by dismissively saying, "Welcome to America."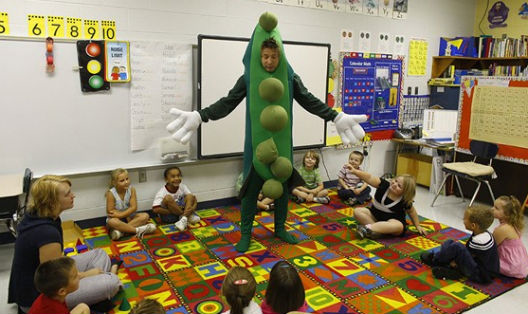 Jamie and the kids of America: like peas in a pod?
In addition to working at the elementary school, Oliver sets up a community kitchen downtown called "Jamie's Kitchen." In it he hopes to teach families and individuals to cook healthy meals from scratch. One of the first families he teaches are the Edwards, an overweight family of six who are suggested to Oliver by their pastor. Oliver targets Stacie Edwards, the wife and mother of the family. To drive home his disgust for the family's typical fare, he piles on their kitchen table all of the meals Edwards would fix for her family in one week and tells her that she's serving her family "crap." The stunt brings her to tears when Oliver stresses that serving this food "will kill your children early." To begin to reform the family's eating habits, he has them bury their deep fryer in the back yard and leaves them with bags full of groceries he purchased and a week's worth of recipes.
It would be hard for viewers to disagree with Oliver's characterization of the food he encounters in Huntington as "crap," but his approach comes off at times as condescending and focuses on blaming individual people (especially mothers and female food workers) for their food habits instead of larger systemic forces (such as economics, culture, advertising, agriculture, or US government policy). AlterNet described Oliver's style this way: "Take marginal people, make them feel shitty about themselves, offer redemption and serve it up to millions of viewers"7 Oliver generally seems to lack a cultural sensitivity to the people of Huntington who live in a city where the poverty rate (19%) is "much higher than the national average,"8 and Oliver surprisingly never acknowledges that the food we eat is based in part on culture and identity.
As a result, Oliver is met with resistance in Huntington, most notably from local radio personality Rod Willis, who tells Oliver in the fourth episode "I want to like you, but I don't trust how the show's going to turn out." West Virginians have typically been maligned for being backwards hillbillies who eat 'possum and make moonshine, so it is no wonder that Oliver faces suspicion in a variety of places: from the hospital administrators whom he asks for money, and from the elementary school staff who corner him after a negative interview is published in the local newspaper. The locals' suspicion is palpable—they repeatedly voice their fears that Oliver is trashing Huntington for TV ratings.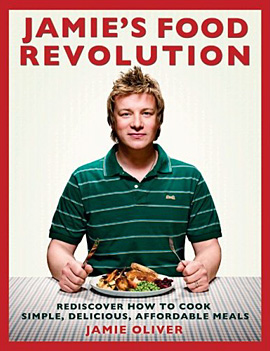 Jamie Oliver's new book
It wouldn't be reality TV if Oliver did not win over the majority of his detractors, and by the series finale Oliver rolls out his food plan to all of the schools in the area with the support of Alice Gue, Rod Willis and hospital administrator Doug Shiels. Oliver won the hearts and trust of many in Huntington by dressing as a pea pod, organizing a flash mob, and holding a cook-a-thon—all good reality television stunts. But he does so almost always on his own terms—as his program title indicates, this is Oliver's revolution, not Huntington's.
What is missing from the show is an analysis of the structures that hold this undeniably unsatisfactory food system in place. Take schools, for example. To receive federal reimbursement for school lunches (which turns out after labor, transportation, and administration costs to be only about $1 per meal),9 schools must meet a confusing number of USDA-mandated regulations. And schools are only reimbursed for the number of meals served, so to keep kids happy, they end up treating them more like customers than students, serving them what they want instead of what they need. Given the bind many schools are in financially, processed food from big food manufacturers that needs only to be warmed makes good financial sense. Oliver never acknowledges this nor does he reveal that the food budget at Central City Elementary "more than doubled" while he was head cook—ABC paid the excess.10 As wonderful as Oliver's goals for school children's food are, they do not seem to be sustainable under the current National School Lunch Program.
Oliver also does not acknowledge the range of likeminded individuals and organizations across the United States who are working to change the national food system. Left out of Oliver's plan to inspire Americans to eat differently are President Obama's call to increase funding for the Child Nutrition Act, Michelle Obama's Let's Move initiative, the Agriculture Department's plans to overhaul school nutritional guidelines, and the recent call by a US military group to improve school meals. Oliver's "revolution" might have been stronger had he chosen to link up with national organizations like the Center for Science in the Public Interest or the School Nutrition Association. And if those organizations seem too mainstream, Oliver could have found allies in Two Angry Moms or the author of Fed Up With Lunch. Without tapping these other resources, Oliver's program feels a bit more like an extended promo for his new book Jamie's Food Revolution than an earnest attempt to make real and lasting change in the United States.
Image Credits:
1. Jamie up close and personal
4. Book cover
Please feel free to comment.