Postfeminist Primary Colors: Coding Femininities in Media Culture
Hannah Hamad / Massey University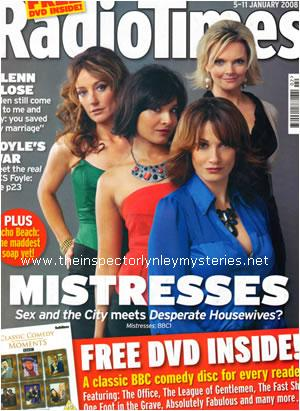 Color-coded postfeminist femininity in the BBC's Mistresses
In a key moment in Frank Oz's iconically postfeminist 2004 remake of The Stepford Wives, beleaguered husband Walter Kresby (Matthew Broderick), in an attempt to assert masculine authority, tells his wife Joanna Eberhart (Nicole Kidman), that from now on, he wants her to wear "no more black," because "only high-powered, neurotic, castrating, Manhattan career bitches wear black." He thus bluntly articulates the way in which the early part of the film has construed postfeminist femininity using a rhetoric of colour, and how it has been found wanting, as suggested by the monochromatic visual aesthetic embodied by Joanna and her look, and Walter's damning characterization of what it signifies. Walter and Joanna have arrived at this face-off following their downshift to Stepford, heralded by Joanna's work induced mental breakdown. Thereafter, Joanna resolves that as part of the renegotiation and reevaluation of her sense of self, specifically her femininity, that this has prompted, she will abandon black, and re-signify her feminine identity according to a different kind of postfeminist template, more in keeping with the hyper-domesticity she finds to be the dominant characteristic of the local women of Stepford. In subsequent scenes, her look instead conforms to the color coordinated aesthetic of pastels and/or primary colors that uniformly adorns the eponymous Stepford wives. In this way, the film overtly addresses the cultural tendency to signify particularities about some of the ways that femininities are conceptualized in postfeminism through color-coding.
There is a body of work in media studies addressing the meanings produced and communicated by the use of color in texts, and the potential for color to signify ideologically. For example, Judith Williamson highlighted its connotative potency in visual representational culture in her foundational work on ideology and advertisements. She argued that the "use of color is… a technique, used primarily in pictorial advertising to make correlations between a product and other things."1 Kress and Van Leeuwen have theorized "colour [sic] as a semiotic mode,"2 noting that "differentiation" is one major signifying functionary of what they call the "grammar of colour [sic]."3 They further point to the potential for colors to do ideological work through their signification, as they can "be used and combined… to realize… different ideological positions,"4 and in this way they have suggested "it is possible to see colour [sic] as the sign of a complex of discourses around femininity."5 Veronica Koller has discussed this as having the potential "to both reproduce and challenge gender ideology," specifically in this instance in reference to the color pink as an over-determined, ironic or recuperated signifier of femininity in postfeminism.6 Thus Koller is one of several scholars who have latterly addressed the phenomenon of color-coding as a strategic visual mode in popular media with which to articulate particular meanings about feminine identities and subjectivities in postfeminism. This work has tended to focus on dichotomous black/white visual aesthetics,7 or in the reclamation of (the formerly disavowed) pink as a signifier of femininity, with particular and new connotations in the context of postfeminism.8 Here I propose the postfeminist significance of a visual rhetoric of primary colors, which effects controlled differentiation, and the ideologically loaded reduction of femininity to a selection of subject positions, which are limited to a handful of female archetypes.
Postfeminist media culture evinces a tendency towards representing groups of women, who are marked as subjects of postfeminism, as reductively individuated and glibly differentiated through visual coding across the spectrum of primary or otherwise bright colors, in line with the notion that Brenda Weber has elsewhere articulated in relation to the de-individuation of femininity in reality TV makeover shows, that femininity is operating culturally according to an "economy of sameness."9 In No Logo, her iconic treatise on the post-industrial, globally corporate condition, Naomi Klein noted that "Within a context of manufactured sameness, image based difference had to be manufactured along with the product."10 In a similar way, manufactured sameness and basic image based difference marks the mediation of femininities in postfeminism across a plethora of media forms, genres and contexts to a notable degree, and the frequently occurring highly visible instances of color-coded femininities are symptomatic of this.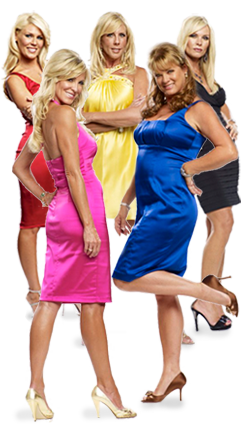 Individuation by colour in Real Housewives of Orange County
Popular music acts like The Saturdays, serial television dramas like Mistresses (BBC, 2008-present), and reality T.V. shows like Real Housewives of Orange County (Bravo, 2006-present) and How Do You Solve a Problem Like Maria? (BBC, 2006), to name just some examples, have all articulated particularized formulations of postfeminist femininity via the representation of discrete groups of de-individuated women. Each group is depicted as homogenously embodying an over-determined trope of postfeminist femininity (e.g. housewife chic, nanny chic, empowered girlhood, liberated sexuality etc.), while individual personae are constrained in their ability to manifest themselves, aided in part by the disingenuous strategy of differentiation that individuates these women through color-coding them. A clear visual shorthand is thus provided for purposes of crude separation, while ensuring that individuality does not transcend the postfeminist archetype being articulated by the women's group identity.
[youtube]http://www.youtube.com/watch?v=smHe6-6LdII[/youtube]
The Saturdays video of "Up"
How Do You Solve a Problem Like Maria? was a British reality TV talent competition that saw a group of women competing for the chance to play the role of Maria in a West End musical theatre revival of The Sound of Music. With respect to some of the strategies of representational subjugation and identity management practiced by postfeminist culture, a rhetoric of color was in place throughout the show of bright, safe primary colors that reassuringly encoded the contestants as pleasingly and simplistically individualised but not worryingly diverse. Each contestant was assigned a colour, and was consistently dressed in costumes of this colour while performing on stage in the live segments of the show.
[youtube]http://www.youtube.com/watch?v=eZJkdRUd5JA[/youtube]
The final ten contestants perform the title song on How Do You Solve a Problem Like Maria?
This would remain so throughout the rest of the series both while the contestants were dressed in the iconic aproned costumes, and in their different but still color-coded costumes for their individual performances, as this phase of the competition necessarily walked a line between the homogenisation and differentiation of the contestants. The color-coded costumes worn by "the Marias" were awash with significance in terms of the coding of their identities ('Tomboy Maria' was assigned a blue costume, 'Irish Maria' was assigned a green costume, 'Sexy Maria' a red costume etc.) Meanwhile the connotations of the apron adorned by the symmetrical multitude of beaming "Marias" semiotically facilitated a spectacle and enabled the enactment of a fantasy of female servility due to the strong implications of domesticity, childcare and the role of women attendant to it. These are all issues which are of course bound up with the character of Maria who becomes a governess to a stern and authoritarian widower. In this way the reductive manner in which femininities were individualised did not outshine their collective signification of Maria, and the mode of femininity she embodies.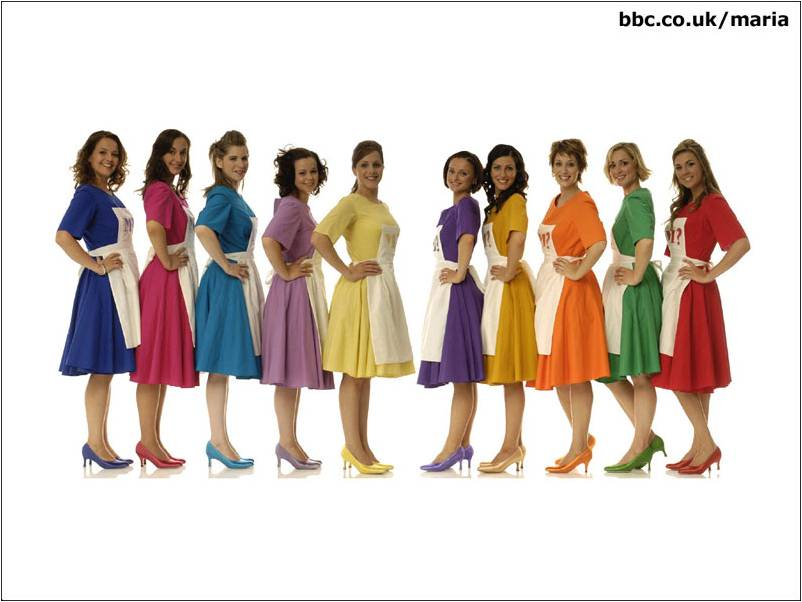 The Color-Coded Marias of How Do You Solve a Problem Like Maria?
Furthermore, in line with the gender specific nature of many of these strategies of identity management, this color-coding (and hence de-individuation) did not take place for the contestants of the later search in Any Dream Will Do (BBC, 2007) for a male lead to star in Joseph and the Amazing Technicolor Dreamcoat to nearly the same extent. This homogenisation and attendant pseudo-individuation of female competitors in reality TV has similarly taken place in comparable series Grease Is The Word (BBC, 2007), and its US counterpart Grease: You're The One That I Want (NBC, 2007),11 and the BBC's own follow up show I'd Do Anything (BBC, 2008), while the colour-coding of male competitors was likewise downplayed, understated or non-existent in each case. It remains to be seen if the current iteration of this cycle of reality TV shows, Over The Rainbow (BBC, 2010) will likewise adopt the visual strategy of coding its Dorothys by colour to articulate particular and reductive subject positions for its female contestants.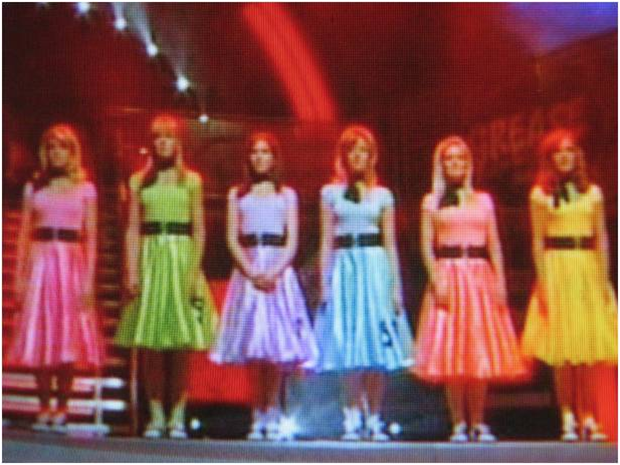 Color-coded Sandys in Grease: You're The One That I Want
This phenomenon of colour-coding, as illustrated by the textual examples mentioned here, is just one example of the numerous discursive, rhetorical and representational strategies of de-individuation that postfeminist culture continues to enact upon mediated femininities.
Image Credits:
1. Color-coded postfeminist femininity in the BBC's Mistresses
2. Individuation by colour in Real Housewives of Orange County
3. The final ten contestants perform the title song on How Do You Solve a Problem Like Maria?
4. Color-coded Sandys in Grease: You're The One That I Want (Author screen grab)