Time Wasted
Ernest Mathijs / The University of British Columbia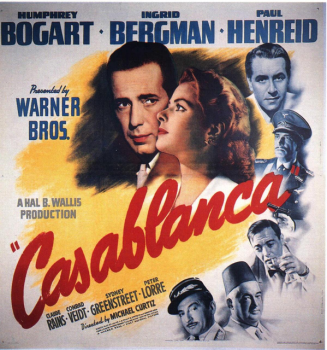 Casablanca and the Cult of St. Valentine's Day
If film cultism today is only what William Bainbridge and Rodney Stark1 would call an 'audience cult' or 'client cult', and what Janet Staiger calls 'visible fandom' 2, if cult cinema's current impulse is disconnected from the history of cultism, why do cult receptions of television and cinema not lose all of their appeal as a factor of resistance against the mainstreaming of culture?
Well, for one thing, there's time. The previous two columns I posted here – on cultist uses of media during Halloween and the Yuletide season have attempted to single out specific viewing times as crucial to the kinds of experiences they are. And these are just two examples. This connection between idiosyncratic approaches to time-spending and cult run through the history of film, television and audiovisual media.3
It is the concluding suggestion of my three columns – and at this point it is really only a suggestion begging for more research, hence my trying it out on this platform – that (by and large), the cult viewing experience is still relevant because films and shows are turned into cults by viewers who refuse, or cannot afford to use the ruling models of the progress, conduct and governance of spending time with media; viewers who consume too much, not enough, or inappropriately when measured against the clock; viewers stuck watching horror films at Halloween, melodrama and musicals on television during Christmas, and watching Casablanca for Valentine's Day; nothing original, nothing new, nothing distinguished, unproductive and not really classy. But, at the same time, free enough to do just that, and again and again. In his essay on Casablanca, Umberto Eco sees audience participation, especially their reciting of dialogue, as an example of how films that are turned into cults require the viewer to "break, dislocate, unhinge it so that one can remember only parts of it, irrespective of their original relationship with the whole"4. That means breaking out of time's progress as well. Contemporary illustrations would be The Big Lebowski's 'dude' or Ginger Snaps' 'goth girls' – the dudes and goth girls from the movies as well as those in their audience.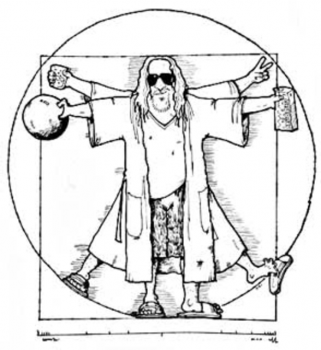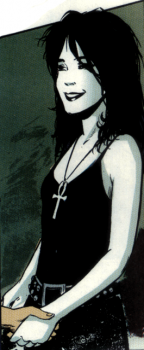 The Dude and a Goth Girl
Eco's remark is one of numerous similar ones found in literature on cult cinema, cult television, and cultist uses of the internet, which imply that media cultism has no use-value, no exchange-value, perhaps not even a Baudrillardian sign-value but only what Walter Benjamin via Karl Marx would call a fetish-value – a form of surplus immeasurable via tools designed to track the functional and proper 'spending' of time.
I am honestly unsure if this observation is – or should be – anything more than just a coincidence or if it relates to a deeper mechanism of how cultism retains a form of resistance against the relentless commodification of leisure time, or even more, a rebellion against the usage of time as an economic form of measurement at all. I'd love to believe such a relationship exists, and that it could be connected with philosophical approaches on the management of time.
Here is why I would love to believe this. One main implication of all the modes, tools and instances of media cultism, and indeed the purpose of the epiphanies cults chase, is the subversion of a steady progression of time. There have been many discussions, ranging from Stephen Kern's historical study of the culture of time and space, over Henri Bergson's, Gilles Deleuze's and Eric Alliez' philosophical discussions of the representation of the passing of time, to John Zerzan's anarchist assaults on the construction of time that link films to questions on how the governance of time is a convention intended to support certain worldviews5 Cult media receptions are a reprieve from that convention by suggesting, through their own claims about how time works, that there is 'another time' (to quote the opening of Streets of Fire).
[youtube]http://www.youtube.com/watch?v=oJGo2rvfSuA[/youtube]
The trailer for Streets of Fire
[youtube]http://www.youtube.com/watch?v=5vWXS5nHdk4[/youtube]
Bubblegum Crisis doing Streets of Fire
I have mentioned elsewhere – during heated discussions about the relevance of cult cinema today where convictions can take over research findings (see CINEASTE for my role in this particular discussion) that cult films present discontinuities, repetition, time travel, or fragmented time – cult films are known for having their timing 'off', and watching them repeatedly is literally taking time off. The modes of the cult viewing experience turn this 'off-time' into a form of resistance against exhausted impositions of progress and a compartmentalization of time into "working hours," "shifts," or "deadlines"—culminating in "just in time" or "around the clock" economies. The discombobulated 'future where you and I will spend the rest of our lives' of Plan 9 From Outer Space, the eternally 'forgotten and lost' times of The Lord of the Rings, the perpetual 'Tuesdays or Thursdays or any day for that matter' of The Gods Must be Crazy, the 'after hours' of After Hours, the 'time warp' of 'midnight movie' The Rocky Horror Picture Show, the 'killing of time' of the continuous reception of Donnie Darko, the repetition of the Christmas Holidays – and Christmas Holidays' viewing – of It's a Wonderful Life, the numerous ploys around messed-up timing in Casablanca ("What watch? Ten watch. Such much?" – or the 'romantic interlude' signaling the passing of time when Ilsa and Rick spend the night together6, all suggest a refusal to adhere to demands for efficiency.
[youtube]http://www.youtube.com/watch?v=Th0G8rkhBqg[/youtube]
Playing with time in Casablanca
At the very least, they offer a suspension of 'proper' time for the duration, and hopefully a little beyond that, of a film's screening length. Beyond that, repetitively celebrating a cinema whose misuse or abuse of 'time proper' exists through the inappropriate conduct of time in its reception can develop into an attitude of cultural rebellion. This can happen by breaking the conventions of the governance of time in film reception (watching films too often, and at other times than prescribed7), by not letting the screen time run its course (using the remote to speed up, slow down, or endlessly repeat and pausing8), or by making allowance for boredom and idling as positive viewing experiences – deliberately wasteful experiences, a waste while being wasted. It is in such uses that much of the reputation of cult cinema as cool and maudit is enveloped. Cult film celebrations pretend to challenge the continuity of time and, through that, at least give the impression they contest dominant ideology, rejecting the idea that things only get better, or refusing to believe steady progress is the only path.
I would like to see us link this reputation of cult cinema to the reputations of the groups of people it is said to attract, to the classifications of 'class' with whom cult receptions are said to share sociological, ideological, aesthetic and rhetorical links: vagabonds, tramps, squatters, bums, hobos, troupes, bohemians, anarchists, fellow travelers, Zapatistas, gangs, hooligans, mobs, crowds, masses, youths, cats, beatniks, rockers, mods, hippies, ramblers, ragamuffins, nomads, wanderers, renegades, outsiders, fanatics, weirdos, witches, queers, misfits, nitwits, meatheads, scum, punks, rastas, addicts, dropouts, losers, idlers, dazers, dolers, slackers, couch potatoes, slouchers, strollers, flaneurs, … what Kinkade and Katovich call, in relation to The Wizard of Oz and Freaks, the "little people'9 How would analyses of the spending of time stand up here?
Even if such links turn out to be casual and accidental, even if they would just be markers on a hub in the scale-free network of media cultism, which I do not believe they would be limited to, even then they would still inform a bond between types of viewers and films championing inefficiency, loss, waste, failure, and marginality, both attempting to "fritter and waste the hours in an off-hand way" to cite Pink Floyd's song 'Time'.
[youtube]http://www.youtube.com/watch?v=MYiahoYfPGk[/youtube]
Pink Floyd's "Time"
It is in this sense that Andrew Ross' observation that camp film relates to 'surplus' labor becomes most relevant10. From the perspective of the cultist viewer, it is a surplus labor that creates a cultural niche in which the refusal or inability to be productive, to have one's labor (the labor of love, watching movies) ascribed a use, exchange or sign value, becomes something audience and film share –against the ruling times. And what better way to 'perform' this than through films that invite us to "have the time of our life"?
Subverting the sequencing of time and the steadiness of progress into 'cosmic time' (to use Eric Alliez's term11) was certainly an aim of the original Dionysus cult, and of many cults since. The fact that violence and sex were among the means to achieve the abandon that would accomplish this accounts for a main reason why the term cult has been dismissed from cultural discourses so vigorously. In the form of the reception of films (often violent or sexually charged films), television shows such as Lost, Star Trek, or Robin Hood (all of which question time), and via ritual experiences that have sublimated shadow-representations of time-travel, cult has gradually made a re-entry into accepted culture.
Only in a few guises would any culture condone the myriad of ritual activities around the challenge of time without sanction. Film and television cultism is one of them. That might be exactly why cult media experiences are so appealing, and why they can continue to imply that they contain an epiphany or gasp that preempts, precedes and even precludes, 'history', 'knowledge' or 'consciousness'. It is also why specific research into cult cinema receptions remains relevant –and if my suggestion is ever going to get mileage such research is indeed urgently needed. As any cultist knows who hears Ingrid Bergman say "play it once" in Casablanca: she means 'play it again'. Once is again.
[youtube]http://www.youtube.com/watch?v=Wo2Lof_5dy4[/youtube]
"As Time Goes By" from Casablanca
Image Credits:
1. Cassablanca and the Cult of St. Valentine's Day
Please feel free to comment.