Not So New
David Parry / University of Texas at Dallas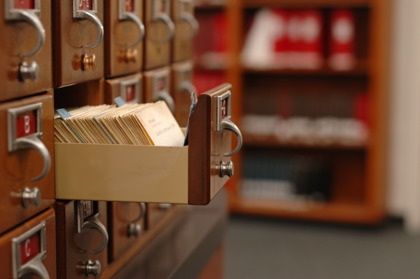 Organizing information for ease of retrieval
"It's getting late early." – Yogi Berra1
A few weeks ago while discussing search engines and knowledge organization with my undergrads I made a rather startling discovery. During the framing moments of our conversation, wanting to be able to draw comparisons between different classification systems, I asked the group how many of them had used a card catalog. Then, a strange thing happened. No, it was not the fact that only a handful ever had — this I suspected — but rather that a few asked, "What is a card catalog?" A bit taken aback, I started to explain, to which one student responded, "Oh, I have seen them in old movies." (Thanks to Ghostbusters my explanation was made a bit easier.) And so here is my concern, in the same way that I argued the issue is not "media," I want to make the more important claim that what we are talking about here is not "new," and the continued use of the term "new" is at best less than rigorous, and at worst dangerous.
As the "card catalog" example suggests, there is certainly not anything "new" about using computers to organize information or the ubiquitous Google search box. I have been teaching "digital stuff" for about eight years now and in those eight years I have noted a rather significant shift. While it used to be the case that when we would discuss the internet, social media, and the digital network, students would approach it with a certain lack of familiarity — "What is this strange object before us?" Now they simply take it in stride. There is nothing particularly strange/odd or even noteworthy to many of them about the practice of having a Facebook page. (Indeed this is the second semester in a row where nearly all of my students have a Facebook page.) I used to approach teaching these matters as the question of looking at the strange and contextualizing it in terms of the familiar. I now find that my job is to take the familiar and make it strange, or as Siva Vaidhyanathan observed during an online discussion about this issue, "I use the 'I'm teaching fish about the ocean' perspective. I try to make it weird again."2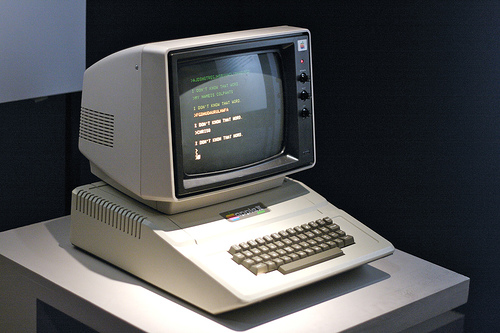 Steve Jobs: making "new" media for years
I do not mean here to suggest all of that nonsense about digital natives versus non-digital natives; indeed I am actually suggesting something quite the opposite: students are not digital natives who possess some unique set of skills whereby they can magically manipulate the network and gadgets to do whatever they want with outstanding acumen, rather that students are for the large part unreflective about the way they use these network technologies, and what is more are unreflective about the ways in which their use (or our use) has already been historically determined and shaped, an unreflective response which gives up power and control over to these systems.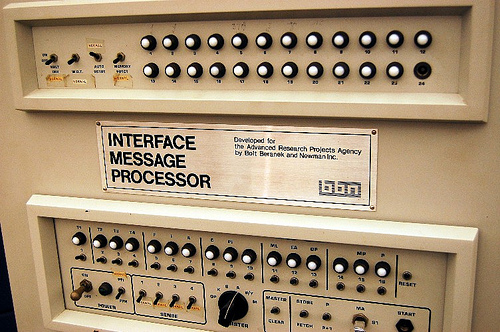 The Arpanet interface, circa 1969
And so this is my problem with the word, "new." It suggests that what is happening, the profound shift from a social and cultural structure whose primary form of archivization is analog to one which is digitally networked has not already been significantly shaped by a past. In the first instance as Armand Mattelart convincingly argues, the networking of the world has a longer historical trajectory than simply the last 20 years.3 But secondly, and perhaps more importantly, the social customs, cultural norms, and legal institutions which have come to shape the way that we are using the digital network are not particularly new, and are by the day becoming increasingly more established and codified. Back in the days of Amiga and OS/2 you might have been able to convince me that there was something new going on, but when we are now at the point where three players dominate the Operating System market, with Microsoft owning 90% share, we are no longer at the moment of the new, we are at the moment of the historically established. When Facebook has 350 million plus active users it is no longer a cultural outlier, it is the norm.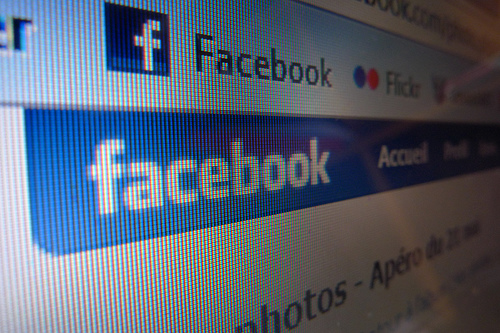 Facebook: the norm, not the new
The problem with the word "new" is it tends to convey a sense of the different, a recent change, as in, "Do you like my new haircut?" as opposed to the already established and significantly integrated. The internet has been around since the 1960s; there is nothing "new" about it. And, even if one is talking about the internet as widely used and publicly available, the timeline is at least ten years. Now ten years might seem "new" in the world of academia where any literature written after 1900 is considered contemporary, but in the cultural, legal, and social realms, ten years is at least two generations.
Treating the digital network as "new" allows us to ignore it or treat is at less than critical, yet to be determined, or less than urgent, when in fact precisely the opposite is true. These digital networked technologies have so thoroughly penetrated our economic, legal, and social structures that they now form the basis of much of what we do. After the invention of the printing press it took at least a hundred years, much longer in many cases, for the norms of printing press culture to develop (pagination, title pages, copyright laws, reading practices). In this sense the printing press remained a new technology for a long time. The window for negotiating the norms of printing press culture in this respect stayed open quite a while4, but in the case of the digital network that window is much shorter and our unreflexive use of the term "new" carries the unfortunate consequence of deceiving us into believing that we have much more time than we actually do. These "new media" aren't new; they are central and a fundamental part of our cultural, legal, and social institutions. It is time we started treating them as such.
Image Credits:
1. Card catalog
2. Apple II
3. Arpanet
4. Facebook
Please feel free to comment.