Privacy, Openness, and a New Persona: Why David Letterman's Interoffice Escapades Took This Longtime Fan by Surprise
Kelli Marshall / University of Toledo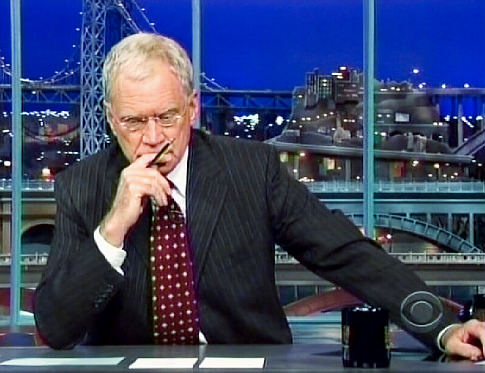 David Letterman, embroiled in scandal.
I have been a fan of David Letterman for 20 years. In high school and college, I tuned in periodically to both Late Night with David Letterman (1982-1993, NBC) and the Late Show with David Letterman (1993-present, CBS). Now, thanks to TiVo, I watch the talk show religiously, having rarely missed a broadcast in the past decade. Suffice it to say, David Letterman and I have a history together. This is one reason, I think, that the comedian's recent admission about his interoffice sexual exploits surprised me.
There are certainly other, less personal reasons that this story was recently plastered all over television shows, newspapers, and the Internet, for example, the bizarre extortion plot attached to Letterman's sexual relationships, the concern about potential sexual harassment in the Late Show workplace, and, of course, the media's undying (and unhealthy) affection for sex scandals. But perhaps there is another, more implicit explanation that Letterman's confession shocked not only me, but many of his fans, the social networking world, and the media. In short, the on-air persona that Letterman has created for himself over the past nine years–a more compassionate and more exposed host/philanthropist/heart patient/husband/father–grossly conflicts with his apparent actions behind the set. It is this disconnect that I'd like to consider further.
For much of his television career, David Letterman has thrived on sarcasm, irreverence, and aloofness–characteristics that have set him apart from other late-night comedy hosts like the emotional and politically charged Jack Parr, the laid back Johnny Carson, and the inoffensive, jovial Jay Leno. As well, Letterman's cool indifference and sardonic tone have yielded several uncomfortable (yet unforgettable) interviews with stars, politicians, writers, and musicians. For example, in 1988 an annoyed Letterman derided American Splendor writer Harvey Pekar, calling his comic book nothing but "a little Mickey Mouse magazine, a little newsletter." And in 1994, Letterman introduced Madonna thusly: "Our first guest tonight is one of the biggest stars in the world. In the past 10 years, she has sold over 80 million albums, starred in countless films and slept with some of the biggest names in the entertainment industry." Madonna reciprocated this tacky introduction by dropping the word fuck over a dozen times during her interview.1
[youtube]http://www.youtube.com/watch?v=cRSP5ZUmxP8[/youtube]
Reinforcing his detached persona during the 1980s and 1990s, Letterman only revealed tidbits of information about his personal life, and he kept himself out of the gossip spotlight. For instance, fans were aware that he was romantically involved with Merrill Markoe, a head writer and producer for Late Night. Also, it was widely known that Letterman was the victim of a schizophrenic stalker, Margaret Mary Ray, who repeatedly broke into the host's Connecticut home, even once stealing his car. Additionally, the audience was familiar with Letterman's inordinate number of speeding tickets and the cops who pulled him over. Finally in 1994, fans were introduced to Letterman's mother, Dorothy, who served as his correspondent for the Olympic Winter Games in Lillehammer, Norway. But, that's about it; so essentially, over nearly two decades as a public person, Letterman exposed a mere handful of specifics about his personal life.
However, in the year 2000, the self-described introvert began to share anecdotes about himself and his family. Moreover, he altered the content and tone of his interviews, especially those involving guests with children. This shift in nature ostensibly began on February 21, 2000, the evening Letterman returned to The Late Show after a month-long hiatus due to emergency quintuple bypass surgery. Forgoing his famous Top Ten list, the late-night host filled the stage of the Ed Sullivan Theatre with every member of the medical staff who cared for him during his stay at New York-Presbyterian Hospital. With typical humor, Letterman introduced the medical team: "Ladies and gentlemen, that woman at the end of the line gave me a bath!" Then, rather quickly all joking subsided, and a clearly choked-up Letterman offered these simple words to his audience: "Five weeks ago today, these men and women right here saved my life."
Similarly, on November 4, 2003, Letterman shared with viewers another personal milestone, the birth of his son, Harry. Although some of his narrative was interspersed with characteristic jokes (e.g., he named his son Saddam), much of it was as frank and emotional as his bypass show. For example, he confided to his longtime sidekick, Paul Schaffer, that he "could never have imagined being a part of something that turned out this beautiful." And before moving forward to his first guest, Letterman informed the audience of the rather touching story behind his son's name: "My father passed away when he was 57. I'm 56 years old, and yesterday I had my first child. So I named him for my father. And his name is Harry Joseph Letterman. So God bless Dad, and God bless Harry." Then, the new father proudly held up a picture of his one-day-old son.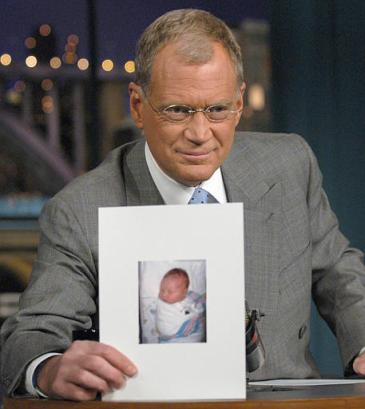 Letterman introduces audiences to his newborn son, Harry Joseph Letterman. (Nov. 2003)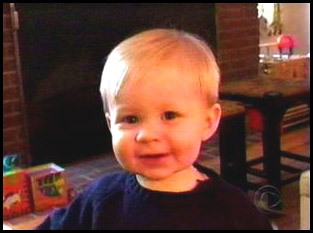 On his show, Letterman screens a personal home video of his son learning how to walk. (Jan 2005)
This calmer, personal, more introspective persona is reserved not only for the host's pre-interview discussions about his son's tree-house and soccer games, adventures on his Montana ranch, his (and Paul Shaffer's) visits to Iraq, and his marriage to Regina Lasko, but also for his guests. For example, the host talks in depth with Julia Roberts about baby strollers and trips to McDonald's (she's never been, by the way).2 He also seeks parenting advice from Dr. Phil, Harry Connick, Jr., and other guests, explaining that he is having a hard time disciplining "Huff" (his nickname for Harry) and enforcing "the naughty chair." And perhaps even more telling, the host who once deliberately offended guests with his disparaging, brutal humor now begs their forgiveness. Realizing that A-list celebrities like Meryl Streep, Susan Sarandon, Oprah Winfrey, and Madonna have been absent from the Late Show for nearly a decade because of his former behavior, Letterman has sincerely apologized on-air to each.
As some of my colleagues have pointed out, it's not all that shocking that a man in such a powerful position as David Letterman would engage in sexual relationships with his female co-workers and subsequently cheat on his significant other. In fact, in this day and age such behavior is frequent among male public figures who carry some authority e.g., religious leaders, politicians, movie stars, professional athletes. But in general, late-night talk-show hosts (and comedians as a whole) have avoided this sort of philandering. Sure, Johnny Carson married multiple times, but there was never any public evidence of extramarital affairs. Likewise, to my knowledge neither Steve Allen, Jay Leno, Conan O'Brian, Craig Ferguson, Bill Maher, Jon Stewart, nor Stephen Colbert has been involved in a sex scandal. As a result, the uniqueness of Letterman's situation certainly makes it surprising.
Moreover, comedians, satirists, and late-night talk-show hosts generally function as social observers and subversive truth-tellers. By drawing on contemporary culture and its goings-on, they are the ones who often deconstruct, expose, and challenge social expectations, rules, and hypocrisies; it's not usually the other way around. 3 For example, most recently late-night comedians have riffed on the media's fixation with swine flu, a senator who takes an Argentinean lover, and falsified footage from Fox News. A few years back, of course, jokes about Bill Clinton and Monica Lewinsky as well as Dick Cheney's hunting trip (in which he accidentally shot his friend in the face) dominated the late-night circuit, with Jon Stewart exclaiming about the latter, "Thank you, Jesus." The public, therefore, expects David Letterman et al to mock others' foibles, fabrications, and scandals–not to be the butt of such jokes themselves.
But when considering why Letterman's affair shocked Late Show fans, the media, and the social networking world, we again cannot discount the host's recently revised image. Most late-night hosts have maintained the same on- and/or offscreen persona over the years. For instance, Maher is consistently snarky, interruptive, liberal-minded, and makes no qualms about his agnosticism or love of marijuana. Similarly, Leno has always come across as decent, fair, unpretentious, and a lover of cars as well as a devoted husband to his wife of thirty years. As well, O'Brien continually portrays himself as goofy, awkward, unabashedly Irish Catholic, and slightly bawdy but mostly wacky (see his masturbating bear and Triumph the Insult Comic Dog). Letterman, however, has "softened," Oprah Winfrey points out in a recent appearance on the Late Show (Dec. 2005). There is now "a light in [his] eyes…a sweetness" that wasn't evident before, Winfrey maintains (clapping wildly, the audience agrees). Indeed, over the past decade, Letterman has constructed a different persona: he has put aside some of his old ways, opting instead for a more involved, sincere, personal style of comedy and interviewing. As a result, Letterman's affair and admission of dishonesty do seem at odds with his progressive modification, which again, theoretically makes his announcement, especially for fans, a rather unanticipated one.
Image Credits:
1. David Letterman, embroiled in scandal.
2. Letterman introduces audiences to his newborn son, Harry Joseph Letterman.
3. On his show, Letterman screens a personal home video of his son learning how to walk.
The Museum of Broadcast Communications describes Letterman thusly: "a number of guests found him to be a mean-spirited interviewer and some celebrities claimed he was adolescent at best, highly offensive at worst." [↩]
Other instances of Letterman's newfound openness are as follows: On September 22, 2003, Letterman describes his encounter with a black bear which was wandering through the kitchen of his Montana home. This story gives way to several other narratives about Letterman's adventures on his ranch (e.g., he was thrown from his horse, he survived another bear invasion). In December 2004, Letterman and Paul Schaffer spend Christmas in Iraq. Both talk openly about their memorable experience when they return to the air in January 2005.( This is apparently the fourth time the duo performed for the troops but the first time they both spoke at length about their travels.) In March 2005, Letterman humbly thanks on-air the police force of Chouteau, Montana, for arresting a man who was allegedly plotting to kidnap Letterman's son and nanny. On April 26, 2007, Letterman, who rarely makes public appearances outside his own show, goes on Live with Regis and Kelly to welcome back Regis Philbin who had undergone his own bypass procedure. Similarly, in September 2007, Letterman surprises fans and makes another public appearance, this time on The Oprah Winfrey Show. Letterman's interview, filmed in Madison Square Garden, served as Oprah's fall premiere extravaganza. The television hosts discuss young Harry's love of airplanes and bugs; and Letterman shares with Oprah's audience several pictures of his son and family. In November of 2007, Letterman's alma mater, Ball State University, names its new communications building after the talk-show host. Letterman attends the ceremony and gives a speech. When he returns to television, he not only speaks highly of his weekend experience, but also of his own college career at Ball State. In March 2009, Letterman shocks his audience with wedding news. Through a detailed story involving a pick-up truck, mounds of mud, and his curious child, Letterman informs viewers that in a small ceremony in Choteau, Montana, Letterman wed Regina Lasko, his girlfriend/partner of over twenty years and the mother of his child. Finally, since his son's birth, Letterman has frequently shared stories, pictures, and videos of Harry. We know, for instance, that the father and son have built a tree house in their backyard, that Harry is a wise backseat driver, that Letterman attends soccer games and nursery school events, and that the two enjoy flying kites together. [↩]
For more on comedians and their social functions, see Shawn Chandler Bingham and Alexander A. Hernandez, "Laughing Matters: The Stand-Up Comedian as Social Observer, Teacher and Conduit of the Sociological Imagination, " Teaching Sociology 37.4 (Oct. 2009): 335-52; and Murray S. Davis, What's So Funny?: The Comic Conception of Culture and Society, Chicago: U of Chicago P, 1993. [↩]