The Last Days of Videotape
Charles R. Acland / Concordia University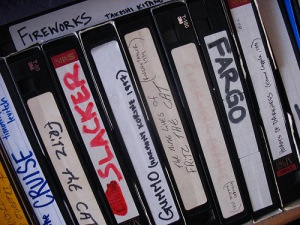 Remember the three-minute whirl of a rewinding videotape or the dry mechanical clunk of it being ejected? Of course you do. These were part of the domestic soundtrack of film and television recording and viewing for the last couple of decades.
Unlike the lag in the introduction of recordable DVD players to the North American market, VCRs arrived as a medium for recording as well as for playback. True, the minor skills required to program VCRs to record TV broadcasts were fussy enough to dissuade many from regularly using that function. As a result, contra industry expectations in the 1970s, videotape rental eventually upstaged time-shifting as the dominant use, and revenue center, for the home video business. By the mid-1980s, jokes about VCRs flashing "12:00" – the tell-tale sign of a machine not set-up for programmed recording – were as pervasive as those about airline food.
Yet, people did record shows and build, and in some cases obsessively, videotape libraries.1 Neatly arranged on shelves or tossed randomly into cabinets, one would find late-night movie features, sporting events and awards shows, prime-time sit-coms, and miniseries. Collections might include some used VHS films and an archive of family home video. But apart from children's titles and exercise videos, which became leading genres for the purchase of new video releases, people built these domestic libraries by taking time to consider what to include, what speed to record at, how to label and organize recordings, and what to duplicate and exchange through informal networks. So distant from our current expectation of the limitlessness of data storage space, for a while, videotape was just expensive enough to encourage VCR users to conserve tape: to pause when recording live to avoid wasting precious tape on commercial breaks, to squeeze as much onto a tape as the time-length would permit, and to re-use tape by recording over less valued material. Imperfections resulted from such experiments in home editing, and truncated programs were a familiarly frustrating consequence.2
In pointing to the VCR era of the vernacular moving image library, I'm not suggesting that aspects do not also describe DVDs and digital file-sharing as well. Home DIY recording culture confronts a dizzying array of available uploaded and downloaded material from corporate and more illicit sources. Though retail has driven the DVD market, we still find all manners of the everyday capture, manipulation, display, and circulation of desirable ripped and burned content.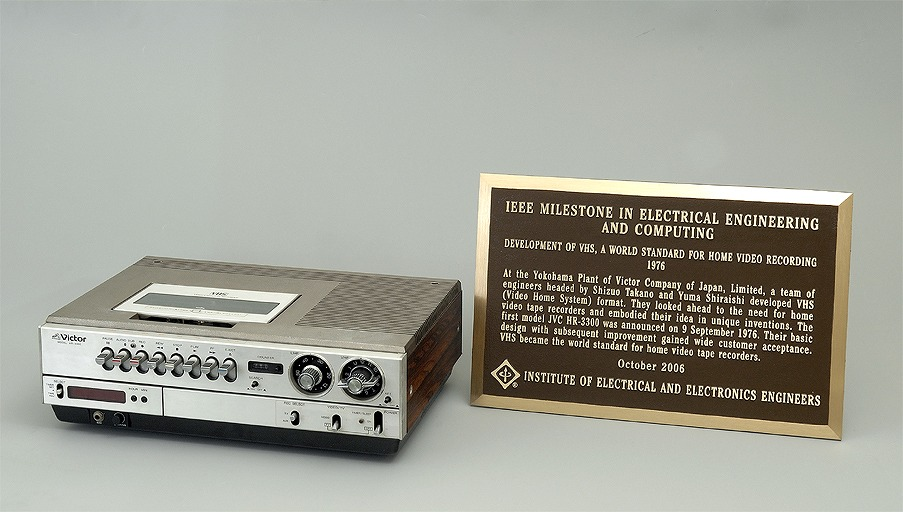 So, why bother putting videotape and the VCR on our research agenda? After all, are we not so far beyond the death of videotape that we've actually entered the twilight years of the DVD?
First, the VCR was of critical historical importance in the way we understand and interact with the materials of moving images. Of course, there were precursors, but never so malleable, so inexpensive, and so available. The VCR was part of a cultural shift toward the cheapening of moving images, and toward a now-dominant sensibility of informality in the way we live with recorded motion. Moreover, this re-orientation of moving image culture and practice was significant for the operations of the entertainment business, and the VCR eventually tipped the revenue centre for film distributors away from theatrical exhibition, thus establishing patterns for ancillary markets that continue to be exploited.
Second, buried in the shallow grave of those vernacular archives of video recordings are an extraordinarily rich, if haphazard and idiosyncratic, assembly of broadcasting oddities. One-time broadcasting events and anomalies, rare local commercials, station identifications, and sign-off notices. Bumpers, news inserts, and weather alerts announce that one is not just watching, for instance, Force of Evil (1948), but a specific late-night broadcast by a particular station of that classic noir. And one cannot help but notice the temporal specificity of the broadcast-journalism-school-approved hair and teeth of local anchors preceding the credits to, say, a recording of The Arsenio Hall Show. While YouTube gives the impression of having gobbled up every last drop of moving image ephemera – which is not true by any stretch of the imagination – television broadcast recordings offer contextual material, blocks of ads, sequences of television segments, and programming line-ups. Contrast this with the hermetic feel of DVD box sets of television seasons, which, despite their supposedly prestige-enhancing extras, have been stripped of the sullying elements of their broadcast incarnation.3
Third, VCRs and VHS cassettes are not really the "dead media" industry pundits would have us believe they are. In 1993, Video Store published a death-bed announcement, along with a tombstone graphic, saying the "demise of VHS is imminent."4 It was three additional years before there were more DVD households in the world than VCR.5 Into 2006, some American films still appeared on VHS, with A History of Violence (2005) claiming the ignominious last spot. The final VCR unit went to retailers in 2008, though dual DVD-VHS units remain available. All of this is still very recent history, and the cassettes and machines will remain with us for a while longer. People did not simultaneously free themselves of a format, wiping clean their previous technological investments. Instead, there is a longer, slower, transition, often with people waiting out the mechanical life of devices, and in this way producing extended periods of overlap between the old and the new. Take note that even today, the most recent edition of Leonard Maltin's popular video guide contains more VHS titles than DVD (13,000 vs. 11,000).6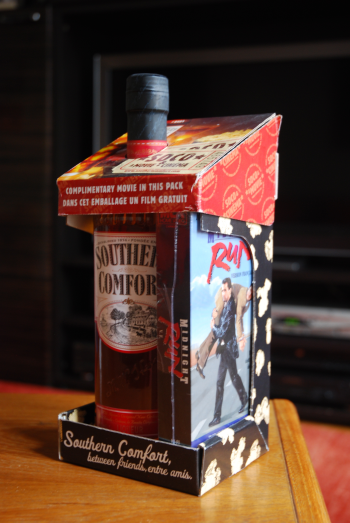 A novel way to move videotape
Even with all the industry talk about the coming expiration of videotape in the early 2000s, and while major rental and retail chains were divesting themselves of VHS, smaller operations continued, and can still be found, carrying tape. Single-outlet stores proved to be reluctant to get rid of an inventory they'd already paid for, despite the lure of more shelf space afforded by the trim DVD, and concerned about alienating existing clientele, especially older and lower-income patrons.7 They chose to sell off gradually their previously-viewed titles, doing so at such cheap prices and sparking one more stage of life for VHS. Though the primary market for VHS has flatlined, secondary markets continue, with eBay and garage sales keeping titles in circulation.
The cultural life of "out-moded" materials, and the transition between formats, is active enough to bear special attention. Of the many examples of unevenness in media transition, consider the case of Swank Motion Pictures, which has been providing US correctional institutions – public and private, federal and state – with filmed entertainment since 1937. They have exclusive licensing from Hollywood majors, as well as numerous independent outfits, to distribute films to prisons and to arrange for the necessary performance rights. While DVD is now their dominant format, their catalogue includes VHS material that was specially edited for an incarcerated audience. Thus, in this instance, specialized material for a specialized audience guarantees an extension of use for the older format.
The full life cycle of any media – including VCRs and cassettes- equally involves its environmental impact, and contributions to e-waste remain in our midst well past the expiry date of exchange and use value. For all the end-of-life programs for electronics offered by the likes of Sony and Toshiba, US consumers recycle only about 18% of e-waste, and, according to the Basel Action Network's Jim Puckett, 90% of this ends up in China and Nigeria, where unconscionable working conditions for the stripping of those discarded materials has created localized environmental disasters.8
By drawing attention to that dust-covered box and to those under-utilized black plastic rectangles, whose contents may be marked for DVD transfer or junk, I am advocating for scholarship that addresses fading media machines. If we took industry trades publications seriously, videotape died years ago, and we would ignore it in favor of whatever has been deemed the economic golden goose of the moment. Media scholars need to be cautious about industrial cheerleading, lest our field becomes a bastion for studies of earlier adopters of new technology. As it is, too often it seems that communication and media departments exist as the go-to place for sound-bites on interactive this and touch-screen that. The prioritization of the "new" on our research agendas draws us more in synch with the priorities of the consumer electronics business. We become "incubators" for products and markets. A counter-veiling force in scholarship must meet this, one that situates the gleaming promises of ethereal media with a critical orientation toward the materiality of existing cultural life – dominant, emergent, and residual, as Raymond Williams so perfectly insisted.
Further Reading:
On the history of the VCR, the definitive work remains Frederick Wasser, Veni, Vidi, Video: The Hollywood Empire and the VCR, Austin: University of Texas Press, 2001. Examples of the scholarly potential for re-visiting videotape culture are Lucas Hilderbrand, Inherent Vice : Bootleg Histories of Videotape and Copyright, Durham: Duke University Press, 2009; Joshua M. Greenberg, From Betamax to Blockbuster: Video Stores and the Invention of Movies on Video, Cambridge: The MIT Press, 2008; Will Straw, "Embedded memories" and Kate Egan, "The Celebration of a 'proper product': Exploring the residual collectible through the 'video nasty'," in Residual Media, ed. Charles R. Acland, Minneapolis: University of Minnesota Press, 2007, 3-15 and 200-221; and Barbara Klinger, Beyond the Multiplex: Cinema, New Technologies, and the Home, Berkeley: University of California Press, 2006.
Notes:
Thanks to Brian Fauteux for research assistance.
Photo Credits:
1. http://www.ieee-jp.org/japancouncil/jchc/adm/vhs.jpg
2. http://media.obsessable.com/media/2008/11/10/zz7beb3583.jpg
3. Author's picture
Please feel free to comment.