The Dual/Dueling Sides of T.O./Terrell Owens
Stephen Brauer / St. John Fisher College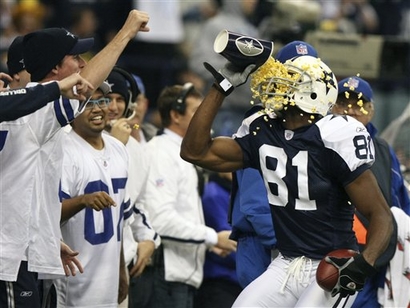 Terrell Owens (T.O.) in Celebration
Throughout his career as a wide receiver in the NFL, Terrell Owens has used the media spotlight to generate publicity for himself. 1 His usual means of doing this, outside of some of the outlandish comments he has made directly to the press, has been through his celebrations following a touchdown reception. A few of these moments include the time he used a Sharpie to autograph the ball and handed it to a "fan" sitting in the stands (who happened to be his financial adviser), once when he set down the football in the endzone as a pillow and comically pretended to take a nap, and the time he grabbed a fan's bucket of popcorn and dumped it into his helmet.
While football is a team sport and touchdown receptions are necessarily a result of at least two people working together – the quarterback and the receiver – let alone the effort of the entire offense, Owens has repeatedly used those moments to call attention specifically to himself and to construct an image of himself as a showman. The NFL has fined him for unsportsmanlike conduct on many of these occasions, but the attention that these celebrations have generated for Owens has made him a household name.
He has not limited himself merely to what happens during the game itself, either. Of special note was his participation in a skit at the beginning of ABC's "Monday Night Football" telecast on November 15, 2004. Owens appeared in his uniform in the locker room with actress Nicollette Sheridan portraying the character Edie that she plays on Desperate Housewives, another highly rated ABC television program and a breakout hit that Fall for the network:
[youtube]http://www.youtube.com/watch?v=48zBQeE1r60[/youtube]
Dressed only in a towel, Edie seeks to seduce Owens but he refuses her advances, noting how his quarterback needs him and how even the city of Philadelphia is counting on him, until she takes the towel off and he says that the team will have to "win this one" without him. This highly charged scene raised a furor, at least in part because of the interracial sex implied between the black Owens and white Sheridan. That furor helped cement Owens in the public consciousness as a star, as someone that the famous and desirable Sheridan – or at least her fictional character – would desire. But the scene also ironically hints at Owens's willingness to put his own desires above his team's needs, and his participation in this opening skit for the highly rated program "Monday Night Football" signaled his desire for recognition and appreciation for his appeal beyond just that of playing football.
One element of this sketch, moreover, is worth further consideration. At first, Edie addresses Owens as "Terrell" but she as she takes her seduction further she says that she "can't help myself…I love you T.O." This use of his nickname grabs his attention, and for the first time, he does not immediately reject her come-on. He turns away when she refuses to reveal her secret, but he does stop when she once again calls him "Terrell" and drops her towel. This use of both names, it so happens, is especially revealing, for that duality in Owens's identity is the very element with which he struggles in his attempts to control his image in the public consciousness.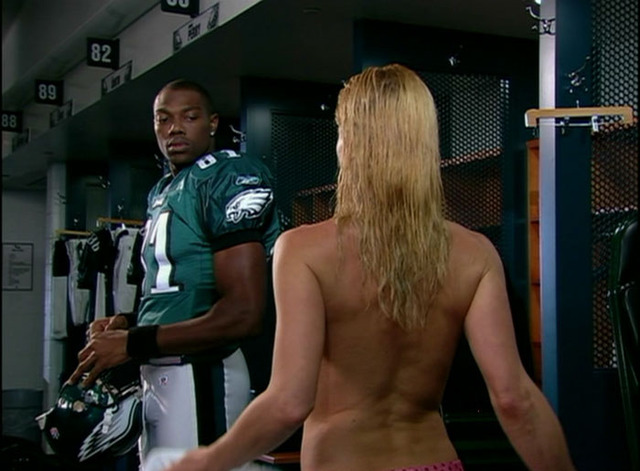 Owens reacts to Sheridan's 'offer'
Lots of athletes are currently using emerging technologies to stay in touch with their fans, but Owens, now playing wide receiver for the Buffalo Bills, may make more use of media technologies than any other professional athlete – besides his Facebook, Twitter, and MySpace accounts through which he connects to his fanbase, he maintains an active website, and stars in an ongoing television reality series, The T.O. Show, on VH1. 2 Owens uses these spaces to try to emphasize his life off of the football field, especially his charity work in local outlets and nationwide, in an effort to redefine his image. This is something of a necessity for Owens, because most people see him as a self-promoting boor who is addicted to the spotlight. Another way of putting this is to say that Owens is looking to promote "Terrell" above and beyond, or in place of, "T.O." Although Owens has career statistics worthy of Hall of Fame consideration, his legacy may well have more to do with the controversies surrounding T.O. than with his vast accomplishments as a wide receiver. 3 By removing the "middle man" of the press from his interactions with the public, Owens hopes to speak directly to people and gain control over how others perceive him. But while these technologies offer him the means to construct his image in the way he would like, they are a medium for that image and not an image unto themselves. They cannot guarantee success in changing public perception.
Throughout his career, but especially in recent years, Owens has had difficult relations with the media. While in Philadelphia, reporters went so far as to call him a "cancer" to his team. 4 The negativity reached its zenith in the coverage of his overdose of hydrocodone in late September 2006 while he was playing for the Dallas Cowboys. According to a police report, Owens's publicist, Kim Etheridge, found Owens next to an empty prescription bottle at the scene and unable to respond to her voice. Etheridge phoned for an ambulance, which rushed Owens to a local hospital for treatment. The media treatment of Owens was harsh, in part because he seemed to be calling further attention to himself with this apparent suicide attempt, and it continued even after the police deemed the event an accidental overdose.
Owens now plays receiver for the Buffalo Bills, a lower-tier team with little hope for the playoffs, and at 35 he is reaching the tail end of his career. Clearly aware of his reputation in the press as a distraction to his team, he has avoided controversy by refusing to say anything negative to reporters about the team as it has struggled this season. And through his social networking with fans, he has explicitly sought to articulate positive platitudes. After an embarrassing 38-10 loss on October 4th to the Miami Dolphins, Owens wrote on his Twitter page, "It ws a tuff 1! Sumhow, sumway, WE hv 2 get better! Gotta stay positive!! It'll get better!"5 The emphasis on the "WE" in this statement is just as noticeable as the lack of blame assigned to any teammates or coaches. This is not the T.O. of earlier years, at least as represented in the press. He is constructing a new image, a supportive one, using technological means that bypass traditional media.

Owens' Twitter Page
For instance, on the home page of his website, Owens emphasizes his work for the Food Bank of Western New York and his role in the fight against Alzheimer's. Another page on his site focuses on the work of his foundation, The Terrell Owens Catch a Dream Foundation. While a third page offers merchandise, most of the content on the overall website is clearly directed at positioning Owens as Terrell more than as T.O.
However, his television series, which has finished one season and has been renewed for a second on VH1, demonstrates the ultimate tension between the two halves of Owens's personality and the difficulty he is facing in constructing a new image. The summary description of the show emphasizes that the focus will be on how "Terrell Owens finds himself a man in transition," and that he is trying to "reconcile the contradictions in his persona" between T.O. and Terrell. The description ends, "Emotional, entertaining and most of all revealing, Terrell Owens will expose his personal life as never before, bringing all the drama, energy and heart that only he can bring."6 But while the show does focus on Owens's life away from the field, that life seems highly mediated by his two best friends, Monique Jackson and Kita Williams, who also happen to be his publicists and self-described managers of the "T.O brand." The tagline in the advertisement this summer for the show was, "You love him. You hate him. But you don't even know him." The series would apparently provide viewers the insight into his actual character in such a way that he would no longer appear to be playing the character associated with the NFL.
But although the emphasis of the series is supposed to be on "Terrell," the program is called The T.O. Show, which only reinforces the tensions between the public athlete and the private man and demonstrates the difficulty that Owens is having making a transition out of the brash persona that served him so well earlier in his career but which now has defined him so narrowly that he cannot escape it. While Owens's full body nudity in the advertisement seems meant to suggest how willing he is to display Terrell, it also seems as much an attempt to display T.O.'s stunning physical form, strength, and sexuality. As much as he is clearly trying to reach out directly to fans – through Twitter, Facebook, or even through producing his own television reality series – Owens continues to struggle to resolve the duel, or the duality, between "Terrell" the man and "T.O" the showman.
Stephen Brauer is Associate Dean of the School of Arts and Sciences and Associate Professor of English at St. John Fisher College in Rochester, NY. He has published articles on modern novelists such as F. Scott Fitzgerald and William Faulkner, the genre of detective fiction, the critical reception of that genre and the teaching of it, and the function of fashion in the film Fight Club . He is currently working on an article on the film Memento and a manuscript on criminality and modernism.
Image Credits:
1. Terrell Owens (T.O.) in Celebration
2. Owens reacts to Sheridan's 'offer'
3. Terrell Owens' Twitter Page Screen Capture
Please feel free to comment.