HBO, Sports Documentary, and Women's and Girls' Soccer
Heather McIntosh / Northern Illinois University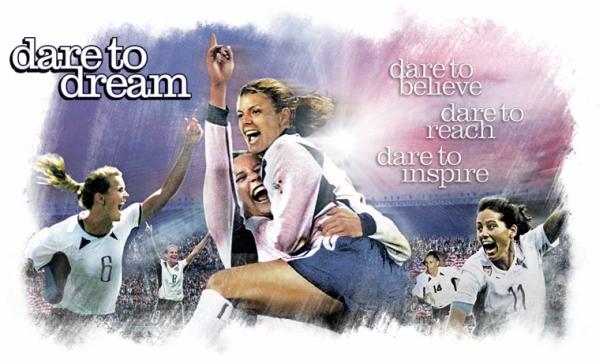 HBO's Dare to Dream
"It's not TV. It's HBO." With that slogan, premium cable channel Home Box Office attempts to distinguish itself as better than other channels on television through its programming. With in-house and contracted productions, the documentary division covers a broad range of social, cultural, and political issues such as the Iraq War, the Katrina devastation, and Alzheimer's disease. HBO's sports division also creates its own programming, which includes Bryant Gumbel's Real Sports, Joe Buck Live ("A New Sports Show with a Fresh New Spin"), and Got No Game with Paul Mercurio. The sports division, too, creates documentaries, including Reverse of the Curse of the Bambino and Assault in the Ring.
Dare to Dream: The Story of the U.S. Women's Soccer Team (2005) is one of the sports division's documentaries that addresses the often overlooked women's sports, which still struggle for equal representation and still receive less media coverage than men's sports. Dare to Dream explores the U.S. women's national soccer team's rise and struggle through five of its most visible players: Julie Foudy, Brandi Chastain, Kristine Lilly, Joy Fawcett, and Mia Hamm. The film raises a few personal issues that pertain to women specifically. For example, Fawcett wanted children, and after getting pregnant and later having her first baby, she wondered whether or not she could return to the team. The voiceover proclaims, "Remarkably enough, Joy's career would include three such comebacks" – one for each child. Other struggles appear less gendered, such as battling with disease or losing a beloved family member. Michelle Akers suffered a condition called chronic fatigue syndrome, while Hamm lost her brother, Garrett, to a blood disease. In addition to individual struggles, Dare to Dream addresses some of the team's challenges, including getting media coverage, better salaries, and more fans.
The primary trajectory of Dare to Dream focuses on the team's toughest competitions, beginning with the FIFA Women's World Cup in 1991 and continuing through to the Olympics in 2004. A dramatic arc emerges through the representations of sport competition, with the U.S. women's national soccer team cast as heroes and with rival teams and bad calls cast as foes. Former ABC sportscaster Robin Roberts describes these players in that light: "You had the perfect cast. They were the girls next door. There was a freshness to them, a wholesomeness to them."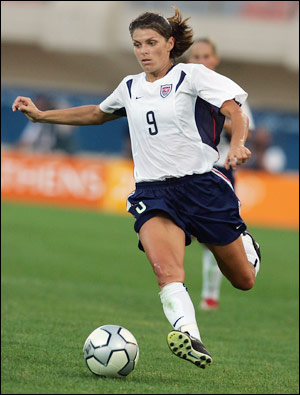 Mia Hamm
In this sports narrative, winning becomes the goal, and protracting that win adds tension and builds emotion. Dare to Dream extends the final penalty kicks between the United States and China with kickers, goalies, and coaches interviews to build that excitement. After Chastain makes the final kick, the announcer yells, "GOAL!" and the music swells. Sally Jenkins of the Washington Post comments that in that moment, "Everybody forgot that they were chicks."
As the film closes, the voiceover provides a tribute to these women and their accomplishments: "But one thing was certain: they had forged a new frontier on the soccer field and demonstrated to a nation of young women that anything was possible, if only they dared to dream it." According to Dare to Dream, these five players overcame personal setbacks, professional challenges, and sports rivals. Their accomplishments supposedly even raised women athletes to equal levels with their male counterparts as Cat Reddick, a younger national team player adds, "Women are accepted as athletes as much as men are now."
While Dare to Dream was released in 2005 and produced by the HBO sports division, Jenny Mackenzie's Kick Like a Girl (2009) is an independent production shown under the HBO documentary division in May 2009. Kick Like a Girl focuses on girls' soccer team The Mighty Cheetahs, which swept 18 games against the other girls' teams in one season. In the second year, the team played girls' teams a year older and again swept the season. The girls needed some competition, and their coach Mackenzie made a bold move: "I wanted them to experience winning as well as losing as well as tying, so I thought, 'Well, why don't we enter the boys division?'"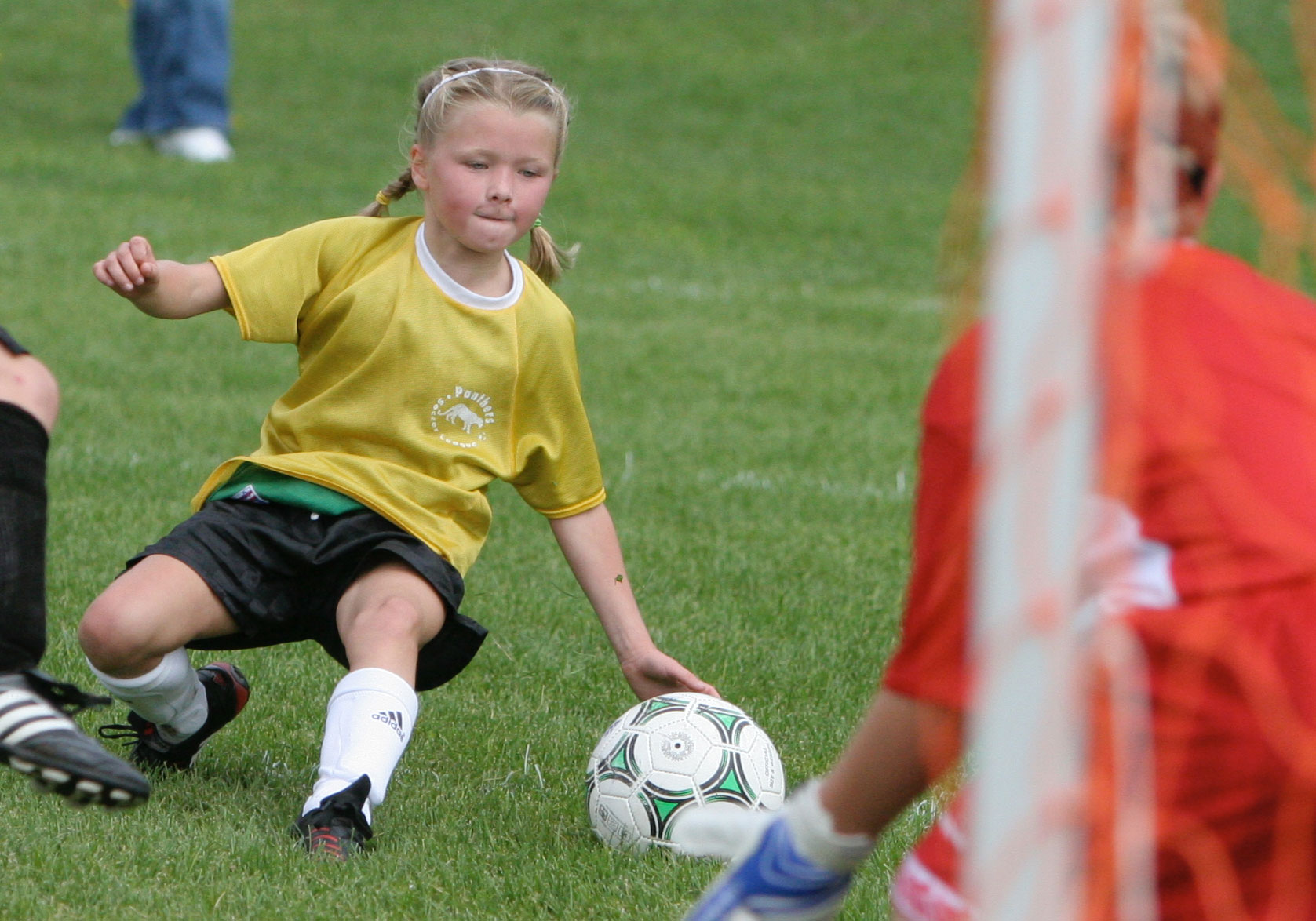 The Mighty Cheetahs from Kick Like a Girl
A majority of the film gets told through the words of Lizzie, Mackenzie's daughter. Kick Like a Girl mentions briefly Lizzie's personal struggle with juvenile diabetes, which she was diagnosed with at age 4. The management of the disease requires several "pokes" per day to measure blood sugar, as well as insulin injections before eating. Lizzie explains how her parents taught her that she can do anything she wants, with or without diabetes, thereby exerting her success over this personal setback.
The film follows a similar arc as Dare to Dream by recounting each game in the nine-match season. At first, according to Lizzie, "We were a little nervous playing the boys but after a couple minutes it was just like the same old stuff." Moving and still footage shows portions of each game as the onscreen scoreboards tick off each team's goals. The Mighty Cheetahs started strong with winning three in a row before tying the fourth game. By the fifth game the competition gets more aggressive, and Lizzie comments, "There were more fouls on the field, but the ref didn't seem to be calling them." The team ended the season losing two more games and winning two more games. Lizzie explains, "We didn't want the season to end because we were having so much fun."
Either way, Kick Like a Girl follows similar themes in Dare to Dream. It draws on overcoming personal obstacles and on ignoring popular assumptions in order to succeed. It also follows the sports narrative of winning becoming the ultimate goal, but revising it to include the possibility of having fun while playing, too. Both films possess a very positive and encouraging message about the role of women and girls in soccer, even going so far to suggest that women and girls have attained equal status as men and boys on the soccer field.
Multiple issues get glossed over, however. Sports are a men's domain, and "the sports / media complex is a hegemonic institution because it perpetuates ideology about the biology of women; what is socialized in U.S. culture is framed as natural".1 While both films attempt to contradict these assumptions, they still follow the dominant narrative pattern in sports media. David Rowe notes, "The sports film has a tendency to traverse the boundaries of the real and the mythic",2 by focusing on personal achievements within social and cultural systems and thereby not addressing the political implications. This process represents the real while at the same time reinforcing the mythic, such as through the accomplishments of both teams in face of the odds against them. Ian McDonald writes these sport documentaries "ultimately end with them reflecting rather than disrupting and challenging the dominant ideology of sport and the spirit of capitalism".3 This reflecting becomes part of the reinforcement that sports mirror society.4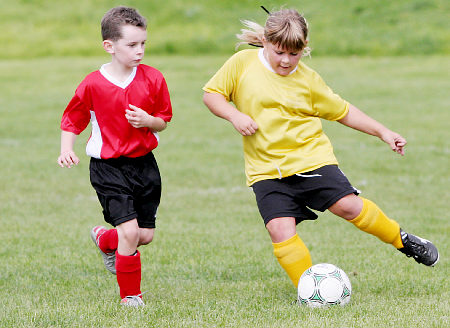 The Mighty Cheetahs keep up with the boys' teams
Both Dare to Dream and Kick Like a Girl provide a positive message but neither directly confront the underlying assumptions that inform the challenges they face. Fawcett's pregnancies serve as a key example here, as they become the reasons for her setbacks at leaving and her triumphs at rejoining the team. While pregnancy brings its own challenges, it does not become a setback or an obstacle to women's subsequent achievements. Dare to Dream implies otherwise.
While HBO has won numerous awards in its sports programming and its documentary programming, both of these films follow the dominant, apolitical approach to sports and documentary. This approach follows current trends in both theatrical and television documentary, with increasing focus on narrative and spectacle.5 Even when bringing in independent productions, HBO still chose a documentary that follows the dominant approach. As a result, HBO moves closer to basic television cable documentary programming and closer to being just television. It also makes no progress in challenging the lack of coverage about women and women's issues and the hegemonic dominance of men in sports.
Heather McIntosh is a visiting assistant professor in the Department of Communication at Northern Illinois University, where she teaches courses in gender, documentary, television, and politics, among others. She recently defended her dissertation toward a Ph.D. in mass communications from the Pennsylvania State University.
Image Credits:
1. HBO's Dare to Dream
2. Mia Hamm
3. Kick Like a Girl
4. The Mighty Cheetahs keep up with the boys' teams
Please feel free to comment.