Lady Gaga, Balls-Out: Recuperating Queer Performativity
Alexander Cho / FLOW Staff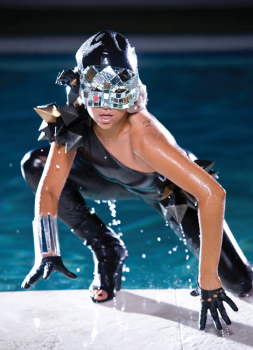 Lady Gaga displays her poker face
There is much to disdain about Lady Gaga. On the surface, her music and persona are entirely derivative, she seems concerned mainly with acts of conspicuous consumption, and she adheres to a fascist body regime beholden to elitist, white, hyper-feminine beauty norms.
Why, then, devote a column to her? One very good reason is her immense popularity. The past year has seen her explode onto the pop charts—her songs "Just Dance" and "Poker Face" were two consecutive Billboard #1 singles, both from her debut album "The Fame." This is no small feat.
But there is another, deeper reason to spend time thinking about Lady Gaga. While it may be simple to dismiss her outright as a bit of normative pop fluff, this, I argue, misses the point. In fact, Lady Gaga makes a very explicit attempt to shrewdly, purposefully—even politically—expose the nature of our fascination with pop icons by making it her mission to foreground the artifice of her own performance. As opposed to those pop stars to whom Lady Gaga is often (and erroneously) likened such as Madonna and Christina Aguilera, Lady Gaga in fact makes it her chief purpose to expose pop's artificiality; her performance is the performance of fakeness.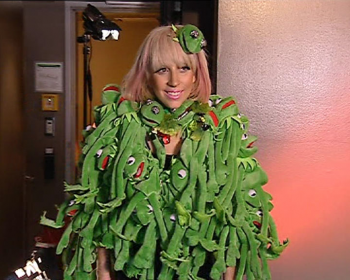 Lady Gaga on German TV
In other words, because Lady Gaga is always performing, she simultaneously never actually exists, fully inhabiting Richard Dyer's assertion that "we never actually know [stars] directly as real people, only as they are to be found in media texts."1 Onstage and off, in interviews and in her lyrics, Lady Gaga collapses the distinction between star image, character, and performance, thus emphasizing pop's own artifice.
By extension—and here is the crux of my argument—because the chief mechanism that she uses to perform fakeness is her own body and its particularly gendered politics, whether singing about it, flaunting it, adorning it, or talking about it, Lady Gaga interrogates the performative nature of gender, sex, and sexuality and their relationship to celebrity. Because she highlights her own performativity using these tools, it is impossible to read Lady Gaga straight, in all connotations of the term. Rather, I want to claim Lady Gaga as queer.
In this vein, Lady Gaga has less in common with Madonna and Britney Spears, and much more in common with David Bowie, Freddie Mercury, and Andy Warhol (her name, in fact is a reference to the Queen song "Radio Ga Ga" and she maintains her own Factory-esque group of collaborators called the "Haus of Gaga" that she works with to design her outlandish costuming).
"I'm filling an enormous hole. There's a wide-open space for a female with big balls to fill." —Lady Gaga2
Example one, highlighting constructed fakeness: In a widely-circulated video interview earlier this year with Australian journalist Alison Stephenson, Lady Gaga states that all she looks for in a partner is "a big dick." After Stephenson asks her, "And what else?" she shakes her head and, in hilarious deadpan, says, "That's it." It becomes clear through her answers in this clip that she is, in the words of sociologist Erving Goffman, putting up a bald-faced, exaggerated "front," giving an embarrassed-sounding Stephenson a run for her money. And if we had any lingering doubts, we are reminded explicitly in this interview that "Every minute of my life is performance."
[youtube]http://www.youtube.com/watch?v=eS5tq4F659Q[/youtube]
When a woman pop star with Lady Gaga's visibility "has the balls" to declare in an interview that all she wants in a partner is "a big dick," traditional discourses of gender and sexuality are shaken. On one level, she is taking a page out of a classic feminist playbook, turning the tables on men by reducing them to sex objects—indeed, even body parts—in the same way that women have been traditionally objectified. However, if we are to believe that Lady Gaga is consciously exposing the artifice of fame and celebrity through her own performativity, we can then also read this comment as targeted toward the same culture industry that catapults Paris Hilton, Lindsay Lohan, and Britney Spears to the top of the tabloid racks for mere genital obsession—indeed, the same culture industry that would demand the majority of Stephenson's questions be about marriage and female reproduction.
Example two: In the long-format video for the song "Paparazzi," directed by Jonas Akerlund, Lady Gaga actually performs the idealized version of her own performance, which soon becomes dismantled before her eyes. Framed as an old Hollywood feature film, Lady Gaga stars as herself, as the "film" opens in a hyper-luxurious bedroom with a model-esque Scandinavian boyfriend. He ultimately betrays her for a paparazzi photo op, leaving her crippled. Lady Gaga, memorably dancing in a metal suit and on crutches, works her way back for revenge, eventually poisoning her boyfriend. In a momentary break, she calls 911 and admits, "I just killed my boyfriend," which leads to a media circus, and greater fame. The video closes with a Paris and Lindsay-esque mug shot. Lady Gaga firmly situates her own performance of celebrity in concert with those performances that we have all already seen, but who are entirely less reflexive.
[youtube]http://www.youtube.com/watch?v=d2smz_1L2_0[/youtube]
There are many more instances that highlight the visibility of her performativity—the fact that her "real identity," Stefani Joanne Angelina Germanoatta, manifested as a news cycle topic in its own right and that she apparently refuses to answer to her real name; a ridiculously challenging and outlandish "acoustic" performance of "Poker Face" for AOL Music (video below); the title of her album, "The Fame," which begs reference to Warhol; and the persistence of incredulous, homemade fashion—bubble dresses, outfits fashioned out of Kermit the Frog (above), and "costumes" that often include masks.
And speaking of masks, as if taking a page out of Goffman, Lady Gaga "shocked" the media when she recently appeared at an MTV news conference in Malta wearing a full black face mask that revealed only her nose and coiffed blonde hair. Suddenly the lyric "No he can't read my poker face," seemed to morph into a political statement on stardom. As Dyer points out in Stars, citing Bela Balazs, the close-up has long been thought to be a chief mechanism to channel a star image—the face as primary identifier.3 When Lady Gaga, a conflated star image/character who exposes the artifice of her own performance, purposefully obscures her own face at a high-profile media event in "real life," she is unquestionably calling attention to the performative nature of celebrity itself.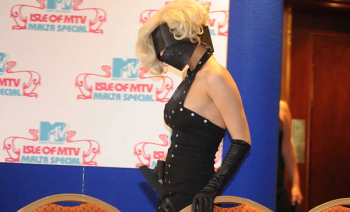 "I wouldn't like people to see me—me—in any other way than my music and my stage performances."
The queer leap I want to make here is that, as observed by José Esteban Muñoz, marginal populations often "disidentify": grapple with mainstream identity performance and adapt, adopt, and/or rework this performance to their needs and desires.4 Another way of saying this is that queers are, more so than "majoritarian" populations, primed to recognize the performance of the everyday—or, as Chicago sociologist Robert Ezra Park observed long ago:
"It is probably no mere historical accident that the word person, in its first meaning, is a mask. It is rather a recognition of the fact that everyone is always and everywhere, more or less consciously, playing a role…"5
It is difficult to suggest that Lady Gaga, with her Upper East Side prep school background, comes from any sort of marginal existence. However, I assert that her performance of fakeness, though not nearly as political as Muñoz's acts, nevertheless functions in a disidentificatory manner. In much the same way that Muñoz's queers dismantle and recuperate everyday performance, Lady Gaga's highlighted artifice of pop performativity itself becomes a queer act—in all senses. This complicated, queer space is the same that leads to "rumors of bisexuality" and that enables her to channel masculine modalities while simultaneously appearing hyper-feminine. Additionally, to cite her privileged, white background as evidence for a counter-argument that she is therefore somehow slumming it is to adhere to a silohed sort of identity politics and to ignore why masses of queers "get her," through their own acts of dis/identification—her politics, as result of her problematizing the performance of celebrity, make her absolutely, justifiably queer.
"I'm not sure who this person is, to be honest… I don't know if it is a man or a woman." —Christina Aguilera, on Lady Gaga6
If Lady Gaga can't be read straight, her whole act becomes suspect. Her peroxide hair and leggy, pantsless outfits, her fascist body image, her "Love Game" and penchant for "big dicks" must be read queerly, as inhabiting a dual space wherein she exposes the artifice of the culture industry at the same time that she profits from it, actually landing on magazine covers and in the tabloids. Case in point: though her videos are steeped in bling, when she sings, "It's good to live expensive and you know it," we begin to wonder if we can read this straight. Is she really promoting conspicuous consumption? Or is she poking fun at the culture industry, and by extension, us? She shed some light on this, at least, in an interview with the Times of London: "I don't give a f*** about money. What am I going to do with a condo and a car? I can't drive."
Hers is a queer space, indeed.
[youtube]http://www.youtube.com/watch?v=q8mXfdjvGX4&feature=player_embedded[/youtube]
Note: This column owes a huge debt to an excellent, thought-provoking blog post by my friend and colleague Alyx Vesey at Feministmusicgeek.com.
Image Credits:
1. Lady Gaga displays her poker face.
2. Lady Gaga on German TV.
3. "I wouldn't like people to see me—me—in any other way than my music and my stage performances."
Please feel free to comment.