Welcome to Psychoville: The League of Gentlemen and the Hitchcockian Sickcom
Lisa W. Kelly / University of Glasgow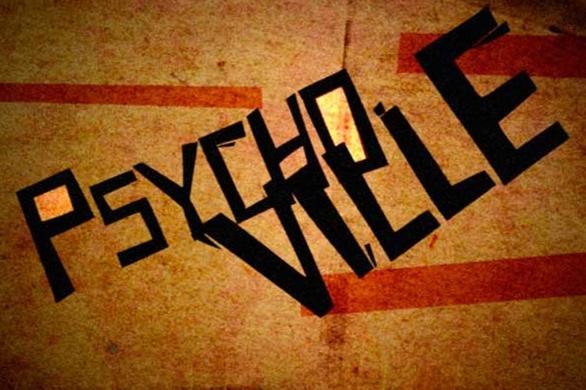 Psychoville
Faced with a severe economic recession, a global swine flu pandemic, the ongoing threat of terrorism and the continuation of moral panics around children, violence and sexuality, it is perhaps no surprise that when it comes to television comedy, British broadcasters have recently been seeking light and upbeat sitcoms in the manner of the refreshingly charming Gavin & Stacey, the tale of an Essex boy and Welsh girl whose whirlwind romance sweeps up their respective friends and family into one big warm embrace. This desire for good-natured laughs is especially true of the BBC, a corporation still recovering from the so-called 'Sachsgate' controversy that erupted after the comedians Jonathan Ross and Russell Brand called veteran actor Andrew Sachs (of Fawlty Towers fame) during a BBC radio show and left a message informing him that Brand had slept with his granddaughter. Attracting charges of obscenity from the press and numerous complaints from the public, the incident forced both Brand and Lesley Douglas, Controller of Radio 2, to resign and has since led many to proclaim that tighter controls and self-censorship may result in long-term damage to the type of playful, transgressive comedy that British television and radio has so often sought to cultivate. Set against this background then, it is good to see half of the comedy troupe The League of Gentlemen back on BBC2 with a series that not only pushes the boundaries of taste and decency but also plays with traditional genre conventions resulting in a mystery comic thriller named, appropriately enough, Psychoville.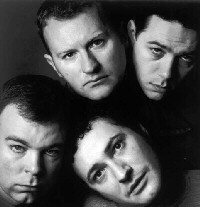 Cast of the comedy troupe The League of Gentlemen
The League of Gentlemen began life as a comedy quartet in the early 1990s made up of the writers and performers Jeremy Dyson, Mark Gatiss, Steve Pemberton and Reece Shearsmith. Initially garnering success with a live stage show that won the coveted Perrier award at the Edinburgh Fringe Festival in 1997, the group went on to create On the Town for Radio 4 before transferring to television with the eponymous comedy series The League of Gentlemen, broadcast on BBC2 two years later. With Gatiss, Pemberton and Sheersmith playing all sixty of the characters inhabiting the fictional town of Royston Vasey, the show was essentially sketch-based (and provided inspiration for the later Little Britain). However, the conventions of the sketch format were distorted due to the addition of a permanent location and a number of ongoing storylines that borrowed from horror, melodrama and soap opera while possessing a distinctly filmic visual aesthetic. As such, the series used grotesque characters and disturbing scenarios to create a darkly humorous tale of parochial Britain. In addition to Barbara, the transsexual owner of taxi firm Bab's Cabs, viewers were introduced to shopkeepers Tubbs and Edward, whose preference for 'local' people lead them to kidnap and kill strangers, Papa Lazarou, ringmaster of the Pandemonium Carnival, who steals people's wives, calls them Dave and locks them in a cage, and the Denton's, a couple who suffer from obsessive compulsive disorder and have a taste for drinking their own urine. With shades of The Wicker Man, Night of the Hunter and Don't Look Now, The League of Gentleman exhibited a queer sensibility that challenged acceptable boundaries of taste and dared the audience to laugh at things they ought not to find funny; something which I, for one, found strangely satisfying.
[youtube]http://www.youtube.com/watch?v=a27zbNyf3x4[/youtube]
The League of Gentlemen's Papa Lazarou comes to town looking for his wife 'Dave'
This has now been followed by Psychoville, a show written and starring only Pemberton and Shearsmith and thus not fully qualifying as a League of Gentlemen production but nevertheless carrying on many of the same traditions. In this instance, the opening titles of the series are inspired by the work of Saul Bass and therefore immediately indicate the duo's attempt to create what they have referred to as 'a Hitchcockian comedy'.1 The brief for the title sequence was to be 'strong and urgent and mysterious all at once – and rather creepy', and this statement also sums up the overall premise of the series.2 Bringing together five seemingly disparate characters from various parts of England, the opening episode sees them each receive a letter stating 'I know what you did' (a nod to another film of course, the Hollywood teen thriller I Know What You Did Last Summer). The following episodes then set out to reveal what links an embittered, hook-handed clown and a telekinetic dwarf to, a blind, Ebay-obsessed millionaire, a misguided midwife who treats her practice doll as a real child and a serial killer fanatic who has a very unhealthy relationship with his mother. Shot using a single camera and with no laugh track to signal to the audience that it's alright to laugh at storylines that feature murder and allude to incest, the series is a dark, gothic mystery thriller that complicates traditional understandings of both the sketch show and sitcom; more of a sickcom as it were.
[youtube]http://www.youtube.com/watch?v=S15jRHs6B48[/youtube]
BBC2 Psychoville Trailer – Midwife Joy and 'baby' Freddie
Notably, Pemberton and Shearsmith cite American quality dramas such as Lost, Heroes and Dexter as another of the key inspirations for the series as their aim was to draw viewers into a mystery that raised more questions than it answered.3 Instead of the neat circular narrative of the traditional sitcom then, in which characters are returned to their original status at the end of each episode, Psychoville has a sprawling plot that presents a cliffhanger each week and which focuses both on the present lives of the characters as well as their interlinked past as it seeks to catch up with them. Connections are thus revealed through the use of flashback and mysterious video footage in which they are seen performing a song from Joseph and the Amazing Technicolour Dreamcoat in what appears to be a psychiatric ward. While this does indeed bring to mind the bizarre happenings that occur in dramas such as Lost, the inventive nature of Psychoville as a comedy is especially significant in a 'special episode' that occurs midway through the series. Returning to the influence of Hitchcock, episode four pays tribute to the film Rope and is shot in one continuous take. Opening with mother and son duo Maureen and David putting a body in a trunk (the same action with which Hitchcock's film begins), the following events are confined to one room and shot in real time using a dolly rather than steadicam. The process, according to Pemberton, resembled a ballet, as two stagehands pushed furniture out of the way as both the actors and the camera moved around the set with the soundman following.4 This method of filmmaking only adds to the tension of the episode as there are surprise revelations about David and Maureen's family background while an innocent character gets caught up in a real-life murder mystery.
Steve Pemberton and Reece Shearsmith discuss the show's 'special episode' in which they pay homage to Hitchcock's Rope

Unlike the multi-camera setup of the traditional sitcom, which is designed to make filming numerous episodes in front of a studio audience as easy as possible, Psychoville has more in common with recent 'comedy verité' programming such as The Larry Sanders Show, Curb Your Enthusiasm and The Office.5 However, rather than adopt the look of observational documentary or the docusoap in order to blur the boundaries between reality and fiction and raise questions about the nature of authenticity, Psychoville aims for a camp, gothic and highly performative aesthetic with its costumed characters, grotesque storylines and exaggerated acting. Despite its artifice, the series succeeds in maintaining a dark menace throughout, raising the question of whether it can in fact be considered a comedy if the audience are left feeling anxious and uneasy at the expense of all-out laughs. Yet, the production of humour is indeed its main goal, with the duo not afraid to give their own unique comic treatment to any subject, no matter how tasteless. Whether or not you then find it funny depends on how twisted your own sense of humour is.
Image Credits:
1. Psychoville
2. Cast of the comedy troupe The League of Gentlemen
Please feel free to comment.