Not Beyond Jackie Robinson: Baseball, Civil Rights and Cultural Memory
Mabel Rosenheck / FLOW Staff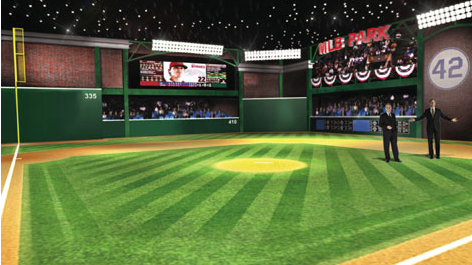 MLB Network's Studio 42
Earlier this year Major League Baseball started running its "Beyond Baseball" promotional campaign. This campaign includes a television commercial featuring Philadelphia Phillies' first baseman Ryan Howard. Over images of civil rights protests and footage of Howard at the plate, a voiceover tells us: "His parents were among those who marched for Civil Rights in 1963. Ryan Howard knows the meaning of strength. His parents taught him how to use it… This is beyond inspiration. This is beyond baseball." Here and in other televised events like the Civil Rights Game, Major League Baseball highlights history and nostalgia as it works to construct (or renew) an identity for the game (and its parent organization) as more than a game and as more than other games. Baseball is America and the story of baseball and its players is made to tell the story of American history. Yet Major League Baseball's is not always a seamless evocation of the past. While baseball's historiographic mode tends toward a nostalgic memory in which a troubled past gives way to an ideal present through the celebrated actions of a few great men, the more the sport associates itself with a progressive version of American civil rights history and an inclusive vision of Americanness, the more baseball's historical identity comes in contact with a problematic present which is not necessarily continuous with the projected past.
[youtube]http://www.youtube.com/watch?v=Pjrqfimx9SU[/youtube]

Ryan Howard is beyond baseball.
At least in the last 15 years or so, the center around which Major League Baseball has constructed its history has been the civil rights era generally, and Jackie Robinson specifically. April 15, 1997 was the 50th anniversary of the date on which Robinson became the first black player in the twentieth century to play in the major leagues. This anniversary was celebrated with the universal retiring of Robinson's number 42. 2004 saw the first Jackie Robinson Day in which all players on the field (later reduced to one player for each team) wore the number 42. In 2007, the Civil Rights Game was inaugurated "to honor and recall baseball's role in the civil rights movement, as well as to honor and recall all those involved in this struggle."1 And in 2009, Major League Baseball launched its own cable network featuring a studio named for Robinson and a new show hosted by Bob Costas, named for that studio and focusing on the history of the game and its biggest stars.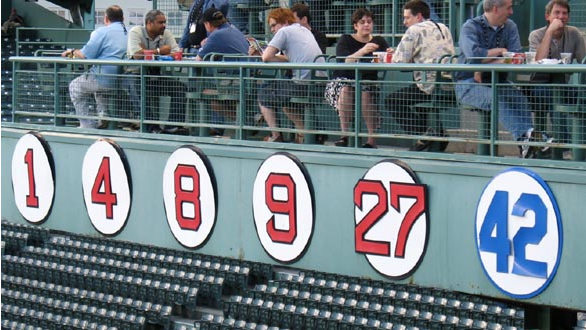 Robinson's 42 Retired at Boston's Fenway Park
For some indication of what Jackie Robinson signifies in these contexts, we might turn to Ken Burns's Baseball documentary which was also a featured presentation in the launch of the MLB Network, as well as being a staple source of popular baseball history. The opening to "The Sixth Inning: The National Pastime" tells us that: "On April 15, 1947, Major League Baseball finally became in truth what it had always claimed to be, the national pastime." Perhaps even more hyperbolically, sports historian John Thorn tells us later in the chapter that: "The appeal of baseball was that it was fair… This was the promise that anyone could be an American, that anyone could play baseball. It wasn't really true and Jackie Robinson made it true." This perspective is echoed and complicated in Doug Battema's research on media representations of Jackie Robinson when he writes that: "By embracing him as a black baseball player, America could envision itself as moving toward a racially inclusive democracy– a black and white America– even if the rest of baseball and most other institutions remained segregated– a black or white America."2 Jackie Robinson as a historical figure belonging to baseball is used in the twenty first century in much the same way he was used in the 1940s and 1950s. MLB's celebration of Robinson serves not only to connect baseball to grand ideals of America and the American Dream, it also works to elide systemic forms of racism and inequality in which Major League Baseball and America still participates. Further, by lauding baseball's early act of integration, we need not recall Robinson's political activism and specifically his adamant criticism of Major League Baseball for not offering the same post-playing opportunities for blacks that it did and does for whites.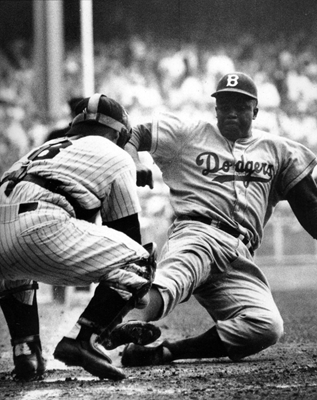 Jackie Robinson sliding into home.
This critical position was powerfully taken up by Hank Aaron during the MLB Network's broadcast of this year's Civil Rights weekend events. Aaron spoke out in a rebroadcasted roundtable segment on the need "for everyone to understand that we are still trying to get a piece of the pie. We're still trying to get where we were supposed to get when Jackie Robinson broke into baseball." During the broadcast he goes on to say that baseball needs to not just encourage black youth to play the game, but to be given opportunities in every facet of the game. When asked about African-American manager Dusty Baker of the Reds and black general manager Kenny Williams of the White Sox, Aaron insists that this is not enough, asking "why not give [blacks] a chance to participate in [baseball] from the bankin' standpoint, from the doctor's standpoint?" While others in baseball are focused on the declining percentage of blacks in the Major Leagues– from nearly one third in the mid-70s, to about 8 percent today– , while they are are arguing "that baseball has to make this sport affordable to all families, not to attend but to play,"3 Aaron is addressing a much deeper discontinuity between the promise of Jackie Robinson breaking into professional white baseball and the reality of black America today. Aaron's critique is that as important as successful blacks like Jackie Robinson or Bill Cosby (who was also honored at the Civil Rights Game) are as symbols, racial equality will not be approached without a much wider sense of socio-economic justice and equality in America as well as in baseball.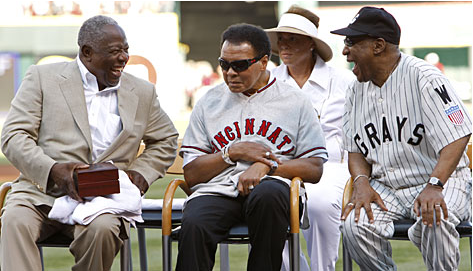 Hank Aaron, Muhammad Ali and Bill Cosby honored at the Civil Rights Game.
In Ken Burns's Baseball, poet Donald Hall is quoted saying: "Baseball… because of its continuity over the space of America and the time of America, is a place where memory gathers."4 In parallel, scholars of culture and the past like Daniel Marcus have argued that, "the ubiquity of television in particular offers a continuity of access to historical material."5 Yet as Pierre Nora indicates, memory and history are not the same thing. He indicates that "Memory is a perpetually actual phenomenon, a bond tying us to the eternal present; history is a representation of the past."6 What I have worked to demonstrate here is that inevitably baseball and television engage not only in the gathering of memory but in the production of history. There are forces on television and in baseball who are best served by a static, fixed past. However because of the vast space and time of both baseball and television, the historical representation of the past is interrupted by memories which bond us to the eternal present and challenge the meaning of what exactly baseball can claim to be beyond.
Image Credits
1. MLB Network's Studio 42
2. Ryan Howard is beyond baseball.
3. Robinson's 42 Retired at Boston's Fenway Park
4. Jackie Robinson sliding into home. From Geoffrey C. Ward and Ken Burns. Baseball: An Illustrated History. New York: Knopf, 1994.
5. Hank Aaron, Muhammad Ali and Bill Cosby honored at the Civil Rights Game.
Please feel free to comment.