What Brown Cannot Do For You: MTV-Desi, Diasporic Youth Culture, and the Limits of Television
Aswin Punathambekar/The University of Michigan
<!‐‐more‐‐>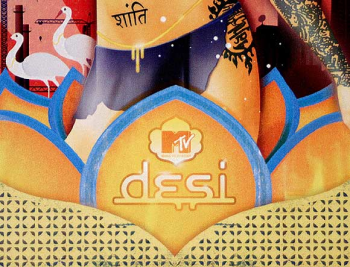 MTV Desi
In July 2005, MTV Networks announced the launch of MTV-Desi, a niche channel for South Asian-American youth. Desi, which means "from the homeland," is a term that is increasingly used to refer to people of South Asian origin in North America and is indicative of desi youth emerging as "public consumers and producers of distinctive, widely circulating cultural and linguistic forms."1
Launched with great fanfare, MTV-Desi featured Bollywood song sequences and Indi-pop music videos, diasporic artists based in North America and the U.K. (DJ Rekha, M.I.A., Jay Sean), shows that revolved around desi culture (Live From), and hit programs like Roadies from MTV-India. Recognizing the transcultural nature of desi youth culture, writers, producers, and VJs worked hard to define MTV-Desi as a unique site of cultural production that neither mainstream American television nor the India-centric programming on Dish and DirecTV could match.
Further, MTV-Desi was part of a larger MTV World initiative that involved channels targeting Korean (MTV-K) and Chinese-American youth (MTV-Chi). As the very first mainstream media initiative that targeted Asian American youth, these channels attracted a great deal of positive attention despite the fact that they were available only through international programming packages on DirecTV's satellite television service. MTV-Desi, for instance, was part of the "Hindi Direct" package that included five other Indian television channels.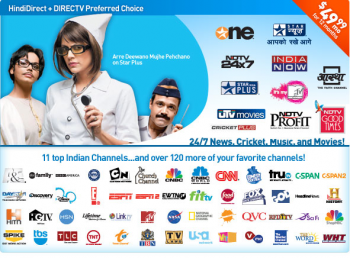 MTV Desi Available Through DirecTV
Eighteen months later, MTV Networks pulled the plug on MTV-Desi, MTV-K, and MTV-Chi, stating that the premium distribution model failed to attract audiences and hence, advertising revenues. In press releases and interviews, MTV executives pointed out that the decision was also shaped by a larger process of corporate restructuring that Viacom undertook at the time. On the one hand, the cancellation of the MTV World initiative did not come as a major surprise. As one journalist remarked on the widely read blog of the South Asian Journalists Association,
"we published next to nothing on the channel, because I couldn't find anyone who watched the satellite channel: no college students, no twenty-somethings with spare change. And it wasn't just me. All the tastemakers I interviewed – DJs, other music types – said they didn't know any MTV Desi subscribers either"2.
On the other hand, given the fact that all other attempts to carve out a space for Asian-American programming on television – AZN, American Desi, South Asia World, Pan Desi, and ImaginAsian – had failed or struggled to remain viable, the dismay among desis and other Asian-American groups was understandable.3
Relying on advertising and marketing discourse that has, over the past decade, constructed the "Asian consumer" and the Asian-American community as an increasingly important audience demographic, protest letters and petitions suggested that these failures reflected a lack of commitment on the part of mainstream media corporations to develop and sustain Asian-American programming. Although letters to MTV Networks urging the company to keep MTV World alive and to make these channels more widely available did not have any effect, it is possible that they did influence MTV's decision to rethink their content production and distribution model. In December 2008, MTV Networks announced the launch of MTV Iggy, a website for Desi, Chinese, Korean, and Japanese youth across the world.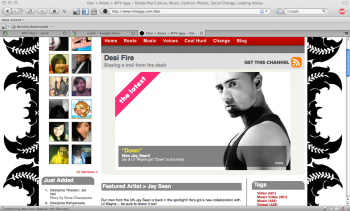 Desi Fire – Jay Sean
In this column, I want to make a case for approaching MTV-Desi as an important moment in the history of diasporic media production and as a productive failure that signals an important shift in the relationship between television and diasporic cultures.4 Is the MTV-Desi case merely another illustration of the limits of niche programming? In other words, what other factors, besides the ones offered by industry insiders (distribution, lack of advertiser interest), shaped MTV-Desi? Engaging in this exercise is critical, in my opinion, if we are to understand the challenges facing the television industry in imagining Asian American audiences and, more importantly, acknowledge the limits of television where Asian American cultural production is concerned.
To be sure, the narrowcasting logics of American television and industry lore concerning minority audiences do provide one explanation as to why MTV Desi did not succeed. Nusrat Durrani, Senior Vice President of MTV World, and others at MTV understood very well that the relationship between "diaspora" and "home" was much more ambivalent for desi youth compared to their parents' generation, and that MTV-Desi could not succeed by mimicking MTV-India or other Indian television channels. As a Sepia Mutiny blogger observed: "MTV-Desi was not MTV India. Not something piped in for the Aunties and Babujis, not something that caters to particular regional, ethnic or religious tastes, not something that waxes nostalgic for the mother country. But, instead, reflects the fact that we are creating something new, forging a unique identity from the mélange available to us as Ameri-Brit-Canadian-Kenyan-Punjabi-Hindu-Tamil-
Bengali-Parsi-whatever."
However, despite Durrani and others' efforts to position MTV-Desi as a uniquely diasporic space, they were forced to strike a distribution deal with DirecTV and locate MTV-Desi within an India-centric programming package simply because Asian Americans still did not constitute a viable and sustainable consumer demographic that would attract advertisers. As Durrani explained, "if you look at Asian Americans, then get to South Asian Americans, then cut it further to our specific target group of South Asian American youth, and consider all the diversity within that group, you're not left with much. Of course we all knew that linear TV was not the best option, but when the project was green lit, in that media landscape, it was what we could do"5. Distribution aside, MTV-Desi's programs also failed to make any significant intersections with desi youth culture. As Amardeep Singh, taking stock of contemporary desi youth culture and pointing out the absence of diaspora-centric programming on MTV-Desi, noted in another Sepia Mutiny post: "at the current moment there isn't truly a need for a channel like MTV-Desi, especially if you have to pay for something a dedicated blogger/video podcaster could do in her basement for free."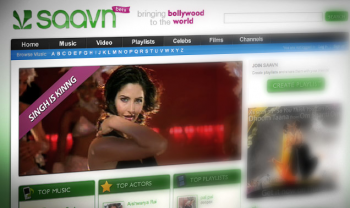 Saavn Broadcasts Snoop Dogg's "Singh is Kinng"
However, MTV-Desi's failure cannot be explained by focusing on the logics of American television alone. The growing influence of Indian film and television companies in defining media circulation in the diaspora also shaped the channel's programming, distribution, and reception. Over the past decade, film and television companies based in Bombay, Hyderabad, and Chennai have been very successful in reaching diasporic audiences across North America, Western Europe, and the Middle East. Taking advantage of mainstream media's neglect and the dwindling support for public access television in the U.S., channels like ZEE, Sun, and Star have established themselves as attractive alternatives for South Asians. Where cinema is concerned, a number of prominent production companies and studios based in Bombay have also been successful in defining the flow of "South Asian" content around the world. Hindi-language films have come to dominate the desi mediascape to the extent that diasporic filmmaking, as an industrial and aesthetic category, is also being "Bollywoodized" (Mira Nair's The Namesake, co-produced and marketed by Bombay-based UTV, is a good example). Even a cursory look would confirm that India-centric media, non-subtitled television programming in particular, does not speak to the particular experiences of desi youth.6
We might argue, then, that MTV-Desi is symptomatic of a larger problem confronting desi media production – of being caught between the nationalist logics of two powerful media industries. And the question is, if Indian media companies are defining the flow of "South Asian" content, and American television's commercial logics do not allow for diaspora-relevant programming, what possibilities remain for desi media production? Can television, in its current form and structure, be expected to serve the needs of a decidedly transnational, hybrid, and increasingly digital youth culture?
[youtube]http://www.youtube.com/watch?v=DTTBPELubFI[/youtube]
Perhaps desi entrepreneurs who have launched digital media companies over the past few years – Jaman, Desihits, and Saavn to name a few – decided that television isn't worth bothering with anymore. And surely Nusrat Durrani and his team at MTV also pondered the limits of television as they reworked the MTV World initiative into MTV Iggy. Bypassing the distribution bottleneck, making content production and circulation more open and participatory, and creating a space that invites us to look beyond established racial and ethnic categories in the U.S., MTV Iggy signals key transitions in mainstream media corporations' approach to Asian/Asian American youth culture. Without a doubt, it is disappointing, even if understandable, that American television never had the space for characters like Bhangramuffins telling us to kiss our chuddies.
Now it remains to seen what kinds of stories will be told and circulated and, crucially, who gets to participate in these new digital spaces. But with such terrific narratives like Sita Sings the Blues leading the way, maybe we can be optimistic. You know what? TV can kiss our chuddies!
Image Credits:
1. MTV Desi
2. MTV Desi Available Through DirecTV
3. Desi Fire – Jay Sean
4. Saavn Broadcasts Snoop Dogg's "Singh is Kinng"