Aurally, Visually, Virally: Choreographing Race From Fosse to Beyoncé
Priscilla Peña Ovalle / University of Oregon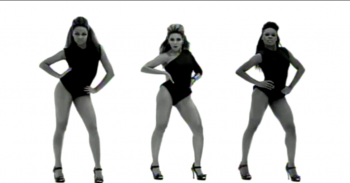 Beyoncé's "Single Ladies (Put a Ring On It)"
In 2007, a Los Angeles-based design company called Diamond Creative entered the viral video hall of fame when they merged a YouTube.com clip of American choreographer Bob Fosse's "Mexican Breakfast"1 (1969) with an audio track of Unk's hip-hop hit and debut single "Walk it Out" (2006). The unadulterated "Mexican Breakfast"2 clip featured Gwen Verdon performing on the Ed Sullivan show with a pair of backup dancers; the clip had its own YouTube presence before Diamond Creative replaced the clip's original soundtrack, an upbeat instrumental, with the hip-hop beat. Dubbed "Walk It Out, Fosse,"3 a Diamond Creative employee posted the remix on YouTube in June 2007.4 After a month of submitting the video to blogs, the clip gained momentum when Perez Hilton mentions the clip; soon USA Today's blog mentions the video and NPR interviews its creator.5
Cut to October 2008: One year after "Walk It Out, Fosse" emerged – and nearly forty years after the original piece aired on CBS – Beyoncé debuted her own Fosse-inspired music video for her single release, "Single Ladies (Put a Ring On It)." The video, shot in black and white and cut to appear as a singular shot of an energetic dance performance, featured Beyoncé dancing with two female performers and quoting choreography from the Fosse piece.6 6 Beyoncé had previously featured Fosse material in her videos, the most obvious example being her video for "Get Me Bodied" (2007), modeled on "The Rich Man's Frug" from the film version of Sweet Charity (Fosse 1969).7 Unlike "Get Me Bodied," however, "Single Ladies" was widely circulated and reached the height of its popularity when it was spoofed on Saturday Night Live by Beyoncé, Andy Samburg, and Justin Timberlake (November 2008).
The popularity of "Walk It Out, Fosse" is dependent on the schism between the hip-hop soundtrack and the historical image of white female bodies performing to that sound. While contemporary music videos often feature white female performers in hip-hop motion, the 1969 dancers' bodies – clad in polyester pinks, whites, and yellows – do not match the visual assumptions of hip-hop culture in terms of race or costuming. And when the dancers begin the isolated leg and hip gestures of Fosse's choreography, their movements challenge and disturb what the viewer might assume to be white female bodily vocabulary from the 1960s time period.
[youtube]http://www.youtube.com/watch?v=CUXRdqn8LOM[/youtube]
[youtube]http://www.youtube.com/watch?v=KU3N5c2Kxnw[/youtube]
"Walk It Out, Fosse" highlights the social construction of racialized female mobility, in this case exemplifying what Jennifer Stoever-Ackerman calls the "sonic color-line," an "interpretive site where racial difference is echoed, produced, and policed through the ear."8 Though the movements do not change from "Mexican Breakfast" to "Walk It Out, Fosse," the choreography's pelvic tilts, leg shakes, and head rolls read very differently when accompanied by Unk's track. Because these movements synchronize so well with the tempo of the song, generational assumptions about bodily movements are easily disturbed: when I played the two clips for my film studies class ("Mexican Breakfast" first, then "Walk It Out, Fosse"), students were surprised at how much more "sexual" the second clip seemed as a result of the sonic shift. Indeed, the hard bass line of the second track accentuates the Fosse/Verdon movements, but the aural connotations evoked from the hip-hop soundtrack do even more to enhance the meaning.
While it is no surprise that the white female body of Gwen Verdon and the black female body of Beyoncé would be read differently despite a shared vocabulary of movement, these three videos highlight how such visual-aural shifts have evolved. Returning to "Single Ladies," Beyoncé's homage to "Mexican Breakfast" seems more indebted to "Walk It Out, Fosse"; in one interview, she cites the viral video as the inspiration for "Single Ladies."9 Choreographed by JaQuel Knight and Frank Gatson, the updated movements of Beyoncé's video accelerate the tempo to enunciate the hip and pelvic thrusts; where Verdon's pelvic isolations seem almost quiet, the Beyoncé version hits each count quite hard. The impact and focus of these movements are accentuated by the contemporary cut of the costumes. Where Verdon and company were covered from ankle to wrist in slacks, blouses, and vests, Beyoncé's crew appear in black leotards that accentuate the hips; the dancers' legs and arms are bare while the black and white photography draws attention to the point where leotard and leg meet.
[youtube]http://www.youtube.com/watch?v=8mVEGfH4s5g[/youtube]
Of course, "Single Ladies" is not the first music video to utilize Fosse material (see Paula Abdul's "Cold Hearted Snake,"10 based on Fosse's 1979 film All That Jazz). And Fosse's style is similarly indebted to the influence of jazz, tap, and ballet masters before him. But "Walk It Out, Fosse" and "Single Ladies" illustrate how our conceptions of race are still dependent upon a specific intersection of sound and vision. Seeing – and hearing – these three interpretations of Fosse's choreography provides a useful case study for exploring the racialized and sexualized narratives that linger in popular culture…however remixed or revised they may be.
Image Credits:
1. Beyoncé's "Single Ladies (Put a Ring On It)"
Please feel free to comment.