Orientalized Masculinities in Contemporary Australian Cinema
Jane Park / The University of Sydney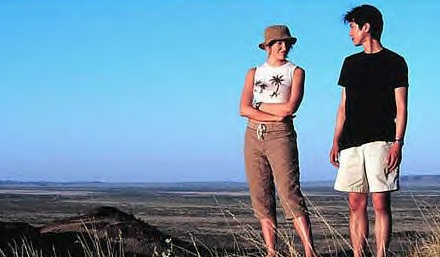 Lovers Sandy and Hiromitsu in Japanese Story.
On my final night in the U.S. before moving to Sydney last year, I finally got around to watching Romper Stomper. While Geoffrey Wright's film about Aussie skinheads didn't provide the most cheerful picture of my soon-to-be new country, I was struck by its viscerally engaging style and its representation of Asian characters. As many critics noted upon its release in 1992, Romper Stomper sucks viewers in with its active camera and pumping soundtrack, positioning us, albeit ambivalently, alongside the skinhead youth whose story is clearly foregrounded. Unsurprisingly, few critics had much to say about the role of the peripheral Asian figures that frame the movie: the Vietnamese immigrants in the opening who are beaten up by the white supremacist gang and soon avenged by angry members of their own community and the impersonal Japanese tourists in the end who snap pictures of the gang leader as he is being murdered on the beach by his best mate.
These framing scenes provide iconic images of two forms of Asian presence in contemporary Australian cinema. The first is that of the Asian tourist (usually Japanese) who is welcome as long as she or he ultimately returns home. As Asian Australian film scholar Olivia Khoo convincingly argues, this figure must die if she or he stays in Oz, functioning ideologically as a necessary sacrifice used to further the inner development of the white protagonists.1 The second image is that of the Asian immigrant (usually Vietnamese, Chinese or Lebanese) who, depending on the context, embodies either an economic and cultural threat to the (implicitly white) Australian nation or reaffirms its tolerant multiculturalism. Much like the dialectical binary of the model minority/gook articulated by Asian American historian Robert Lee, both positions render the racialized immigrant a conditionally white citizen who is expelled or otherwise punished as a foreign contagion as soon as she or he threatens to usurp the privilege of those in power.2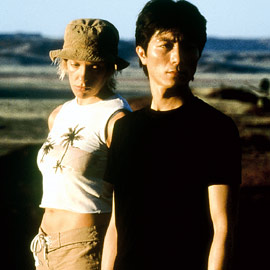 How do Australian screens represent the masculinity of the Asian male?
What really surprised me is the central role that these iconic figures play as love interests to Anglo-Australian women in two fairly recent commercially successful and critically acclaimed Australian films. In Sue Brook's Japanese Story (2003) Hiromitsu, a Japanese businessman enthralled by the outback has a (literally) short-lived affair with Sandy, an urban professional forced to be his chauffeur who herself is out of place in the harsh and stunning landscape. And in Rowan Wood's Little Fish (2005) Vietnamese Australian drug dealer Johnny returns to Australia, ostensibly gone straight after a few years in Canada, hoping to resume his relationship with ex-junkie Tracy, who is trying unsuccessfully to start her own business in Cabramatta, the "Little Saigon" of Sydney.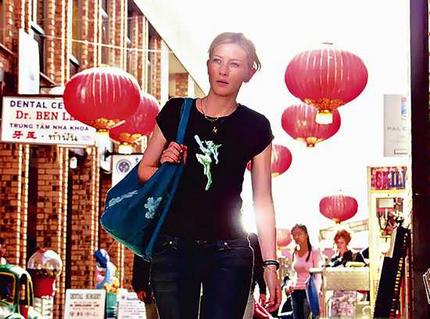 Tracy in Cabramatta
As I discuss in my forthcoming book, Asian men rarely appear as romantic partners for anyone, and especially white women, in Hollywood cinema due to still prevalent stereotypes of the feminized, desexualized or otherwise emasculated Asian male in the U.S.–stereotypes rooted in the history of Chinese male immigrants who were systematically ghettoized, forced to take feminized domestic jobs, and prevented from forming families thanks to anti-Asian exclusion laws.3 For this reason, I was interested to see how a romantic relationship between an Asian man and a white woman would play out on the big screen in Australia, a Western nation in the Pacific that draws culturally on Britain and the U.S. and economically on its Asian neighbors.
Sadly, both films fell short of my perhaps unrealistically high hopes. Outside the radical acknowledgment that Asian men might actually be desirable to white women, Japanese Story and Little Fish use the same tired tropes and techniques to represent sympathetic Asian characters as selfless "caregivers of color" to borrow Cynthia Sau-ling Wong's phrase and thus unwittingly reveal the power hierarchies that continue to structure white fantasies of the exoticized and eroticized Asian "other."4
The new twist on an old formula is the clever way in which these films successfully masquerade as anti-racist, colorblind narratives. Japanese Story appeals to white liberal audiences by showcasing the development of a taboo interracial relationship between a white woman and an Asian man, which can only happen in the liminal space of the road and the indigenous wilderness. While the film is beautifully shot and there are some funny and poignant moments of connection between the characters, it is difficult, as a Korean American female viewer, not to notice the blatant ways in which Hiro is orientalized, functioning as the compliant male Lotus Blossom for the ambiguously butchy Sandy, who seems to see in his smooth skin, lean physique, and poor English an alternative, more manageable masculinity to that of the big, loud, and dismissive Australian men who ignore her throughout the film. No surprise then that she dominates her submissive Asian lover in bed, literally putting on his pants before she mounts him in their first sexual encounter. Hiro takes the traditional position of the woman in the scene: he remains absolutely still as the camera follows her gaze to look down at him. Tellingly, when he finally takes sexual initiative, kissing her rather than being kissed, he unexpectedly and inexplicably dies after following her playful instructions to jump into a lake.
Addictions and contagions.
In contrast Little Fish plays down Johnny's racial difference even as it consistently plays up his cultural difference as a hybridized Vietnamese Australian. None of the Australian reviews I read of the film discuss the interracial aspect of the romance between Tracy and Johnny, and while most comment on its "authentic" setting, the implicit connections between the Vietnamese immigrant community and its association with drugs and gang violence is not discussed because, as my Australian colleagues informed me, this is already a given for the target audience of the film–most of whom would never venture into Cabramatta except for the occasional food tour. Likewise, the racial and cultural difference that Johnny embodies and that constitute the backdrop of Tracy's working life is coded implicitly as a contagion, much like the drugs that form the central motif of the film. Tracy is still, it seems, addicted to the dangerous drug that is Johnny. Her family warns her to stay away from him yet she compulsively calls him (and he always comes running) only to flee from him for no discernible reason. On a more positive note, Johnny unlike Hiro, takes a more equal role in lovemaking and amazingly lives to see the end of the movie. I suppose that is something to celebrate. Yet I can't help but feel a bit sad and perplexed that at a time when so many Asian countries have entered First World status, a mixed-race man is president of the United States, and the Australian prime minister speaks Mandarin, this is what we can claim as progress for representations of Asian people on the big screen.
Image Credits:
1. Lovers Sandy and Hiromitsu in Japanese Story.
2. How do Australian screens represent the masculinity of the Asian male?
3. Tracy in Cabramatta.
4. Addictions and contagions.
Please feel free to comment.