Malia Obama, Girl Photographer
Mary Celeste Kearney / University of Texas – Austin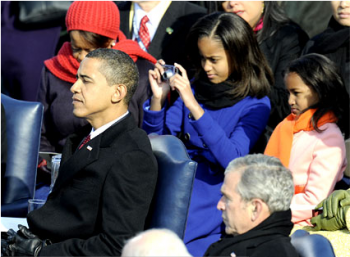 Malia the Photographer at President Obama's swearing-in ceremony
In addition to the comical fur-lined hat worn by former President George H. Bush, one of the more notable images during President Barack Obama's swearing-in ceremony was that of his oldest daughter, Malia, snapping photographs of the occasion. Apparently, I wasn't alone in noticing the young Ms. Obama's photographic practices. At least one television network and five U.S. periodicals, including People, Wired, The Washington Post, and The New York Times, have run stories about the girl snapshotter after numerous photojournalists captured her in their lenses, turning this young spectator into the latest spectacle.
But Malia's photography and media attention to it were not restricted to the swearing-in ceremony. On January 17, the 10-year-old was photographed taking pictures in Philadelphia before she boarded a train to Washington, DC with her family and that of Vice President-elect Biden.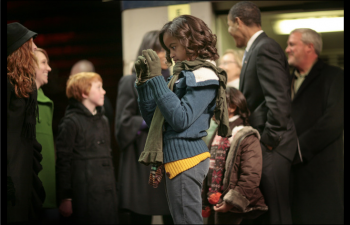 Malia in Philadelphia before the President-elect's train leaves for Washington, DC
The following day, Malia was photographed snapping away at the Lincoln Memorial Inauguration Concert.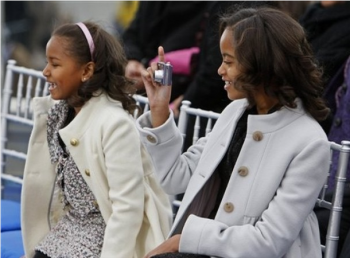 Malia and Sasha at the Lincoln Memorial Inauguration Concert
And the night before Inauguration, she was photographed with her camera in hand at the Kids' Inaugural: We are the Future Concert.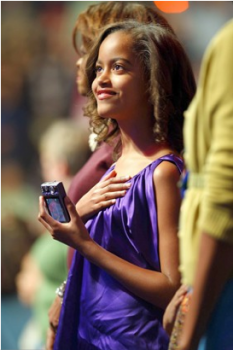 Malia at the Kids' Inaugural: We are the Future Concert
What is the significance of Malia Obama's photographic practices, and why have they garnered so much public attention in the past few weeks? What fascinates us about this particular photographer? Are we simply excited by the possibility that we might see pix taken by a First Daughter on Flickr or Facebook? Or is something else piquing our curiosity? In order to answer these questions, we need to consider the history of girls' photography, the role of media technology in girls' lives today, and the racial landscape of American girlhood and girls' culture.
After Kodak's introduction of its small, portable Brownie camera in 1900, amateur photography became a common pastime for American youth. Boys had long been encouraged to tinker with such mechanical gadgets so as to prepare for future jobs and affirm their masculinity. Yet girls were not excluded from Kodak's appeal and became quick adopters of this new consumer technology. Indeed, because early amateur cameras were relatively cheap (the Brownie retailed for $1.00) and did not require much skill to operate, photography swiftly became one of the primary means by which girls of the early twentieth century documented their lives and expressed themselves creatively, thus challenging the primacy of diarywriting, which requires elementary literacy of its practitioners. By the 1920s, photography had become such a hit with female youth that Kodak began manufacturing Girl Scout cameras, the first media technology created specifically for girls.1
As apparatuses that confer considerable agency on users while also encouraging their engagement with the outdoors, cameras offered additional bonuses to female youth of this period, which might explain photography's quick ascendance in early twentieth-century girls' culture. Like schooling and sports, photography enlivened a sense of mastery, control, and autonomy in its young female practitioners. In turn, it legitimized their participation in public life, thereby complicating the sex-segregated roles, practices, and spaces associated with Victorian society, which in turn helped to shift gender norms in a progressive direction.
From Kodak's Brownie to today's EasyShare (Malia's current model of choice), photography continues to be a primary pastime for many female youth the world over. Indeed, judging from the number of girls who own cameras and camera-enhanced cell phones, it seems the dominant demographic group to occupy the role of photographer today is comprised of young females between the ages of 10 and 25. With toy manufacturers now creating pink and purple point-and-shoots for little girls, such as Mattel's Barbie Smile with Me Camera, that age range is likely to skew even younger in the next few years, thus expanding the number of contemporary girl snapshotters.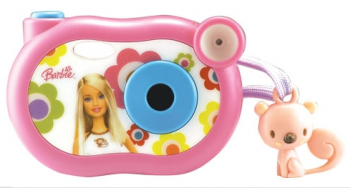 Mattel's Barbie Smile with Me Camera
If girls' blogs and MySpace pages are any indication, today's female youth take photos of seemingly every person, object, and occasion in their lives, and no wonder: With no film cartridges to load, lenses to adjust, or processing to wait and pay for, digital cameras and cell phones have made photography super easy and efficient. Moreover, with the help of software packages, like Photoshop, female youth who are invested in photographic quality can manipulate their images without ever stepping foot in a dark room. But perhaps the most notable change in girls' photo culture is related to distribution, not production. Girls' snapshots, once carefully preserved in photo albums, can now be swiftly uploaded and circulated online, available for millions of viewers to see.
But contemporary girls' photo culture is not just about taking and sharing images. Available in numerous colors and with a variety of accessories, today's cameras are used by many female youth in much the same way as their cell phones—technologized consumer products that complete the public image of the postmodern "can-do" girl.2
If, as already suggested, Malia Obama is but one of the millions of young female photographers currently in our midst, then why all the excitement when she's seen using a camera? Yes, she's also a First Daughter, so anything she does, even the most typical of "girly" activities, is bound to garner public attention. (Remember images of Amy Carter walking a gauntlet of photojournalists on her way to school?)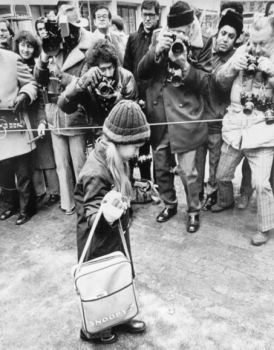 Amy Carter on her way to school
Yet the lure of Malia the Photographer does not just result from her relationship with the President of the United States of America, and thus her ability to capture images of one of our most public and powerful figures in his most private and perhaps vulnerable moments. Certainly, those factors pique our interest about this girl photographer. Nonetheless, I believe the primary reason Malia's photographic practices have garnered so much attention is their juxtaposition with a young, female African American body. Most individuals in the U.S. are simply not used to seeing a black girl in a position of such agency. Stereotyped as crack whores and teen moms on welfare, black girls are more commonly constructed in the media as victims than heroes, "at-risk" rather than "can-do."3 Thus, it seems Malia is attracting attention not just because she's a girl who takes pictures or because she is a First Daughter who takes pictures, but because she's a black First Daughter who takes pictures.
While most Americans have grown used to the concept of "girl power" and the idea of female youth interacting with cameras, PCs, and musical instruments, African American girls have not regularly been in our cultural limelight since the girl groups helped to revive Tin Pan Alley in the early 1960s. Despite some notable exceptions in sports and music, the vast majority of female youth who have received attention for their cultural agency has been white. This is not to say that girls of color have been absent from the field of cultural production. Plenty of African as well as Asian, Latin, and Arab American female youth have been engaged in media-making practices in the past few decades. Indeed, hip-hop culture would not have developed as it did if not for the Latina and African American girl DJs, MCs, break dancers, and graffiti artists who helped to create that scene in the 1970s.4 Yet, these are not the girl performers and artists that have attracted and held media attention. Given the overwhelming whiteness of contemporary American girls' media culture—from dolls to magazines to musicians to fictional characters—is it any wonder that the girl performer most noted for her interactions with our black First Daughters is Miley Cyrus?
Malia Obama's snapshotting has captured the public's attention and thus encouraged a barrage of photographs of her in response. In addition to acknowledging contemporary girls' technological agency, one of the most significant consequences of these images is that our whitewashed notions of girls, girlhood, and girls' culture are beginning to disintegrate. With numerous cameras ready to capture her every move over the next four years, Malia is helping to alter the dominant image of American girlhood through her place in front of as well as behind the lens. Let's hope she asks for an SLR for her birthday in addition to those Jonas Brothers' concert tickets.
Image Credits:Images
1. Malia the Photographer at President Obama's swearing-in ceremony
2. Malia in Philadelphia before the President-elect's train leaves for Washington, DC
3. Malia and Sasha at the Lincoln Memorial Inauguration Concert
4. Malia at the Kids' Inaugural: We are the Future Concert
5. Mattel's Barbie Smile with Me Camera
6. Amy Carter on her way to school
Please feel free to comment.