This Was England: British Television And/As Cultural Heritage
Martin Roberts / The New School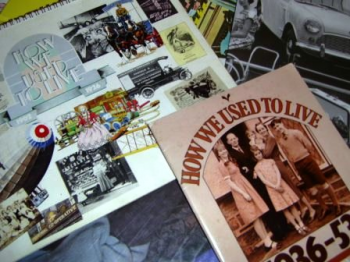 How We Used to Live?
I don't watch much British television these days, if by that you mean programming available—officially, at least—exclusively within the territorial UK. Having lived in the US for several decades, I've long since tired of BBC America's incongruous diet of Cash in the Attic re-runs, freak-show documentaries ("My Fake Baby," "My Mums Used To Be Men," "Britain's Worst Teeth"), soft porn soaps (Footballer$ Wives, Mistresses), Top Gear marathons, theme nights ("Supernatural Saturday"), and Gordon f***ing Ramsay. British television networks restrict online access to domestic programming to license-paying UK residents, and while there are workarounds, expatriates wishing to access it have limited options compared to, say, their Japanese or Korean counterparts. Most of the British television I've watched in recent years has been either on DVD or obtained from online torrent communities, whose expanding archives still offer only a sampling of the rich national mediascape available to domestic viewers.
All of which is why, whenever I visit the UK every year or so, as I did during the recent holiday, I'm always struck by how different the British television that people in Britain itself are watching is from the rarefied version of it available to expatriate viewers like me. What struck me in particular this time was its pervasive nostalgia, a longing for the nation itself as it once was or is imagined to have been. This was no doubt in part seasonal—Christmas is, after all, a festival predicated on nostalgia—yet still seemed excessive even by usual standards. Nostalgia is hardly new to British television, of course: sitcoms such as Dad's Army, It Ain't Half Hot Mum, and 'Allo 'Allo have been poking fun at the nation's wartime and imperial past for decades, while satellite networks maintain a steady stream of "classic" programming. But nostalgia has today become one of the dominant modes of what the British sociologist Michael Billig (2005) calls "banal nationalism," the everyday social rituals and discursive practices by which national identity is routinely reaffirmed, and British television plays a key role in this process.1 Consider its fascination with the national rail system: in the space of several weeks, I watched three documentaries about the Age of Steam and the "romance" of train travel in fiction and film (in stark contrast, it may be added, to the calamitous state of the contemporary rail network). The BBC's holiday schedule included a re-run of one of its (four) adaptations of Edith Nesbit's book The Railway Children (1968) and of Charles Dickens' ghost story The Signalman (1976).
[youtube]http://www.youtube.com/watch?v=Qf0jcGb0_qQ&feature=related[/youtube]
Yorkshire Television's educational drama series How We Used To Live has been broadcast since the 70s, and its shows have themselves become a site of nostalgia, posted on YouTube and torrent sites by fans reminiscing about their childhood experiences watching it.
[youtube]http://www.youtube.com/watch?v=9RPJpo65Js0[/youtube]
Recent years have seen a growing number of similar series with titles like The Way We Were (ITV), Nation on Film (BBC) and Those Were The Days (ITV) which draw heavily on home movies and footage from local film archives.
British television's most intense nostalgia, however, is reserved for itself: much of the BBC's schedule consisted of "classic" Christmas specials I had watched in the 1970s: Morecambe and Wise, The Two Ronnies, Top of the Pops. An hour-long documentary was devoted to the long-running children's show Blue Peter. This self-reflexivity reaches its height in one of the nation's best-loved institutions, Doctor Who, which functions almost as a compendium of its own forty-five year history, reincorporating Daleks and Cybermen with contemporary cultural references and celebrity cameos. Watching domestic television today, one can easily feel like the time-travelling doctor himself, stuck in a televisual time-warp continuously looping between the 60s and the 80s.
In her book The Future of Nostalgia, the Russian cultural theorist Svetlana Boym observes that although at first glance nostalgia is a longing for a place, "it is actually a yearning for a different time—the time of our childhood, the slower rhythms of our dreams. . . . The nostalgic desires to obliterate history and turn it into a private or collective mythology, to revisit time like space, refusing to surrender to the irreversibility of time that plagues the human condition."2 British television offers a compelling case study in nostalgia and the medium's role in converting private memories into a shared cultural mythology. It is no coincidence that so much of the historical programming it offers takes the form of children's shows: like an electronic toy-box filled with a hodge-podge of half-forgotten artifacts, it invites viewers to relive their own childhood vicariously through it. Much of the nostalgia of contemporary shows is what Boym calls "restorative," explicitly aimed at turning back the clock to a historical time-zone in some cases predating modernity itself, most clearly on view in the self-conscious pastoralism of celebrity chef-turned-gentleman farmer Hugh Fearnley-Whittingstall.3
[youtube]http://www.youtube.com/watch?v=ymUVooxHjIk[/youtube]
The concept of "heritage" is often associated with the costume dramas of 1980s British cinema, but cinema itself is only part of the larger heritage industry in which television is also a major participant.4 From its inception, the BBC has positioned itself as the custodian of the nation's collective memory, a role it continues to play through documentary series on the national landscape (Coast, Wainwright's Walks) or social history (the Britannia series on popular music). Yet both the BBC and the ITV franchises today clearly see themselves as an indispensable part of that heritage, and have for some time been engaged in the painstaking project of reconstructing their own past, not just via re-runs and DVD releases, but also documentary "tribute" shows (All About Thunderbirds, The Old Grey Whistle Test Story), or behind-the-scenes biographies of "classic" TV personalities (Hughie Green, Ronnie Corbett). British television today is primarily a commemorative medium, looking wistfully back on its own childhood as well as that of its audience, conjuring up a national community which may have little common ground anymore other than having grown up watching the same shows.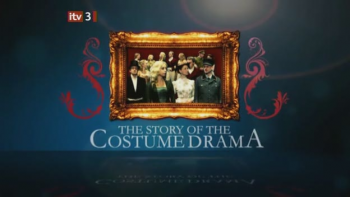 Commemorating the Styles of Yesteryear
Paul Gilroy (2004) has diagnosed the current condition of British society as one of "post-imperial melancholia," a morbid attachment to the nation's imperial past and a grudging conviviality with the generation of immigrants whose arrival since the 1950s has transformed traditional understandings of national identity.5 Rather than melancholia, however, it is arguably nostalgia which is the current British affliction, "a longing for a home which no longer exists or never existed"6, a home of steam trains puffing through the English countryside, of seaside amusement parks and cockles on the pier, of country pubs and clotted-cream fudge, of Kenneth Williams and Steptoe and Son—a home before the Notting Hill carnival, before Stephen Lawrence and Satpal Ram, 9/11 and 7/7, Ali G and The Kumars at No. 42. It is a world which today survives largely in the memories of our grandparents, yet still maintains a surprising visibility in British popular culture thanks to the memory-machine of television. Heritage television offers a reassuring shelter to an older generation from the less pleasant realities of the contemporary nation documented in other media, such as Shane Meadows's depiction of British skinheads in This Is England (2006), or the paranoia over Muslim fundamentalism dramatized in Channel 4's docudrama Britz (2007).
Ultimately, British television's nostalgia for itself may be seen as a reaction to its own inexorable demise, as digital and broadband technologies threaten to render obsolete the very concept of "television" itself and the medium is increasingly overtaken by gaming as the dominant form of popular entertainment. In the face of such challenges, Britain's heritage television is in every sense, as Marilyn Ivy (1995) has put it in a different context, a discourse of the vanishing. 7
Image Credits:
1. How We Used to Live?
2. Commemorating the Styles of Yesteryear
Please feel free to comment.