GMA Revisited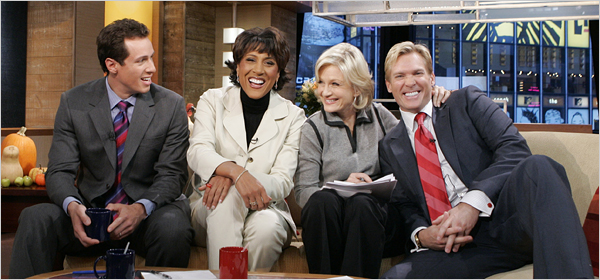 The GMA Family
Thirty years ago, I wrote about a television program that was of deep significance to me personally and professionally. When I moved to Evansville, Indiana to take my first job as an assistant professor, I bought a bed and a 19-inch then state -of -the -art Sony TV. I got through three years stranded alone in the hinterlands by forcing myself to get up everyday and turn the TV on (of course I watched it from the bed). Although the Today show had been around for a long time, I was attracted to a new kind of "breakfast TV" epitomized by the recent debut of Good Morning, America on ABC. With its prefabricated familial setting and intimate mode of address, it was pure ideology. I doubt that I would've survived without it. Not only that but it was the inspiration for my first work on television theory in which I deconstructed the show's spectator positioning and "live" mode of address –none of which mitigated the soothing effect this show and other forms of familial television had on my orphaned psyche.
Thirty years later, I find myself watching GMA again. No longer alone, no longer stranded, I am still a sucker for the ersatz family that allows me to begin my day. During those thirty years, American television exploded with all variety of pseudo-familial experiences. I wrote about some of those too but I would have to say that my favorite has been the ensemble casts of network and cable weekly dramas. During a recent discussion with my best friend Moya Luckett, I started raving about the poor quality of secondary-character casting in movies today (the topic was 27 Dresses) and I realized that my gold standard was TV shows like Ugly Betty or Gilmore Girls in which the teeniest bit player shone like a star. These shows and American television in general make it hard for our real families to compete.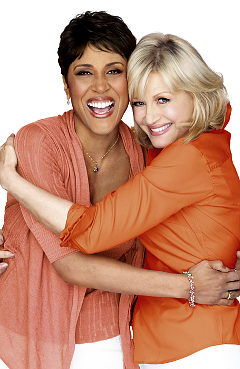 The Two Matriarchs: Robin and Diane
Although breakfast television initiated a smarmy kind of familiarity, it was not uniformly effective over the years. I was willing to settle for Katie and Matt, but Meredith was simply unbearable. So I was drawn back to the original breast (as Melanie Klein might say). Diane Sawyer who I'd always thought of as a simpering beauty queen had taken the helm and assembled around her a rather non-traditional nuclear family. No patriarch to be found, Diane was teamed with the sisterly Robin Roberts, Snow White to an African-American Rose Red. Their two sons were the young and handsome Chris Cuomo and Sam Champion. Chris is a good Italian son to be sure and from a good Italian family. He even interviewed his own mom on the show and he knows how to submit to feminine authority. The fourth in this ensemble is weatherman Sam, a kind of Liberace imitator whose masculinity is always in question (at least at our house). This was the matriarchal family par excellence, and I started to love waking up again. Around our house, the day begins with the following question: what hideous outfit is Diane wearing today and does Robin match her? We feel that Diane's terrible wardrobe is her saving grace, keeping her one step removed from total perfection. We imagine that she picks her clothes out herself because we can't envision a stylist with such bad taste (we know about stylists—like Rachel Zoe— from all the Bravo reality shows we watch).
The current GMA family is either a monumental publicity stunt or the best melodramatic serialized narrative ever. The main serialized plot thread being of course Robin's bout with breast cancer, a storyline at first contained within the GMA diegesis but that later spread to other TV shows and to the cover of People Magazine. Robin decided to come out about her illness on the show and after that, it became part of the hermeneutic code of the show. We tuned in every day at 7 to see if Robin was there. If she wasn't, we knew she must be having chemo and we worried about her. When she showed us how she had to have her head shaved when her hair fell out, we were full of sympathy. Later, we marveled at her courage when she removed her wig to reveal the cute short cut she now sports. But what impressed us the most was the love and camaraderie demonstrated by her GMA family in general and by Diane in particular. We had no doubt they really loved each other, because we saw Diane coming to her chemo bearing gifts. When it was all over, we were very relieved and we kept watching because we were now hooked on the early morning good cheer of whatever the fab four did together.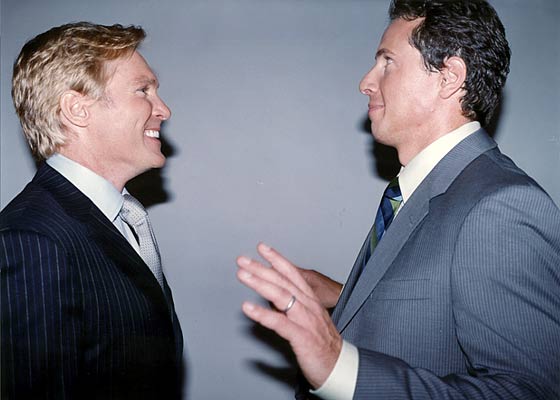 Completing the Family: Sam and Chris
Recently they did a feature in which each of the foursome took a turn in the "hot seat" and were asked what were presumed to be scary and intimate questions that members of the audience sent in. It turned out to be things like why did Robin have a different necklace every day? (her sister makes them.) At our house, we had other questions that weren't asked. We wanted to know why Robin came out as a breast cancer survivor but not as a lesbian? We figured with the butch manner, the sports background and no signs of heterosexuality whatsoever, she must be one of us. We were surprised when nobody in the audience asked that question. Then we wanted to ask Sam if he was really a flaming queen or did he just seem that way to us? They did ask him if he was really chummy with Chris but we wanted to know if he had a crush on Chris.
We know the show must be phony, but we believe in it anyway. I willingly suspend my disbelief because it pleases me to have this mediated experience of a happy family. We make jokes about the show, but we tune in every day. At my house we get up early and wait for GMA to begin. Then we have coffee with Diane and Robin. If one of them is off that day, we watch TIVO'd shows instead. We know what works for us.
Image Credits:
1. The GMA Family
2. The Two Matriarchs : Robin and Diane
3. Completing the Family: Sam and Chris
Please feel free to comment.