TV Tears: Learning Through Emotion in Popular Factual Entertainment
Lisa W. Kelly / University of Glasgow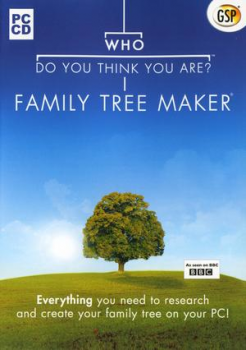 Who Do You Think You Are? Family Tree Maker Software
As a television academic and fan, I have tended to be drawn to the world of fiction, consuming and analysing as many quality dramas and well-scripted sitcoms as possible. However, recently I have been surprised to find myself watching more and more popular factual entertainment, a genre that has previously failed to ignite my sustained excitement. While it may not be difficult to understand the appeal of The Apprentice (with its fascinating insight into the competitive nature of business) or America's Next Top Model (a wonderful guilty pleasure), my viewing tastes have expanded to include amongst others, Who Do You Think You Are?, the BBC's genealogy series in which celebrities trace their family history, and The Secret Millionaire, a Channel 4 show that follows self-made millionaires as they volunteer in deprived areas of the country before donating money to those that they believe to be most in need.1 Perhaps my tastes are simply maturing (along with my age), thus explaining my new found interest in history and class-related programmes. But I suspect that it is has more to do with the way these programmes are presented or rather the fact that they tend to elicit an emotional response from me that even the most gripping drama does not. In short, they reduce me to tears.
These tears are not just restricted to the viewers at home but also flow on screen as well, as celebrities break down on hearing the fates of their ancestors or deserving participants express their shock at receiving a cheque from someone they thought was a kind-hearted volunteer. This emphasis on emotion can be problematic however, as it often overshadows the more important issues raised within such programming. For example, I recently screened an episode of Who Do You Think You Are? to a group of students at the University of Glasgow, only to be surprised by their cynical response. Featuring the broadcaster Jeremy Paxman, who is known for his tough and abrasive interviewing style on the BBC current affairs programme Newsnight, I chose this particular episode because it follows the resolutely English and middle-class Paxman on his journey to Glasgow where he discovers information about the poverty stricken lifestyle of his maternal great-grandmother in the city's east end. While my intention had been to discuss the use of location and the issues of class and gender that were raised in the programme, the majority of students chose to focus on the moment when the camera zooms in on Paxman as he begins to cry on learning of his great-grandmother's tragic circumstances. For the students, this was seen as a manipulative act by the producers of the show and resulted in them being sceptical about the other information presented within the episode.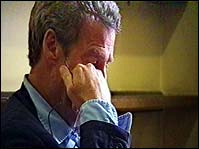 Jeremy Paxman Crying on Who Do You Think You Are?
This is unfortunate because for me Who Do You Think You Are? is that rare example of popular factual entertainment featuring celebrities that nevertheless teaches us something valuable about social history, family ancestry and, of course, human emotion. Viewing it within the wider media landscape however, I realised that the display of emotion, and specifically tears, is becoming increasingly common in programming featuring real people.2 While tears and tantrums have become a staple of reality TV such as Big Brother and I'm a Celebrity . . . Get Me Out Of Here!, even talent shows such as X Factor now require contestants to possess some sort of 'sob story' in addition to singing ability in order to go further in the competition. With emotion being so commonplace on television, it appeared to be something of a turn off for the young students in my seminar group.
And yet, it is precisely this combination of learning and emotion that the BBC in particular appears to be aiming for with its factual entertainment output. Discussing BBC2 under the control of Jane Root from 1999 to 2004, Raymond Boyle notes the way in which the brand identity of the channel 'was to be built around programmes that were entertaining but also had an educational dimension, a strategy that began to reformulate what public service broadcasting would look like in a digital age.'3 According to Root herself, the notion of education has changed over the years in relation to television:
"These days television isn't a very good place for getting your facts, because you can get facts anyway. Television is a medium that is primarily good at communicating emotion, and what's interesting is to link emotion to ideas. My favourite programmes on BBC2 are always emotion with ideas."4
On relating this to Who Do You Think You Are?, there is certainly a wealth of ideas and information to be garnered from each episode on historical events and issues, but the programme is essentially presented as a 'personal' journey for the celebrity and thus places an emphasis on the display of emotion. Nevertheless, I would suggest that the series does offer a further 'learning' aspect in that viewers are encouraged to become actively involved in tracing their own family history by either visiting the BBC's Family History website or by purchasing the series DVD or Family Tree Maker software. This effective use of other platforms demonstrates the way in which, in the digital age, public service broadcasting need not only be confined to a television programme but can also operate via a variety of formats.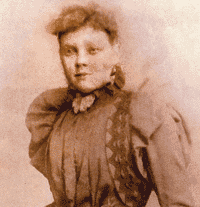 Paxman's Great-Grandmother, Mary McKay
In contrast, Channel 4's attempt to address current (rather than historical) issues in The Secret Millionaire is more problematic. In this instance, I believe it is easier to be cynical about the series because as each person relates their troubled background to the camera or is shown carrying out the good work they do for the community, the audience is aware that they will undoubtedly be rewarded by the end of the episode (at times a 'ker-ching' wouldn't seem out of place on the soundtrack). Yet, I personally never fail to be moved to tears in those final moments when the deserving participants are presented with a cheque. The problem with The Secret Millionaire is that although it admirably displays a side of society that is rarely shown on television (due to the medium's obsession with apsirational lifestyles), it is difficult for the programme to have a wider impact. The show's website encourages people to 'get volunteering' but this merely pays lip service to the problem of poverty and underfunded services in today's society. The rest of the website focuses exclusively on the lives of the millionaires involved rather than those living on the poverty line. With regards to the programme itself, the audience undoubtedly learns something about how difficult people's lives can be but in the end they are asked to identify with the millionaire philanthropist and their sudden appreciation for the comfortable lifestyle they lead as the camera follows them on their journey home. It is perhaps no surprise then that when the follow-up programme The Secret Millionaire Changed My Life was broadcast, the moral of the story was that the experience had changed the lives of the eponymous participants of the series just as much, if not more, than those of the unwitting recipients.
[youtube]http://uk.youtube.com/watch?v=aNyGXgAle-Q[/youtube]
The Trailer for The Secret Millionaire
It is important, therefore, to ask who these programmes are aimed at and who our tears are being shed for. While Who Do You Think You Are? teaches us that we are not that far removed from one another and that our own personal ancestry is inextricably bound up with social history, I would suggest that The Secret Millionaire allows a middle-class audience to voyeuristically experience the lives of the unsung heroes in society (those working in care homes, looking after the disabled, or fostering troubled teenagers) through the eyes of the privileged few. Viewed in this context, the tears generated by the latter become questionable.
Image Credits:
1. Who Do You Think You Are? Family Tree Maker Software
2. Jeremy Paxman Crying on Who Do You Think You Are?
3. Paxman's Great Greandmother, Mary McKay

4. Front Page Image
Please feel free to comment.