Rule 34 and Epic Raids: Sarah Palin as a Victim of Internet Pranksterism
Daniel Metz / University of Texas – Austin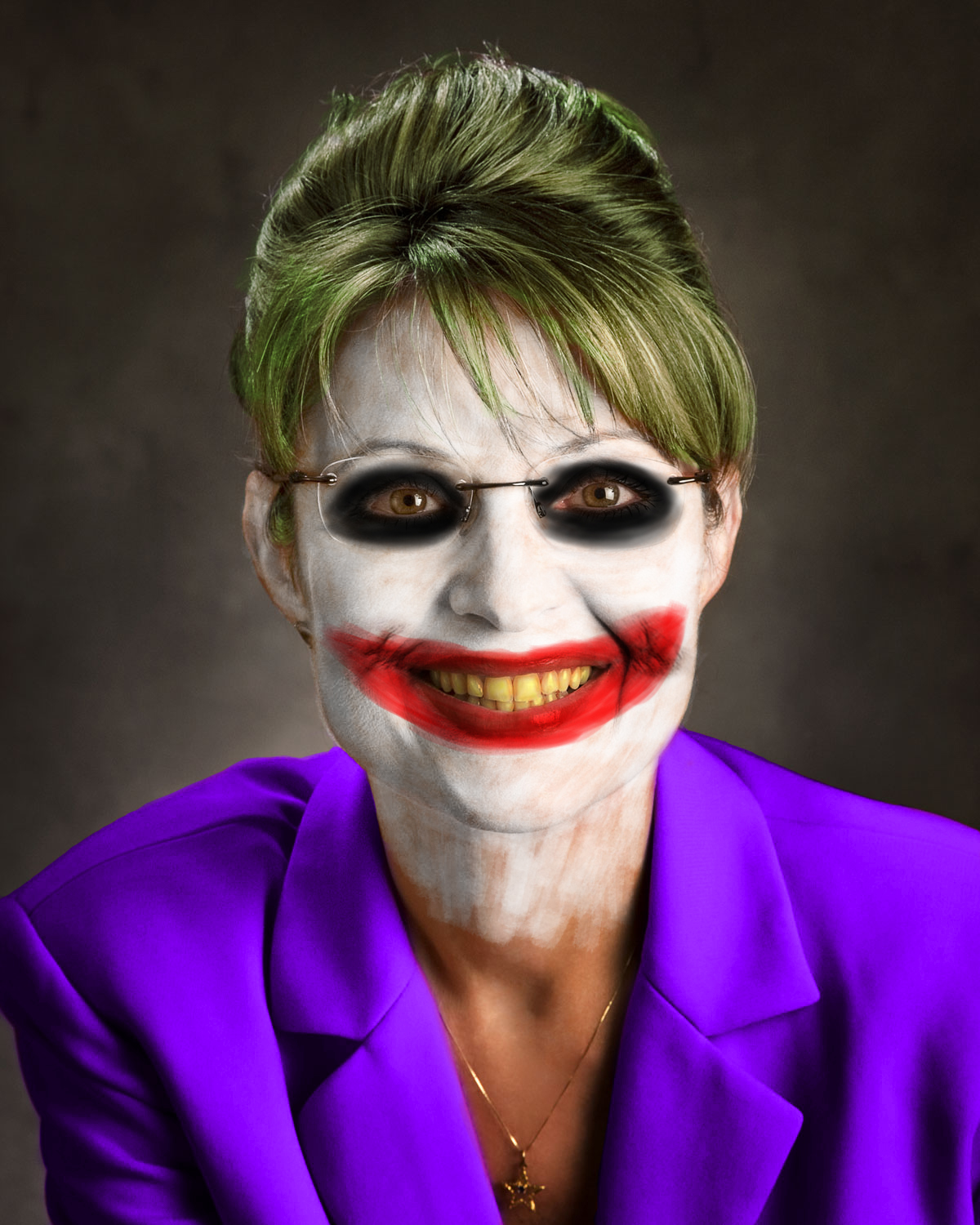 Sarah Palin as Joker
In the dark recesses of the contemporary Internet lurks an anarchic group of hackers who loosely define themselves as "Anonymous." These so-called "cyber-terrorists" gather primarily on the "/b/" message board on 4chan.org, an immensely popular and influential image board, although they use various Internet Relay Chats (IRCs) as their undercover communication network.1 It is difficult to write about this group for a number of reasons; primarily, these Internet personalities insist on utter anonymity (hence the name), but also, for purposes of secrecy, their goings-on are never well archived. Nevertheless, they have left enough of a trail of frenzy to warrant some thought.
Anonymous was made internationally famous for its assault, "raid" in their jargon, against the Church of Scientology. Aside from various cyber attacks like Distributed Denial-of-Service attacks on the church's networks, the hacker group organized a number of "in real-life" protests against the church. These protests, starting in February of 2008, brought together an estimated 7,000 people in over 100 cities from Australia to England and throughout the U.S.2 Apart from organizing public harassment, the group distributed classified documents exposing some of the unethical behavior of the infamously secretive church, most of which they had obtained through hacking the church's databases. This series of events was moderately publicized in the mainstream press.
Now that the origin of Anonymous in the popular imagination has been established, it is possible to read its most recent activities in context. As mentioned above, many of the participants in Anonymous frequent the message board "/b/." For the most part, this website is a place for people to post pictures and comments anonymously, primarily concerning female nudity, racism, and violence. This haven, much like the Mos Eisley Spaceport in the Star Wars film series, would best be described as a "wretched hive of scum and villainy." Nevertheless, the site is immensely popular for its offbeat sense of humor and ability to create, seemingly out of its own lawlessness, popular Internet fads, or "memes" as they are now called.
One of these "memes" is called "Rule 34." According to Encyclopedia Dramatica, the unofficial wikipedia-style database for all things Anonymous, Rule 34 of the Internet is: "If it exists, there is porn of it. No exceptions."3 This essentially argues that the Internet has allowed fetishists to produce and distribute pornography of any known topic. The corresponding, but less official, Rule 35 states, "If porn cannot be found of it, it must be created."4 These two lines have spawned a popular game among these cyber-personalities, one in which photo-editing software is used to create pornographic images from those that are not.
On the morning of Friday, August 29, 2008, Presidential Candidate John McCain announced that Alaska Governor Sarah Palin would be his vice presidential running mate. Throughout the mainstream media, this decision was shocking and spawned exploratory coverage that still persists as of the time of writing. On "/b/," literally moments after the announcement, the inevitable post came up; a picture of Palin was posted alongside the simple phrase, "Rule 34." This call to arms was followed in the coming days with dozens if not hundreds expressing the same desire to either find or produce pornographic images of the admittedly good-looking Governor. Not more than a day after the initial call, pictures began to be posted on the site of Palin in various compromising positions. A less-vulgar representation of this instinct circulated the Internet and mainstream media, a picture of a bikini clad, gun toting woman photoshopped with Palin's head. While this photo gathered a lot of attention, including a much-coveted reference in a "Saturday Night Live" opening skit, the activities on 4chan were much more nefarious and lewd.
View Anonymous Palin Images
It would seem that, once the initial fun with Palin was over, Anonymous was finished with their harassment of the potential first lady. Yes, they continued posting these pictures and expressing their opinions of her as they would with any other public figure, but there was little reason for these somewhat harmless pranks to be escalated or made anything more than isolated pictures. In the early hours of the morning of September 16, however, Anonymous struck against Palin in a much more serious way.
Palin had been recently under fire for allegedly using a private Yahoo email account for her government-related communications.5 This was being viewed as an attempt to skirt the public records laws of Alaska as well as the Freedom of Information Act, effectively hiding potentially important records. This scandal was being raised in conjunction with "Troppergate," an investigation into the allegation that Palin had acted unethically concerning the firing of an Alaska State Trooper. A number of people involved in the case were trying to subpoena the contents of Palin's personal email accounts, both "gov.sarah@yahoo.com" and "gov.palin@yahoo.com," in order to get a more full understanding of her involvement with the incident.6 The coverage of this aspect of the scandal was featured on many blogs leading up to the 16th of September, and many writings included reference to her email account name.
Unfortunately for the Governor, once the account name was made public a member of Anonymous was able to easily hack into Palin's "gov.palin" account. Yahoo, like many webmail providers, uses a password-reset function based on personal questions. Because Palin is such a public figure, the answer to the questions were widely available; purportedly, the questions were her zip code, date of birth, and the place she met her husband (the first two were apparent from her Wikipedia page, and the third question was discussed in one of Palin's speeches).7 Shortly after, the hacker posted the account information and reset password (popcorn) onto "/b/," and still more people accessed her account. A number of screenshots were taken of some of her emails and her address book, as well as a handful of family photos, and these were promptly submitted to Wikileaks, an online repository for sensitive information.8 Shortly after this raid on Palin's account, a different member of Anonymous changed her password (samsonite1) and emailed one of her aids about the situation. The account was soon frozen and, within a matter of hours, the account was deleted.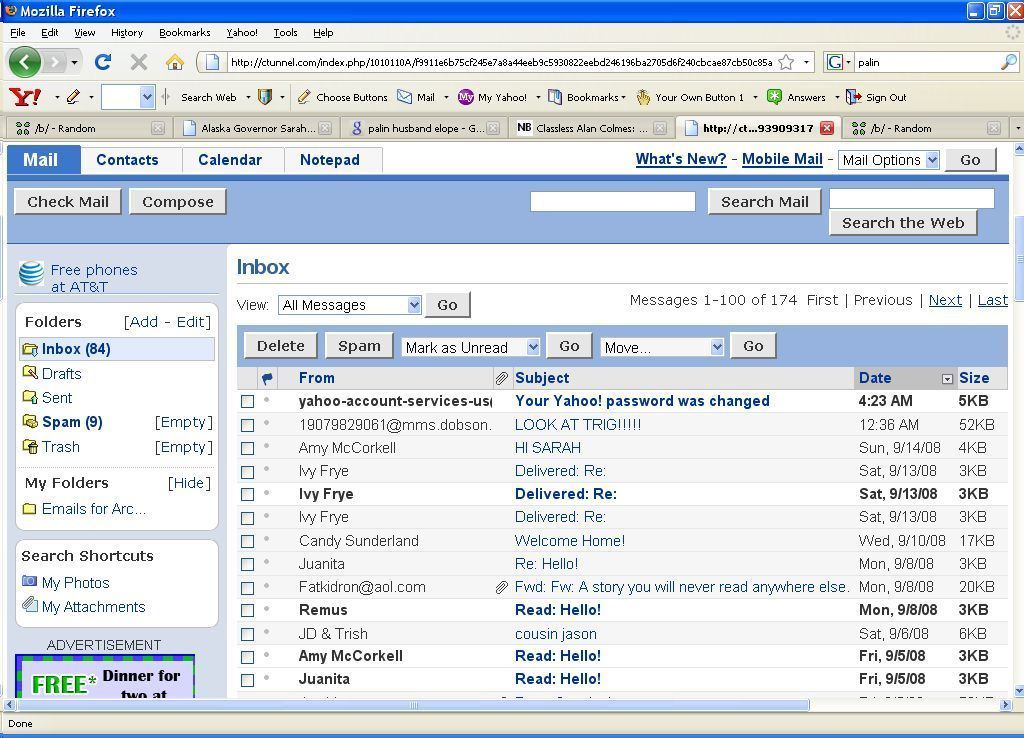 Palin's Inbox
On September 17, the mainstream media picked up on the story, spawning coverage by cable networks like CNN and Fox News, as well as a large number of news websites and blogs. The McCain campaign released a statement saying, "This is a shocking invasion of the governor's privacy and a violation of law. The matter has been turned over to the appropriate authorities and we hope that anyone in possession of these e-mails will destroy them."9 The Secret Service and the FBI has since stepped in, investigating the intrusion.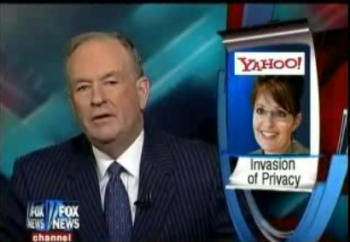 Bill O'Reilly on Palin's Privacy
One especially interesting example of media coverage of this event came from right-wing Fox News personality Bill O'Reilly. O'Reilly had covered stories on Anonymous before, and his grudge against the group was only made more explicit with his coverage on September 17 and 18. On his show he described the website 4chan.org as "despicable, slimy, scummy" among other things. He also called for the administrator of the website to be put into jail. In retaliation of this opinion, some Anonymous member actually hacked into the website "BillOReilly.com," exposing and subsequently posting the email addresses and passwords for hundreds of his community members.10 This opened his followers up for a number of potential identity thefts, although no coverage of such events occurred. There has been no apparent repercussion for this cyber-crime. The message was sent, however, through the act and the corresponding media coverage, that Anonymous is a powerful group, and one that can respond and react to news quite topically.
As of the deadline for this writing, one suspect has been the indicted by a grand jury concerning the initial hack of Palin's account. Whoever the hacker is, he used a proxy, a method by which an Internet user can disguise his web surfing. A number of the screenshots posted to Wikileaks contained details about a proxy service named "CTunnel." The FBI contacted the man in charge of CTunnel, Gabriel Ramuglia, asking for the I.P. address of the hacker. Ramuglia reportedly cooperated and gave the I.P. address for a student residence on the campus of the University of Tennessee. Reportedly, David Kernell, a 20-year old Economics major, held this address.11 The case is currently open.12
The outcome of this trial is not of real concern, however, to the story of Palin's hacked account. While many in the media will appreciate and need a scapegoat to end this story, the substance is on the act itself. Internet Pranksterism is a fairly new phenomenon, and definitely one that is in its infancy in the U.S. political scene. What we have seen is that it is immediate, imaginative, and potentially quite devastating. In a twentieth century political campaign, nude photos such as those involved in the Rule 34 game of Sarah Palin would have ended her career as a politician; still, certainly, those photos could do some damage if seen by the wrong people. Likewise, had the email account contained more damning evidence, Palin's future would be less bright. Both of these issues, however, are part of a new world, one in which the sadism of a few net-savvy youngsters can affect the world in a matter of hours. Sarah Palin has been identified as an easy target because of her gender, her politics, her appearance, and her offbeat character. But that doesn't really matter, for to look at the target is to miss the point. Internet Pranks are so quick and so easy, and require so little organization, that they should not be viewed as meditated. They are the acting out of a frustrated subculture of our society, a subculture that has taken power by means of technological innovations. They have the power to change the world by exploiting security holes and gaining access and authority over normally classified materials, and they do it for nothing more than amusement.
Image Credits:
1. Sarah Palin as Joker
2. Bill O'Reilly on Palin's Privacy
Author Bio:
Daniel C. Metz is a Master's student at the University of Texas at Austin. He earned his B.A. from New York University in the department of Cinema Studies, where he focused primarily on film history and historiography. His research tends to focus around confrontations between mainstream and subcultural institutions.
Please feel free to comment.