Soft Selling Intergenerational Intimacy on the First Season of Mad Men
Leigh Goldstein / FLOW Staff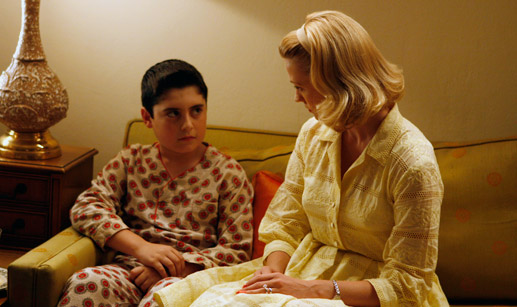 Glen and Betty: Don't They Make a Cute Couple?
Sheepishly, I'm going to admit disappointment at the absence of a media controversy. I'm mourning the lack of outrage at the Glen Bishop – Betty Draper friendship from Season 1 of Mad Men. It's not that I bear any ill will towards Matthew Weiner, or Marten Weiner and January Jones (Glen and Betty, respectively) or really anyone else involved in the production or promotion of this show. Yes, I was sort of hoping a career or two might be threatened (even destroyed) by the taint of a pedophilia panic. But no personal vendettas were motivating my dreamy visions of newspaper columns blasting the show for hinting at a sexually charged rapport between a nine-year-old boy and twenty-eight-year-old woman. Or my fantasy of some treasure trove of fan posts, each one a variation on general admiration for the show regretfully tempered by disgust at the Betty-Glen rapport. Nope, no personal ire. Just your average, would-be crusading grad student's desire to unmask (and ridicule) public discomfort at the representation of children as sexualized beings.
Disappointment acknowledged, I am ready to marvel at the skill with which the Mad Men people have constructed this particular relationship. Betty (to clarify for the uninitiated) is the very beautiful and very isolated suburban wife of Don, the show's central character. The death of her mother is revealed in the second episode of the series, and throughout the first season, the emotional disconnection between her and Don is highlighted. Beyond her therapist and a female friend, the only person she is shown confiding in is Glen, the nine year old son of her divorcée neighbor.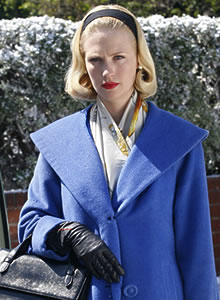 The Beautiful But Lonely Betty Draper
The show makes clear that there is both a sexual and an affective dimension to the Betty-Glen dynamic. Sexual in the sense that Glen desires Betty and she is aware of it – this is conveyed in episode 4, "New Amsterdam," in which Glen walks in on Betty while she's in the bathroom. Staring intently at her semi-hovering toilet squat, he at first refuses to leave, even as she yells at him. To emphasize the physical element, there is a follow-up scene in which Glen tells Betty she's beautiful and then asks for a lock of her hair. Rather than laughing at or denying the request, she cuts off a piece for him. Compared to the bathroom incident, this offering is potentially more disturbing because it is done with Betty's consent.
The affective dimension of their intimacy is more apparent in "The Wheel," the thirteenth and final episode of the first season. Betty encounters Glen in a parking lot, waiting for his mother to return to the car. Through the car window she takes his hand and asks him to comfort her, saying she has no one to talk to. She begins to cry and he becomes uneasy and tells her "I wish I were older."
watch?v=d7ov7STa_Ik
In contemporary American media, intimacy is rarely acknowledged as a possibility between adults and children who are unrelated, unless of course, it's in the context of an exposé of the To Catch a Predator variety. Since children are generally constructed as innocent, adult-child intimacies are almost always represented as exploitative, harmful and, well, predatory. Given the taboo that the adult-child relationship constitutes, how is it that Mad Men is able to portray a relationship between an adult woman and a nine-year-old boy without inciting accusations that it is a sympathetic take on pedophilia? A few potential answers to that question:
For starters, the show adopts a fluid attitude to life phase distinctions. Rather than defining "childhood" as a discrete period that terminates at a specific age, the show often suggests that maturity and majority depend on personal development. Therefore, although Betty is twenty-eight years old, characters in the show, including her therapist and her husband, repeatedly describe her as a "little girl" or a "child." This emphasis on Betty's child-like status is also evident in the press and the publicity for the show. A representative example would be the New York Times magazine profile of the series in which Alex Witchel described Betty as an "infantilized" wife and quoted January Jones' assessment of her character as a "child-like adult."
Another pivotal factor is the show's 1960s period setting. Specifically, the fact that the first season takes place three years before the publication of Betty Friedan's The Feminine Mystique. Already evident in the similarity of names, the influence of Friedan's work on the construction of the Betty Draper character has been asserted by Weiner in interviews. The description of the housewife as a woman who becomes "infantilized" or "childish" through her dependence on her husband and entrapment in the domestic sphere can be read as an explanation or exoneration for any emotional demands Betty might make on a child. Since she herself is one, how could she know better? Along with the publicity and press references, it is interesting to notice how often references to Friedan come up in online forums devoted to the character. In these comments, Betty is discussed in almost adolescent terms; she's a girl who will achieve woman status in a few years when she reads Friedan's book and her consciousness is raised.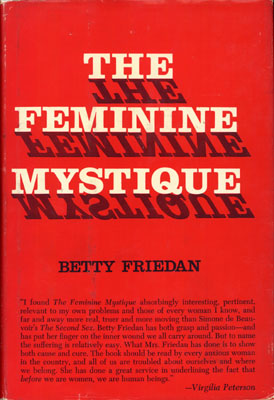 Friedan's Landmark Text
Working in concert with the emphasis on Betty's "childishness" is a characterization of Glen as abnormal or even disturbed. I confess that I don't personally read him this way, but I have noticed that in summaries of the "New Amsterdam" episode, he is often described as "creepy" or likened to a future serial killer. I think these assessments are based partly on the quietness of his character; because he does not speak much and this is a drama, it is tempting to ascribe all kinds of malevolent thoughts and even soap-opera-esque plot developments to his character. Interestingly, Glen's quiet solemnity seems in keeping with the representation of boys in at least a few other popular culture texts that include older woman – younger boy encounters (I'm thinking of Birth [2004] and The Ice Storm [1997]). Perhaps the quietness is a way to mark the boys as mature or somehow distinct from the loud exuberance that is assumed to be a part of a normal boyhood. Or the "off-ness" helps to absolve the adult female character of the responsibility for having derailed the boy's otherwise normal development.
Finally, I'm going to admit that Mad Men does, to a limited degree, offer a diegetic critique of Betty for her relationship with Glen. In "Red in the Face," the seventh episode of the first season, Helen, Glen's mother, confronts Betty in a supermarket. She has found the lock of Betty's hair and demands to know why Betty gave it to him. Expressing her disapproval and disbelief Helen emphasizes Glen's age, slowly enunciating, "he is nine years old." By having an adult female character shame Betty for tacitly encouraging a boy's desire, the show perhaps shields itself from charges that it is promoting any form of child-adult intimacy. Having said that, Helen is far from the most sympathetic character in the show and rather than slinking away in shame, Betty publicly slaps her as a response.
And then, it's worth noting that Glen has yet to make an appearance in the show's second season. Not counting myself, I haven't really noticed anyone mourning his absence. Filling the younger-man void in Betty's life is Arthur, a riding acquaintance who's at least twenty. Their scenes smack of Hollywood melodrama, as if both characters are aping the lines and mannerisms of their favorite star performers. Their drama is such well-trodden territory, it's hard not to read it as parody. But maybe that's just my bitterness talking. I liked her other boyfriend better.
Image Credits:
1. Glen and Betty: Don't They Make A Cute Couple?
2. The Beautiful But Lonely Betty Draper
3. Friedan's Landmark Text
4. Front Page Image
Please feel free to comment.