More Dark Nights for DC Comics and Time Warner?
Alisa Perren / Georgia State University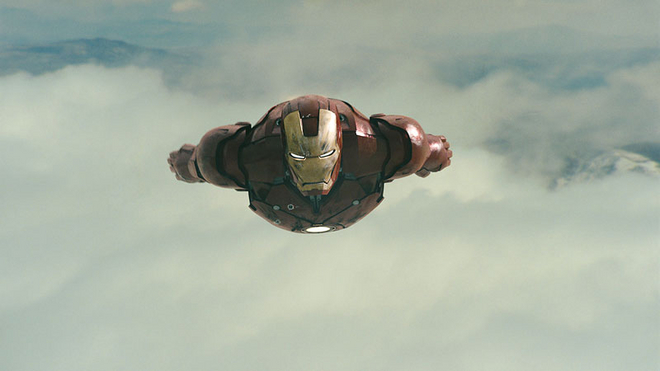 Iron Man, Marvel's first release as a stand-alone studio, was one of the summer's biggest hits
This column takes up where my last column left off in challenging widespread myths about the practices and products of the comics business.1 Only one myth will be called into question this time around, but it is a big one: Marvel and DC Comics have successfully figured out how to transform their comic book properties into profitable multi-media franchises.
This summer's amazing box office performance of Marvel's Iron Man and DC Comics-Warner Bros.' The Dark Knight would seem to underscore how savvy and skillful these two corporate entities have become in exploiting their characters and properties. Yet though these two films have met with astounding success, it remains uncertain whether either company will be able to sustain (in Marvel's case) or develop (in DC's) longer-term strategies for turning comic books into motion picture franchises.
Indeed, the next year very well may be one of the defining moments for both companies. Each finds itself in the process of initiating new corporate strategies designed to more fully take advantage of several of their comics. Yet as I indicate below, myriad obstacles remain – obstacles that might prevent us from ever seeing many comic book-based films from reaching motion picture screens (and Netflix queues). Considering some of these obstacles here helps shed light on several assumptions we may have about the operations of the media industries at large, including the monolithic nature of media conglomerates and the impact that individual figures can have within large corporate media structures.
At present, several industry analysts believe the future looks promising for Marvel. As a relatively small company focused on exploiting its own comic book properties for the first time, Marvel has been able to move more quickly in its preliminary efforts to craft a "Marvel Universe."2 We have witnessed the first steps of this process this summer in both Iron Man and the Incredible Hulk; characters introduced in each of these films made crossover appearances and are expected to appear in upcoming Marvel features as well.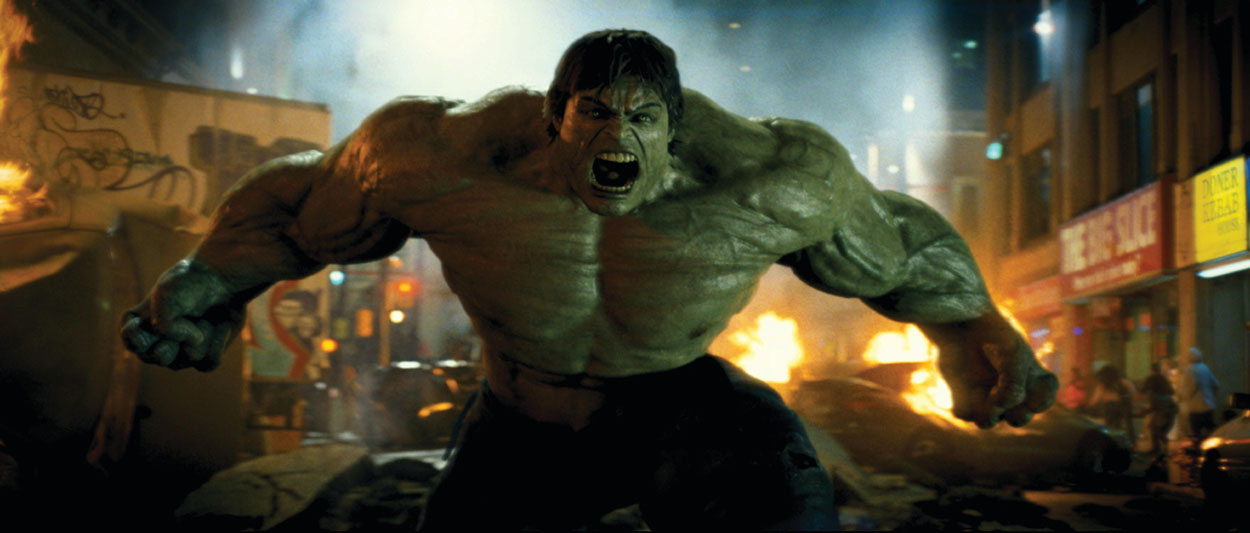 The second step in building the "Marvel Universe" came with this summer's Incredible Hulk.
Yet Marvel's investment of well over $100 million per film also places it in a risky position. So far it has been fortunate to have a mega-hit in Iron Man and a satisfactory performance with The Incredible Hulk.3
However should one of its upcoming projects – which include Thor, Captain America and The Avengers – be received poorly, the company's future viability could be endangered. All one has to do is consider the immense failure of United Artists' recent release, Lions For Lambs, and the subsequent troubles faced by this division of MGM in order to see how a single expensive film can play a major part in harming a company.
Given the greater financial protection that a major conglomerate parent can offer, it might seem that Warners/DC have their act together. In fact, much evidence suggests the opposite is the case. Up to now, Warners has predominantly focused on launching (and re-launching) its best-known and most iconic characters, such as Superman and Batman while ignoring second-tier properties such as Green Lantern and The Flash. In spite of efforts to put both Wonder Woman and Justice League films into production, casting and script problems have prevented either from going forth. (The recent writers strike threw another wrench into the development process.)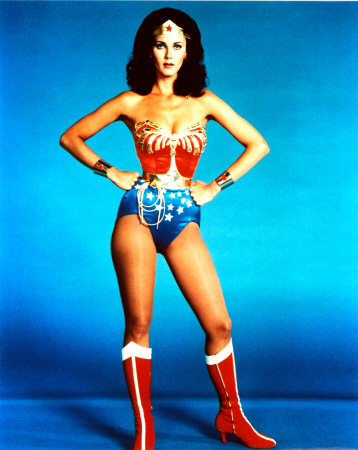 Though several efforts have been made to bring Wonder Woman to the big screen, the project still remains in development.
Beyond the fundamental creative challenges that are typically involved in beginning production on nearly any motion picture, Warners/DC currently faces significant institutional challenges in trying to initiate any comics-to-film adaptations. One key issue involves establishing the precise relationship and chain of command between Warners and DC. Again, on the surface this seems to be a fairly easy thing to do, considering that DC Comics is a part of Warners' filmed entertainment division as opposed to the publishing arm that houses such magazines as Entertainment Weekly, Time and People.4 Yet though this rather close corporate relationship has been in place for decades, DC's activities have remained quite marginal to Warner Bros' bottom line. Further, its newer characters and properties rarely have been mined for feature-length films or television series.
In spite of the array of new comics titles that have come out of DC and its imprints (including Vertigo and Wildstorm) in recent years, Warners has focused primarily on exploiting DC for its most well-known and obvious superhero franchises. (Notable exceptions include the film adaptation of Vertigo's Hellblazer series, Constantine, and the adaptations of The Road to Perdition and A History of Violence – the latter two coming from DC's graphic novel arm.) The possible "R&D" function that DC could have served – or might presently offer – has not yet come to fruition, for the most part. Only recently has Warner Bros. appointed a liaison between its motion picture and comic book divisions. Yet rumors seem to indicate that this individual has neither the power in the Warners hierarchy nor the respect of the comic book community.5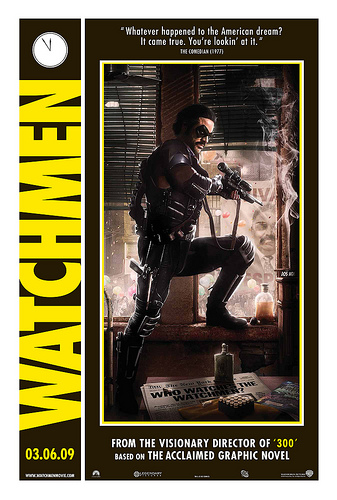 The upcoming release of The Watchmen will be one of the next big projects coming from Warner Bros/DC Comics.
Marvel's recent expansion efforts, along with the consistently strong financial performance of comic book adaptations and related merchandise, have led Warners/DC to begin to discuss their desire to better "use" DC and tap into its rich library of titles. As recently as mid-August, Warners executives promised that announcements were forthcoming about how it would "revamp" its use of its DC properties.6 Yet as one observer snarkily noted, so far all this has amounted to is a "plan to make plans."7
Meanwhile, DC-based comic book titles that might be turned into movies by other companies are held in a state of permanent limbo. This is the case because Warners (which usually obtains right of first refusal over any comics published through DC divisions) will not produce these projects itself, but neither will it allow the properties to go elsewhere.8 Such contractual stipulations, in turn, make it more difficult for DC to sign top writers and artists to do original work. The net effect of Warner/DC's mounting contractual demands is that it risks diminishing the quality and types of projects it can acquire and publish (if it has not done so already).
As if rumors about a glacial development process, a lack of a "grand plan" for how to exploit comics across its various divisions, and poor communication between executives in various divisions haven't caused enough trouble, an ongoing sense of uncertainty looms over many working at Time Warner. The company has struggled ever since its disastrous merger with AOL. New management has decided to streamline the company's operations, resulting in a continuous shedding of assets and employees. Warner Independent, New Line and Picturehouse all have been recent casualties of this strategy; the CW's status remains in question as well.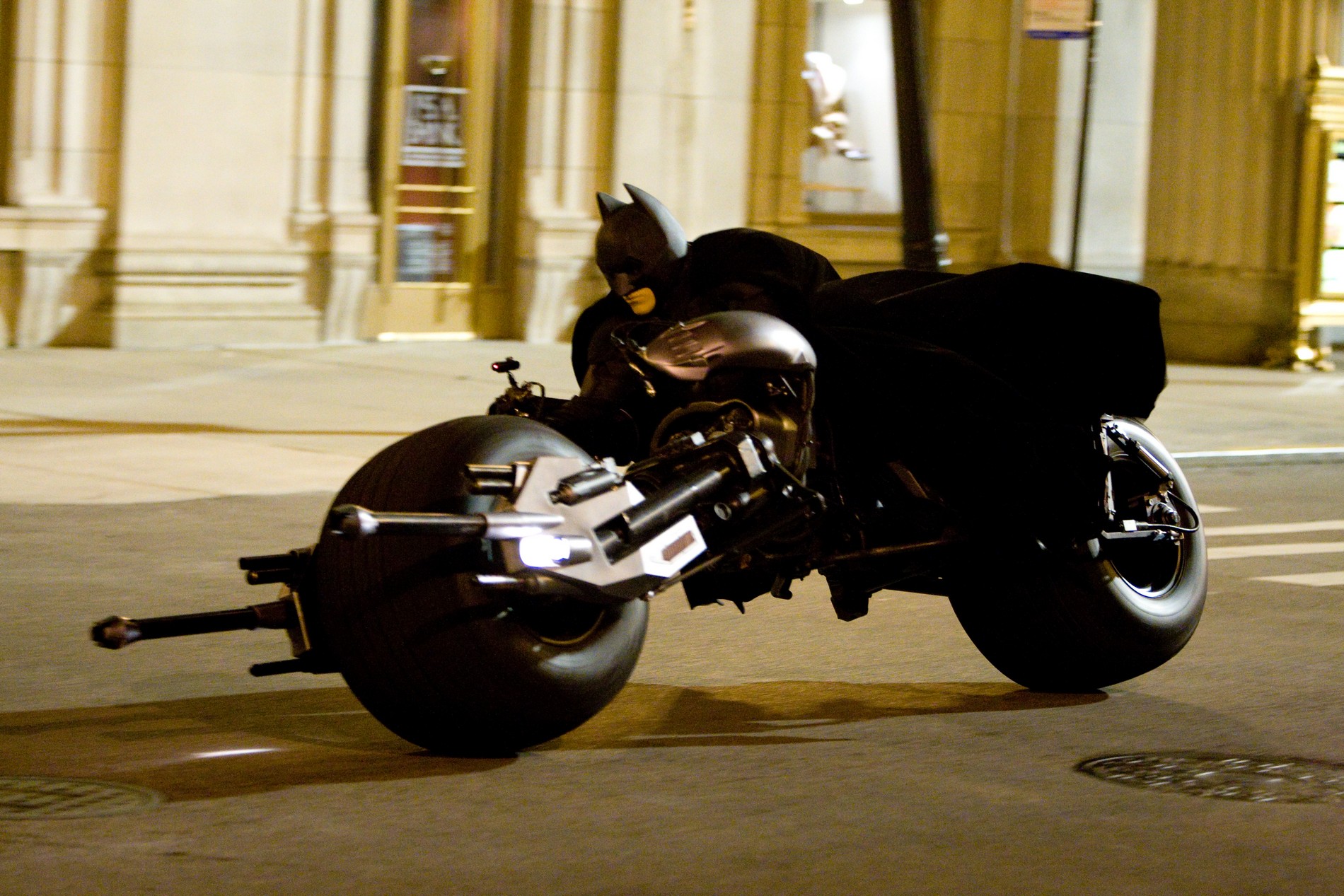 The Dark Knight has become one of the highest-grossing films of all time. Can its success be repeated by other comic book features?
Thus, in spite of the frequent discussions of "big media getting bigger," Time Warner seems to be going in the opposite direction at present. Of course, this is not to say that Time Warner will cease to exist – rather, its cable divisions and primary motion picture arm are doing quite nicely. But it is to say that this mega-media conglomerate is facing the same rough financial market and uncertain media landscape that everyone else is…and trying to figure out what works.
Where and how DC Comics – along with its rich and largely untapped comic book properties – fit into this rapidly shifting picture is uncertain at this time. Though DC may have been slow to act so far, we shouldn't necessarily assume this will remain the case in the future. How Marvel fares with its recent proactive efforts at "universe building" as well as its efforts to actively involve comics creators in its feature film development activities might impact how DC (and Warners) proceed.9
Further, the immense critical and commercial success of The Dark Knight could reinforce the value of respecting both original source material and the distinctive voices of those adapting it.
Image Credits
1. Iron Man
2. Incredible Hulk
3. Wonder Woman
4. Watchmen
5. Batman
6. Front Page Image
Please feel free to comment.