Mobility, Spectrum, and Television
Barbara Crow / York University
Stephen Colbert, at your fingertips
As this is my last column, I would like to take this opportunity to bring some of the observations about mobility, spectrum, and television to a close. It is my position that television studies need to pay continued attention to the carriage and content debates as telecommunications companies are struggling with how to both deliver and control media content on cell phone devices. As well, we need to be asking important questions not only about the regulation of these telecommunications in the context of increased ownership and convergence of communication technologies, but also about users, aesthetics and design. Questions such as who uses these technologies when and how easy are they to use, see and hear with?
Google's movement to develop and implement mobile telephony applications has moved from rumor to fact with Android. Android is an "open handset alliance project" designed to facilitate core mobile device functionality and combine information from web with data on cell phones. This intervention may serve as a wake up call to the industry about the possibilities of open sourcing and/or sharing licensing with their software applications. Apple, again like its foray into the distribution of digital music, sound and images with iTunes in 2001, is providing groundbreaking ways in which users can develop applications and and share revenues in an effort to increase brand awareness and build consumer loyalty to their iPhones.

Android's logo
However, despite what kind of observations I can make to industry about ways in which they may want to increase the possibilities of what their technologies can do to appease and interpellate consumers, I am also interested in how we can make the public and citizenship more central to mobile telephony.
Canadian Industry Minister Jim Prentice hopes to put consumers first
As many of you know, cell phones have been one of the fastest growing forms of communication technology in the world1. For some communities and nations, telecommunications have been made available in ways they have not been before. Many nations are skipping land line infrastructure all together and are going straight to cell phones.
At a time when wireless communications, much like the promise of radio at the turn of the twentieth century, may have another moment for us to attend to how to make these communications open, affordable, relevant and easy to use.
There are numerous international organizations committed to a larger agenda of making communications fundamental human rights such as Amnesty International, World Summit on the Information Society, and more national ones such as Free Press, the New America Foundation, and the Independent Media Center.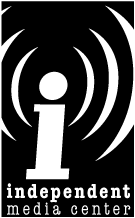 Independent Media Center logo
And for those of us who are on the move and available "anytime," "anywhere," and "any place," we need to keep asking how does this work, who benefits and why now? I hope these questions can move us to think about communication technologies not only as opportunities, but to address their conditions as well.
Image Credits:
1. Stephen Colbert
2. Android logo
3. Jim Prentice
4. Independent Media Center logo
Please feel free to comment.
Townsend, A. (2002). "Mobile communications in the twenty-first century." In B. Brown, N. Green, & R. Harper (Eds.), Wireless world: Social and interactional aspects of the mobile age (pp. 62–77). London: Springer-Verlag. [↩]