Bravo! Stars: An Ode to Jeff, Bethenny, and Tabatha
Jane Feuer / University of Pittsburgh

Bethenny of The Real Housewives of New York City
I find it curious that reality TV has produced so many "stars" and by "star" I don't mean the "hosts" of these shows. Reality TV is supposed to be about "real" people in unscripted situations whereas a star is supposed to be glamorous and charismatic and expected to say authored lines. At least folklore would have it that way. Those of us who follow star studies know better. We know that stars can be "ordinary Joe types" (says Richard Dyer) and that TV stars in particular are often loved for their "ordinariness." This is in fact what Mary Desjardins and others have argued distinguishes TV stars from film stars. So just as we need to deconstruct a binary between "quality TV" and "reality TV," we can also undo an opposition between "scripted" and "unscripted" and between "star" and "real person." In fact I believe that undoing such commonly believed binaries is central to work on reality TV even if these binaries do much to explain reality TV's low cultural status in the society as a whole.
It should not be surprising, then, to discover that the "quality" reality cable service Bravo should produce a line of signature reality shows that have generated a fascinating entourage of reality stars. I don't doubt that these programs—Project Runway, Top Chef, Top Design, Shear Genius, Step it Up and Dance—in spite of individual and seasonal variations in excellence—can be seen to fit a definition of quality TV that is descriptive rather than evaluative. For example, the large ensemble casts that have emerged from these shows bear resemblance to those of quality dramas like The Sopranos or Grey's Anatomy. In fact, I would argue the pleasure fans get from watching the contestants/personae interact with one another equals that of an ensemble drama. Not always—but then not all dramatic casts "gel" either. Bravo's identity as a gay-identified cable service helps. We have come to expect groups of punkish girls and bitchy queen boys to spit invective at each other in a delightfully dishy way. Yet there are also friendships and alliances that move us. The pleasure of the ensemble is common to both reality and quality TV and it can be found even in trashy reality shows like Big Brother. The Big Brother contestants are trapped in that house and even if we hate all of them, their confinement and its subsequent machinations can prove irresistible.
Yet occasionally a star in the old-fashioned sense of the term will emerge from a reality show cast. This is more likely to happen in the cinema-vérité, fly-on-the-wall type of series than on the game-structured ones, although not always (look at Christian Siriano from the fourth season of Project Runway). Again I must turn to Bravo for my examples of stars that emerge from reality shows. Here I would have to cite Jeff from Flipping Out and Bethenny from The Real Housewives of New York, two shows that gave me more pleasure than any Maysles Brothers documentary including Grey Gardens (well, maybe not the musical version). Now Jeff was the star of his own obsessive-compulsive universe from the minute his collagen-stung lips uttered their first demanding words on TV. In what is possibly the strongest ensemble cast ever to emerge from a reality show (surely Jeff's maid Zoila is at least equal to Will and Grace's Rosario as an Hispanic character who crosses the line of taste in her comic persona), Jeff stood out.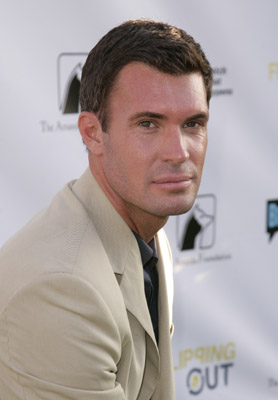 Jeff of Flipping Out
You may wonder why I chose Bethenny from the stellar cast of Housewives. Actually, I think the stars of season one were the joined- at -the -hip married couple of Alex and Simon. No sitcom episode could outdo the "girl's night out" party to which Alex brought her codependent spouse nor the reunion episode in which the husband pretended to be shocked that so many audience members asked if he was gay. But I choose Bethenny because halfway through the series I remembered that she had in fact been spun off another reality show—the Martha Stewart version of The Apprentice that apparently no one but me watched. This new phenomenon of spinning off reality stars furthers the links to scripted TV, and follows a familiar pattern for TV personality creation. We will see it again in my final example of Tabatha. Bethenny had that high-powered Food Network personality on her first show, but Housewives really let her neuroses shine through. The episode where she broke up with her fiancee and went around telling everyone contained what could only be called "acting."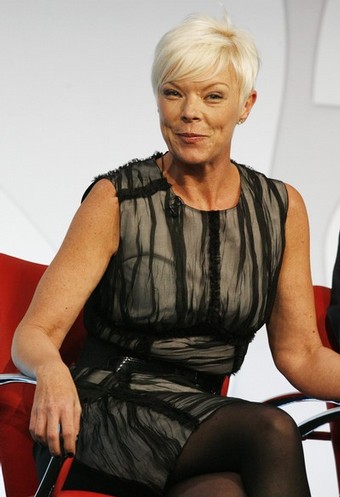 Tabatha of Tabatha's Salon Takeover
And now we have Tabatha's Salon Takeover which recombines in the best TV style a show like Gordon Ramsay's Kitchen Nightmares with the signature Bravo reality show Shear Genius from which Tabatha emerged as the fan favorite. Tabatha was a female drag queen and a bitch reminiscent of nasty host Anne Robinson of Weakest Link fame and that's how she got her own show. Now the ensemble cast for the second season of Shear Genius was far superior to Tabatha's season but this didn't prevent her becoming the star of a show in which her full iron-lady toughness and ability to curse rapidly for the camera came to the fore. Of the two episodes thus far, I especially liked the second one during which her hatred for the non-hairdresser schmuck who owned the salon nearly caused her takeover to fail. Of course nobody really bought it when everyone got nicey-nicey in the end, but then who buys the endings of most network dramas? She's no Gordon Ramsay but then who is? And although I'd watch Hell's Kitchen with its sleazy working class ambiance over either of Tabatha's shows any day, that is not my point. I want to argue that the reality/fiction binary is a false opposition at almost every level—including that of star production. But it has a political/economic purpose: it enables certain false distinctions of value to continue to be made.
Image Credits:
1. Bethenny of The Real Housewives of New York City
2. Jeff of Flipping Out
3. Tabatha of Tabatha's Salon Takeover
4. Front Page Image
Please feel free to comment.