Up, Up, and Away? Separating Fact from Fiction in the Comic Book Business
Alisa Perren / Georgia State University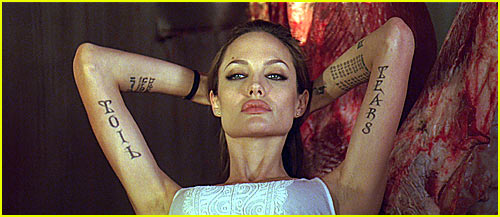 Rest assured…comic book adaptations had a very good summer: Angelina Jolie in Wanted (2008).
Record attendance at Comic-Con 2008 of more than 125,000. The Dark Knight breaking box office records week after week. Four of the top ten box office earners this summer based on comics.1
To the casual observer, recent headlines might suggest that comics are bigger than ever. All may look rosy for the comics business these days, and, in fact, there is much to celebrate. Yet the financial and popular success of comic book adaptations masks a far more complex reality for the comic book industry as a whole. Indeed, the hype surrounding the success of comic book adaptations has contributed to the perpetuation of a number of mis-perceptions about the medium on which they are based. Regular comic book readers may be well aware of these mis-perceptions; however, as a relatively new initiate into the world of comics, I have been stunned to discover the degree to which the press perpetuates a number of myths about the medium and its relationship to other media forms.
Many of us know little more of this medium than what is to be found in the pages of Entertainment Weekly or The New York Times. In this column and the next, I outline – and challenge – three prominent myths propagated about comics by the mainstream media. This information has been gathered primarily from my attendance at this year's Comic-Con as well as recent conversations with several comic book artists from Atlanta-based Gaijin Studios.2 In outlining these misconceptions, it is possible not only to better understand the complicated relationship between comics and other media, but also to see yet another example of the often reductive nature of much mainstream press coverage today.
Myth #1: Comic-Con is all about comics. From its inception in 1970 well into the 1990s, this was largely the case. However, in recent years, the Hollywood studios increasingly have focused their energies on using the annual event as a means of promoting upcoming films and television programs. The timing of the event works especially well for broadcast networks that are starting to ramp up their promotional campaigns for their fall series.3
View of the 2008 Comic-Con convention floor.
What's more, the media products being promoted aren't simply targeted to one clearly identifiable group of super-fans. In spite of clichéd journalistic visions of Comic-Con as overrun by geeky fanboys and costumed zealots, in actuality there is a far more diverse group in attendance. As blogger and comic book/television writer Mark Evanier recently noted:
The con has turned into a place where major filmmakers and stars and writers and artists and the movers 'n' shakers of the entertainment industry converge, and the hall is full of adults and families and even attractive women. Isn't it about time we drop this stupid 'geek' talk, like everyone there is sexually retarded and living in their parents' basement?
A walk across the convention floor quickly reinforced the varied demographic groups being targeted by the studios. Posters and displays for everything from Showtime's Dexter to NBC's 30 Rock to Fox's upcoming Fringe were visible. Similarly, companies ranging from IFC to ABC to The Weinstein Company occupied substantial exhibition space. At times I felt more like I was at NATPE or ShoWest than a so-called "comics" convention. The difference was the audience consisted of a diverse group of devoted media consumers – consumers likely to return home and begin spreading their excitement on the Internet – instead of the international distributors or theater owners that frequent industry trade gatherings.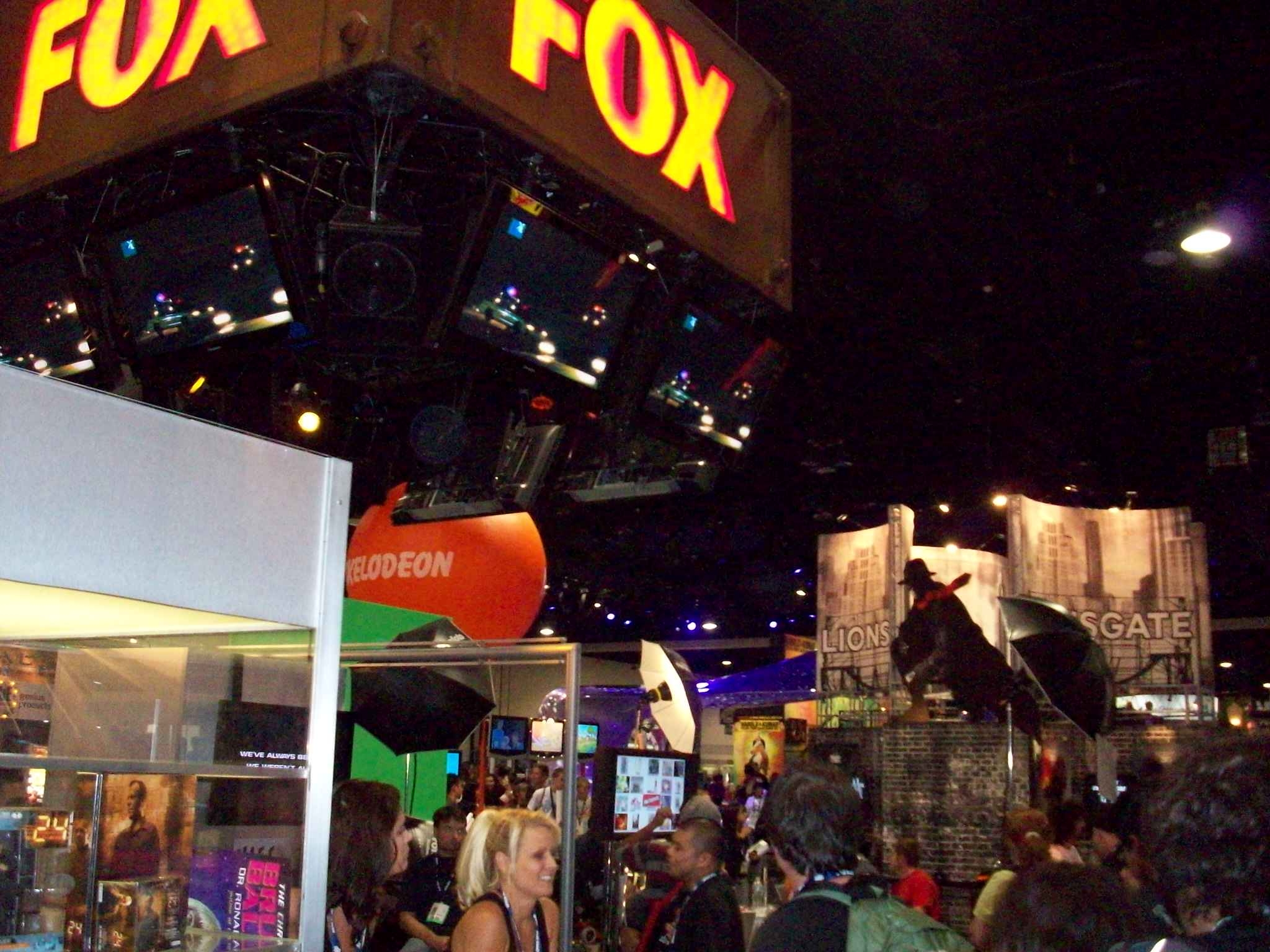 Hollywood's promotion of a variety of film and television properties is visible here.
It didn't take long to see that the size and scope of panels devoted to comic books were often overshadowed by panels on (non-comics based) media (see full program). There were sessions on several upcoming television series (NBC's Knight Rider, HBO's True Blood) and for several returning shows (CBS's The Big Bang Theory, ABC's Pushing Daisies). BET, ABC Family, Nickelodeon, MTV, BBC and Comedy Central all had panels – some more than one. There were also an equally diverse number of panels devoted to motion pictures (see: the Pineapple Express panel; the Twilight panel) and gaming (World of Warcraft, Prince of Persia).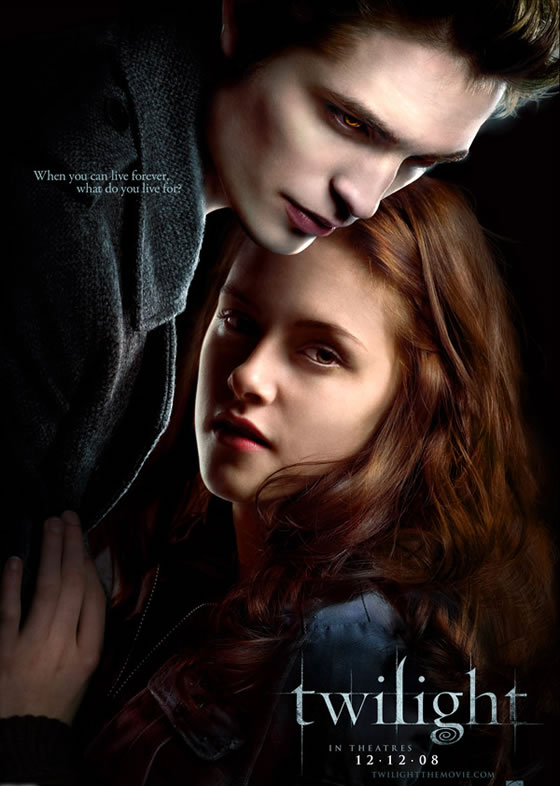 One of the many standing room-only events at Comic-Con was the panel for the film Twilight (2008).
The location of the film and television studios on the convention floor in relation to comic book artists said much about the relative power and influence of these different groups. While the studios' displays sometimes bordered on the oversized and absurd (e.g., the Harold and Kumar Escape from Guantanamo Bay scalable prison), most of the small-scale publishers and artists seemed to be banished to the far reaches of the hall.
Given the degree to which most comic book artists, writers and publishers have become second-class citizens in terms of both floor space and panel allocation, it comes as little surprise that a growing number of these individuals plan to stop attending the event.4 Even Marvel's Editor-in-Chief Joe Quesada acknowledged the extent to which Comic-Con serves little value to much of the comic book business at this point, stating that the event
…has become so much more than comics, and even from our perspective, we're wary about how much staff we bring and of what we announce and don't announce at the con these days… If I was still running (small publisher) Event Comics, I'd probably skip [Comic-Con] completely as a publisher and just attend as a visiting creator.
Thus, in much the same way that during the 1990s legitimately independent filmmakers were marginalized as studio specialty divisions descended in greater numbers on festivals such as Sundance, many in today's comics business have been pushed aside as Comic-Con's potential promotional value has become more apparent to the major film and television studios. This point, in turn, leads to a second myth about the contemporary comic book business:
Myth #2: Since movies based on comics are all the rage, comic books must be selling like crazy. The high profile accorded to comic book adaptations has not translated into higher sales for "traditional" comic books (meaning single issue series). In spite of the spate of comic book-based films in recent years, sales of monthly comics have not spiked significantly. Further, sales remain far lower than they were during a "boom period" in comics twenty years ago.5
Several different reasons have been noted for the decline in traditional comic book sales, including more competition from other media forms, the move of comic books out of local drugstores and into a smaller number of specialty shops, and the increasingly interwoven (some would say convoluted) narrative universes of many comic books. The level of insider knowledge required to read many of the older titles seems to get larger by the day – a point that became abundantly clear to me when I recently sat down to read a random Batman comic I had picked up.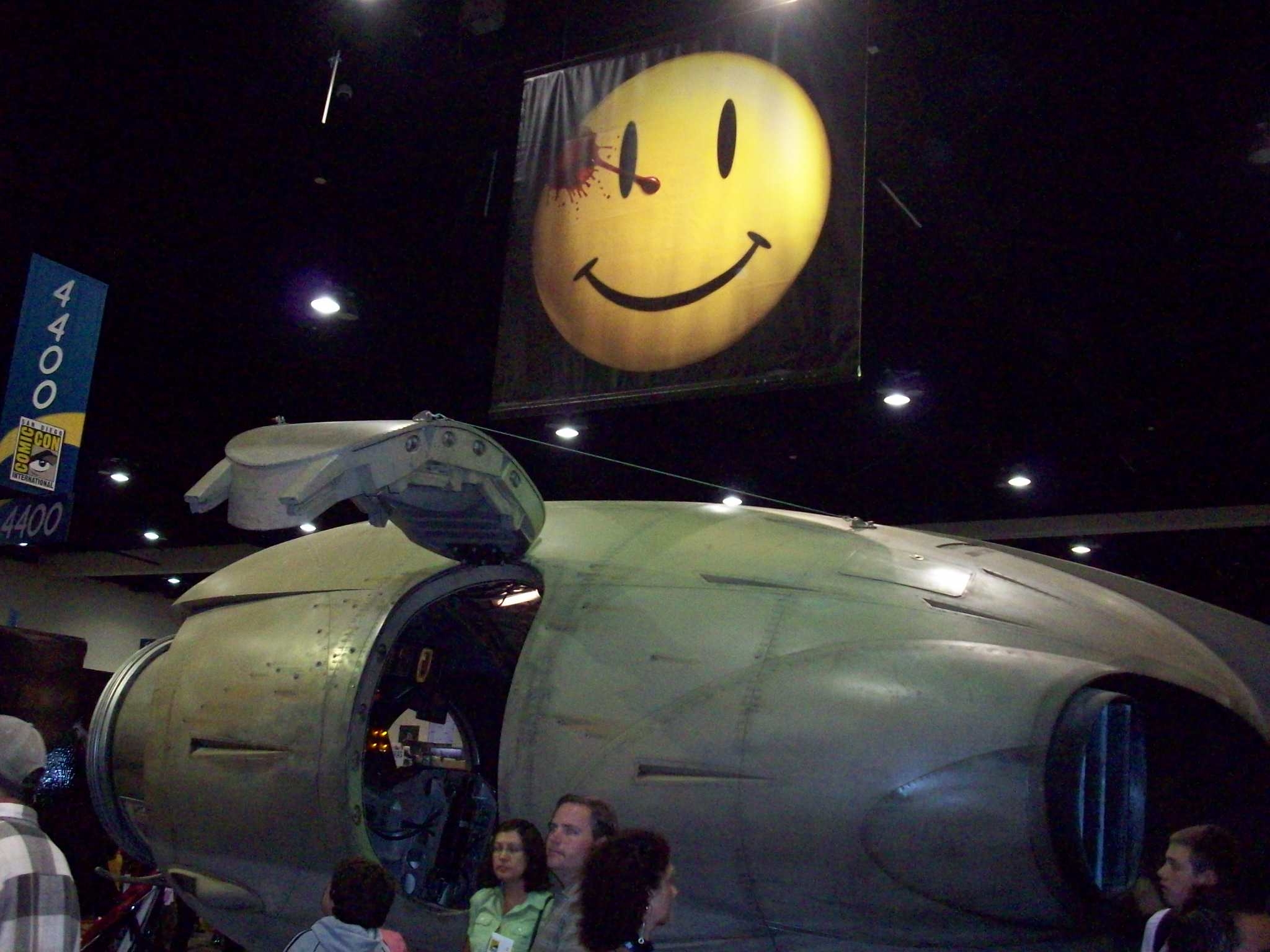 The display for the upcoming Watchmen film attracted large crowds at Comic-Con. Will the movie do the same?
In addition, the readership for comics continues to age. A disproportionate number of comic book readers are white men ranging in age from their mid thirties to late forties (a point that readily becomes apparent when one attends smaller comics conventions). Younger comics fans tend to be exposed to characters through television series, movies and video games. Such is the nature of transmedia storytelling and multi-media licensing today that the roots of Superman and Batman (not to mention non-superhero based comics such as 300, The Road to Perdition and A History of Violence) as comic books often tend to be obscured. One of the most striking examples of this for me occurred a couple a months when I had some comics professionals come into one of my classes. After the session, one of my students told me that he had always considered himself a huge comics fan. However, he added, he had never actually read a comic book!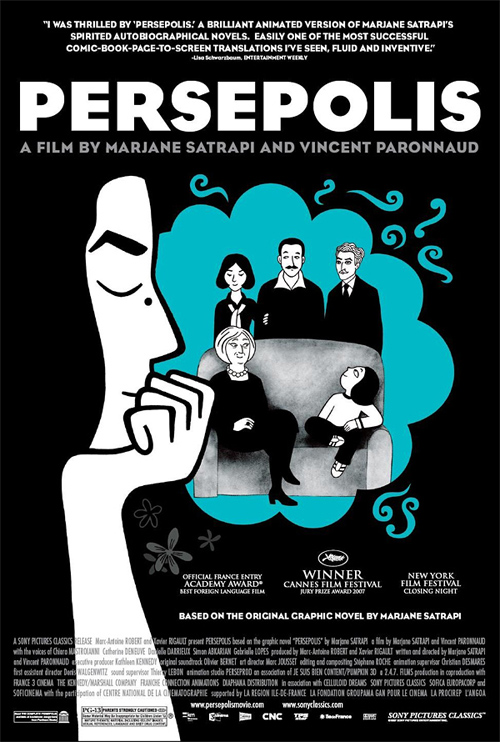 Before becoming an award-winning film, Persepolis was an acclaimed graphic novel.
This is not to suggest that all is grim for comic book publishers. A huge growth area in the last decade has been in the book market (as opposed to the more traditional newsstand and comics shop markets). In the same way that select "evergreen" television series have been reinvigorated by the rise of TV-on-DVD, one of the fastest growing sectors of the comics business has been in the publication of collected editions. Here six to twelve issues are repackaged as glossy trade paperbacks or hardcover editions and sold in retail bookstores such as Barnes & Noble (and its virtual counterpart). As these editions have grown more prominent, the audience consuming comics – as well as the means by which they are consumed – are beginning to change. Here is yet another example of Chris Anderson's "long tail" in action, as sales may not be particularly substantive on a month-to-month basis but add up over a longer term trajectory.6
In the grand tradition of comics, next month I continue this column by challenging one last myth: that that largest publishers such as DC and Marvel have effectively figured out how to exploit their varied comic book properties. Find out more next month, true believer!
Image Credits:
1. Rest assured…comic book adaptations had a very good summer: Angelina Jolie in Wanted (2008).
2. View of the 2008 Comic-Con convention floor. (Photo by author.)
3. Hollywood's promotion of a variety of film and television properties is visible here. (Photo by author.)
4. One of the many standing room-only events at Comic-Con 2008 was the panel for the film Twilight (2008).
5. The display for the upcoming Watchman film attracted large crowds at Comic-Con. Will the movie do the same? (Photo by author.)
6. Before becoming an award-winning film, Persepolis (2008) was an acclaimed graphic novel.
Please feel free to comment.