Into the Maelstrom with Flavor of Love
Jennifer Fuller / University of Texas – Austin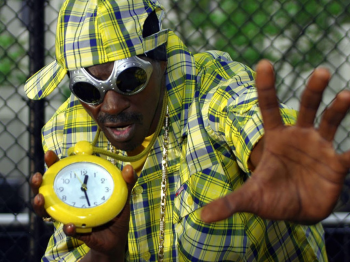 Flavor Flav
In the article "New Ethnicities," Stuart Hall described a new phase of black cultural politics, one that marked the "end of the innocent notion of the essential black subject," that is, the end of the belief in a fundamental sense of 'blackness' that could effectively represent black people as a whole.1 This new phase would displace but not replace the cultural politics that called for new "positive" representations in place of the old "negative" ones. The new phase would be marked by cultural and representational strategies that would acknowledge the diversity of black experiences and expressions.
That was twenty years ago. And while there have been some significant departures, the faith in "positive representations," (images deemed to be the free of stereotype) is still dominant, with most of its attendant middle-class tastes and normative notions about gender and sexuality intact. In 1999, during the NAACP campaign against the dearth of minority representations on the Big 4 networks, president Kwesi Mfume called for not just more black characters on television, but in 'quality' shows, which were often about medical and legal professionals, instead of in 'ghetto' sitcoms, which were infused with black vernacular language, culture and humor. More recently, VH1 reality show Flavor of Love (2006-2008) has been lambasted by critics for its portrayal of black women as ignorant, combative and hypersexual jezebels in a phony contest for the affections of Flavor Flav, a black cultural icon (as a member of rap group Public Enemy) who had become a flashy, no-count coon. In the quasi-corrective Flavor of Love Girls: Charm School (VH1, 2007), headmistress comedian Mo'Nique stripped the women (including nonblack contestants) of the nicknames Flav gave them, and urged them to shed the lewdness, loudness and generally unladylike behavior they displayed in Flavor of Love. The subtext, that their behavior reflected badly on the black race, was most explicit in the reunion episode, when Mo'Nique scolded feuding friends with: "They are watching us."
There are very good reasons why people cleave to the 'old' ways. As Hall says, the call for positive representations was a response to the "fetishization, objectification and negative figuration" of blackness in society and the mass media, and those discursive practices surely persist. This pattern of social and representational domination gives rise to black double-consciousness, the burden of seeing ourselves as whites see us. Double consciousness hounds us as we consume, produce and analyze media: "They are watching us." I still want to champion the displacement of "positive images" as a cultural strategy, because the insistence on the "positive" limits black representation in classed, gendered and sexualized ways ("ghetto," "unladylike") . That is not to say that we can't ever say that we don't like certain imagery. Quite the contrary. But we should focus on the dynamics of representation itself by considering how ideological and industrial constraints that help to limit representations of blackness. To illustrate this, I'm going to talk about the widely-reviled Flavor of Love.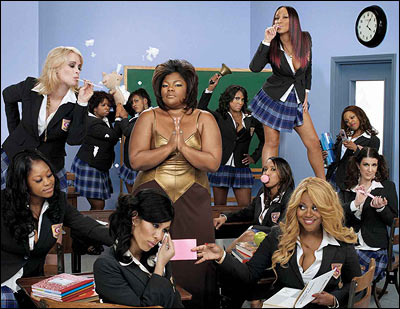 Mo'Nique and her Charm School contestants
First, I'll make the necessary claim: I'm a Flavor of Love fan. Now, I'll address the necessary question: "How do you watch that show?" The answer: "Very carefully." I negotiate my way through Flavor of Love like I negotiate my way through all other texts. My fandom informs my analysis, but I don't believe that the show is necessarily 'good' (politically or aesthetically) or unproblematic because I like it. I know that many people consider the show to be simply irredeemable; my goal here is to show that Flavor of Love isn't "simply" anything. There are aspects of the show that I can't accept, and aspects that I appreciate; I give an example of each here. As Hall wrote, "Once you enter the politics of the end of the essential black subject you are plunged headlong into the maelstrom of a continuously contingent, unguaranteed, political argument and debate: a critical politics, a politics of criticisms". That's where and how I hope my viewing of the show happens. So, into the maelstrom we go…
Flavor of Love is problematic, but there been racial moments that were so hard to negotiate that they stopped me cold. One was a segment when Flav was narrating the show as usual, giving his insights and telling jokes. But this time, he was gesticulating with a piece of fried chicken. It was a brief moment, and may seem insignificant in the grand scheme of the show. But that moment was disturbing because it gave traction to the charge that Flav had sold out his political beliefs. A recent headline sums up this view: "The Journey of Flavor Flav: From Public Enemy to Public Buffon."2 And Flav does indeed bear a striking resemblance to the buffoon, or 'coon,' stereotype. But a look at Public Enemy's videos reveals that he hasn't changed much: Flavor Flav is not a VH1 invention. Even then, Flav was impish and ostentatious, bouncing around and mugging for the camera, sporting outsized sunglasses and multiple clocks, extreme hair, and a mouthful of gold teeth. Indeed, the "dandy" coon stereotype mocks the flashiness that is often valued as a part of black personal style – instead of accusing Flav of drifting (or dancing) toward the stereotype, it is important to think about how the stereotype limits how we perceive Flav in the first place. Ultimately, Flav can be outrageous in style and behavior; that doesn't make him a 'coon.' In fact, it was his style and charisma that made him hip-hop's "greatest hype man."
Flav flirted with the 'coon' stereotype for years. The 1991 video for "Burn Hollywood Burn" skewers black stereotypes, but also shows Flav eating barbecued ribs while meeting with a white film executive. Flav eats straight out of a Styrofoam container, and props his feet up on the executive's desk, creating an image that is strikingly similar to those criticized by the video itself. But when the executive makes it clear that he wants Flav to play a "servant that shuffles a lot," Flav jumps up, indignant. Without the black nationalist context, in Flavor of Love there is no moment of indignation, at least not on-screen. Although he might still be a trickster, an intellectual disguised as a fool (that is, if he really ever was), the dating reality show genre doesn't allow for this. In spite of all our media savvy and cynicism, the genre's stock-in-trade is still the putative earnestness of everyone involved.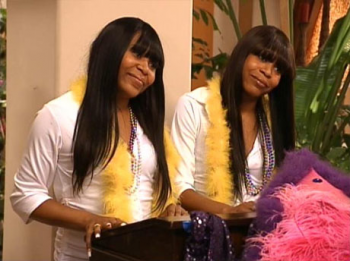 Speaking of which, I want to briefly discuss two contestants from the third season. Twins Latrisha and Latresha, who Flav named "Thing 1" and "Thing 2," confound a simple dismissal of the Flavor of Love contestants as hoochies and harridans. Thing 1 and Thing 2 captivated Flav, and in the last episode, it was Thing 2 who won Flav's affections (temporarily). They were fan favorites because they seemed sincere. I argue that this sincerity was partly indebted to the "realness" signified by the twins' working-class style. They were 'around-the-way girls,' complete with black English and doorknocker earrings. It also stemmed from the twins' sweetness, which was especially delightful in a genre where the 'tough girl' is a favorite black female caricature. Granted, Thing 1 and Thing 2 could be just as contentious as the rest, intimidating and shouting down other contestants. But they also often draped their arms around each other, and had a habit of tilting their heads to one side and speaking in lilting tones. I am cautious about praising girlishness in images of grown women, but mainly for the reason that I appreciate it here. Girlishness is a kind of femininity that is rarely extended to black women, a construction that makes vulnerability a privilege of the powerful. White women can be dainty, foolish, and socially awkward, even (or especially) if it is just a prelude to them rallying their emotional strength or physical prowess. Meanwhile, their black counterparts have to be knowing and tough at all times. In contrast, the twins' vulnerability was on display, including when they wept openly, eliciting tears from other members of the cast, and Flav as well. To be perfectly clear, I don't think that weeping vulnerability is inherently good, but I was glad to see this side of black femininity represented.
Again, my goal wasn't to suggest that Flavor of Love is politically "good." I wanted to show that it is politically complex, and did so by considering aspects of the show in the context of the genre, across axes of identity, and across texts. Twenty years after the publication of "New Ethnicities," Flavor of Love's clock motif is especially fitting. The displacement of the "positive representation" stance is long overdue, but so is that diversity representation of black subjectivities. As we work toward it, we should be mindful enough and brave enough to consider the cost of privileging the educated, middle-class, chastely heterosexual flavor of blackness as the only "positive" one, no matter who is watching.3
Image Credits:
1. Flavor Flav
2. Mo'Nique and the contestants of Charm School
Please feel free to comment.
Hall, Stuart. "New Ethnicities." Reprinted in Stuart Hall: Critical Dialogues in Cultural Studies, edited by David Morley and Kuan-Hsing Chen, 441-449. New York: Routledge, 1996 [↩]
The article discusses Flavor of Love as well as Flav's zany new sitcom, Under One Roof (CW, 2008). [↩]
Flav's on-screen affairs with white women, starting with Brigitte Nielsen in Surreal Life (2004) and Strange Love (2005), are also used as evidence that he has given up his black nationalist politics. See Trailer 2 (available on YouTube) for former Public Enemy member Professor Griff's 2007 documentary Turn Off Channel Zero [↩]