TVS 101: Television Outside the Box
Rochelle Rodrigo / Mesa Community College
< !‐‐more‐‐>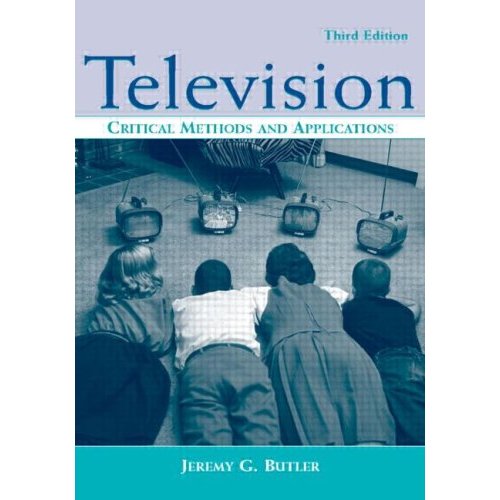 Whew, a book I can teach from, at least for this first "season." The cover of Butler's Television: Critical Methods and Applications 3rd Ed.
I am starting to prepare to teach our humanities based "Introduction to Television" course this fall. As I think about what I want to cover in the class, I keep asking myself what does it mean to teach Introduction to Television Studies (TVS 101) in the 21st century? Is it teaching the "same old thing" as it is outlined in the current course competencies, or is it turning into more of an introduction to "new media"? and, what is the difference between television and "new media"? Even though I say the "same old thing," is there really a "same old thing" in an introduction to television course? If there were, would there not be a textbook or two? Confession #1: First and foremost I am a writing instructor; however, I do have a masters in humanities with an emphasis in film and have been teaching film classes for the past several years. This will be my first time teaching introduction to TV; so I am very aware that I will be learning a lot along the way. And, to be blunt, I was hoping for some teaching guidance from a textbook. The answer is "no"; I learned this last year when I asked various textbook publishing companies and all they could point to were film studies textbooks or introduction to mass communications books with television sections. Prior to this search for an introduction to TV textbook, my library was filled with more film and new media studies books like those in the image below.
Thankfully, Amazon.com came to the rescue and I found Jeremy Butler's Television: Critical Methods and Applications 3rd Ed. It looks like a good introduction text to me (unless any of you have the Rock Star introduction to television textbook—comment below!).
Butler's text includes all of the general areas that I think are important (and that the district's course outcomes require):
• history,
• finances/economics, and
• culture/trends,
• as well as instruction in the basic "how do you 'read' motion pictures" areas.
Needless to say, comprehending the impact of technology on television production and distribution is critical to understanding the history of television. And if we are talking about television in the 21st century, we are talking about radical impact of technological change on the distribution and consumption of television. Television is not just in the box anymore, right? It is now on the Digital Video Recorder (DVR), on the computer, on the iPod, and in Second Life.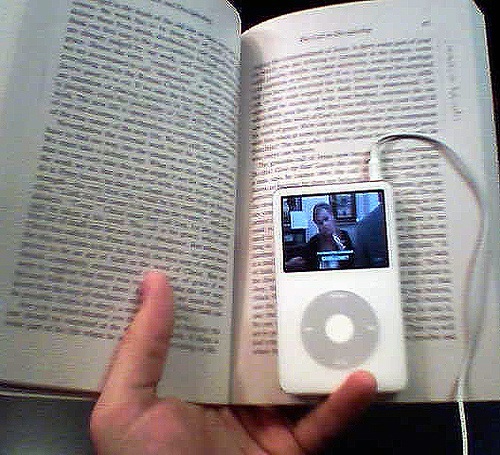 Have your TV and read it too!
Discussing the interpretation of television viewing has become a bigger "problem" because it's not just about the television competing for attention with the old household conflicts like the family, pets, and household chores.
Asking students to think about how the viewing context impacts their interpretation of a text is now much more complex. The today's viewing context includes multiple, multi-modal conflicts like the book vs. iPod image above and the layered computer monitor below.
Confession #2: Of course I am obsessing about this topic because this is what I am interested in with television studies right now. And yes, although I have the responsibility to teach the "basics" and what is outlined by the official course curriculum, I also have the obligation to keep myself motivated, engaged, and enthusiastic by covering what I am passionate about as well, right?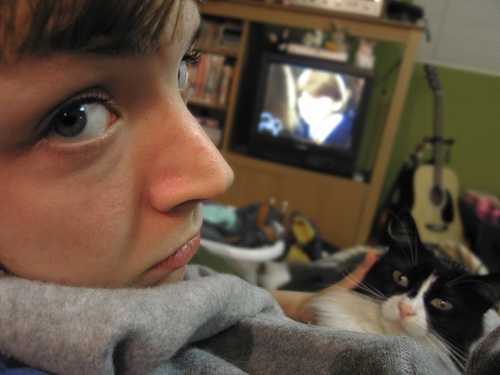 Why watch TV when you've got laundry to do, a cat to cuddle, or a guitar to play?
These developments make me realize that television studies, like film studies, has been around long enough to have an "intro" class that is separate from the "history" and "contemporary" classes; however, the course curriculum is not caught up with this realization, and in theory (or as outlined by the curriculum), I should be covering it all. Obviously, I cannot! Here is where the beauty of being a teacher that subscribes to social-constructivist learning theories can help me out. While I confess that I am not an expert in what I'm about to teach and that I have my own agenda, I have to also acknowledge that my students are coming in with their own interests in the course, in television itself, and how it fits into their overall curricular paths. I also think that students learn by making connections with the content with their own experiences as well as the shared experiences of the class, thus it is important that I allow the students to direct some of the course agenda according to their own interests. Therefore, as there are certain things that I need to cover (like ye 'old course outcomes) in addition to the need to consider the interests of those involved (myself included), I am released from the burden of covering it all and just need to make sure I balance their interests and engagements with "some of that serious stuff." Additionally, I am very aware that for the majority of my students, this is not an introduction to television studies course that leads them into a media studies degree; instead, this is a "fun" class to fulfill their humanities requirement.
Do not fret…this television course will not be a "fluff" class. Remember, I am a writing teacher. Most of my students from my film classes complain about the amount of writing. It is writing, however, that allows students to engage with their own interests, while also fulfilling the course's basic requirements. Students will be able to wander off, following their own interests, while writing about how what they are following is helping them better understand the core ideas we are covering. In other words, we will, basically, systematically work our way through the textbook, and I will ask that students find their own audio-visual and textual examples to conceptualize their socially constructed meaning. I cannot wait to be taught by my own students!
To follow with how I continue to construct this intro to television course, tune back in:
• TVS 101: Teaching an Online Introduction to Television Course: I will give more details how I will design this social-constructivist course in a wiki-environment. Look for this Flow installment on 07/25/08.
• TVS 101: "Tracking the New Show" Course Assignment: I will share the major course project and discuss how it balances student interest with course content requirements. Look for this Flow installment on 09/05/08.
Image Credits:
1. Whew, I book I can teach from, at least for this first "season." The cover of Butler's Television: Critical Methods and Applications 3rd Ed.
2. Have your TV and read it too!
3. Why watch TV when you've got laundry to do, a cat to cuddle, or a guitar to play?
Please feel free to comment.