Of Pirates, Pacifiers and Protectionism
Ellen Seiter / University of Southern California
Captain Sabertooth: not exactly Disney's Jack Sparrow
Captain Sabertooth wants your loot. Your most precious loot. But don't be scared. Because if you join his pirate team, he promises to take your loot, and store in his specially guarded room where it will be safe, forever. The loot he wants to keep for you is your pacifier, and his special room is Pacifier Heaven at Kristiansand Zoo in Norway.1. I became acquainted with Captain Sabertooth (Kaptain Sabeltann, in Norwegian) through the research Ingunn Hagen and Oivind Nakken of the Norwegian University of Science and Technology (NTNU).2 The study of Captain Sabertooth was developed at the Norwegian Centre for Child Research, a research that has produced very thoughtful work about the relationship of the modern child to consumerism and hosted the Child and Teen Consumption conference last month in Trondheim, Norway.
The Captain Sabertooth DVD repackaged to reach an audience beyond Norway
Captain Sabertooth is a rare national franchise staying afloat in the tidal wave of Disney and Nickelodeon global kids' culture. Kids can either watch him on Norwegian television in cartoon form, on DVD, or see his live stage musical performances at summer shows at Kristiansand, a zoo and theme park in southern Norway. But if you want to see him live, you'd better take a nap, because the shows don't start until late evening. Devised and performed by Terje Formoe, who worked at Kristiansand, the character Captain Sabertooth was created to attract more children to the park. A deal with Disney for its licensed characters to make appearances at the zoo led to the creation of a homegrown character, who could be a live presence at the zoo and perform live shows. Thirty years later Captain Sabertooth exists as a rare success story of a brand that has survived despite being restricted to one nation of less than five million people.
In the world of global consumer children's culture, Norway is one of the last holdouts. In the country it is still against the law to advertise to children. Public television produces programs that do no have any licensed merchandise to accompany them. It is one of the last vestiges of the progressive social welfare state, where the safety net remains in place for children and their families.
The changing political economy of children's television
Global children's media culture has spread and grown dramatically since I published my book Sold Separately in 1993. In that book, I criticized media education efforts of the 1980s and 1990s in their underestimation of children's ability to comprehend television programs and the selling intent of commercials. My professional academic opinion was the type of research that could undermine the type of policy that Norway has clung to in the interests of protecting children. I feel uneasy recalling that in the years when audience researchers were focusing on close readings of the texts and audience resistance and agency, the structure of media corporations underwent massive deregulation, conglomeration and shifts in power. In the narrow focus on the viewer's agency that typified cultural studies work at that time, larger issues of political economy were ignored. Incorporating a greater awareness of the political economic structure of media industries and the spread of US marketing techniques globally seems an important requirement of work on children's television. Sarah Banet-Weiser's new book Kids Rule! is a good example of academia that accomplishes this mixture of analyzing the pleasures and the politics of children's TV.
With the success of Pirates of the Caribbean will kids embrace another pirate figure?
The old fashioned policy of forbidding advertising to children that Norway pursued (even as European public broadcasting was dismantled in the 1990s) succeeded in preserving a space in Norway, however small, for national media production and publicly funded television. Norwegian parents and grandparents, out of a mixture of nostalgia and prosperity, have done their part to continue the Pacifier Heaven tradition with Sabertooth toy purchases, DVD sales and ticket purchases at Kristiansand.
So three cheers to Captain Sabertooth and his canny combination of synergy, live performance and television, and appeal to a nationalist Norwegian culture, with its own ideas about childhood culture.3 There is some talk of taking Captain Sabertooth transnational–branching out from Norway to other European countries. The multi-language website is indicative of such ambition. The animated DVD is available from Amazon in a 2003 English language version. I suspect some would accuse him of violation based on Pirates of the Caribbean, despite the fact that pirates should be considered a public domain concept and that, in his white fact clown make up, he bears no resemblance to Johnny Depp.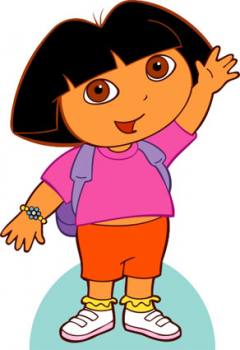 Can Captain Sabertooth compete with Dora the Explorer and other "megabrands"?
When I walked into a toy store at the local mall in Trondheim, Norway, Captain Sabertooth was hard to find—and it wasn't just a problem with my lack of Norwegian. The toys were at the last row of the store, at the end of an aisle, facing the back wall. There you could buy figurines or the Sabertooth ship at the fantastically high prices that make Norway absurdly expensive for all but those who live there. Front and center in the store greeting shoppers is Pirates of the Caribbean. Figurines, toys, costumes and video games. Equally prominent are all the usual megabrands: Bratz, Dora the Explorer, and Bob the Builder. I had to ask the clerk to find a Captain Sabertooth DVD for me. The target audience for Captain Sabertooth is boys 2-8. Now they graduate from the local brand to the Disney brand, and can extend their pirate fascination while progressing to a global franchise.
And somehow, that makes me sadder than a two-year-old surrendering his pacifier.
Image Credits:
1. Captain Sabertooth: not exactly Disney's Jack Sparrow.
2. The Captain Sabertooth DVD repackaged to reach an audience beyond Norway.
3. The changing political economy of children's television.
4. With the success of Pirates of the Caribbean will kids embrace another pirate figure?.
5. Can Captain Sabertooth compete with Dora the Explorer and other "megabrands"?
Please feel free to comment.
The link between orality and television viewing as symbolized by Captain Sabertooth's connection to Pacifiers reminds me of the underdeveloped strand of orality in TV theory, first premised by the late Beverle Houston in the 1980s. See Beverle Houston, "Viewing Television:The Metapsychology of Endless Consumption," Quarterly Review of Film Studies 9, 3 (Summer 1984): 183-195 [↩]
See Ingunn Hagen and Oivind Nakken, "Creating Long-lasting Brand Loyalty or a Passing 'Craze'? Lessons to be Learnt from a 'Child Classic' in Norway" Child and Teen Consumption Conference, Trondheim, Norway, 2008; Oivind Nakken "Captain Sabertooth– Adventurous Brand Loyalty," MA Thesis, Department of Psychology, Norwegian University of Science and Technology, 2007. [↩]
For an analysis of childhood culture in Norway see the work of Anne Trine Kjorholt and Ragnhild Brusdal. [↩]