Deal of a "Lifetime"? A New Future for Project Runway
Alisa Perren / Georgia State University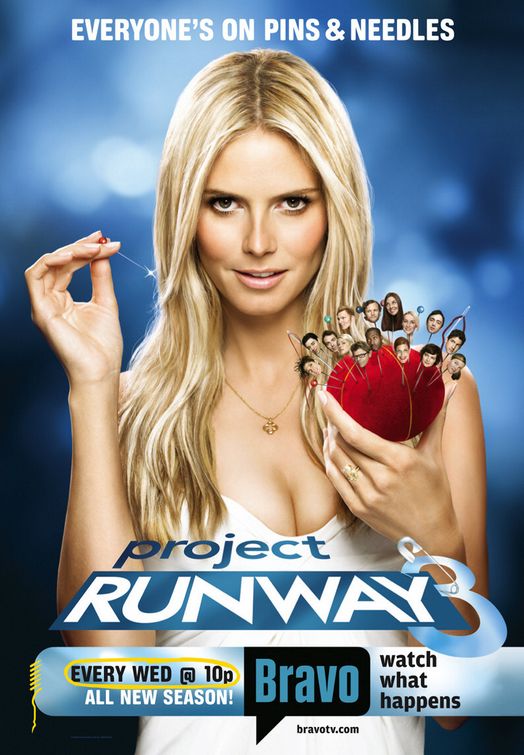 Project Runwayon Bravo
Lifetime recently announced that it had acquired the rights to Project Runway and would begin airing new seasons in November 2008. Within hours of the announcement of this arrangement, NBC – the owner of Bravo, the cable network on which the program presently airs – filed suit for breach of contract against the program's producer, The Weinstein Company. The transaction and subsequent lawsuit quickly provoked a wave of coverage on media-oriented blogs, fan sites, and popular magazines as well as in industry trade publications.
What might seem at first glance to be a rather mundane topic actually suggests a great deal about the continuing value of signature programs in branding television networks. Yet perhaps even more fascinating than the coverage of the event itself is the consistency with which a range of media outlets have reproduced similar attitudes toward gender, class and age in their coverage.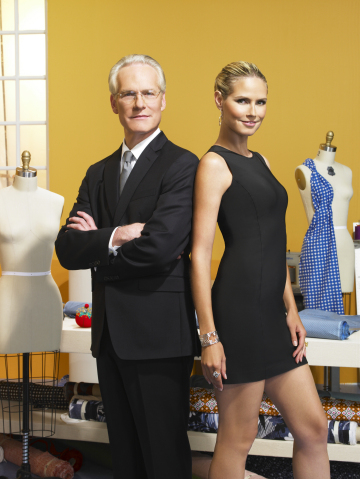 Runway hosts Tim Gunn and Heidi Klum will follow the show to Lifetime
The contours of the conflict can be summed up as follows: Since its debut in 2004, Project Runway has become Bravo's most successful program. Viewed by just 350,000 viewers when it premiered, the finale of the most recent season (its fourth) earned 3.8 million total viewers.1 Its ratings in the 18-49 demographic exceeded those of both ABC and CBS in the same hour.2 The program helped Bravo shift its brand identity away from its "high culture" roots toward a certain type of reality programming and, in the process, gain a larger market share.
This Bravo brand of reality programming – which has grown to include such shows as Top Chef, Top Design, and The Real Housewives franchise – is often considered "young" and "hip." The snarky tone, edutainment structure and upscale affiliations have helped Project Runway and many of its Bravo kin avoid the barbs directed by critics more broadly at the reality genre. As further evidence of the respect held for the program, Project Runway became the first reality series to earn a Peabody award.3 (Notably, the announcement was made just days before the show's move to Lifetime was announced.)
Project Runway's attraction to what are perceived to be younger viewers with more disposable income proved attractive to a Lifetime network that for several years has been desperately trying to re-brand itself and thus attract more "desirable" advertisers. In spite of a number of recent changes to its schedule, including the recent additions of the drama Army Wives and the Carson Kressley-hosted self-improvement show How To Look Good Naked, Lifetime has been unable to shake its image as what one blogger describes as the "home for melodramatic made-for-tv movies for housewives."4
One of Lifetime's biggest hits to date
A glance at some additional tongue-in-cheek comments made online about the Runway deal indicates the extent to which both bloggers as well as more "mainstream" journalists are hindering Lifetime's rebranding efforts:
* "The ladies' network is ecstatic to gain a program that is not about homicidal suburban moms out to sleep with their teenage cheerleader daughter's boyfriend – who has an eating disorder."5
* "We've said the show needs a new format and all, but – Lifetime? We didn't mean we wanted to "fem it up" with, like, a pink runway, or more Heidi Klum screen time or whatever other scary estrogen tampon stuff they've got in mind."6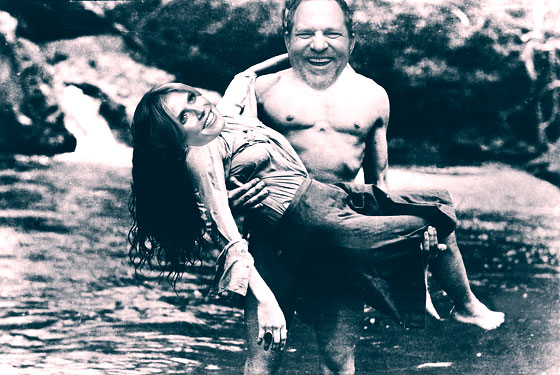 On the run from NBC head Jeff Zucker?
* "Lifetime has fashioned itself as the 'network for women' for years. The 'women in peril' movies and 'Golden Girls' reruns have fans wondering if the contestants' first project will be to design a new wardrobe for Dorothy, Blanche, Rose and Sophia. Or there's the fear that the judges will now be Meredith Baxter, Melissa Gilbert and Judith Light."7
As one writer noted, the reasons the Weinsteins made the deal with Lifetime are quite easy to discern: "money and ego."8 The Weinstein Company, well-known in the independent film world for strong-arming its competitors, now has used similar tactics in TV-land. No surprise there. The deal with Bravo, valued at approximately $150 million, includes five seasons of Runway, as well as a package of the company's theatrical films and two new reality shows (including a spinoff called Models of the Runway).9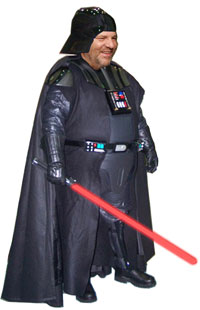 Harvey Weinstein, drawing ire
While the motivations of The Weinstein Company and Lifetime are easy to figure out, what is more difficult to understand – or, at least, swallow – is the negativity directed by many fans and journalists toward both the cable network and the show itself. As the comments above indicate, Lifetime's image is linked with stereotypical and sexist visions of "frumpy," middle-aged Middle American housewives.10 While it may be the highest rated channel among women, those women are largely perceived to be both different from – and less valuable from a cable network and advertisers' perspective – than the women who watch Bravo.
Two troubling issues emerge out of this scenario. First, Lifetime's acquisition of Project Runway indicates the degree to which the same types of programming are being cultivated across a growing number of broadcast and cable networks (e.g., WE, Oxygen, MTV, and increasingly, the ABC and TNT). This despite the rhetoric about "500 channels of choices" in the universe of digital cable and despite the fact that this highly desired demographic continues to migrate to the Internet and away from television's linear program schedule.
Second, the hostility evidenced by the caustic comments noted above regarding this deal indicates the extent to which certain viewers are not merely caricatured and dismissed by executives or programmers, but also by critics, bloggers and even the fans themselves. Watching Bravo – and not Lifetime – is clearly bound to issues of self definition and cultural value. Parodying or attacking Runway's move not only becomes a means of defining one's taste (or lack thereof), it may also serve to reinforce certain values based on gender, class and age.
What remains to be seen is whether these initial responses have any substantive impact on viewing practices of Runway if and when it makes its move. Should the show continue to attract high ratings on Lifetime with the same demographics it presently obtains on Bravo, we can conclude that either the network has been able to reinvent itself or that some viewers have been able to overcome their negative predispositions. In addition, if the show does succeed, Lifetime will have reinforced the continuing importance of "flagship" shows in promoting both a television schedule and a network identity.11 These are not insignificant points in an age when it is assumed that viewers follow shows, not networks.
Image Credits
2. Runway hosts Tim Gunn and Heidi Klum
3. Army Wives
4. Project Runway on the run from NBC
Please feel free to comment.