Follow the Money: Let's be Upfront about the Infronts
Jennifer Holt / UCSB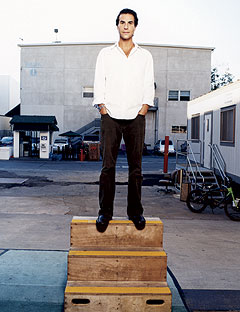 NBC's Ben Silverman
Last week, NBC unveiled a "supersized" 65-week schedule (through Summer 2009) to advertisers and journalists in a stripped-down version of the upfronts—those glitzy presentations that unveil network prime-time lineups to much fanfare each May. This ritual is more than just publicity, though; the upfronts are also a $9 billion market (and that's just for primetime) where sponsors buy advertising time before the season begins. For both networks and advertisers, this is a mutually beneficial opportunity for risk reduction – the networks unload between 80-90% of their ad inventory in advance and advertisers save money by locking in rates on potential hits that would be far pricier buys if the shows were to find a big audience.
This year, however, just as President and CEO Jeff Zucker has repeatedly promised over the last six months, NBC offered a radical alternative to the traditional over-the-top "razzle-dazzle and surfeit of shrimp" as the upfronts were recently described in Variety.1 Instead, the network's chief executives are having a series of low-key meetings with advertisers to present new shows and strategies, minus the seductive parties…and calling them "the infronts."
Much of the press discourse on NBC's "infronts" –which took place 6 weeks before the other networks' upfronts – has been focused on describing the new lineup with giddy anticipation. The rest has been devoted to speculation as to whether or not wunderkind Ben Silverman, the recently appointed Co-Chairman of NBC Entertainment and Universal Media Studios, had pulled off the minimalist makeover of such a vaunted tradition.
Silverman arrived last June at an NBC that has been stuck in last place for almost four years now. He was charged with developing NBC's prime-time, overseeing production and creating innovative digital strategies in order to pull the company out of the ratings gutter and into the era of "360-degree distribution," where content is delivered anytime, via multiple platforms, whenever the viewer wants. After 10 months, a renewed devotion to "product integration" by any means necessary and a smooth reception last week, the verdict seems to be that Silverman has pulled it off.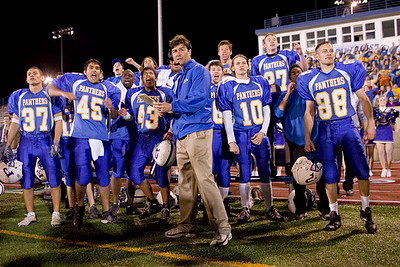 Friday Night Lights
In fact, he has pulled off much more than launching a successful "infront": he has made self-dealing expected and even non-controversial in the current business climate. This year, all of the scripted series ordered by NBC went to sister company Universal Media Studios, except for three that went to international producers.2 That is to say, no studio competitor or independent production company received an order for their projects. When adding the six new series3 to the ones already airing in prime-time that NBC Universal has an ownership stake in (such as The Biggest Loser, Lipstick Jungle, Life, The Office, 30 Rock, Heroes, Friday Night Lights, American Gladiators and, of course, the motherlode Law & Order franchise), the result is one very self-involved programming strategy.
More than any other network, NBC has embraced a game plan of buying its own product. Even more glaring are the deals that the network has made with Reveille, a phenomenally successful production company and one of NBC's chief suppliers. The company, based on NBC's lot, produces The Office, The Biggest Loser and American Gladiators among others. Silverman first began his tenure as NBC's chief programmer while he also owned Reveille. In the 9 months from June '07 when he began at NBC to February '08 when he sold his company for $125 million (to Rupert Murdoch's daughter, Elisabeth), Reveille sold 14 shows and scripts to NBC. Prior to his hire, the company had only 3 projects at the network.4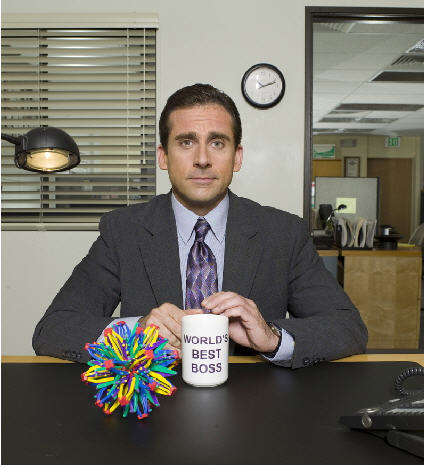 Michael Scott, The Office
It is quite surprising, even in this business, that such a blatant conflict of interest was not a larger issue in the press or even at the network. Of course, Silverman is not the first to be in such a position. At the very same network, Grant Tinker also went from producer to network executive when he became Chairman and CEO of NBC in 1981 (notably, the network was in last place at that time as well). Tinker eventually sold his interest in MTM, which had Hill St. Blues on NBC at the time of his arrival. He later commented on the sale of MTM, saying that while the terms of the deal were not optimal for him, "You can't be buying programs and selling them at the same time."5
And yet in 2008 it appears that you can do both, indeed now more than ever. In the days before the financial interest and syndication laws ("fin-syn"), networks monopolized their prime-time schedules with homegrown product, forcing the hand of regulators to forestall vertical integration in the television industry. Since the repeal of fin-syn in 1995, networks have owned increasingly larger percentages of their prime-time schedules, growing to over 70% at various times. This process has appeared to be somewhat gradual and (except for the self-dealing lawsuits in the late 1990s) occurring under the radar of most press accounts.6
In the last 2-3 years, however, the commitment to program ownership has taken on renewed intensity at the networks. TV's business model is currently dying at the hands of digital technologies, and executives are frantically searching for new ways to repurpose content for aftermarkets and "monetize" their programming– via webstreaming, digital distribution or even on DVD. In order to maximize exposure during a show's initial run and profit from new technologies in the long term, owning the product is key. The recent writer's strike was a dramatic expression of how crucial the issue of ownership has become in the consolidated entertainment landscape, and NBC's current schedule is yet another reminder of that fact. Perhaps the absence of fancy buffets and open bars at the "infronts" is even more evidence of the same reality: as the stakes and stakeholders in the television industry continue to evolve, and as networks produce more of their own schedules, the business becomes less about serving others and more about serving yourself.
Sources:
Adalian, Josef and Michael Schneider, "Upfront Upheaval," Variety, March 31-April 4, 2008, p. 14.
Gough, Paul J. and Nellie Andreeva, "NBC Presents Shows, Strategy at Upfront," Hollywood Reporter, April 2, 2008.
James, Meg, "NBC's Silverman Sells Production Company," Los Angeles Times, February 14, 2008.
Lauria, Peter, "Shine on Sale by Silverman," New York Post, February 15, 2008
Image Credits:
1. NBC's Ben Silverman
2. Friday Night Lights
3. Michael Scott, The Office
Additional Reading:
Belloni, Matthew. "It's Ten O'Clock. Do You Know Where Your Network President Is?" Esquire, November 8, 2007.
Weprin, Alex, "Upfront and Center: NBC Unveils 2008-09 Season," Broadcasting and Cable, April 2, 2008.
Please feel free to comment.