Sometimes a kiss is just a kiss: (not) responding to the Richard Gere-Shipla Shetty controversy in India
by: Shanti Kumar / University of Texas-Austin

Shilpa Shetty, it appears, cannot stay out of controversy and news headlines these days. Shetty, a well-known Bollywood actress in India, shot to international prominence after appearing as a contestant on Celebrity Big Brother in the U.K. in January 2007. The British reality TV show was engulfed in a major controversy when Shetty became the target of racist remarks and bullying by some of her housemates led by the now infamous Jade Goody. When Shetty went on to win the show, she not only became a household name in Britain, but was also the focus of attention in many newspapers, television channels and online sites around the world.
Shetty was back in the global news headlines in April 2007, when she was embroiled in another controversy, this time in India. At an AIDS awareness campaign organized in Delhi to benefit truck drivers, the American actor Richard Gere planted a series of kisses on Shetty. Although taken aback by Gere's actions, Shetty reportedly laughed it off with a comment directed to the truckers, "yeh thoda zyaada ho gaya" ("This is a bit much.")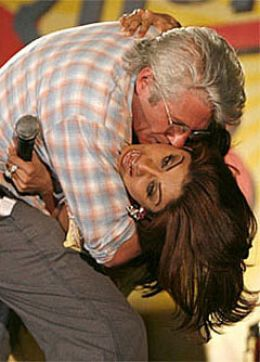 Shipla Shetty and Richard Gere
Condemning the kiss, Prakash Javadekar, the spokesman for Hindu nationalist party, Bharatiya Janata party (BJP) proclaimed, "Such a public display is not part of Indian tradition." In Mumbai, members of the right-wing Hindu nationalist group Shiv Sena stormed onto a set where Shetty was shooting a film, set fire to her photographs and burned effigies of Gere. Poonal Chandra Bhandari, an advocate in the city of Jaipur, filed public interest litigation accusing Gere and Shetty of committing "an obscene act" in a public place. Conceding that the kiss at the public event was "highly sexually erotic," Dinesh Gupta, Additional Chief Judicial Magistrate in the Jaipur Court, issued an arrest warrant against Gere and summoned Shetty for appearance on May 5, 2007.
Sensing trouble due to the growing controversy, Gere tried to set the record straight with an apology. In a statement addressed to "My dear Indian friends," and released to the media, Gere wrote, "What we thought was a very successful HIV/AIDS event has taken a sad turn. The evening and event in question was intended to celebrate courageous people and partnerships in the supremely important fight against HIV/AIDS, a worldwide pandemic which has afflicted over 5 million Indians and is still increasing." Applauding Shetty for taking a leadership role in the fight against AIDS, Gere said, "I assure you, I have utmost respect for her, and she knows this. Of course, I've felt terrible that she should carry a burden that is no fault of hers. The burden is mine and no one else's."
Shetty, on her part, strongly defended Gere saying, "He is such a gentleman. He is incapable of indecent behaviour." Lashing out against her critics, Shetty argued, "It was just a kiss on my cheek! What's the big hue and cry about?" She explained the reason for the kiss as follows: "Earlier during the day during lunch we were teasing him about a dance step in Shall We Dance? When he suddenly bent me down on stage he was doing that whole step from Shall We Dance? I was as taken aback as the people who saw it. It was nothing but a joke and not pre-planned at all."
But some critics of the kiss seemed unwilling to accept either Gere's apology or Shetty's explanation. "The indecency might have been purposefully done as a publicity stunt," argued Lily Agarwal, a BJP member of the Bhopal City Corporation. Supporting the protests, Agarwal said, "An Indian woman's greatest asset is her modesty, her reputation and dignity. Shilpa's lack of any protest only confirms that we are still slaves of the 'White.' We will tolerate all humiliation just because we feel the 'White' is our master."
In many postcolonial nations like India, the myth of a homogenous and homogenizing (white) Western culture is a convenient reference point for many political parties and ideological blocs struggling to establish their hegemony in the very diverse terrain of culture. As the noted postcolonial critic Ashis Nandy argues, the myth of "the West" has engendered (and has in turn been engendered by) three responses in colonial and postcolonial India; or more precisely, two responses and one non-response.
The first response, writes Nandy, is to model Indian culture on the idealized myth of Western culture. However, there is more than mere imitation or mimicry involved in this process: It involves "capturing, within one's own self and one's own culture, the traits one sees as reasons for the West's success on the world stage." This process is seen as a liberal synthesis of "Indian" and "Western" cultures, and justified in terms of universal principles such as "democracy" and "civilization." In the Gere-Shetty controversy, for instance, some in the Bollywood fraternity embraced this view in their defense of Shetty. Noted Bollywood director Mahesh Bhatt declared, "When the mother of civilisation gets obsessed with trivia, you can be sure doom is around the corner." Actress Celina Jaitley asked, "If she [Shetty] does not have an objection, why should others be bothered? She is above 18, is grown up and knows what she is doing. I really wonder what has happened to the world's biggest democracy where every citizen has the right to expression and this reaction from fundamentalists groups is really uncalled for." Shetty also seemed to endorse this view when she said, "I don't want the Indian media and Indians to look foolish to the outside world."
In a similar vein, former attorney general, Soli J Sorabjee criticized Judge Gupta for behaving like the "Taliban moral police," and opined that "the order is unsustainable and makes us look ridiculous."
The second response to the so-called clash between "Indian" and "Western" cultures is that of the fundamentalist zealot whose sole aim is somehow to defeat Western culture at in its own game. Examples of this type of response abound in India; the over-zealous moral policing of the Gere-Shetty episode by Hindu "fundamentalist" groups like the Shiv Sena in the city of Mumbai, and the Bharatiya Janata Party (BJP) at the national level being only the most recent. The strategy of the Hindu fundamentalist groups is all too evident. As Nandy puts it, the goal of the Hindu fundamentalists is to:
[D]econtaminate Hinduism of its folk elements … then give it additional teeth with the help of Western technology and secular statecraft, so that Hindus can take on, and ultimately defeat, all their external and internal enemies, if necessary, by liquidating all forms of ethnic plurality — first within Hinduism and then within India, to equal Western Man as a new ubermenschen.
Many liberal-minded Indians who are embarrassed by the political manipulation of religion by fundamentalists tend to classify the response of the Hindu right wing groups as "a retrogression into primitivism and as a pathology of traditions." But look closely, argues Nandy, and there is nothing "fundamental" about the "fundamentalists." The almost complete lack of tolerance of the fundamental principles of religion, and the inability to accept the diversity of cultural traditions demonstrate how Hindu right has morphed into a highly modern political machinery that seeks to create an "Indian" culture which not only equals but ultimately surpasses Western culture.
The third response of postcolonial Indians to the myth of a Western culture, writes Nandy, is a non-response. This (non)response emerges from a pragmatic recognition of the cultural and historical continuities and tensions between the "colonial" and the "postcolonial," "Indian" and the "Western" or the "traditional" and the "modern." This non-response, according to Nandy, is voiced by a majority in postcolonial India and is based on the belief that diverse cultures in India have known how to live with each other for centuries. This belief emerges from a cultural consensus that religion is not a tool for political manipulation but is a way of life with its own principles of tolerance.
The three responses outlined above are inextricably linked in the political, religious and cultural realms of everyday life in India. But, paradoxically enough, both the enthusiastic admirers of the "West" and their over-zealous opponents in the Hindu right wing would like to believe that the third response is merely a minority view. However, the non-response is clearly in evidence as a majority of Indians ignored the controversy over the Gere-Shetty kiss and the protests organized by Hindu right wing groups fizzled out with a whimper – notwithstanding the excessive media coverage in India and abroad. But the perhaps the most powerful impact of the non-response by a majority of Indians to the Gere-Shetty controversy has been that Judge Gupta (who issued the warrants against Shetty and Gere) was quietly transferred from his post in Jaipur to the small town of Kishangarh several hours away. A spokesman for the Court claimed that the transfer was "routine," but he also said that Judge Gupta acted on a "frivolous" public interest litigation, and noted that the transfer order came from the state's Chief Justice. Although it is not clear what effect the transfer will have on the Gere-Shetty case, one can only surmise that the judiciary has recognized that the non-response to the controversy is indeed a majority opinion in Indian public culture.
Endnotes
Effigies of Richard Gere burn in India
My dear Indian friends, I'm surprised: Gere
Richard Gere cannot do anything obscene
Gere has apologized: Shilpa
Nandy, Ashis. "The Politics of Secularism and the Recovery of Religious Tolerance," Alternatives, XIII (1988): 186.
Ibid.
Gere has apologized: Shilpa
Indian judge who ordered Richard Gere's arrest transferred: report
Nandy, 187.
Ibid.
Ibid., 188.
Image Credits:
1. Shipla Shetty and Richard Gere
Please feel free to comment.