"Captive TV:" A New Reality Format
by: John Corner / University of Liverpool
The deep involvement of television in the conduct of war and conflict, not just as an agency of relay but as a constituent factor in the construction of political and military "reality," is well documented in the literature of international research. However, a new marker of its defining impact would appear to have been reached with the coverage given last month to the Royal Navy's 15 "hostages" detained in Iran for some 13 days after their seizure in the Persian Gulf while on patrol, allegedly for straying into Iranian waters. This coverage, initially for Iranian television but broadcast selectively across the world, got eerily close to a Big Brother-style reality show in aspects of its portrayal, although how far this was by conscious design remains unclear. The implications of the styling, and of the performances that were required for its "successful" projection, continue to be a major factor in the debate about the whole incident and its aftermath.
Of course images of captives, and of hostages, have a history, one which goes back to forms of triumphal exhibition well before the availability of the symbolic currency of photography, film and television, which so crucially extends the terms and modes of display. More recently, these terms have increasingly shifted towards strategic use – the photo or video sequence as a counter in a game of pressure and sometimes negotiation often played-off in relation to a watching "public" placed by the media in the role of bystander, as well in relation to specific political and military authorities.
What was so different about this affair, this use of "display," however, was the way in which the whole "theatre of captivity" constructed by Iranian television drew so strongly (and to a degree, persuasively) on benign framings, on the idea of the prisoners as "guests." The open indication of subjugated status (blindfolds, signs of physical violence, ragged appearance or prison clothing) which has accompanied previous imagery was exchanged for a bizarre range of more affirmatory signs. These included performances not only of "admission" (carried out briskly in confident lecture style, accompanied by maps and pointers), but also of sociability (eating together, smiling and joking, playing chess and table tennis, watching television and reading).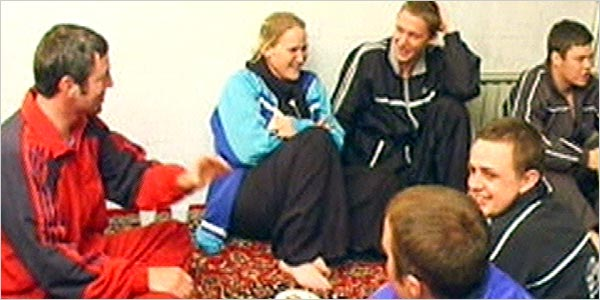 British navy personnel on Iranian TV
Perhaps most astonishingly of all, the theatricalization extended to a final performance of gratitude at release, including handshakes with the Iranian president, much open celebration among the group, interview comments into reporters' microphones, acceptance and opening of presents and a seemingly cheerful group waving of farewell (dressed not in uniform but in civilian suits).
Not surprisingly, this all presented the British media with some challenges as to how precisely to handle the story in relation to expectation and dominant values. These challenges to tone and to reported detail affected both coverage at the geopolitical level and its routine pitching at the level of the individuals and their families. Uncertainties were latent in nearly all the reporting and explicit in some of it. Even before the captives' release, media accounts criticising their behaviour and comparing it unfavourably with more conventional notions of prisoner-of-war "refusal" to cooperate were widespread, some issuing from journalists and some from former military personnel and not all from Britain. With the further "performance" of their release in Iran, accompanied by scenes that could, indeed, have come straight from a reality series, the talk of "humiliation" and of "embarrassment" increased.
This caused noticeable tensions in the reporting of their return, where a strong early move to emphasise the need for privacy and to respect personal feelings outside of the limited accounts offered at the press conference was quickly thrown into crisis (indeed contradicted) by the news that those involved would be allowed to sell their stories to the media, in some cases for six figure sums. Such an open commodification of the captivity experience, an experience whose public representation had already been the subject of massive, strategic styling by the Iranians, opened up further lines of public opposition and dispute. However, the continuity of media logic was clear. Having been made against their will into kinds of reality show performer, the sailors and marines were being transformed into what in many ways is a now familiar kind of transient celebrity – their temporary but intensive tele-presence as "news" generating further audience "attraction," the economic justification for a little longer in the mediasphere. Once again, established ideas of "proper behaviour" were initially no match for the volatile dynamics of mediation and the belief, by at least some senior navy officers and their political managers, that to risk playing directly into the media appetite for the story was worth it in order quickly to counter the Iranian-generated version. This phase lasted only two days, after which the earlier decision about allowing stories to be sold was reversed by the Government as a result of a huge political backlash, partly fuelled by the continuingly unflattering portrayal of events coming through from even the captives' own accounts.
The tensions at work in media and public engagement with the incident were both political and cultural. In both cases what had been seen on television was an absolutely central reference point, even if different interpretations of its status were also part of what was being contested. That levels of duress had been applied to obtain the "performances" was hardly ever in question (although pointed reference to the established record of treatment at Guantánamo was made a comparative marker by some). However, the issue of precisely what degree of co-operation was justified in the circumstances remained in play, however mutedly or with whatever qualification.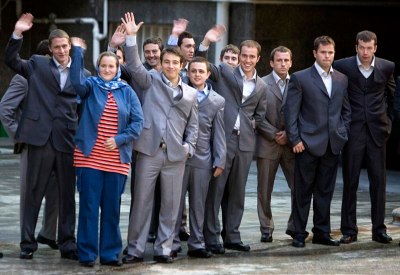 British sailors waving goodbye
How can we summarise television's involvement in this incident, the political implications of which are still reverberating? Clearly, the main emphasis must be placed on the way in which the Iranian version of events offered a developing narrative of apparent well-being and co-operation rather than the isolated or at least sharply episodic moments of hardship, suffering and the possibility of imminent death which most previous exercises in captive or hostage images have entailed. This version was certainly not believed "straight" by most of the British audience who watched the sequences, and it is certainly possible that it was not believed (and nor, therefore, was the authenticity of the "confessions") by many in the Iranian audience either. However, as a performance whose precise conditions of fabrication were unknown, it achieved a sufficient legitimacy of reference beyond that of the complete and obvious "fake." It was this interweaving of doubtfulness and plausibility which connected it, if only indirectly and by disturbing parody, with the performances of mainstream reality television and which, for many viewers, made the experience of watching it, right through to the handshakes, presents and farewells, so much a matter of conflicting and perhaps alternating frameworks of interpretation and assessment.
Such a strong core of visual portrayal, watched by millions (and often used in loop format by the channels to extend its durational impact) was always going to be central to any subsequent expansion of the range of accounts. This included those short statements issuing from the press conference and follow-up interviews back in the UK (the BBC rolling news channel actually ran the Iranian-sourced "captive" footage on a split screen alongside images of the same person talking live at the British press conference).
Finally, we can note how this whole project of strategic mediatization only worked effectively within the terms of global television, its technology of trans-national relay and its dedicated news channels being quite central to the impact (varied though this is likely to have been) on distant publics.
At the UK press conference on the day following their release one of the marines remarked that the whole thing had been a "media circus." He would not have known then quite how apt this metaphor would continue to be as the focus of managing, and attemptedly re-working, the depiction of "what had happened" shifted from Iran to Britain.
Image Credits:
1. British navy personnel on Iranian TV
2. British sailors waving goodbye
Please feel free to comment.