Everybody Hates Chris and the (Overdue) Return of the Working-Class Sitcom
by: Tim Gibson / George Mason University
Everybody Hates Chris
One of the best things I've seen on television recently was shot from the perspective of a garbage can. This particular shot comes in the middle of the pilot episode of Everybody Hates Chris, a semi-autobiographical sitcom that chronicles the middle-school experiences of comedian Chris Rock in early 1980s Brooklyn.
In the pilot, we learn the basic premises of EHC. It is 1982. The Rock family has just moved out of the projects and into their new home—a two-level apartment in Bedford-Stuyvesant. Young Chris is excited about the move and the adolescent adventures that await him now that he's turned thirteen. His excitement vanishes, however, when his mother informs him that he'll be taking two buses everyday to become the only black student at Corleone Middle School—all the way out in white working-class Brooklyn Beach.
In this way, two social spaces generate most of the show's comic energy. Class issues are largely explored in Chris's home life, while the show's writers use Chris's travails at Corleone to foreground questions of race.
This brings us to the garbage can. Early in the show, we learn that Julius Rock, Chris's father, works two jobs and counts every penny. Julius, it turns out, has a particular talent for knowing the cost of everything. When Chris goes to sleep, Julius tells him, "unplug that clock, boy. You can't tell time while you sleep. That's two cents an hour." When the kids knock over a glass at breakfast, Julius says, "that's 49 cent of spilled milk dripping all over my table. Somebody better drink that!" And when someone tosses a chicken leg into the garbage, we see Julius peer over the rim, grab it, and exclaim, with a pained look on his face, "that's a dollar nine cent in the trash!"
To be sure, as a former early 1980s middle-schooler myself, I enjoy the retro references to Atari, velour shirts, and Prince's Purple Rain. But what I like most about EHC is how it foregrounds the experience of class inequality. Unlike other blue-collar comedies (e.g., According to Jim, Still Standing and King of Queens) which signify their characters' working-class status via lifestyle choices (i.e., wearing Harley shirts, drinking beer, listening to Aerosmith, etc.), EHC generates much of its comedy directly from the class-based experience of struggling paycheck to paycheck and never having enough to pay the bills.
And so, in one episode, we see Julius buying the family's appliances from Risky, the neighborhood fence, because the department store is simply out of reach. In another, Julius and Rochelle (Chris's mother) agree to give up their luxuries (his lottery tickets and her chocolate turtles) in order to pay the gas bill. Things go haywire, however, when Rochelle (now reduced to getting her sugar fix from pancake syrup) catches Julius sneaking out to play the Pick 5.
And during one dinner, when Chris finally gets up the courage to ask for an allowance, Julius delivers a lecture familiar to every working-class kid. "Allowance? I allow you to sleep at night. I allow you to eat them potatoes. I allow you to use my lights…Why should I give you an allowance, when I already pay for everything you do?!"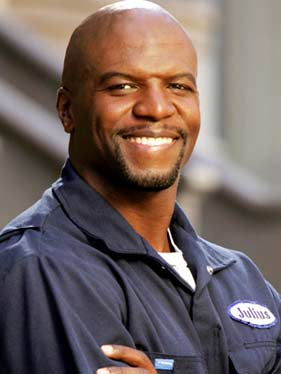 Terry Crews as Julius Rock
What makes this focus on class all the more remarkable is that it comes to us in the form of a so-called "black sitcom." As Timothy Havens notes in his study of the global television trade, international buyers looking to pick up American sitcoms strongly prefer "universal" to "ethnic" comedies (their words, not Havens'). As Havens quickly makes clear, however, the term "universal" is essentially code for white, middle-class, family-focused shows of the Home Improvement variety.
Thus, in the international TV marketplace, a white, middle-class experience becomes universalized as something that will appeal to "everyone." Steeped in this discourse of whiteness, distributors reflexively brand as "too ethnic" any shows that deviate from this norm, including especially sitcoms that, as Havens writes, "incorporate such features as African American dialect, hip-hop culture…racial politics, and working-class…settings."
Given the important role played by international sales in the profitability of American television programs, this hostile distribution environment makes it less likely that shows with African-American casts will be produced in the first place.
The breakthrough success of The Cosby Show in the 1980s, of course, pointed a way out of this particular cultural and commercial box.
As Sut Jhally and Justin Lewis note, Cosby struck an implicit bargain with white audiences in the Reagan era. In exchange for white viewers inviting the Huxtables into their homes, the show's producers would banish explicit references to the politics of race and keep the narratives focused on "universal" family themes. You've seen the show. Theo gets a "D" in math and receives a stern lecture from Cliff. Cliff's attempt to cook dinner for the family ends in disaster. A slumber party for Rudy gets hilariously out of hand.
But, equally importantly, because white audiences have historically associated poverty with "blackness" and coded middle-class status as "white," The Cosby Show placed these family-friendly stories in a context dripping with wealth and class privilege. In the end, this complex interpenetration of class and race in the dominant cultural imaginary allowed many white viewers (who might otherwise have been reluctant to watch a "black sitcom") to read the Huxtables—an upscale African-American family focused on the peccadilloes of everyday life—as "white" and therefore "just like us."
The commercial fortunes of The Cosby Show have thus left an ambiguous legacy. Its path-breaking success has undoubtedly provided subsequent producers of African-American sitcoms with rhetorical ammunition to take into the pitch room ("Cosby made $600 million in its first year of syndication!"). In an industry built on the endless repetition of past success, this is no small contribution.
Yet the middle-class, family-focused formula for African-American sitcoms—the model that signifies "universality" to international distributors and buyers—has also proven to be an ideological straight-jacket. To get on the air, in short, class must be dismissed. Thus, shows like The Fresh Prince of Bel Air, The Bernie Mac Show, and My Wife and Kids reproduce the upscale Cosby formula in exacting detail. Even programs like Girlfriends—shows that jettison family-focused themes for a more hip and youthful sensibility—nonetheless take great pains to place characters into high-end, even lavish, settings.
This raises the question of how EHC got on the air in the first place. Undoubtedly, the star power of Chris Rock, the show's co-creator and narrator, played a central role. This said, I would love to know more about exactly how artists like Chris Rock draw upon their accumulation of symbolic capital—including their professional prestige, their network of connections, and their track record of commercial success—in order to overcome the ideological limitations of the industry's commercial "common sense"
Indeed, perhaps this is a question that future political-economic work in television studies could productively explore. If we knew more about the conditions in which such accumulations of symbolic and social capital can be strategically applied to open new ideological spaces in the industry, we could create cultural policies that encourage this process.
In the meantime, I'm rooting for the future success of EHC. Admittedly, I've only seen the first season DVDs, so disappointments may be waiting. Still, for placing the struggles of working families at the center of its narratives, and for presenting the working-class experience as more than a matter of consumer choices, EHC has earned a valued place in my Netflix queue.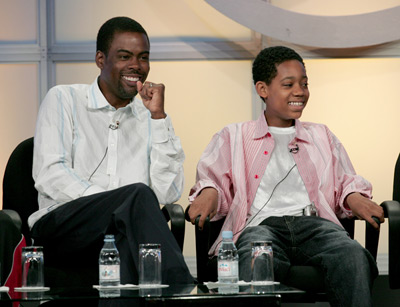 Chris Rock and Tyler James Williams
Notes:
Timothy Havens, "'It's Still a White World Out There': The Interplay of Culture and Economics in International Television Trade," Critical Studies in Media Communication, vol. 19, no. 4 (December 2002): 387.
Sut Jhally and Justin Lewis, Enlightened Racism: The Cosby Show, Audiences, and the Myth of the American Dream (Boulder, CO: Westview Press, 1992).
The $600 million revenue figure came from Yahoo.
Image Credits:
1. Everybody Hates Chris
2. Terry Crews as Julius Rock
3. Chris Rock and Tyler James Williams
Please feel free to comment.